An early June application to the City of Toronto seeks a Zoning By-law Amendment to bring a 16-storey condominium development to the southwest corner of St Clair Avenue East and Birchmount Road, a short distance east of Warden subway station. The proposal from Atria Development for 3431 St Clair East calls for an A & Architects-designed building, the latest in a series of redevelopments in various stages of planning and construction around Toronto for under-utilized properties owned by The Beer Store.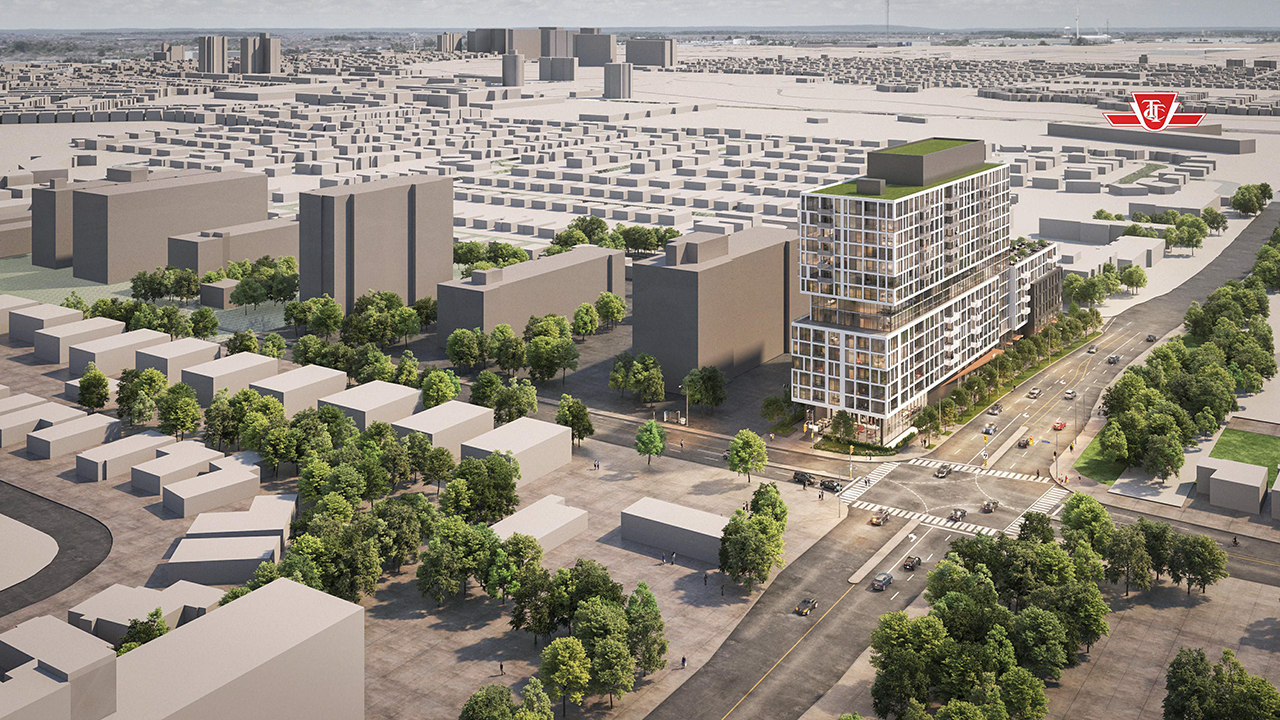 Looking west to 3431 St. Clair East, image via submission to City of Toronto
The proposal would replace the Beer Store on the site with a 57.35 metre-high building containing condos and retail, with a gross floor area (GFA) of 28,215 m², the majority of which, at 27,801 m², or 98.5% of the total, is planned as residential space. The total of 388 residential units are proposed in a mix of 19 studios, 205 one-bedrooms, 117 two-bedrooms, and 47 three-bedrooms. Indoor amenity space of 597 m² and outdoor amenity space of 582 m² would be spread between the ground, second, sixth, and eighth levels.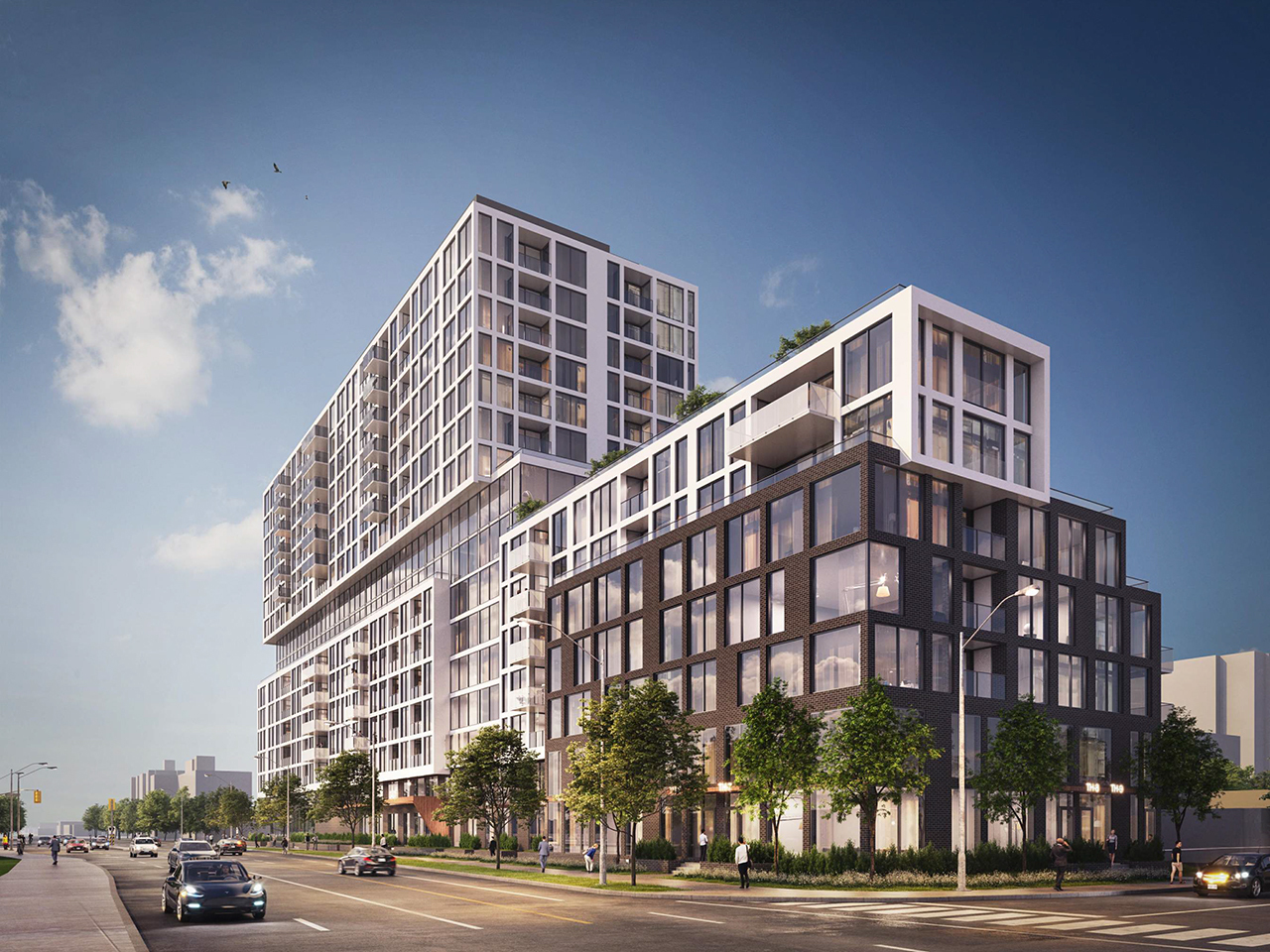 Looking east to 3431 St. Clair East, image via submission to City of Toronto
A remaining 413 m² is planned as retail space which would be located at the east end of the ground floor at the Birchmount and St Clair intersection, with frontages on both major streets.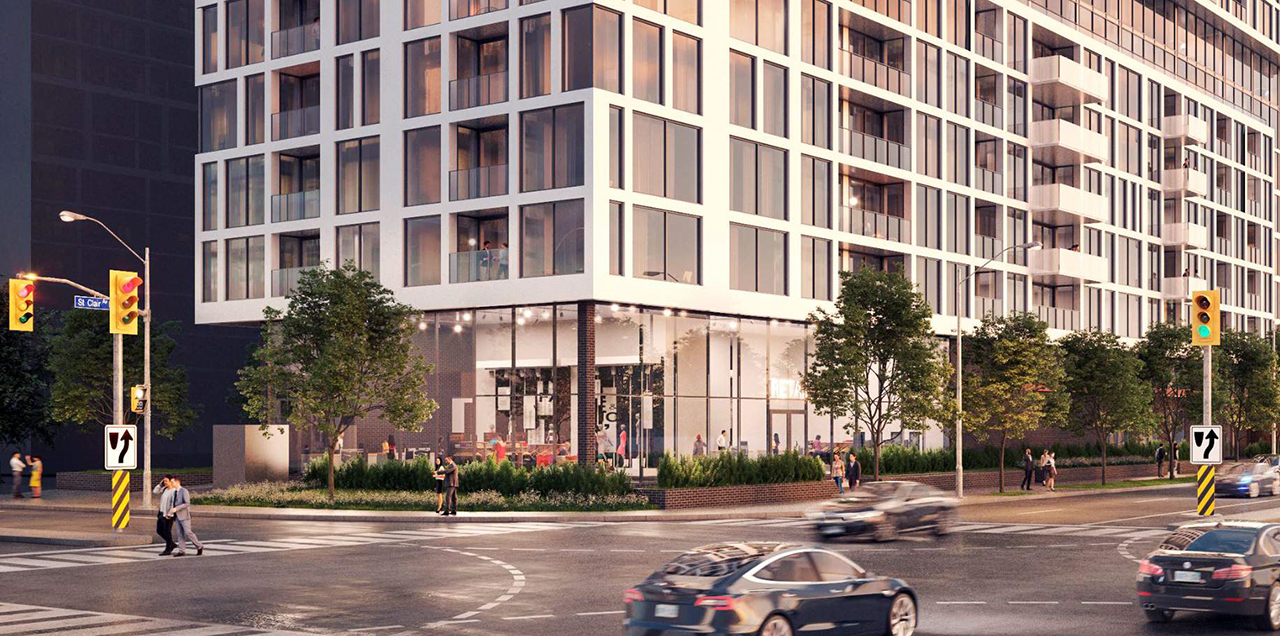 Base of 3431 St. Clair East, image via submission to City of Toronto
Renderings show a podium volume of seven storeys with a two-storey glass 'reveal' above, topped by an upper volume of seven storeys. The upper and lower volumes sandwiching the glass reveal are pictured as white panelling around glazing, while the materials used to execute the look (or a modified one) would not be specified until an eventual Site Plan Approval submission.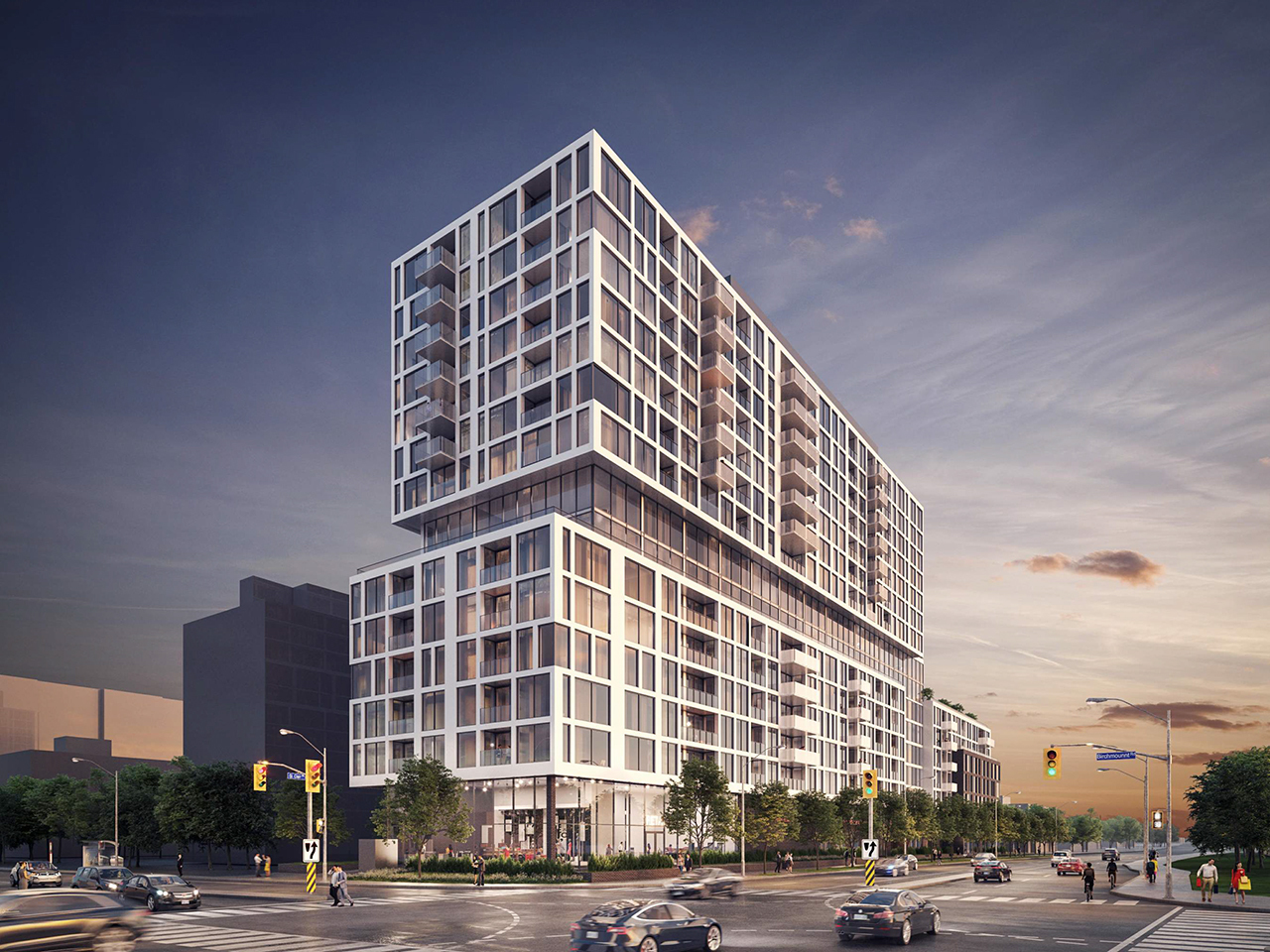 Looking west to 3431 St. Clair East, image via submission to City of Toronto
A three-level underground garage would be accessed via a ramp off Elfreda Boulevard. The garage is proposed to contain 257 parking spaces, with 217 resident spaces and 38 retail and residential visitor spaces. A total of 12 barrier-free spaces would be spread across the underground levels, while two additional car-share parking spaces are planned at grade at the east end of a shared driveway. 413 bicycle parking spaces are also proposed for residents and visitors, including 374 residential spaces located within bicycle lockers on the underground parking levels, and 39 visitor parking spaces located within a bicycle locker on the ground level.
You can learn more from our Database file for the project, linked below. If you'd like to, you can join in on the conversation in the associated Project Forum thread, or leave a comment in the space provided on this page.
* * *
UrbanToronto has a new way you can track projects through the planning process on a daily basis. Sign up for a free trial of our New Development Insider here.