Mississauga's Hurontario Street has become the epicentre of urban growth in the suburban but transforming city west of Toronto. An LRT line is on the way and new towers are springing up all along its route, with the promise of even more development for this emerging corridor of high-rise buildings. The intersection of Hurontario Street and Fairview Road East is soon to get a big density boost with Edenshaw Developments' 32-storey condominium tower known as Alba.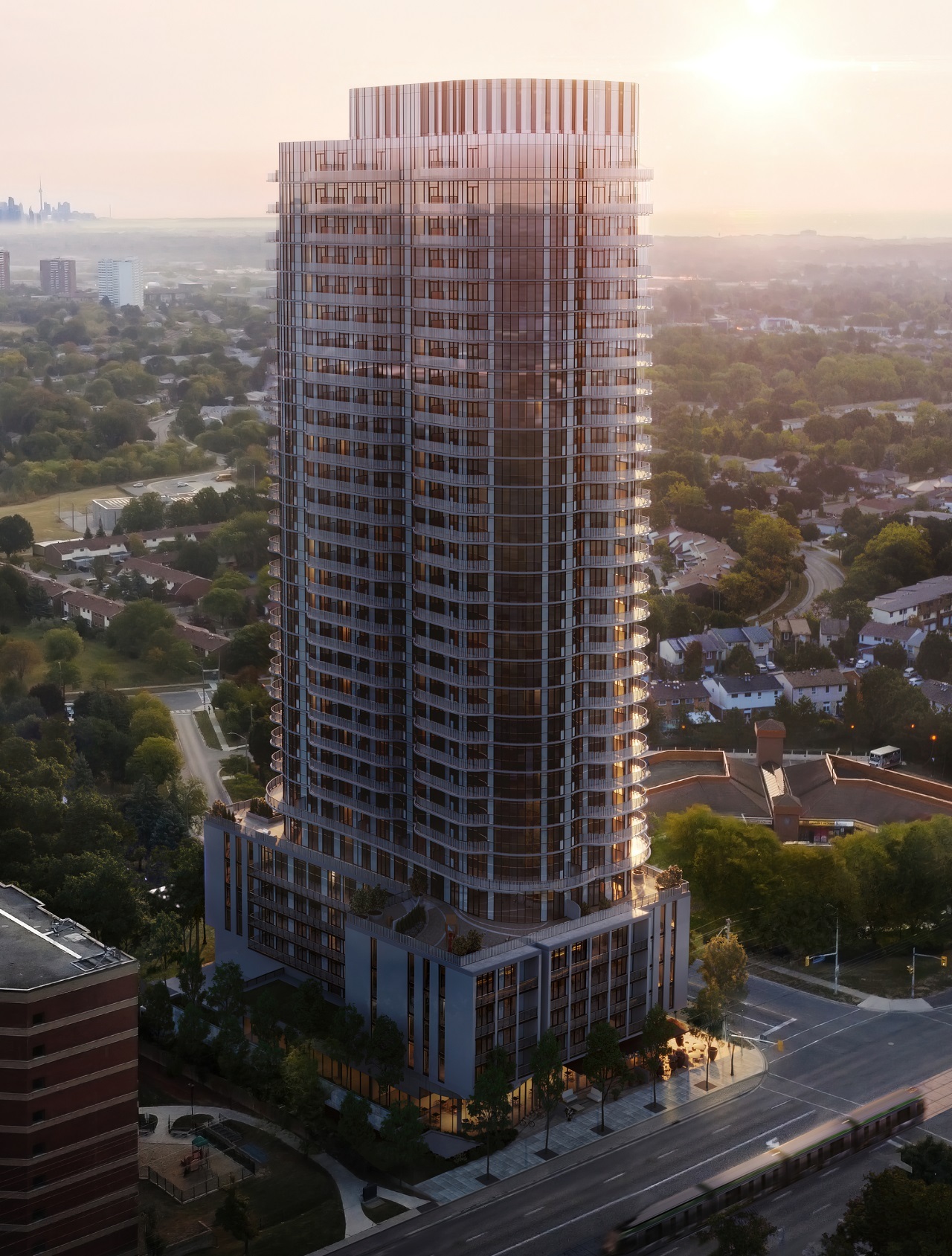 Looking southeast to Alba, image courtesy of Edenshaw Developments Limited
We got our first glimpse of the Core Architects-designed project and its curving exteriors in June, returned for a look at the building's geothermal energy system in July, and now we're taking our first look inside the building, exploring the Cecconi Simone-appointed interiors of common and amenity spaces that residents of the building's 418 condominium suites will enjoy.
With such a wealth of new units being built in the vicinity, the project is setting itself apart from other projects in the area with a generous selection of amenities. Residents at Alba will have access to a total 20,000 ft² of indoor and outdoor leisure and lifestyle amenities spread across the building. Amenities have been programmed with a specific focus on usability, with Edenshaw working with Cecconi Simone to create spaces that address the shortcomings of traditional condominium amenities.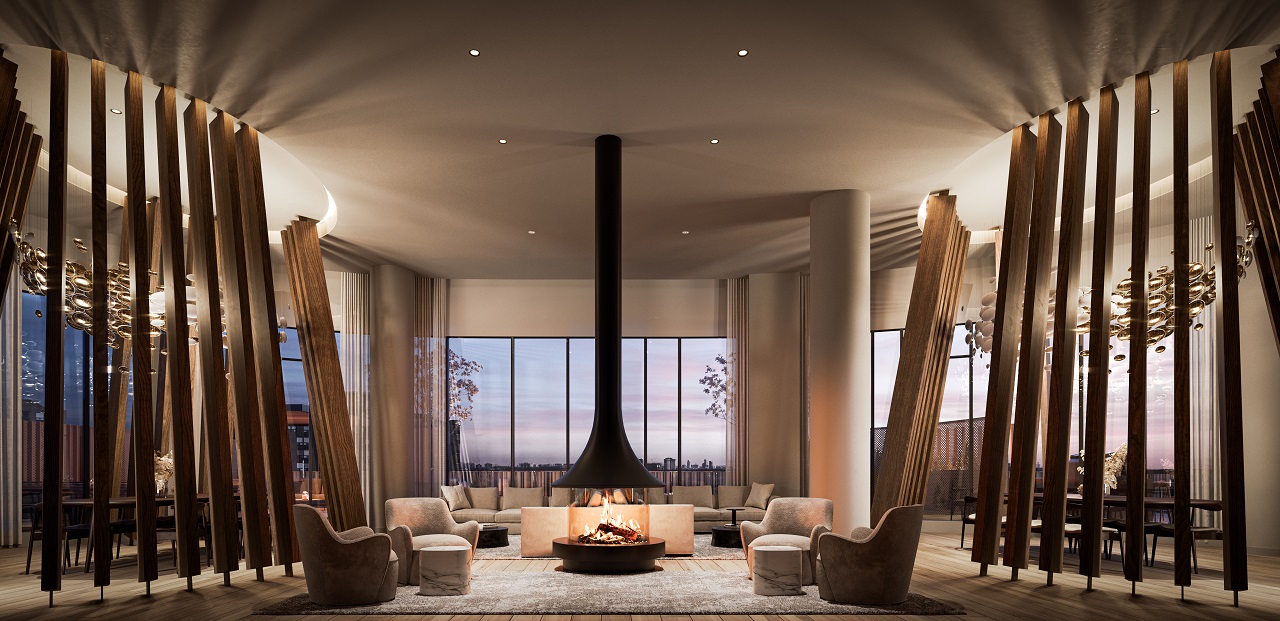 Entertainment Lounge at Alba, image courtesy of Edenshaw Developments Limited
"The concept for the project is to evoke an emotional connection for the residents and visitors, rather than appeal to the practical/tactical or the intellect. The touchstones of the design cross many elements including wellness—airy, fresh, natural, serenity—sustainability, and inclusivity—inviting, approachable, authentic—all of which combine for an inspiring and creative environment," reads a statement by Elaine Cecconi, principal at Cecconi Simone.
A lobby with 24-hour, 7-day-a-week concierge, lounge seating and a fireplace, takes design cues from luxury hotels with a mix of open space and intimate seating. Lounge areas are a recurring theme in amenity spaces at Alba, providing seating in areas of amenities often overlooked. This includes a fully-equipped fitness centre with a seating area, addressing the communal nature of gyms for fitness buffs, and the frequent frustration of having nowhere convenient to wait for equipment to free up. A commercial laundry room will also be provided—duvets and pillows are often too large for stacked condo washer/dryers—also offering a lounge area where residents can comfortably wait.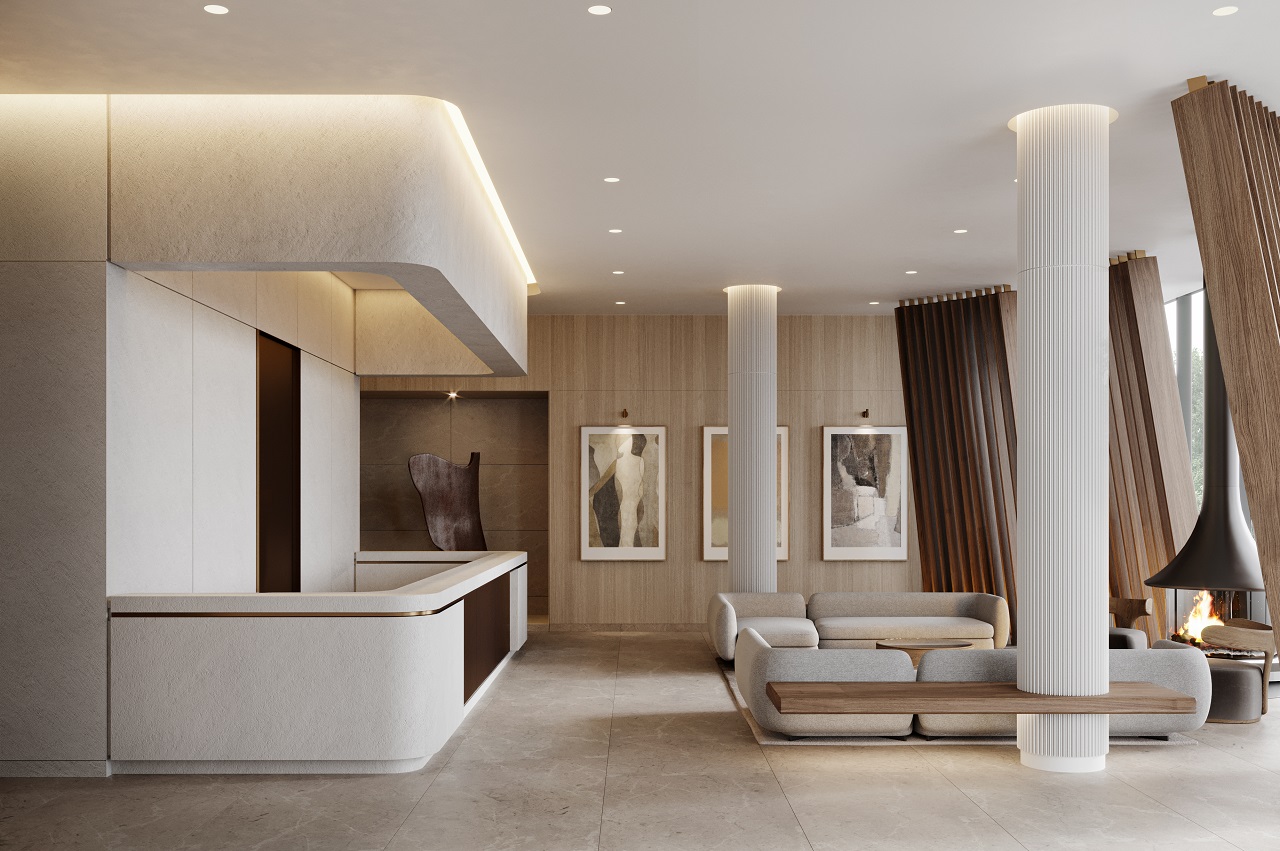 Lobby at Alba, image courtesy of Edenshaw Developments Limited
A wide selection of other amenities will be offered, with the majority of spaces concentrated on both the ground floor and the 7th floor, along with a few spaces on level 2 like a spin studio and guest suites. Elaine Cecconi describes the thinking behind the layout, "Many amenities in residential buildings are hived off into smaller rooms with specific uses. For the seventh floor of Alba there are few doors, rather the amenities are expansive and flow from one area to another in a natural and logical manner. The entire east end of the floor is a fireplace lounge opening up to a beautifully landscaped terrace. Adjacent to the north is a games room, with billiards and a foosball table, which in turn is connected to a TV lounge with a fireplace. Adjacent to the south is a chef's demo kitchen for gatherings and events. Continuing on the south side of the floor is co-working space allowing for various work styles including open meeting areas in nests, private meeting rooms, enclosed work pods. On the north side, we have a MAKER STUDIO, perfect for painting, potting, model building and any other mess-making activities. Adjacent is the pet spa with direct access to an exterior dog run. To the northwest is the kids' indoor playground. Immediately outside is the children's playground. At the west end of the seventh floor is a multi-purpose lounge which can be a self-contained area perfect for private bookings. There's a kitchen, a dining area, a lounge nest, and a TV zone with a fireplace."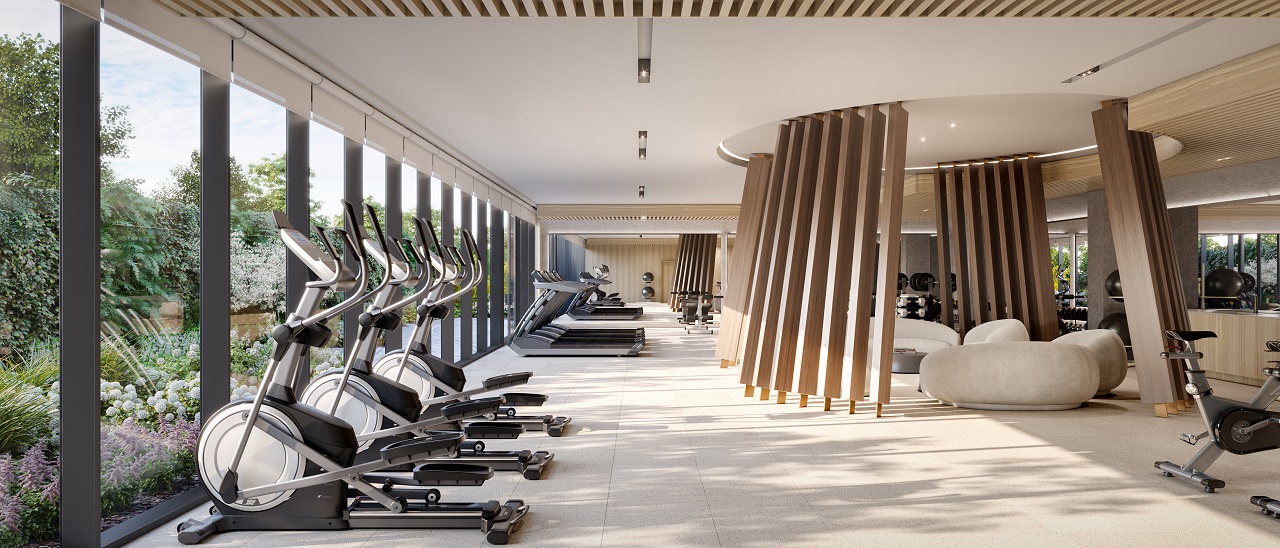 Fitness centre at Alba, image courtesy of Edenshaw Developments Limited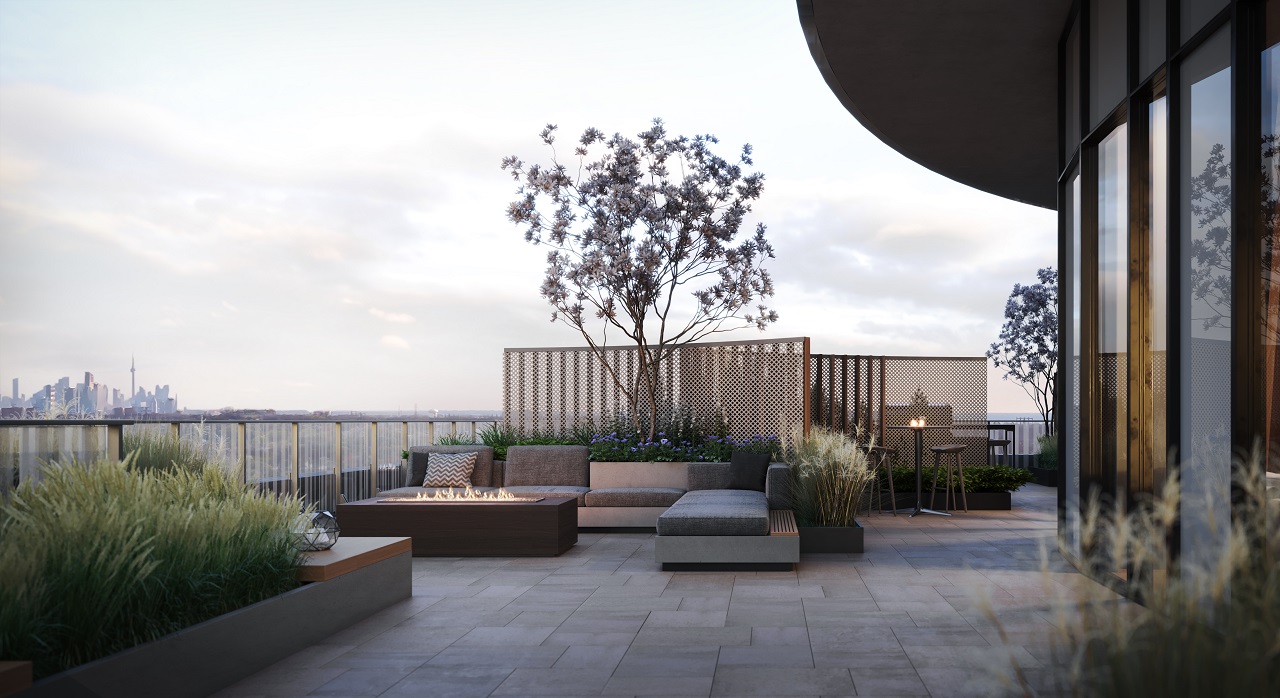 Amenity terrace at Alba, image courtesy of Edenshaw Developments Limited
Registrations are now being accepted for the project, with the building targeted for completion in Summer, 2025.
You can learn more from our Database file for the project, linked below. If you'd like to, you can join in on the conversation in the associated Project Forum thread, or leave a comment in the space provided on this page.
* * *
UrbanToronto has a new way you can track projects through the planning process on a daily basis. Sign up for a free trial of our New Development Insider here.