Excitement is building for the long-awaited redevelopment of the former Imperial Oil lands at Lakeshore and Mississauga Road in Port Credit. The 72-acre master-planned Brightwater community from Port Credit West Village Partners—a joint venture of DiamondCorp, Dream Unlimited, FRAM + Slokker, and the Kilmer Group—will be built over several phases to a master plan by Giannone Petricone Associates and Urban Strategies. The most recently announced phase is a townhome complex at the west edge of the community, designed to create a contextual bridge between the taller buildings in Brightwater's interior and the established low-rise neighbourhood to the west.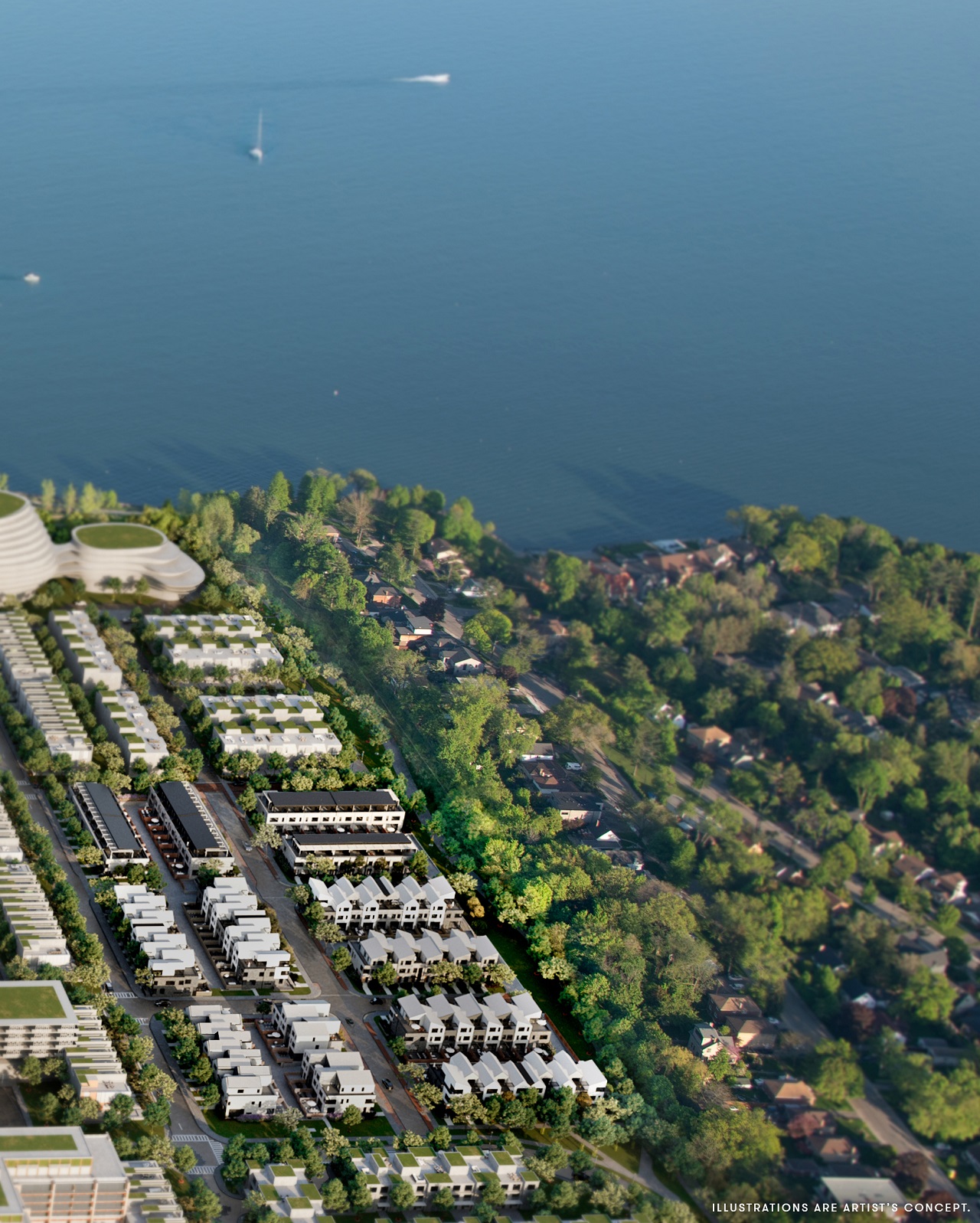 Aerial view of Brightwater Towns, image courtesy of PCWVP
Marketed as Brightwater Towns, this latest phase followed on the heels of a successful summer 2020 launch of first phase mid-rise Brightwater I and II condos, and a pair of associated commercial buildings. We got a first look at this initial release of 106 townhomes last month—ranging from 1,900 ft² to 2,600 ft² in area, priced starting from $1.4 million—while more information continues to be released. Last month we got our first taste of the project's 12 blocks of townhomes designed by superkül, and now we're getting a closer look inside the homes via renderings that show off the Truong Ly Design interiors.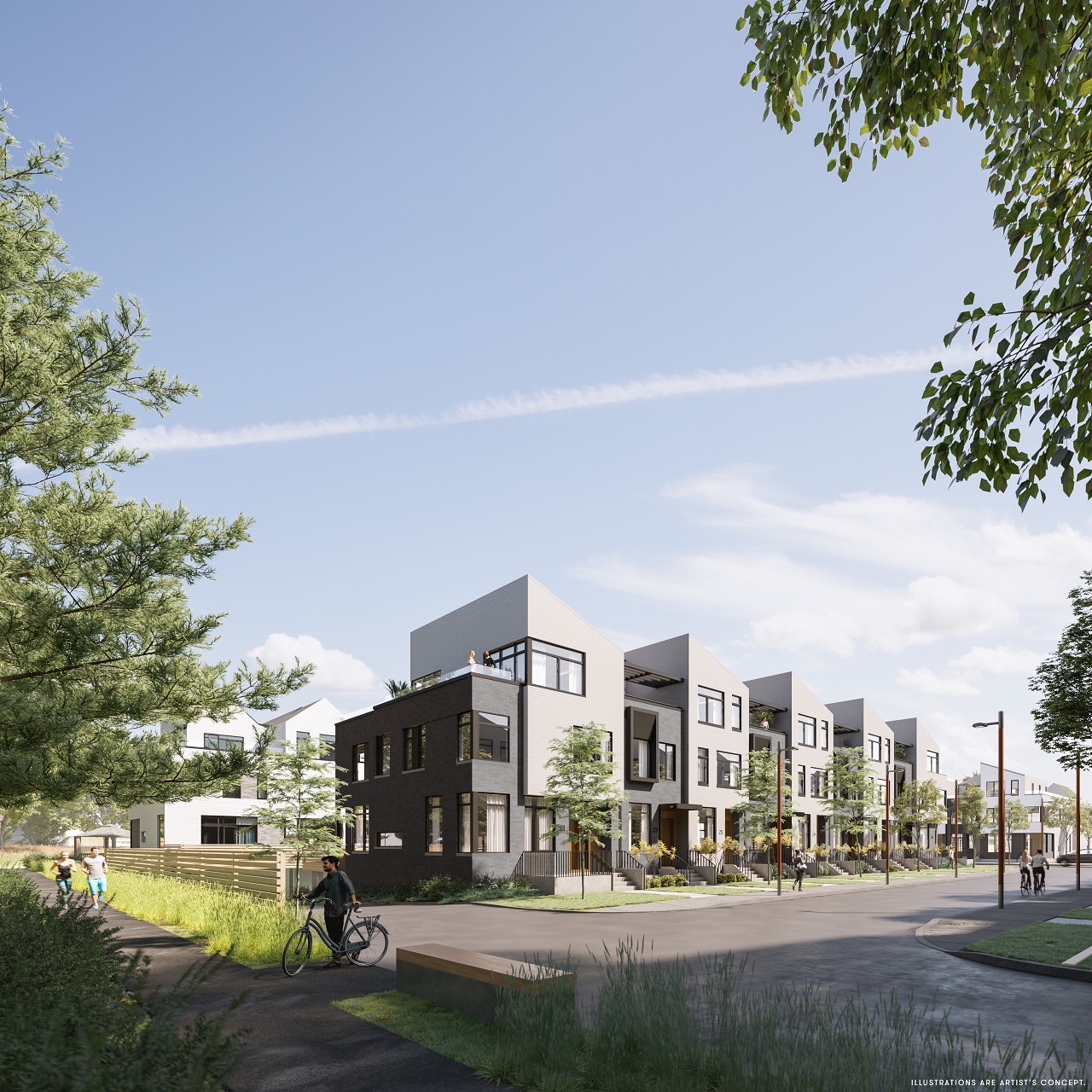 Brightwater Towns, image courtesy of PCWVP
Brightwater Towns will feature oversized windows that fill interiors with natural light, underscoring the community-wide theme of connection to the outdoors. This is furthered by natural tones with finishes including wide plank engineered hardwood flooring as well as oak stairs with glass guardrails. Making the most of it all, on main floors, ceiling heights will hit 10 feet, while 9 feet will be standard on second and third levels.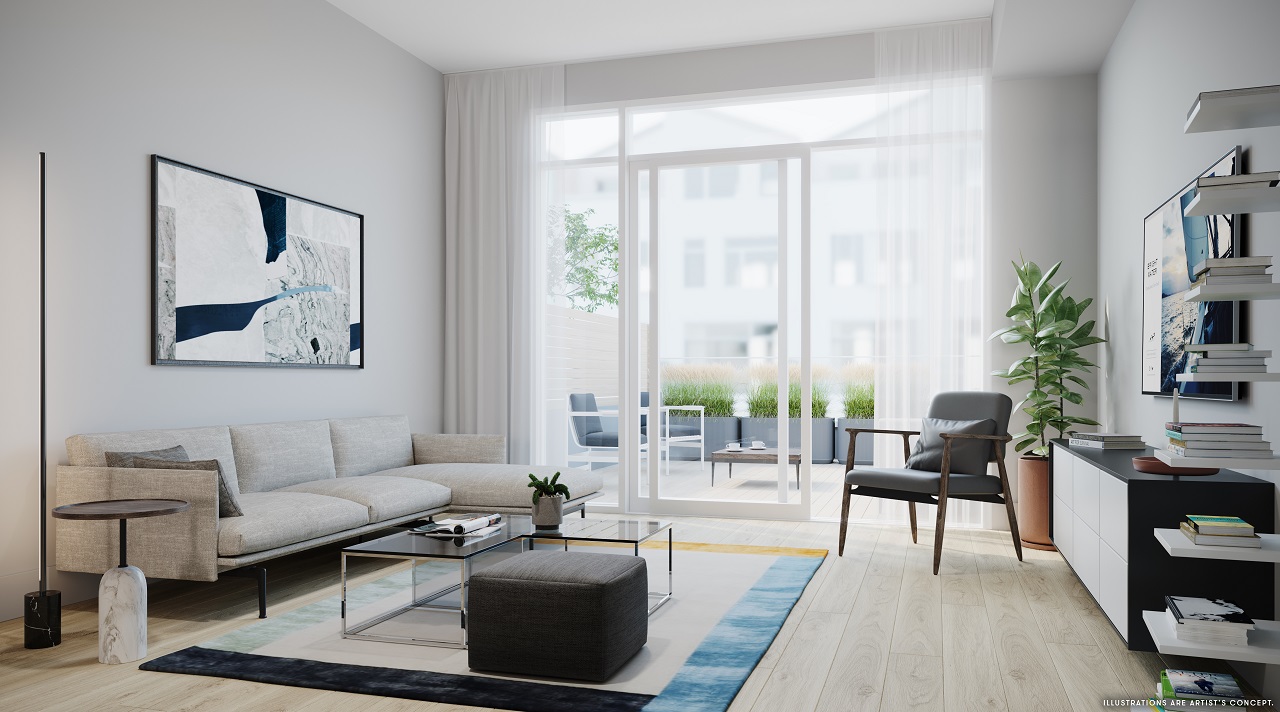 Living room at Brightwater Towns, image courtesy of PCWVP
For many, the lines between home and work lives have blurred over the last 14 months, and the need to work, exercise, and more activities are answered at Brightwater Towns with a Flex Room designed to accommodate a range of uses. Residents can adapt this space to create a home gym, a work-from-home environment, a guest room, or whatever suits their lifestyle.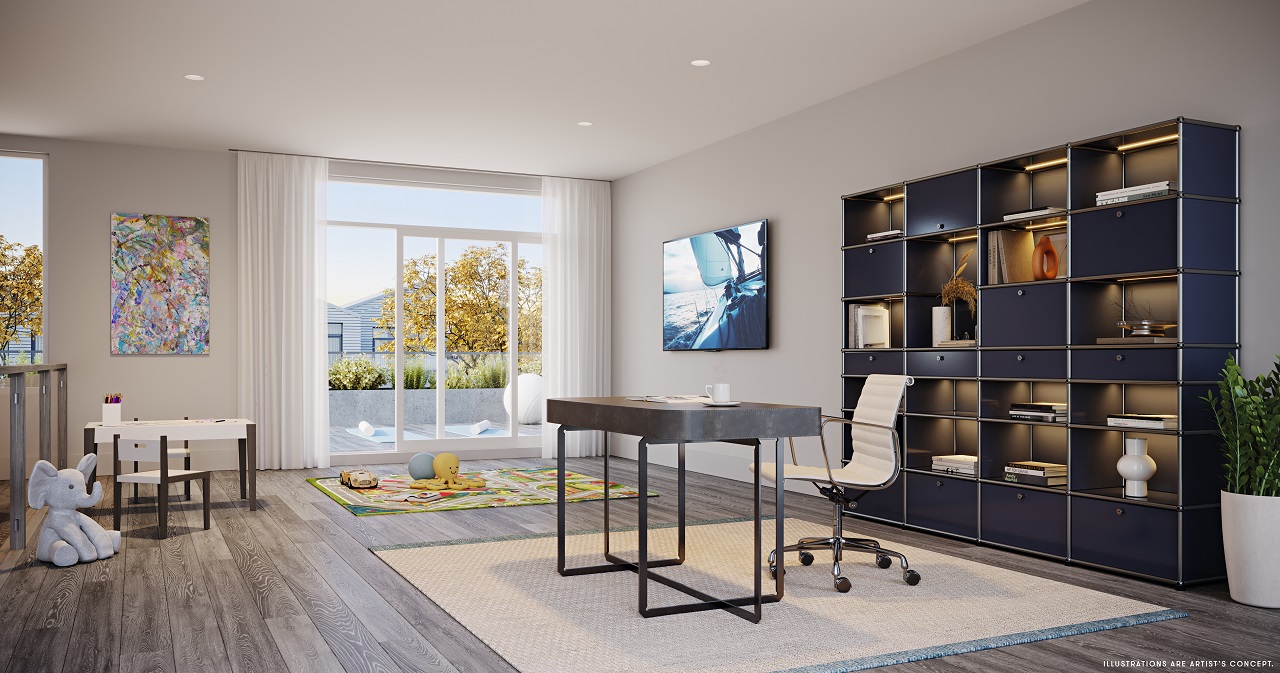 Flex space used as office at Brightwater Towns, image courtesy of PCWVP
Technology and efficiency played into these townhomes, which feature sustainable building designs, energy-efficient appliances, and a range of other features such as programmable thermostats, panel-ready EV charging stations, and home automation packages. On top of these features, residents will be wired into a community-wide WiFi network serving the district.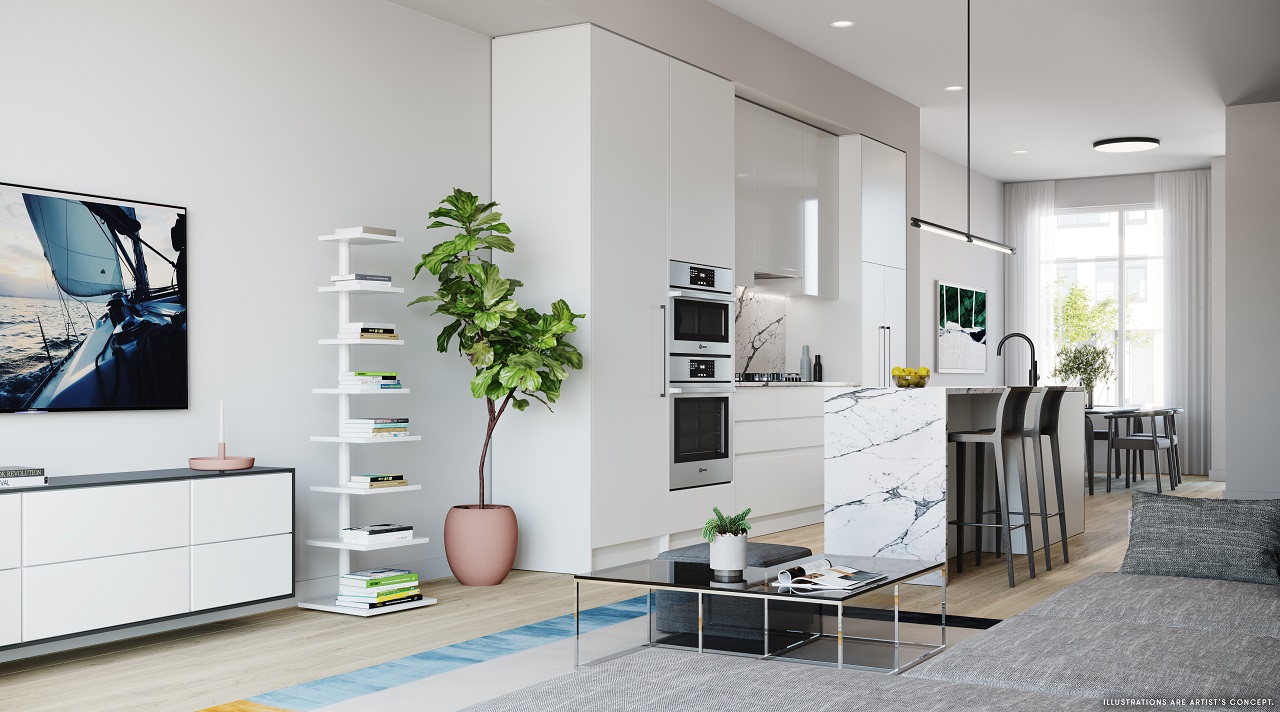 Kitchen at Brightwater Towns, image courtesy of PCWVP
This release of 106 townhomes represents just a portion of the homes being built on the Brightwater site, eventually to be 2,995 condominium residences and 150 affordable housing units. The new residences will be woven together by 18 acres of green space including a nine-plus acre waterfront park. Over 300,000 square feet of commercial space will anchor the community to the existing Lakeshore strip along its northern edge, while a elementary school and community centre are proposed to complete the Port Credit waterfront community.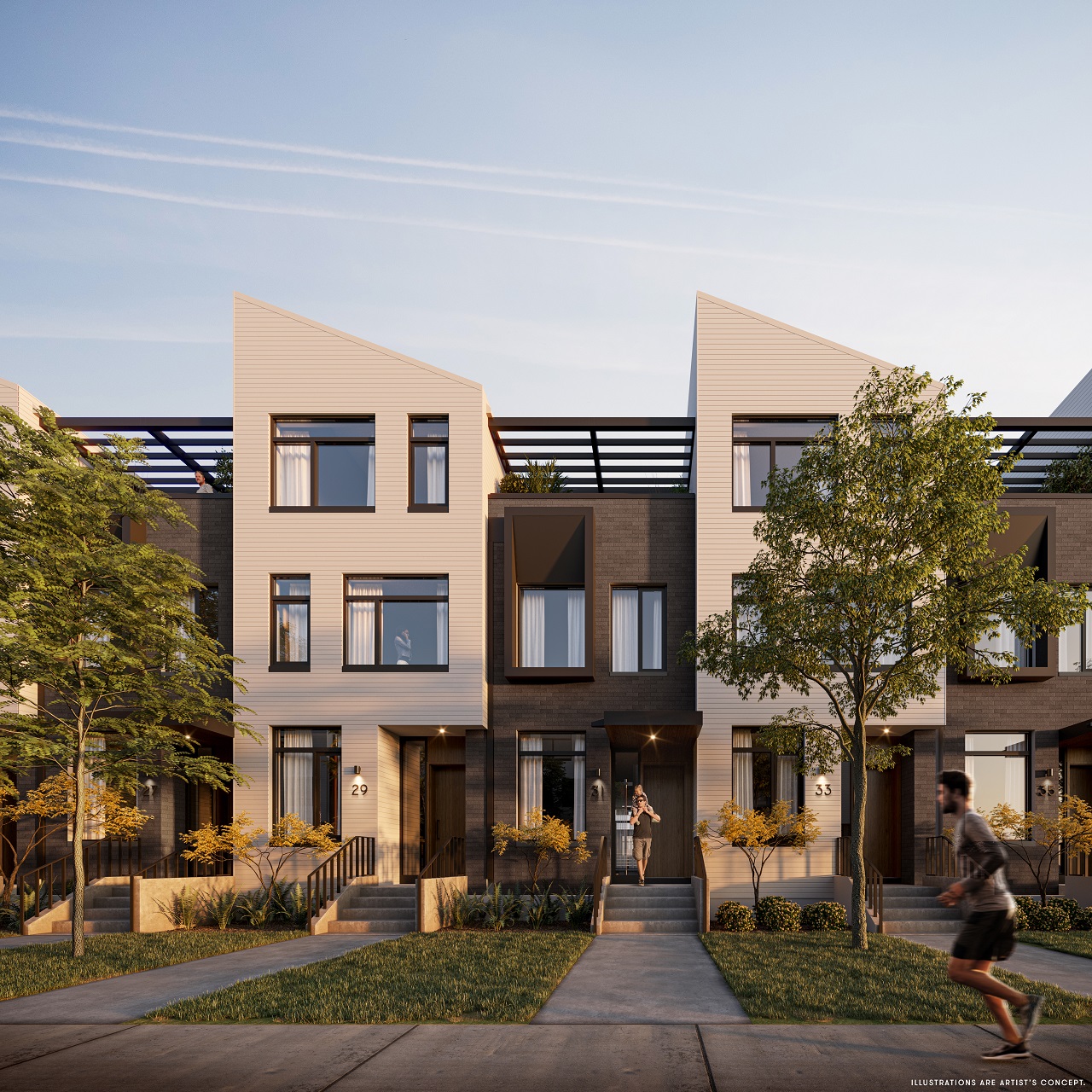 Brightwater Towns, image courtesy of PCWVP
Additional information and images can be found in our Database files for the projects, linked below. Want to get involved in the discussion? Check out the associated Forum threads, or leave a comment n the space provided on this page.
* * *
UrbanToronto has a new way you can track projects through the planning process on a daily basis. Sign up for a free trial of our New Development Insider here.