A pair of related Zoning By-law Amendment applications recently submitted to the City of Toronto come with updated plans for a mixed-use complex at Bathurst and Richmond streets in Toronto's Fashion District. Proposed by Allied Properties REIT, the pair of office and residential buildings at 141 Bathurst Street and 550 Adelaide Street West feature complementary designs by BDP Quadrangle, while incorporating another building onsite. The 149 Bathurst site was the subject of a 2016 application from Carlyle Communities and CentreStone Urban Developments, though those companies are no longer involved.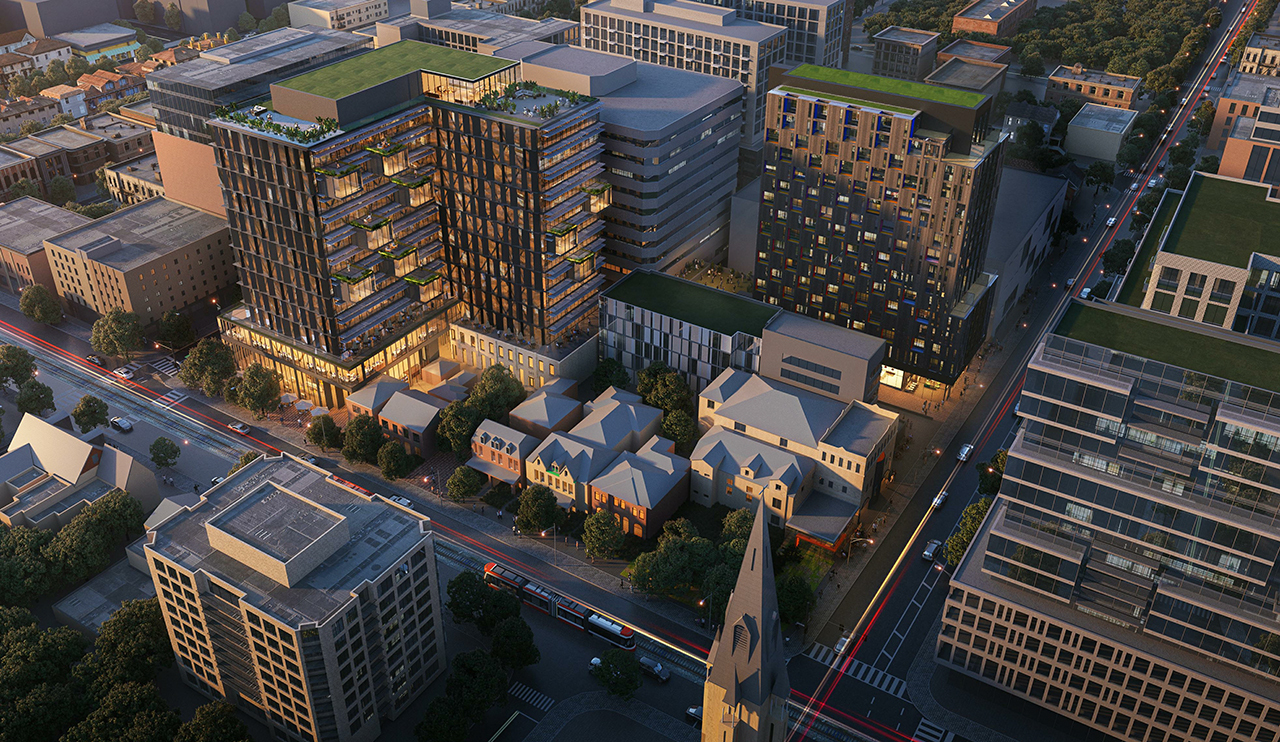 Looking northeast to 149 Bathurst Street and 550 Adelaide Street West, image via submission to City of Toronto
The project has been proposed in two separate applications to the City, with each representing a different phase of the plan. An improved public realm around the both building phases includes wider sidewalks at the corner of Bathurst and Richmond in front of the new office building, a courtyard between the existing office building and the new one, and connecting paths through the former house site at 141 Bathurst, and along the west side of the 550 Adelaide property, giving much more pedestrian porosity to the site. Access to a City laneway serving 143 through 147 Bathurst would be maintained from Richmond Street through the ground floor of the new office building.
Site plan for 141 Bathurst Street (in hatched red), and 550 Adelaide Street West, designed by BDP Quadrangle for Allied Properties REIT
One phase includes properties at 141 and 149-161 Bathurst Street, plus 579, 589, and 591 Richmond Street West, along with a north-south public lane. (This phase surrounds 143-147 Bathurst, which are not part of the assemblage of properties.) Existing two-storey buildings at 141 Bathurst and 579 Richmond are proposed to be partially retained, though another pair of two-storey buildings at 159 and 161 Bathurst are proposed to be demolished. This phase is to be a 12-storey, mixed-use office building measuring 59.3 metres high to the top of its mechanical penthouse level, having a Gross Floor Area (GFA) of 23,396 m², all of which will be office space other than 1,332 m² which is planned as ground floor retail space.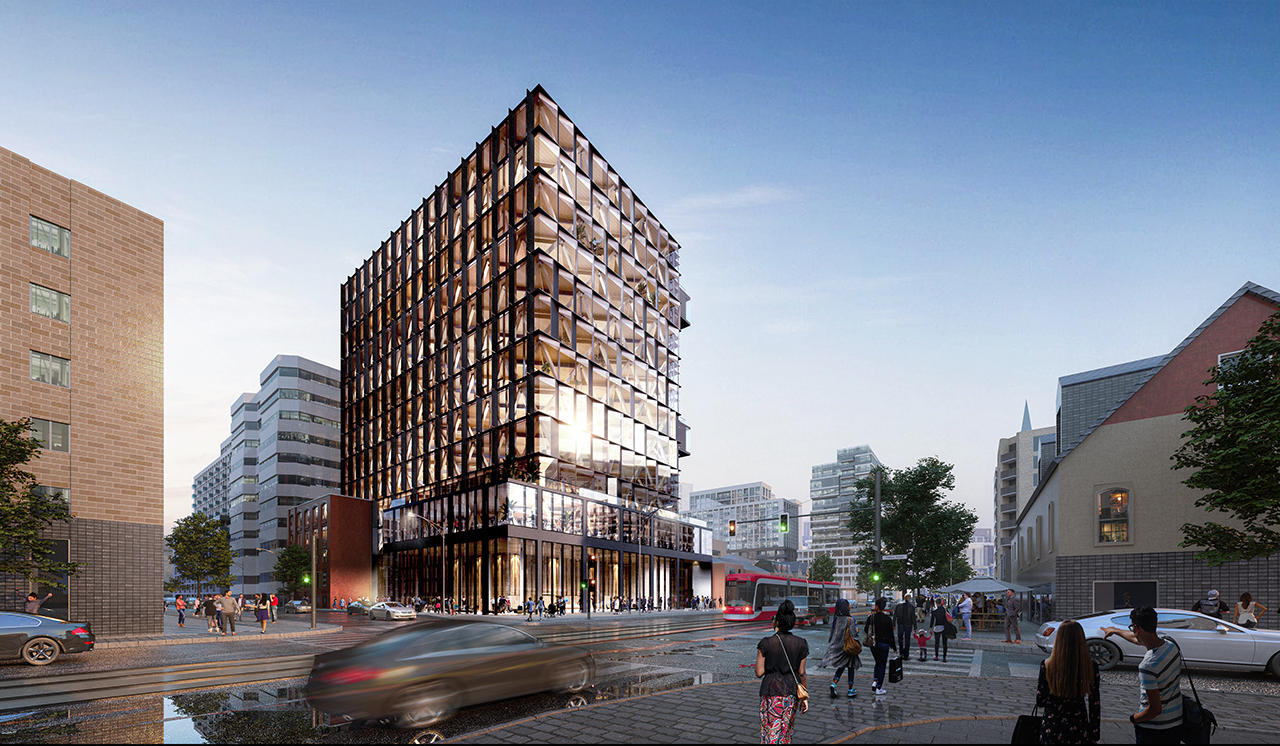 Looking southeast to 149 Bathurst Street, image via submission to City of Toronto
The other phase is a 16-storey residential rental building, 58.83 metres high, with retail at ground level, located to the south at 550 Adelaide Street West. It would replace the surface parking lot associated with the existing 12-storey office building at 555 Richmond Street West which would be retained. A total GFA of 39,319 m² is proposed in this phase, broken into a mix of 11,461 m² of new residential space, 180 m² of new retail space, while 27,673 m² of office space would be retained within 555 Richmond. There are 139 purpose-built rental units in a mix of 80 one-bedrooms, 40 two-bedrooms, and 19 three-bedroom units proposed, includes the replacement of 15 rental residential units currently in buildings on the site of the other phase.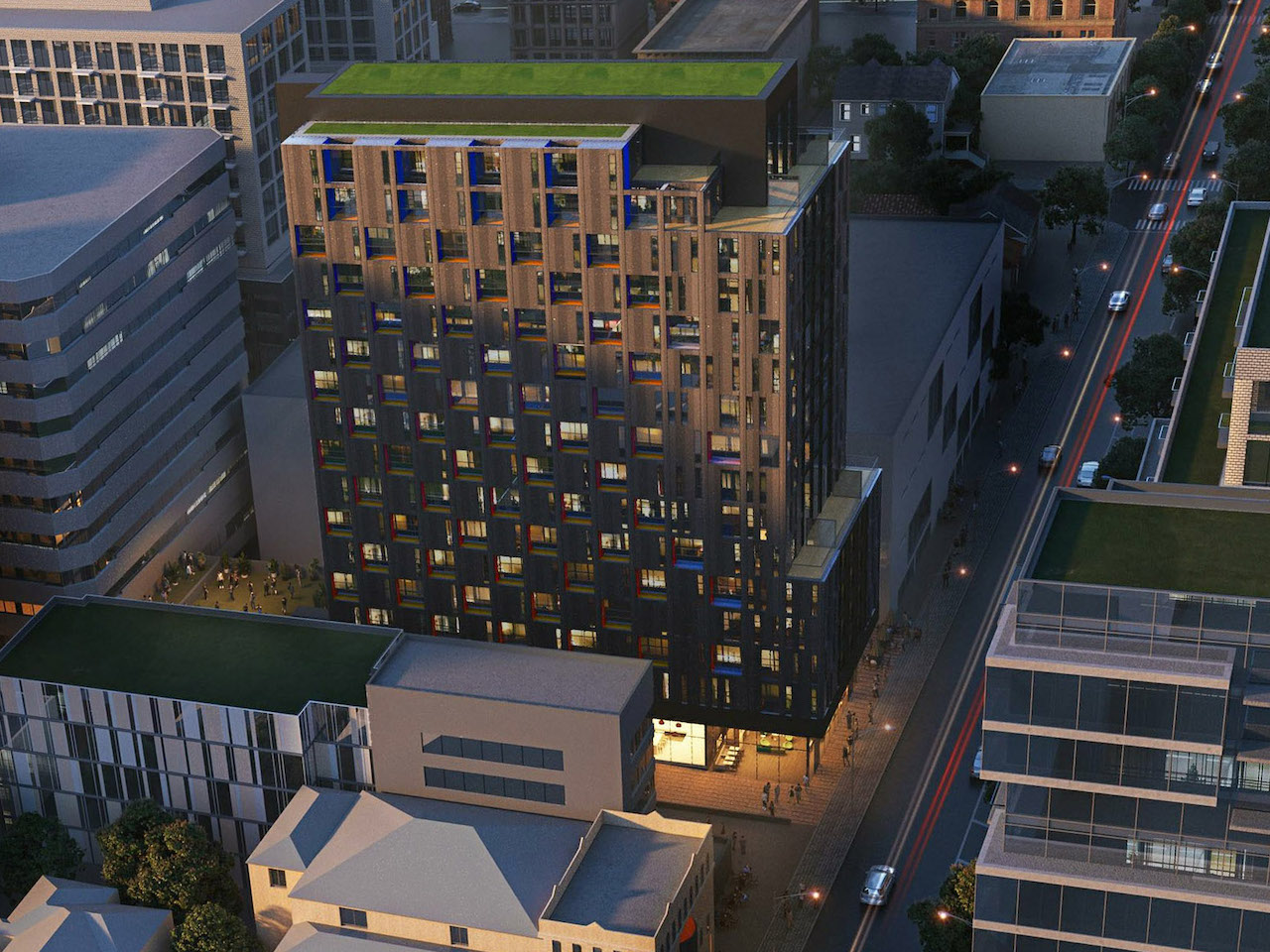 Looking northeast to 550 Adelaide Street West, image via submission to City of Toronto
No parking or loading is proposed for the Bathurst phase, its underground levels to instead provide 96 bicycle parking spaces (46 short-term, 50 long-term) along with shower and change facilities. These levels would connect to the garage and loading facilities at 555 Richmond Street West.
Parking for the residential phase would involve an expansion of 555 Richmond's underground garage, extending south to meet lot lines on Adelaide. The two underground levels would host a mix of vehicular parking, bicycle parking, storage, and mechanical/servicing building elements. 158 parking spaces are proposed to serve the office building, (81 spaces on the P1 level and 77 on the P2 level), but no parking is proposed to be provided for residential tenants or their visitors.
You can learn more from our Database file for the project, linked below. If you'd like to, you can join in on the conversation in the associated Project Forum thread, or leave a comment in the space provided on this page.
* * *
UrbanToronto has a new way you can track projects through the planning process on a daily basis. Sign up for a free trial of our New Development Insider here.