In Scarborough's West Hill area, Mutual Developments is catering to a wider demographic than typical Downtown Toronto condos at East Pointe Condominiums. On Kingston Road just east of Morningside Avenue, the 11-storey, Kohn Partnership Architects-designed building is set to bring 104 condominium units to a fast-growing neighbourhood attracting post-secondary students and young professionals, offering a range of layouts from 388 to 1,036 ft² in area and spanning one through three bedrooms, with prices starting from the $400,000s.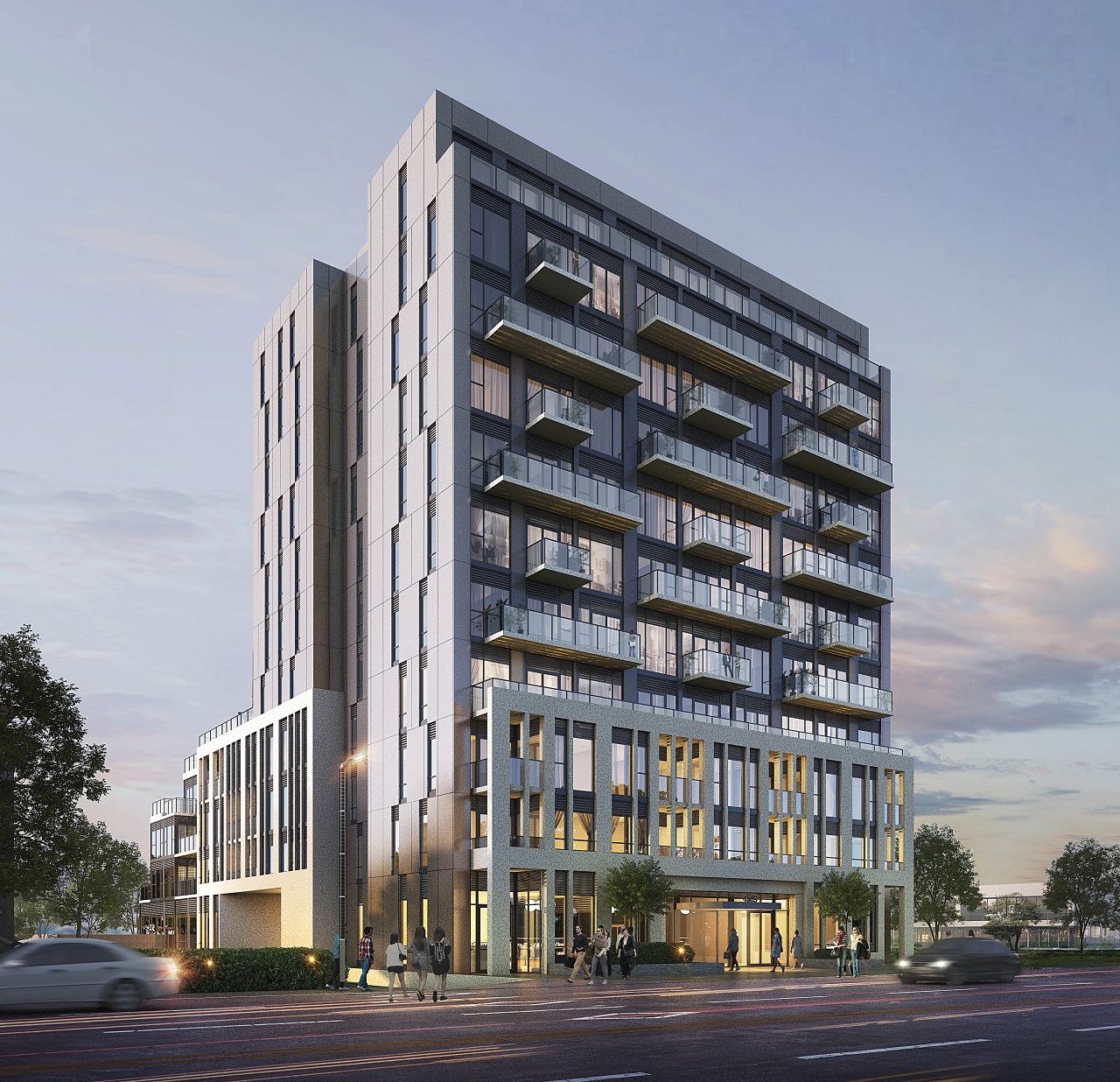 East Pointe Condominiums, image courtesy of Mutual Developments
The building will boast a selection of amenity spaces appointed by interior designers ESQAPE Design. Carmen Dragomir, Principal at ESQAPE, recently addressed her vision for the East Pointe project, starting with a key goal od creating continuity between indoor and outdoor amenities. "The building has an intricate, contemporary design with interesting architectural features that start right at the entrance and will translate seamlessly into the lobby and beyond. The main indoor amenities are adjacent to the outdoor amenity space creating a continuous functional and visual flow. Located at the corner of the building, there is a lot of natural light that streams through the glazing on the windows visually combining the exterior and interior spaces and creating a vibrant social corner for the residents." The design and flow of these spaces frame what Dragomir describes as "interesting interior amenities to be used as an extension of [residents'] own private unit."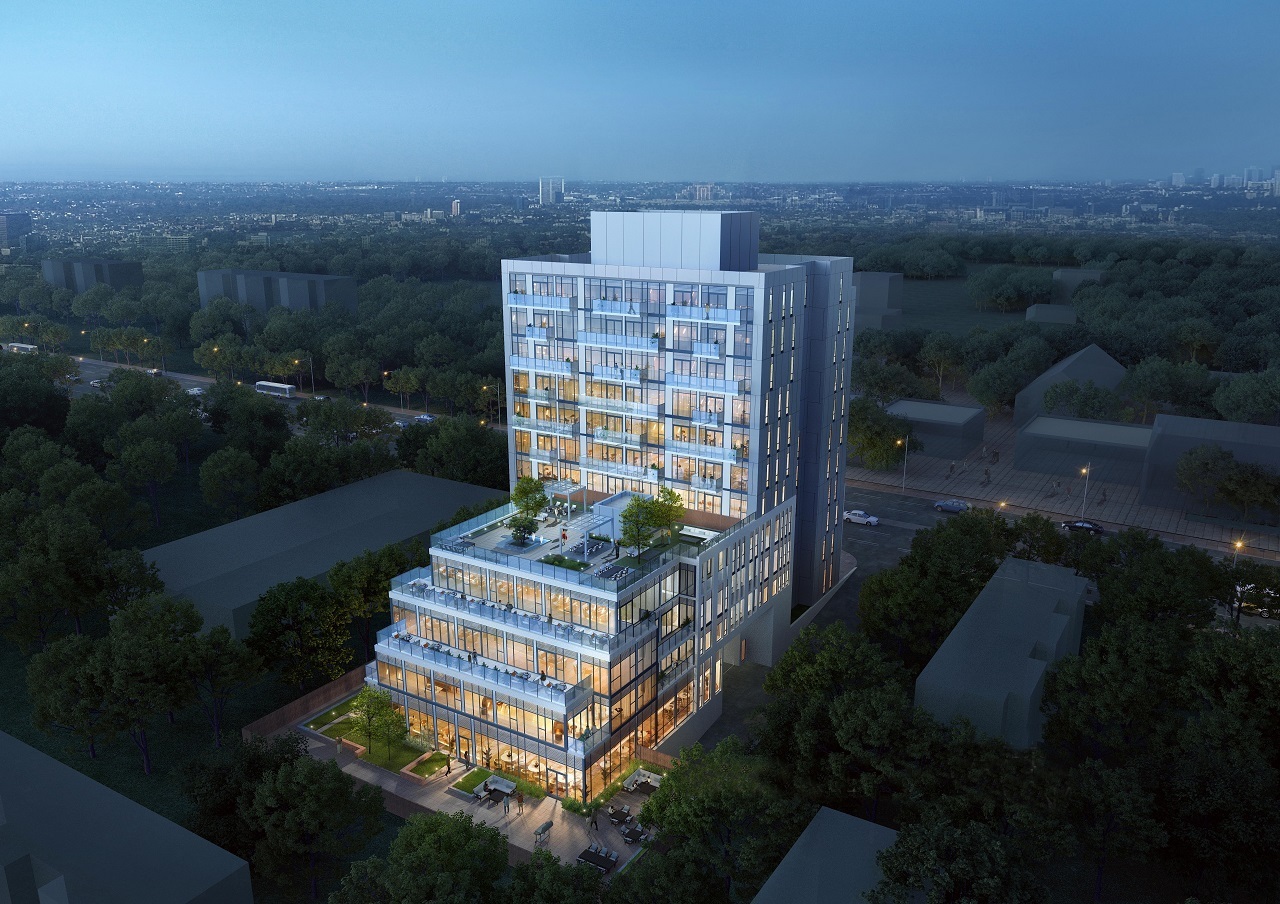 East Pointe Condominiums, image courtesy of Mutual Developments
This is evident in a rendering of the building's south side, which we can close-crop for a better look at how this side of the building steps down to meet the adjacent established low-rise community. The podium rooftop supports a spacious amenity terrace, with Dragomir noting that "the terraced design at the back is very appealing and the interior amenity spaces have been thoughtfully designed for students, those working from home, or those who want to entertain in the space," while stressing the importance of residents' connections with the outdoors, such as the various nearby natural amenities like Rouge National Urban Park and Lake Ontario.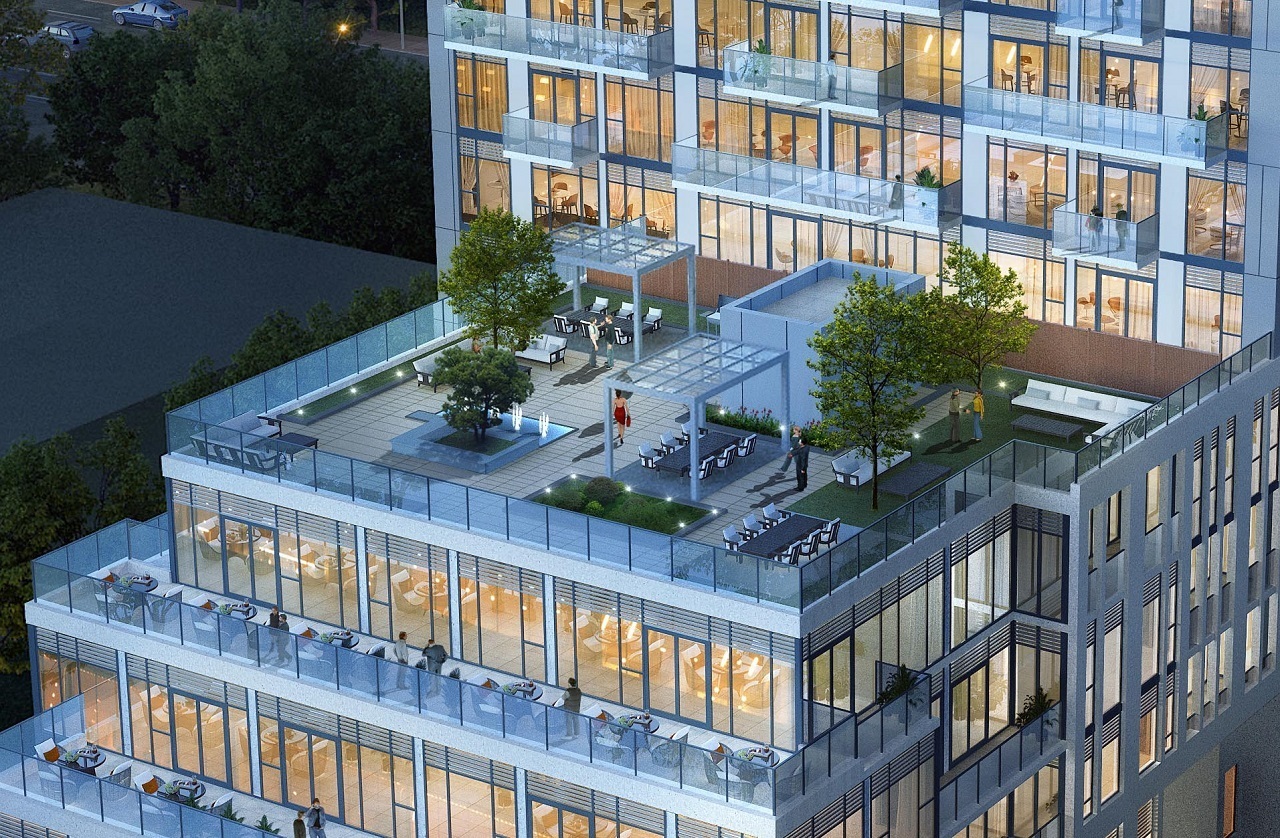 Amenity terrace at East Pointe Condominiums, image courtesy of Mutual Developments
Just beyond the glazed walls of the terrace, residents will encounter a party room occupying the corner of the building. "We have created different zones in the party room, from a coffee bar ledge in front of the window, a lounge area with soft seating and a tv feature wall, a kitchen with an island and a dining room, so this space can be used either separately or in conjunction with the outdoor cooking area," said Dragomir. "The space also allows for the furniture to be easily moved around to allow for two or more people to meet together—again easily accommodating a working or social situation."
In realizing the goal to create amenities that function as extensions of suites, ESQAPE looked to the changing times for inspiration to create a co-working space that builds on the features of pre-pandemic co-working environments. "With people spending more time at home now, the amenity space is a true extension of one's suite. Although co-working spaces were available prior to the pandemic, it has become more important now. We have designed individual private nooks for people to do their work and have conferences as well as we have created another room where people can create their own focus group," said Dragomir, "There will also be a boardroom which residents can use on an as needed basis. Technology will be part of every area so people can have proper conference calls with family, friends or co-workers. The co-working space will also have a photocopier and a mini servery area for those working or socializing in the space."
We expect to learn even more about amenities at East Point as more renderings are released. In the meantime, additional information and images can be found in our Database file for the project, linked below. If you'd like, you can get involved in the discussion in the associated Forum thread.
* * *
UrbanToronto has a new way you can track projects through the planning process on a daily basis. Sign up for a free trial of our New Development Insider here.