Yonge Street through North York City Centre is framed by a corridor of tall office and residential towers, and now another two towers are about to add to this linear skyline as construction advances on a mixed-use complex from G Group Development and Lalu Group. Located along Yonge at Ellerslie Avenue (between Sheppard and Finch) the taller of the two will be the 31-storey, 105.8 metre-tall Ellie Condos, while there will also be a 10-storey, 50.6 metre-tall office building rising from the same podium. The complex is designed by Kirkor Architects.
The first work began when hoarding was installed around the site in June, 2019, securing it for the demolition of a pair of two-storey brick buildings at the north end, while a surface parking lot on the south half was graded. Shoring activity followed from late 2019 into early 2020, and by the time we last checked in on construction a year ago, excavation was in full swing.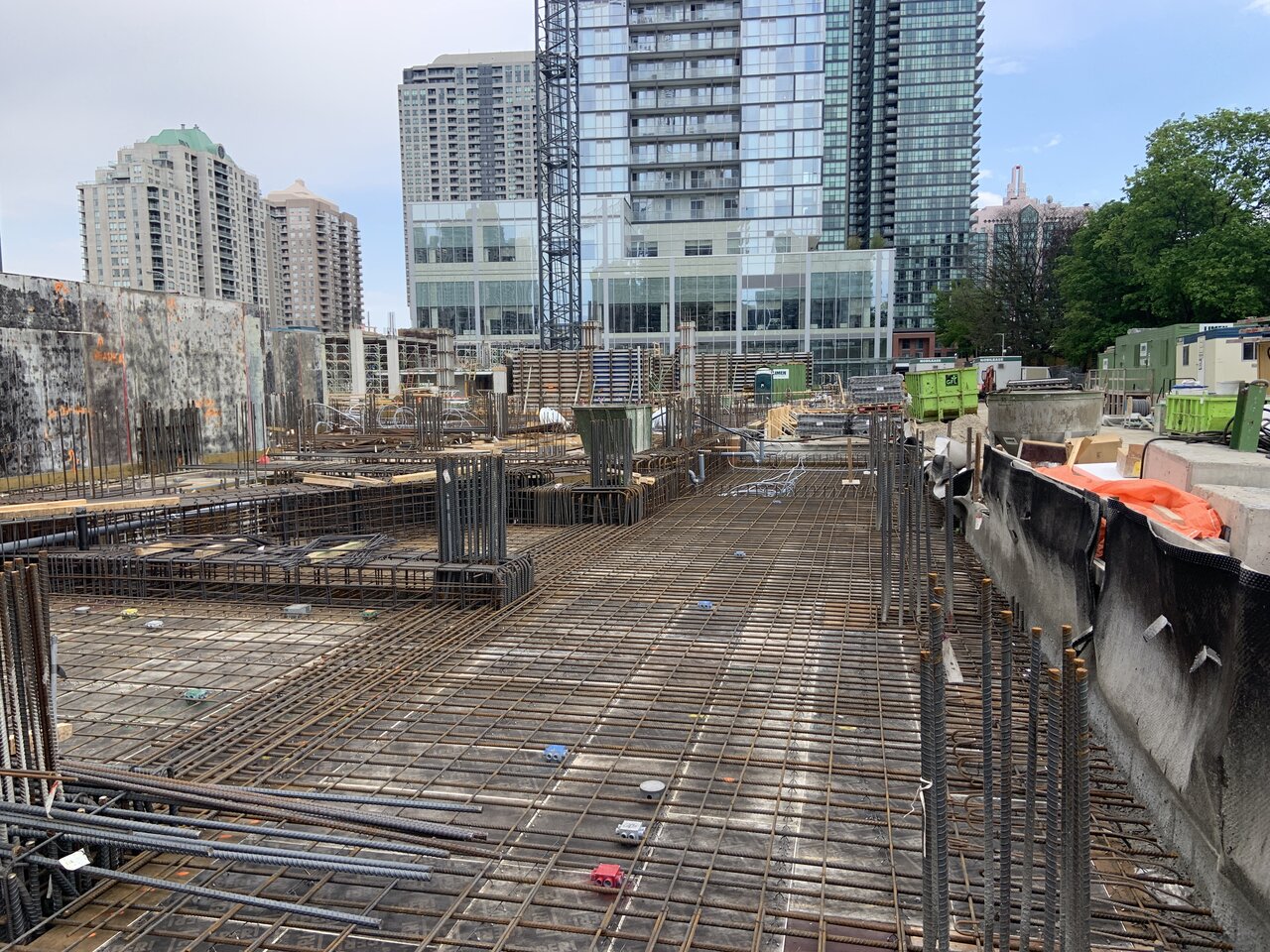 Looking south across site of Ellie Condos, image by Edward Skira
The project has made great strides since. A tower crane was installed at the south end of the site in July, 2020, with a second crane following in October. Forming has advanced rapidly for the four parking levels, and the project recently reached a construction milestone with the start of ground-level work, large sections of which have been now formed. Walls and columns now stretch above the Yonge Street hoarding along the east and central portions of the site, while rebar cages are in place for the final sections of the ground floor slab at the west and north ends.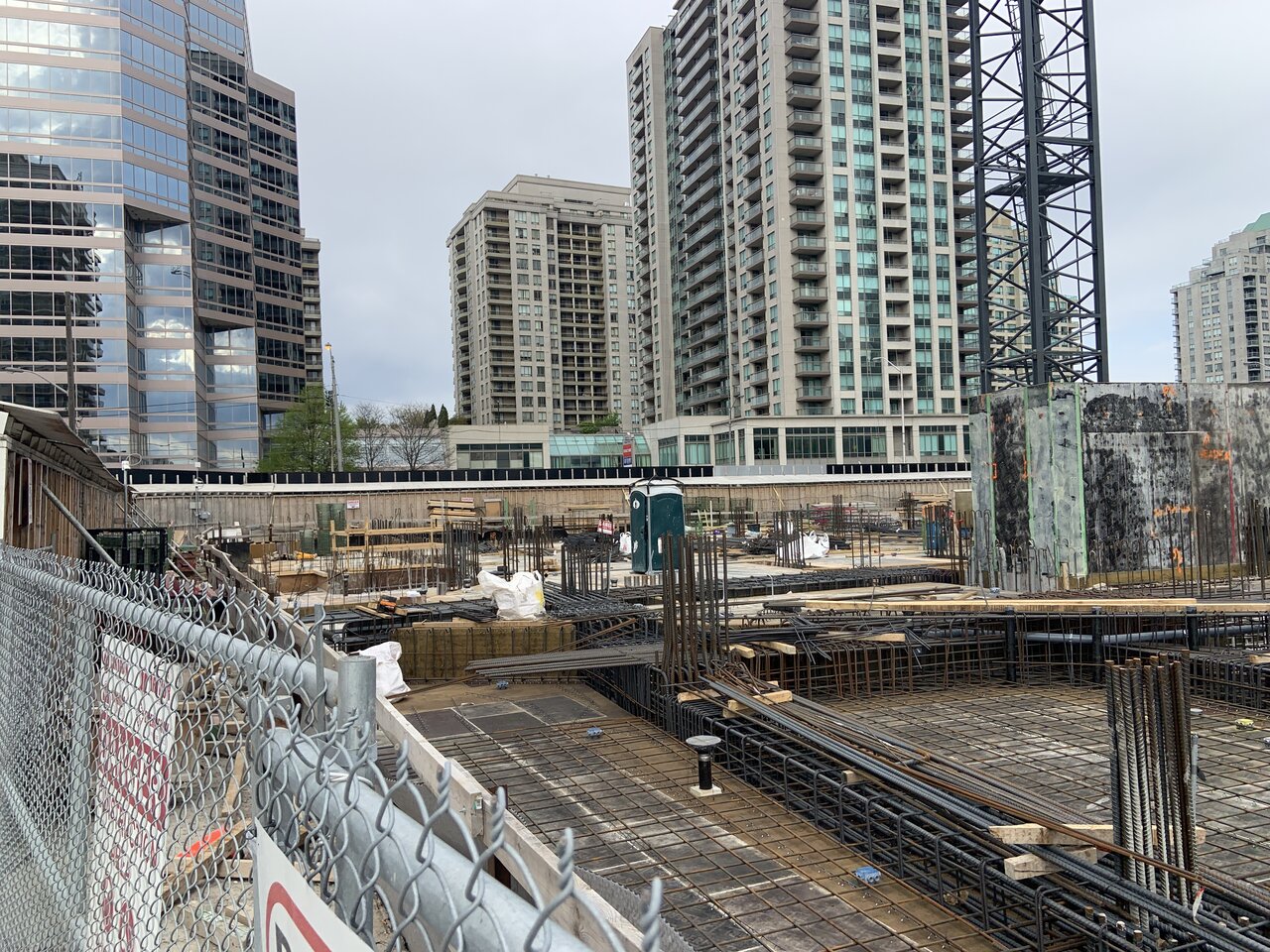 Looking southeast across site of Ellie Condos, image by Edward Skira
The project will fill a gap in Yonge Street's high-density run through North York with 309 new condominium units and ten storeys of new office space, adding to the urban character that has been reshaping the now-incorporated suburb.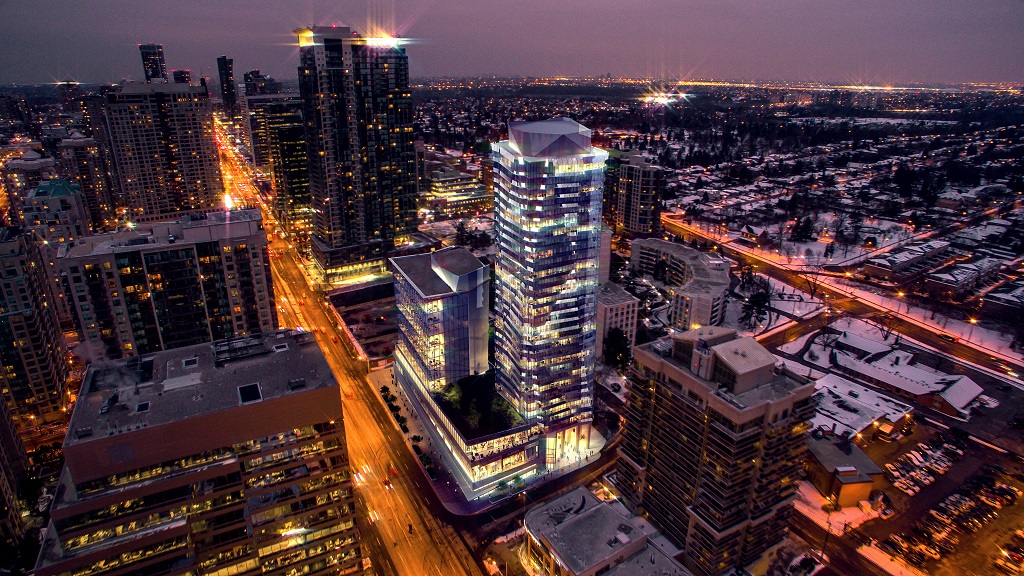 Looking southwest over Ellie Condos, image via G Group/Lalu
You can learn more from our Database file for the project, linked below. If you'd like to, you can join in on the conversation in the associated Project Forum thread, or leave a comment in the space provided on this page.
* * *
UrbanToronto has a new way you can track projects through the planning process on a daily basis. Sign up for a free trial of our New Development Insider here.