A condominium under construction in North York City Centre—Azura Condos from Capital Developments—is getting curvier as it rises. Located in northern Toronto on Holmes Avenue, just east of Yonge Street and two blocks south of Finch subway station, the IBI Group-designed project is now 10 storeys in the air well on its way to a final count of 32 storeys.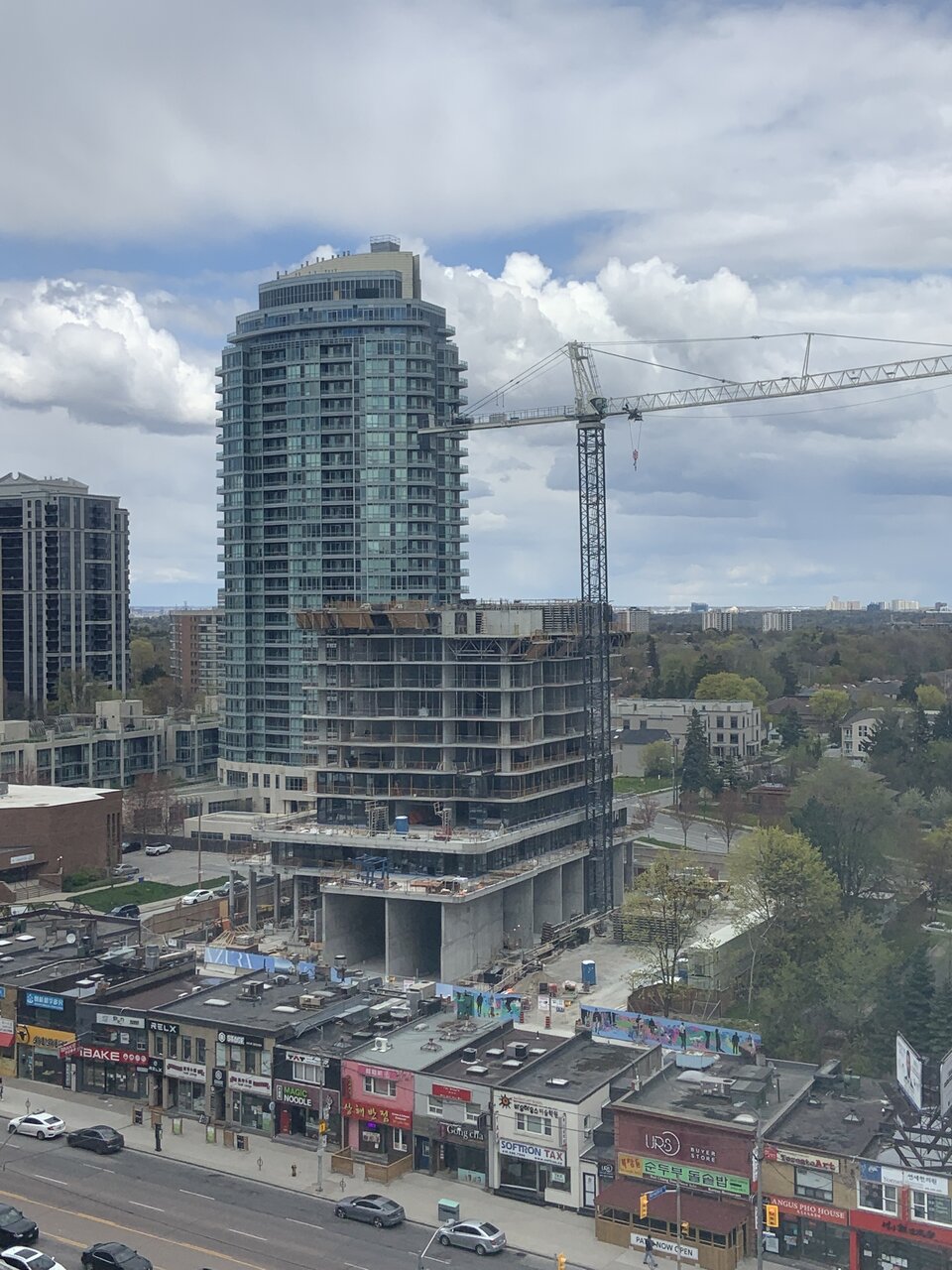 Looking east to Azura Condos, image by Edward Skira
The first site activity for Azura was in the Fall of 2019 when a gated townhome complex was demolished. The start of construction followed with the arrival of drilling rigs that December, and excavation continued into May, 2020, wrapping up a year ago with the start of forming work. A crane was in place by last June, and forming of the underground parking levels was completed by December, 2020, one year after construction began.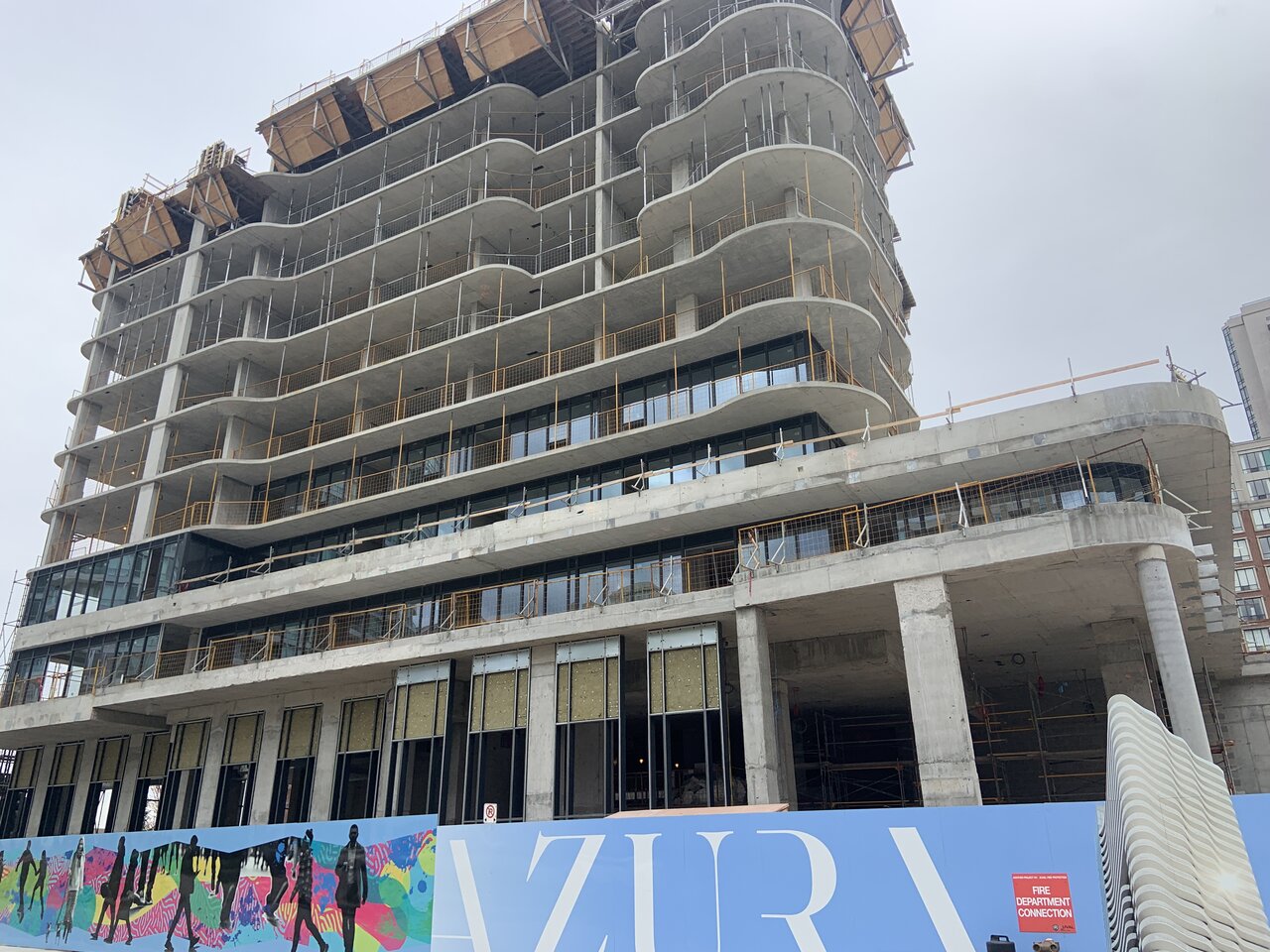 Looking southeast to Azura Condos, image by Edward Skira
Construction has advanced considerably during the early months of 2021. Rapid forming of a two-storey podium and eight tower floors above has brought the building to its current height of 10 storeys, with forming now underway for the 11th floor slab. With roughly one-third of the structure now in place, Azura's play on the traditional condominium tower floor-plate is becoming clearer as curves round out the corners of the slabs, repeating as form work progresses upwards.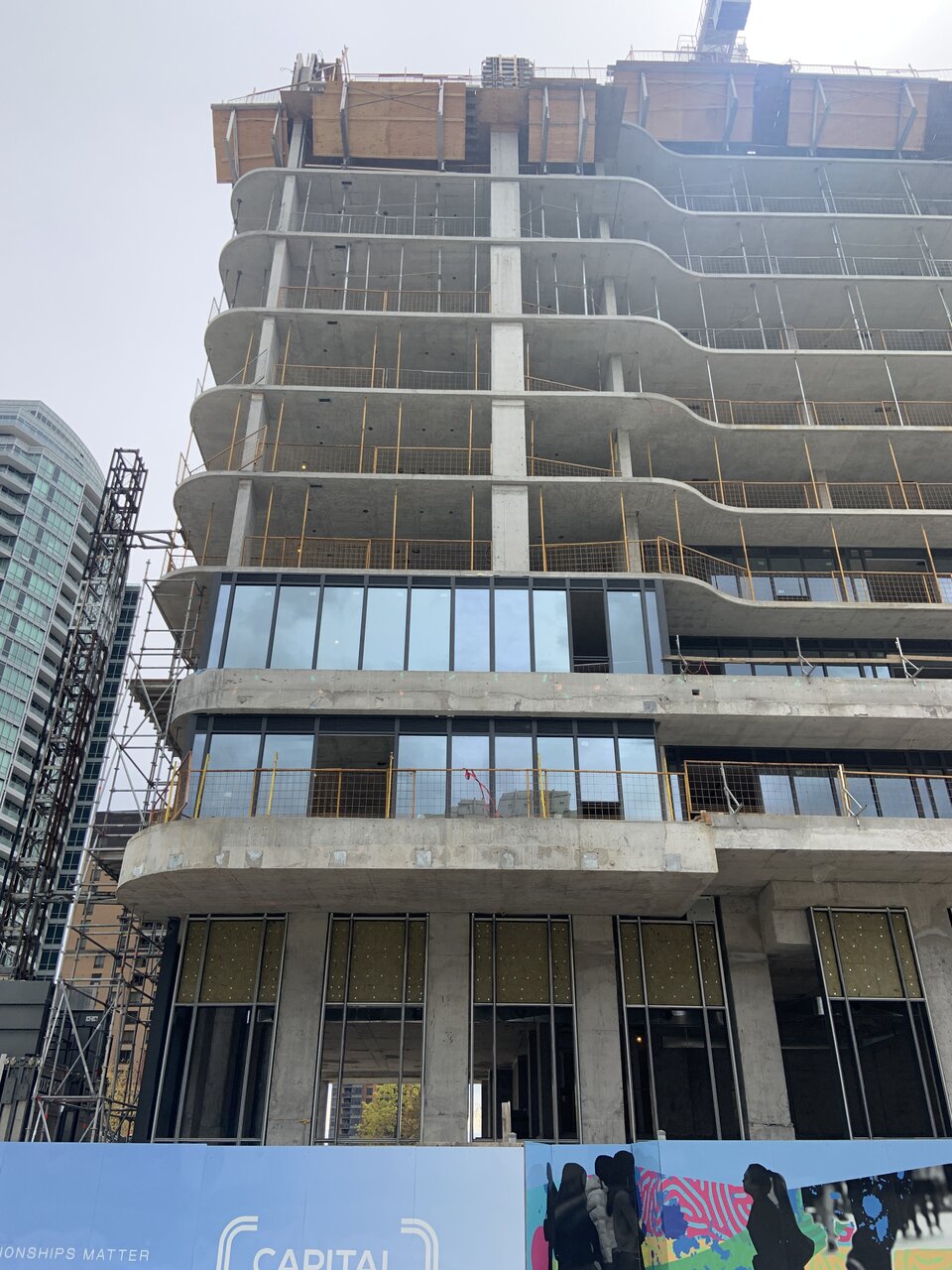 Cladding installation at Azura Condos, image by Edward Skira
Most recently, cladding installation has started. Tower levels are being enclosed in a window wall cladding consisting of floor-to-ceiling panes of dark-tinted glazing and louvre vents framed in black aluminum mullions. The finishes will be partially obscured by the building's signature curved balcony guards, the main exterior expression of the undulating tower faces.
A GIF made from images of the site captured over recent months from a tower across Yonge Street to the west illustrates progress so far.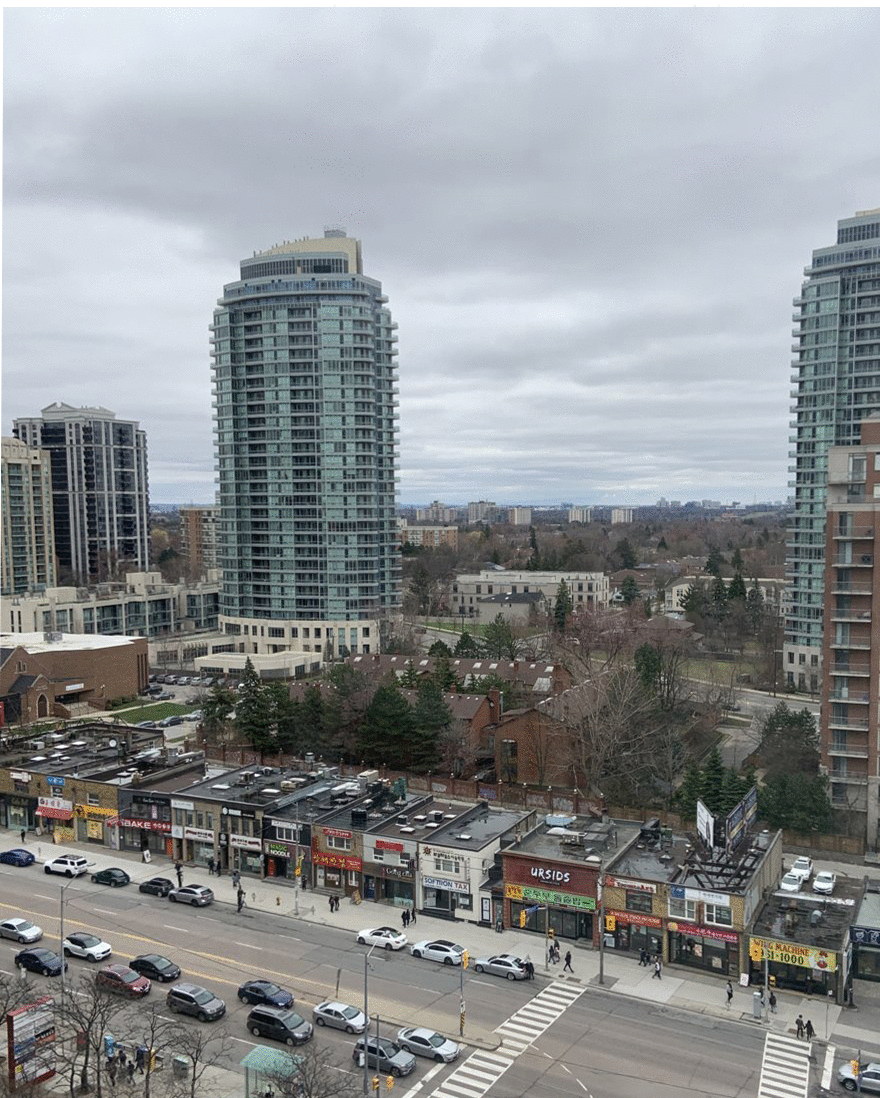 GIF of progress at Azura Condos, images by Edward Skira
The tower will eventually reach a height of 108.2 metres, and bring 339 new homes to the neighbourhood.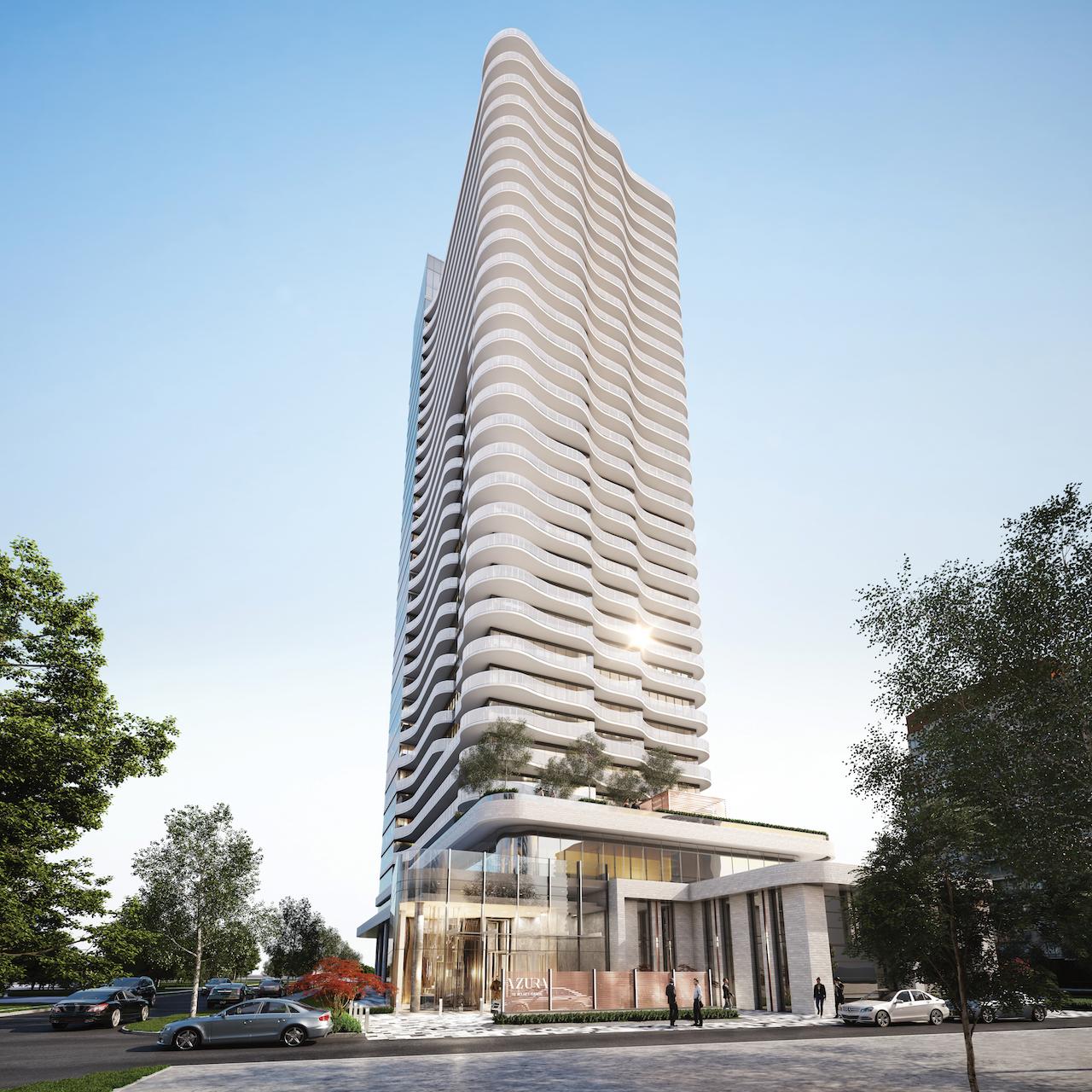 Azura Condos, image courtesy of Capital Developments
You can learn more from our Database file for the project, linked below. If you'd like to, you can join in on the conversation in the associated Project Forum thread, or leave a comment in the space provided on this page.
* * *
UrbanToronto has a new way you can track projects through the planning process on a daily basis. Sign up for a free trial of our New Development Insider here.