Choice Properties REIT, the owner of a 30,000 m² site on the southwest corner of Eglinton Avenue West and Black Creek Drive, has submitted Official Plan Amendment and Zoning By-law Amendment applications to the City of Toronto to intensify the site with seven mostly residential towers, new public realm, more stores and restaurants, and a proposal for a new food store, which would be built while the current grocery store remains open to serve the community.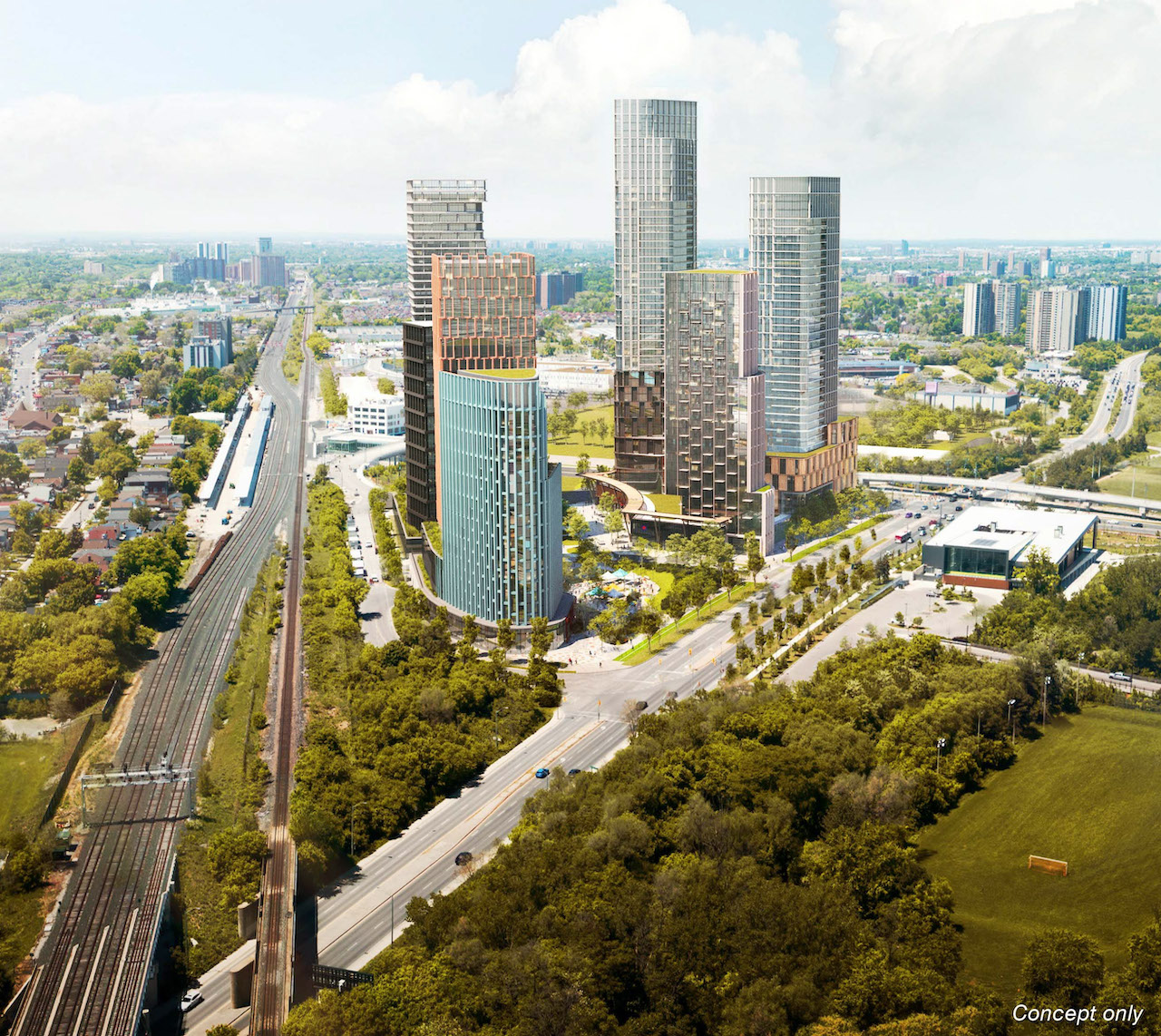 Looking north to the buildings of 25 Photography, designed by Giannone Petricone Associates for Choice Properties REIT
Designed by Giannone Petricone Associates in response to the new Mount Dennis transit hub currently under construction across the street from the site at 25 Photography Drive, residents, shoppers, and those enjoying community programming on the site will benefit from the easy access to Mount Dennis station. Now under construction, the interchange station within steps of this development will connect TTC Buses with the new Crosstown LRT, GO Trains, and the Union Pearson Express, providing direct access to Union Station and Downtown Toronto in one direction, Pearson Airport in another, while putting much of Toronto within a quick commute.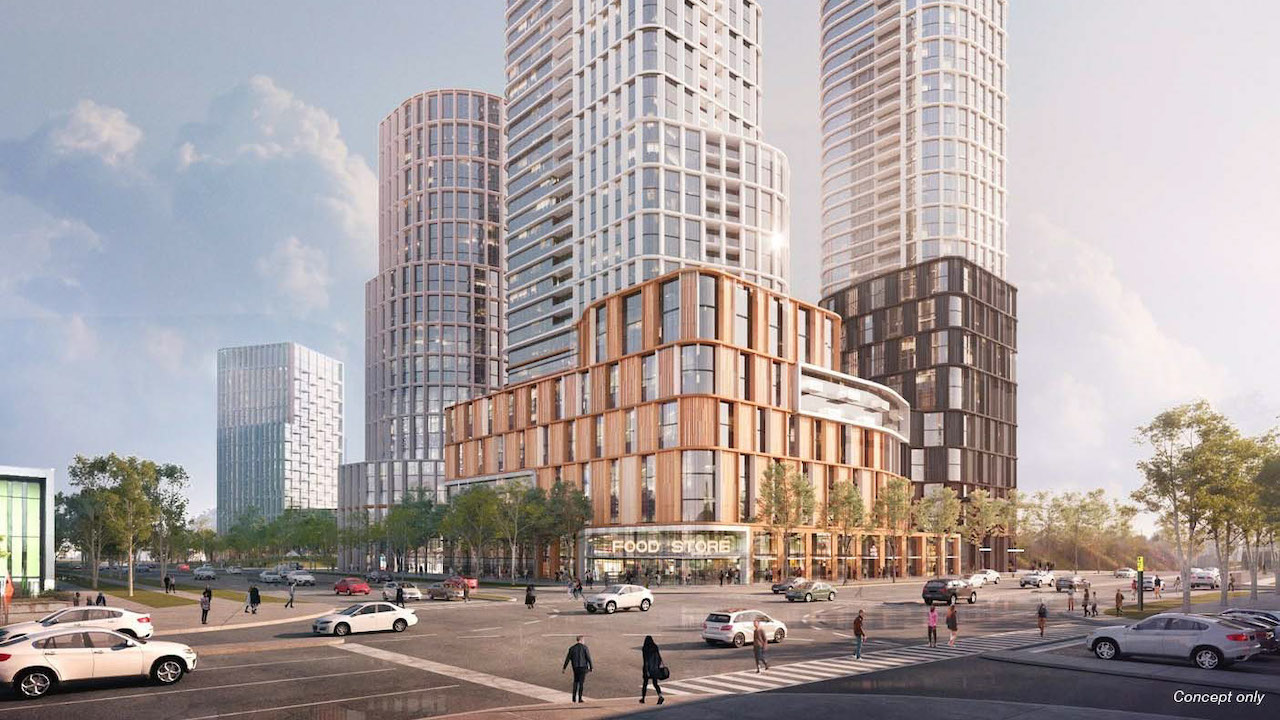 Looking southwest across Eglinton and Black Creek to 25 Photography, designed by Giannone Petricone Associates for Choice Properties REIT
With all of the rapid transit connectivity coming here, it made perfect sense for Choice REIT to plan a redevelopment of the site in a highest and best use scenario.
Planned are seven towers between 20 and 49 storeys tall, the tallest at approximately 168 metres, containing 191,000 m² of space, the bulk of it residential other than 4,550 m² of retail space at ground level. Over three phases, 2,356 units would eventually be built 235 studios, 1,177 one-bedrooms, 706 two-bedrooms, 238 three-bedrooms. 1845 parking spaces 2,390 bicycle spaces of which the bulk would be for residents, 258 would be for visitors, and 10 for retail workers.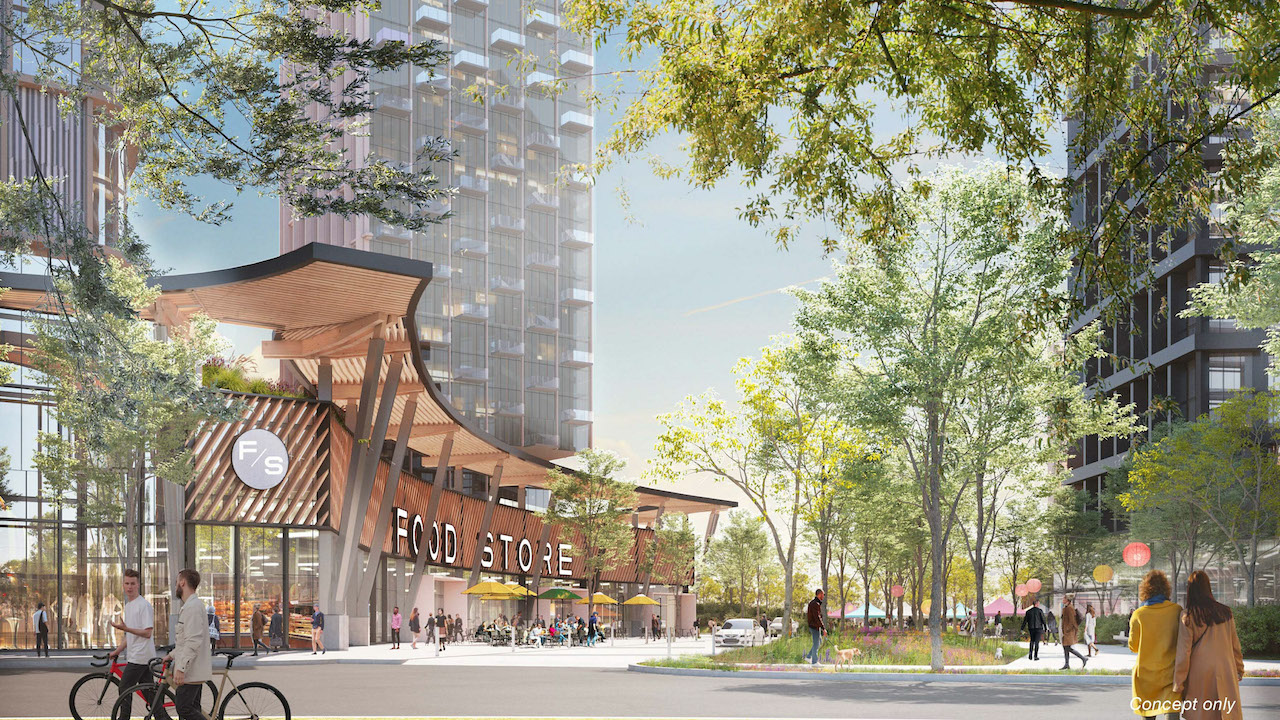 Looking southeast past the food store at 25 Photography, designed by Giannone Petricone Associates for Choice Properties REIT
We asked Ralph Giannone of Giannone Pertricone Associates to comment on their Master Plan vision for how the site will work. He told us, "Nestled around [the site's] edges sit wonderful community amenities such as a large community centre, library, gracious parks, and the actual Black Creek Valley.
"Our approach to the development proposal is two-fold. First, create a memorable connected public realm throughout the site. Second, reimagine the edges to create enhanced connections to the neighbourhood and its amenities. A new ground plane narrative takes a mixed-use program and establishes it into a series of spaces for pedestrians to enjoy their day-to-day lives.
"These generative urban gestures create positive connections to all those amenities that surround the site. A new proposed "Rambla" space runs diagonally from the centre of the site, from the Eglinton frontage at the terminal entry, and runs south ending in a new green open space at the southern edge of the site. The "Rambla" is the new connected heart of the urban experience. Allowing a fulsome retail program which spills out along its eastern front, this stretched animated "piazza" becomes the collective heart of the neighbourhood.
"At its southern end is a generous, animated, and green open space for this community.
"This site is seen as a representation of the transformative qualities that transit investment can create. Bringing new uses such as intensive residential and a more fulsome commercial offering all knitted together through ambitious architecture and exceptional public amenity."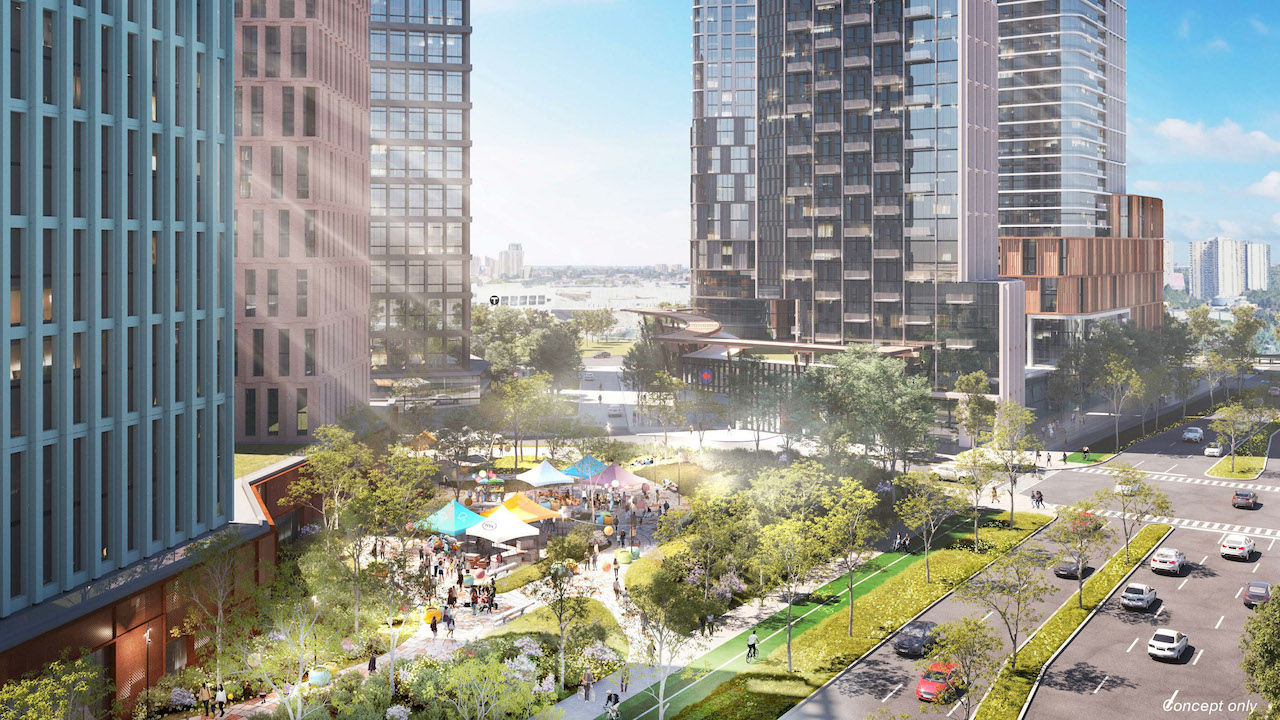 Looking northwest through the public spaces of 25 Photography, designed by Giannone Petricone Associates for Choice Properties REIT
You can learn more from our Database file for the project, linked below. If you'd like to, you can join in on the conversation in the associated Project Forum thread, or leave a comment in the space provided on this page.
* * *
UrbanToronto has a new way you can track projects through the planning process on a daily basis. Sign up for a free trial of our New Development Insider here.