The most significant Downtown Toronto office development since Brookfield Place was constructed in the 1990s, the CIBC SQUARE office complex by Hines and Ivanhoé Cambridge remains a hot topic on UrbanToronto. Designed by UK-based WilkinsonEyre Architects with Toronto's Adamson Associates, the complex will consist of a matched pair of towers—turned at near 90-degree angles to each other—the first of which, the south tower, which recently began to welcome tenants, stands 49 storeys above the corner of Bay and Lake Shore.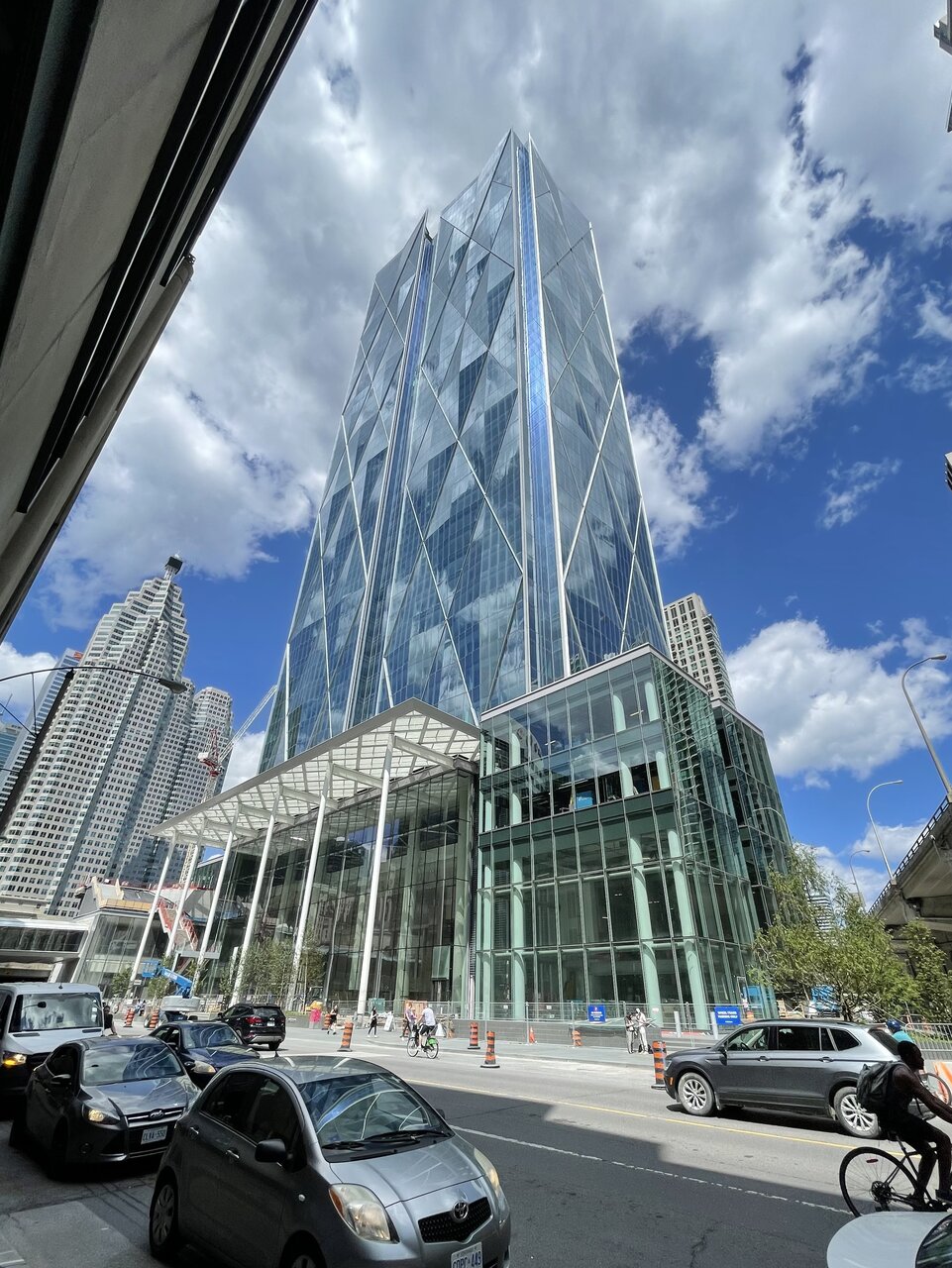 Looking northeast to south tower of CIBC SQUARE, image by Forum contributor steveve
The south tower construction is practically complete now, with landscaping and other public realm work among the final steps left in construction. Trees and shrubs have been planted, and new stone planters along with sidewalks added to form a welcoming face along Bay Street.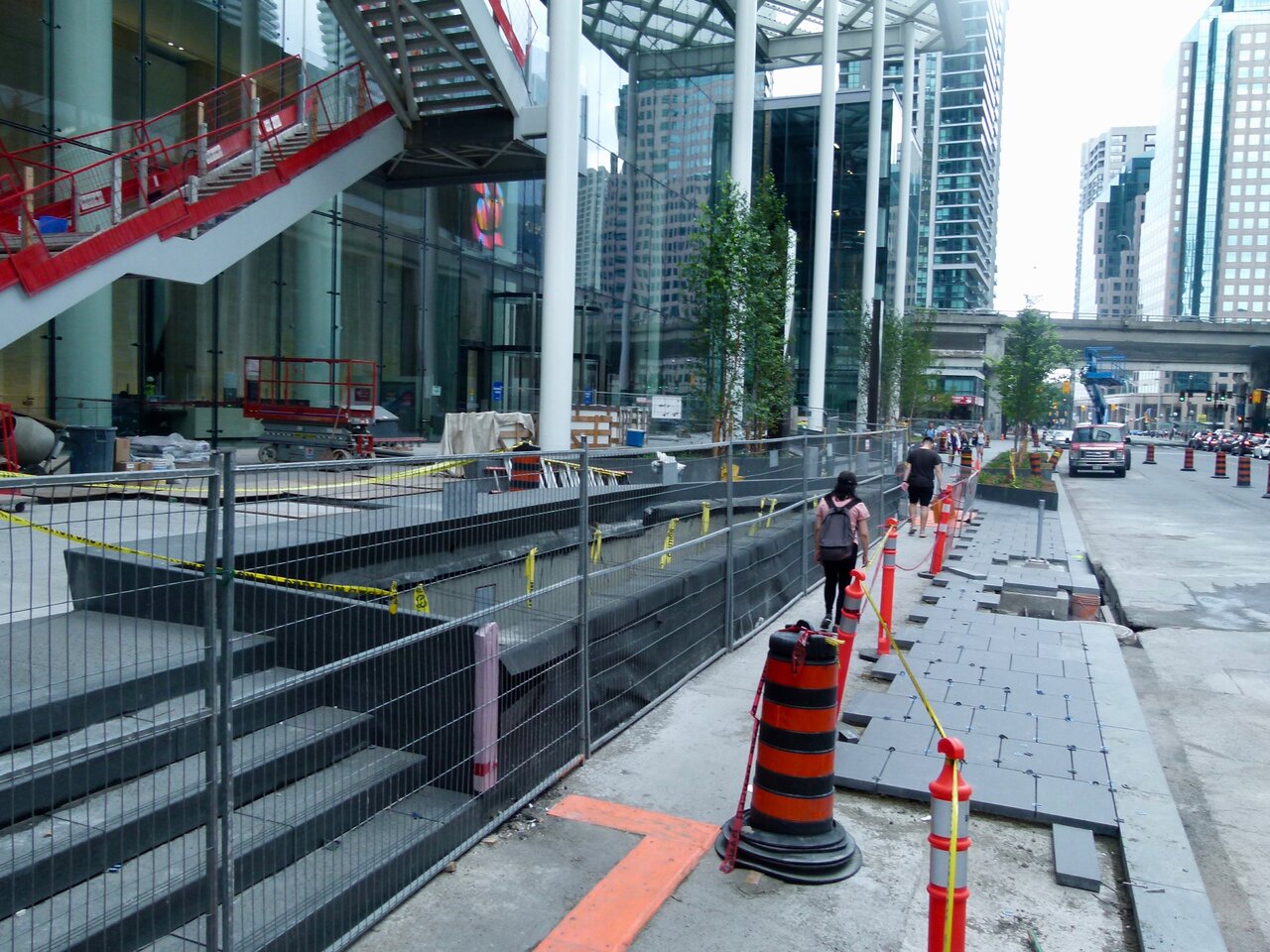 Pavers going in along Bay Street beside the South Tower at CIBC SQUARE, image by UT Forum contributor skycandy
One of the most prominent remaining elements is a multi-level staircase that will soon give pedestrians access from street level to a new elevated park being built atop the rail corridor. The metal structure of this staircase is now fully in place, with vertical supports for railings partially obscured by temporary red safety fencing. While there will be other ways for office tenants and the public to access the elevated park, this prominent access point will serve as a visual cue directing pedestrians up from Bay Street.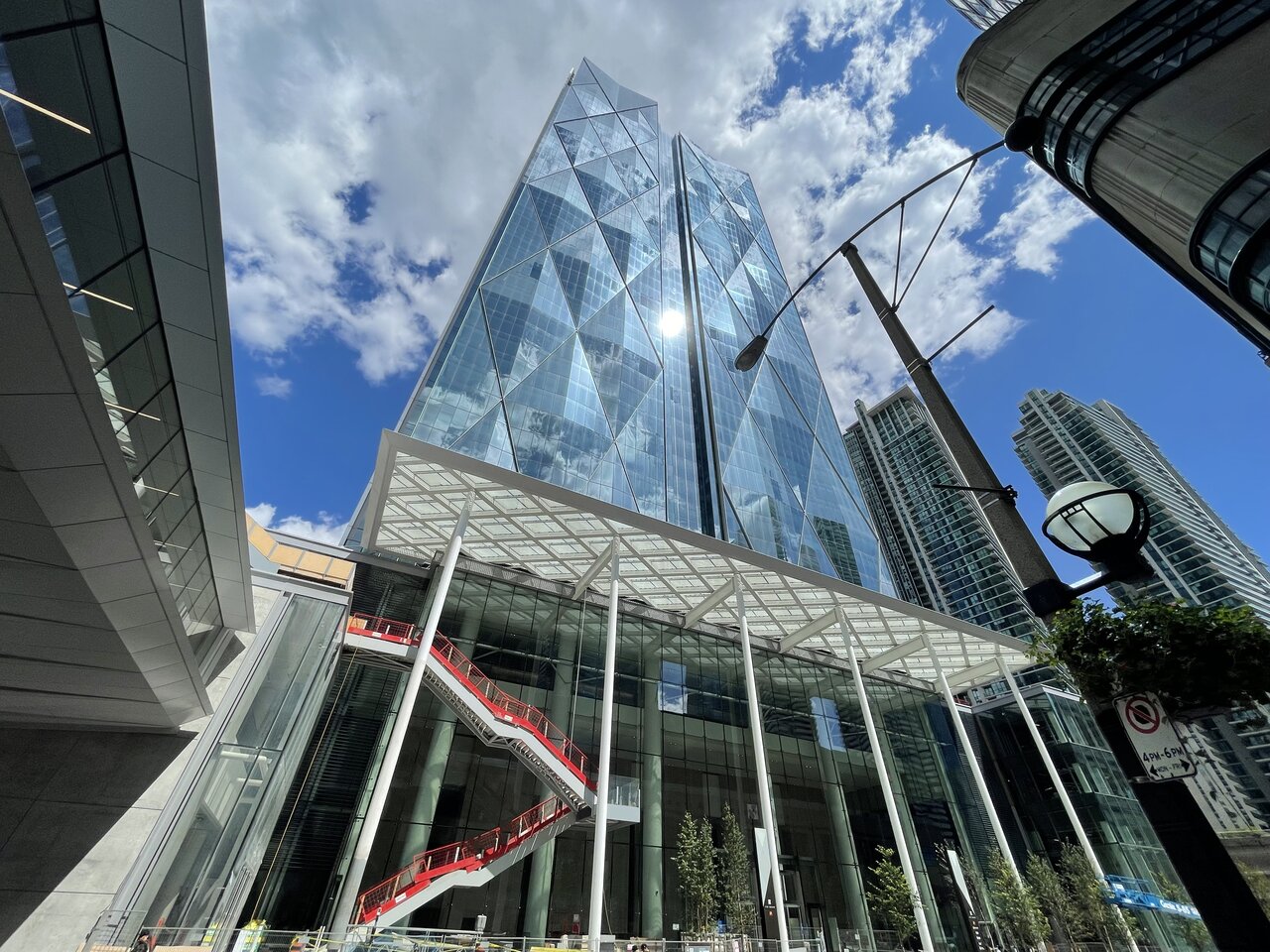 Stairs leading up to park at south tower of CIBC SQUARE, image by Forum contributor steveve
The rail overbuild park is being constructed in phases, with the initial phase racing towards a projected late summer opening, hot on the heels of the first phase's recent arrival of tenants. The second phase of the park is now well underway, its steel structure decking over the eastern approach to Union Station, eventually to extend the park as part of the 50-storey second phase tower now beginning construction to the north.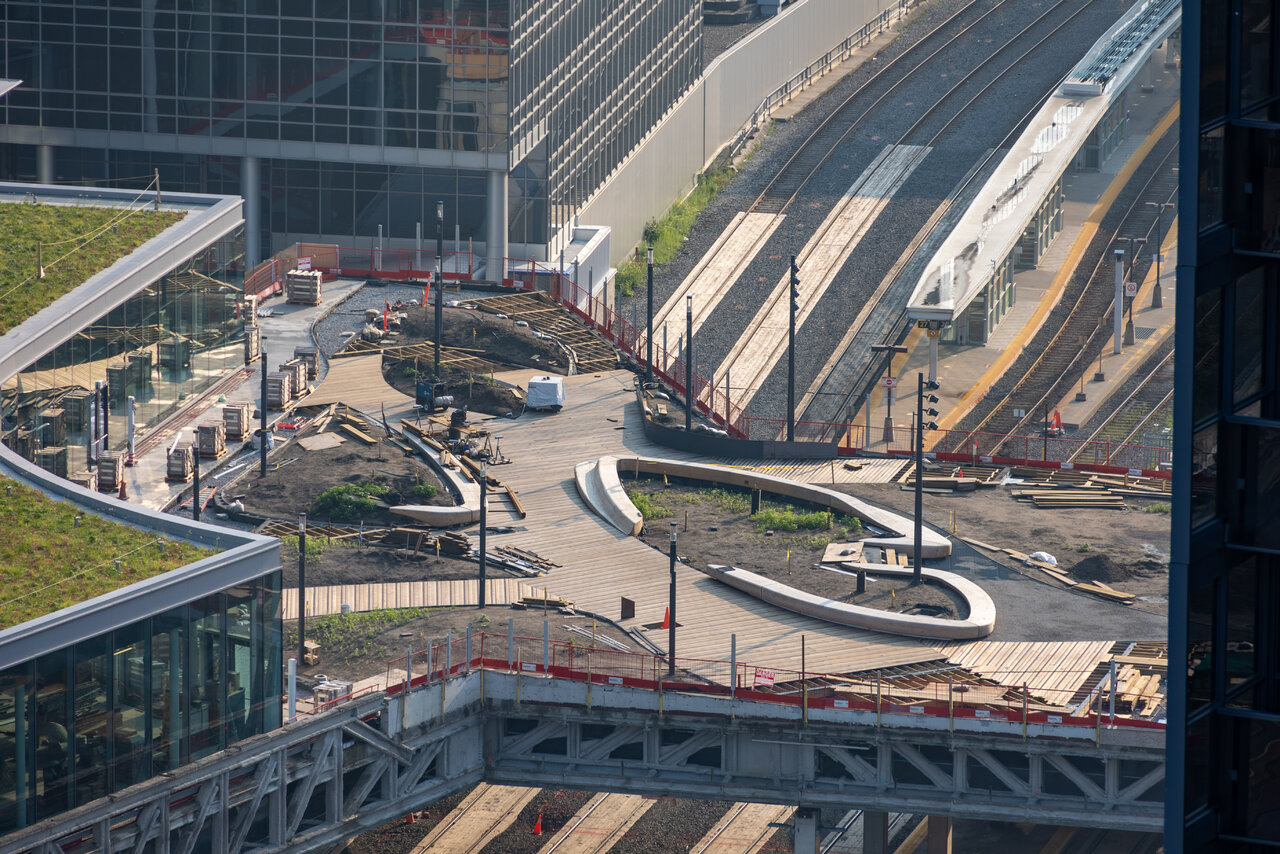 Rail corridor overbuild park at CIBC SQUARE, image by Forum contributor mburrrr
CIBC SQUARE's second phase is being constructed on the site of the previous Union Station GO bus terminal. (The buses have since moved into a larger, fully-enclosed, more modern terminal in the south tower podium.) North tower construction began this past spring with the arrival of shoring rigs. Perimeter caisson drilling was completed in July, which allowed the large shoring rigs to be demobilized and for excavation to advance, since going deep enough to allow the start of tieback drilling to secure the shoring walls.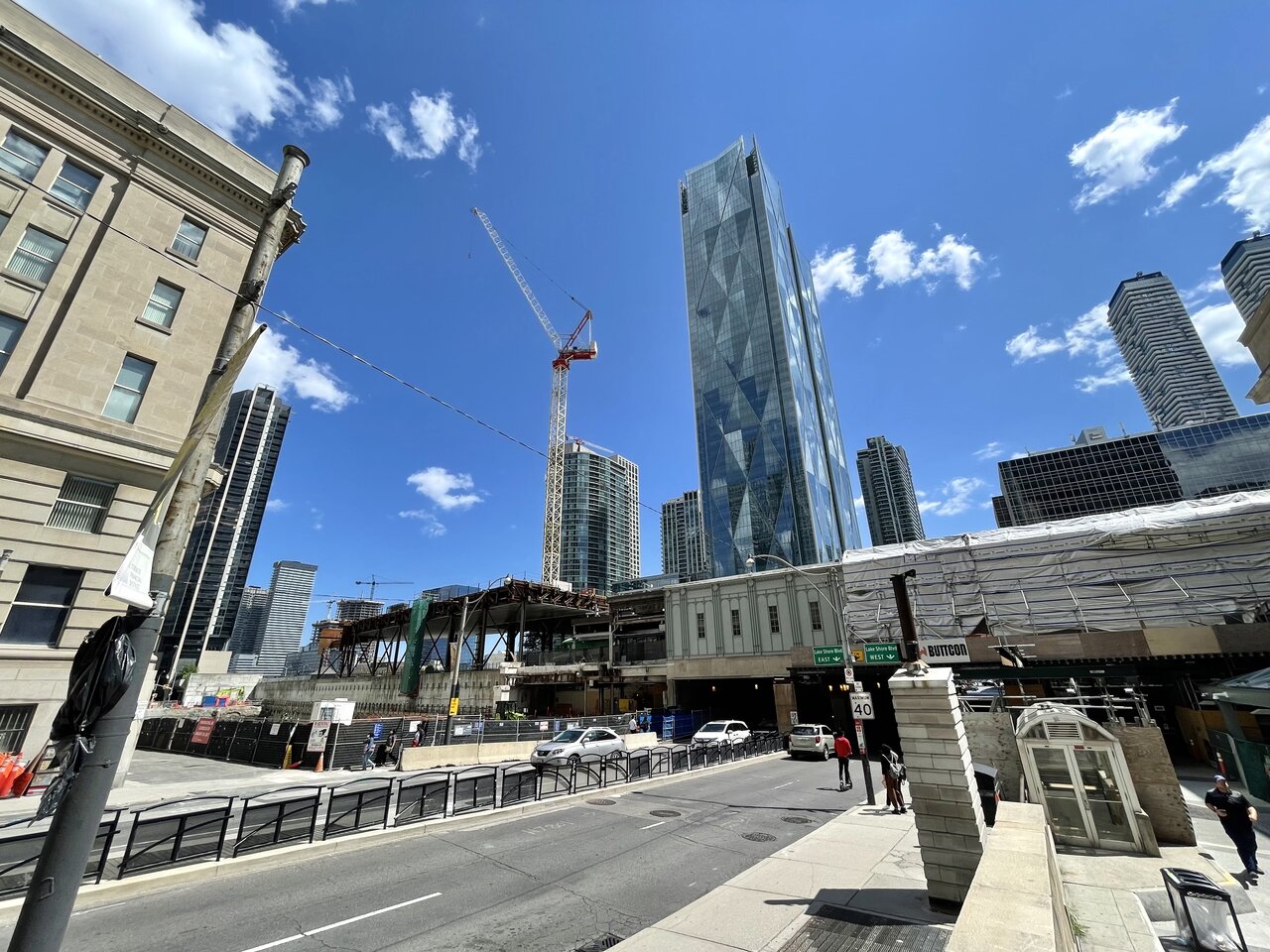 Looking southeast to CIBC SQUARE, image by Forum contributor steveve
During the early stages of the excavation, the construction team encountered buried foundations, which were addressed in a late July update posted to the project website stating: "While we continue to make significant progress at 141 Bay Street, please note that our crews have exposed abandoned foundations below grade at the site. These abandoned foundations must be removed promptly in order to maintain the construction schedule at CIBC SQUARE. As a result, our crews may be working earlier than previously communicated. The removal work on the abandoned foundations will be intermittent over the next few weeks, and is expected to be completed by the end of August."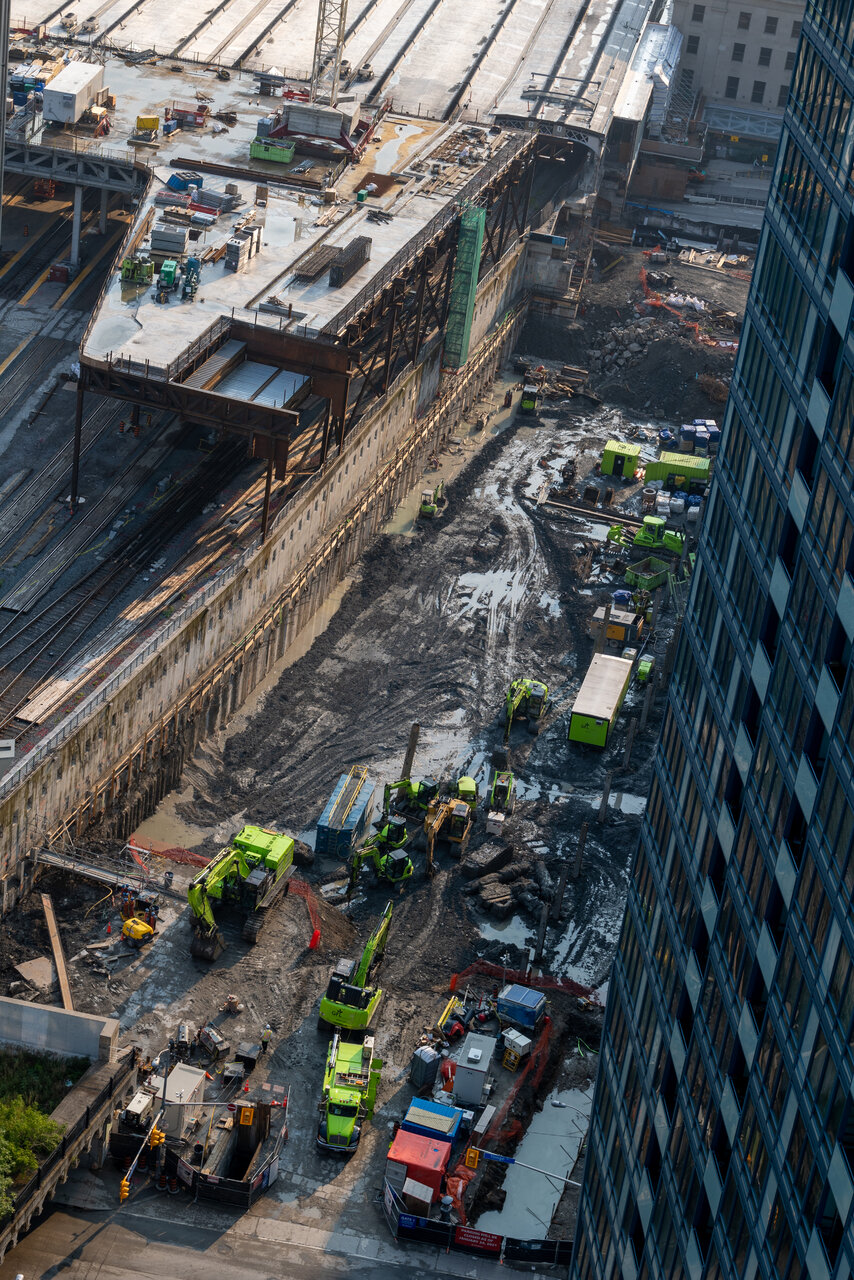 Excavation and exposed foundations at site of CIBC SQUARE's second phase, image by Forum contributor mburrrr
The exposed I-beam foundations are more easily seen in the image below, surrounded by machinery with excavation carrying on around. No further details about the uncovered beams are currently available, and it is unclear based on old maps of Toronto which of the number of different structures that have occupied the site over generations may have been supported by them.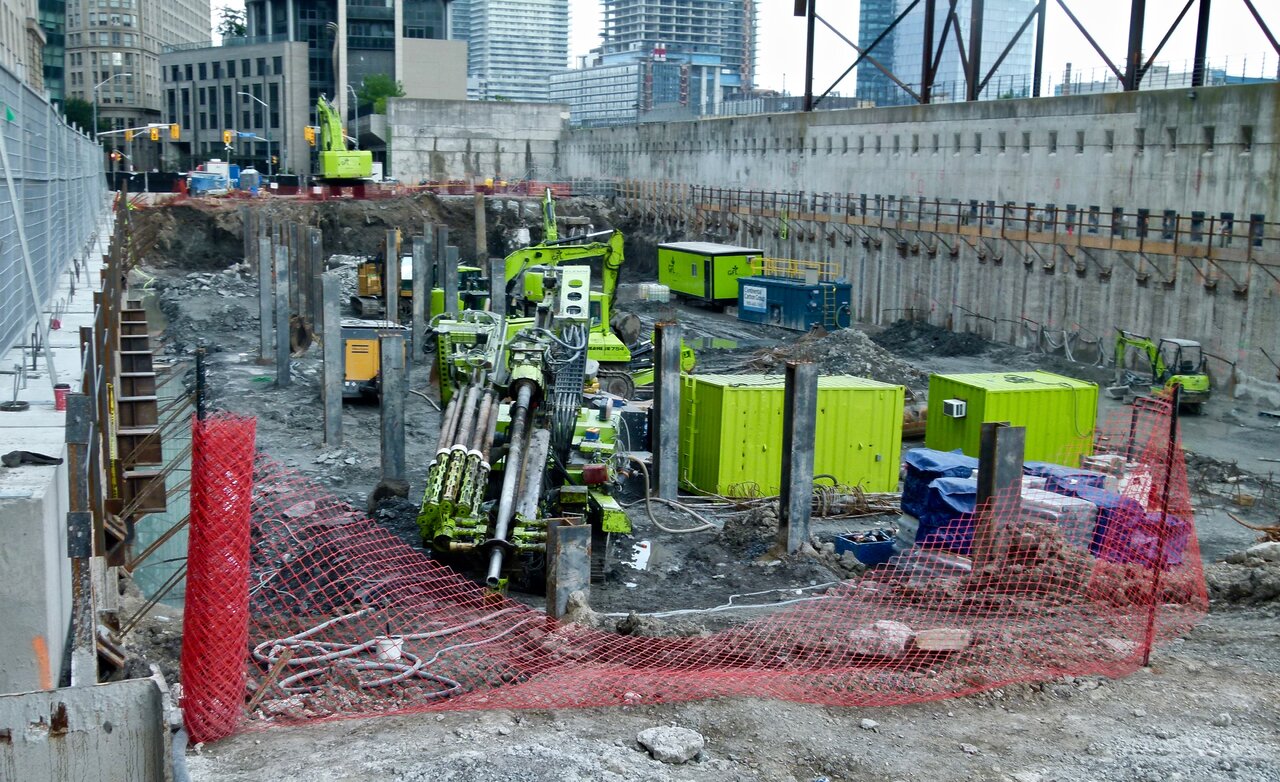 I-beam structures unearthed at the North Tower site at CIBC SQUARE, image by UT Forum contributor skycandy
CIBC SQUARE's north tower is expected to welcome its first tenants in 2024.
You can learn more from our Database file for the project, linked below. If you'd like to, you can join in on the conversation in the associated Project Forum thread, or leave a comment in the space provided on this page.
* * *
UrbanToronto has a new way you can track projects through the planning process on a daily basis. Sign up for a free trial of our New Development Insider here.