A proposed residential project continues its lengthy trek through the City of Toronto's development process. In March, 2021 The Conservatory Group submitted Official Plan Amendment, Zoning By-law Amendment, and Site Plan Approval applications to finalize an LPAT settlement for a North York City Centre property slightly west of Yonge Street and not far south of Drewry Avenue, and some 800 metres north of Finch Avenue.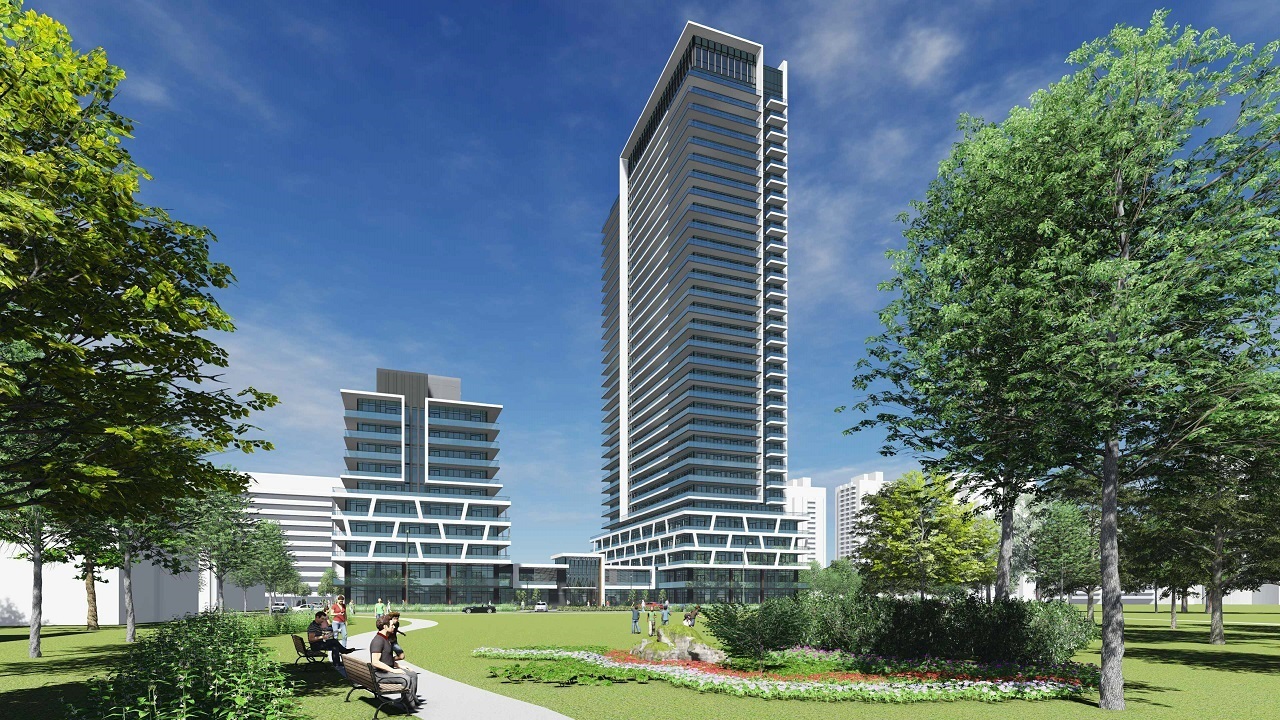 Rendering: looking east. Image prepared by Richmond Architects.
The site, tucked behind low-rise buildings facing Yonge Street, was assembled by acquiring most of the single detached dwellings on Inez Court plus a lot on Drewry Avenue for north-south road access. (The original application included 51 Drewry Avenue and 18 and 20 through 28 Inez Court and the revised submission includes additional lands consisting of 8 through16 and 9 through 19 Inez Court.) This proposal will provide for an additional segment of Beecroft Road—a road that provides more north-south capacity parallel to and west of Yonge Street through the North Yonge City Centre area—and which is gradually forming a west 'ring road' for the increased density brought by high-rise redevelopment in the area.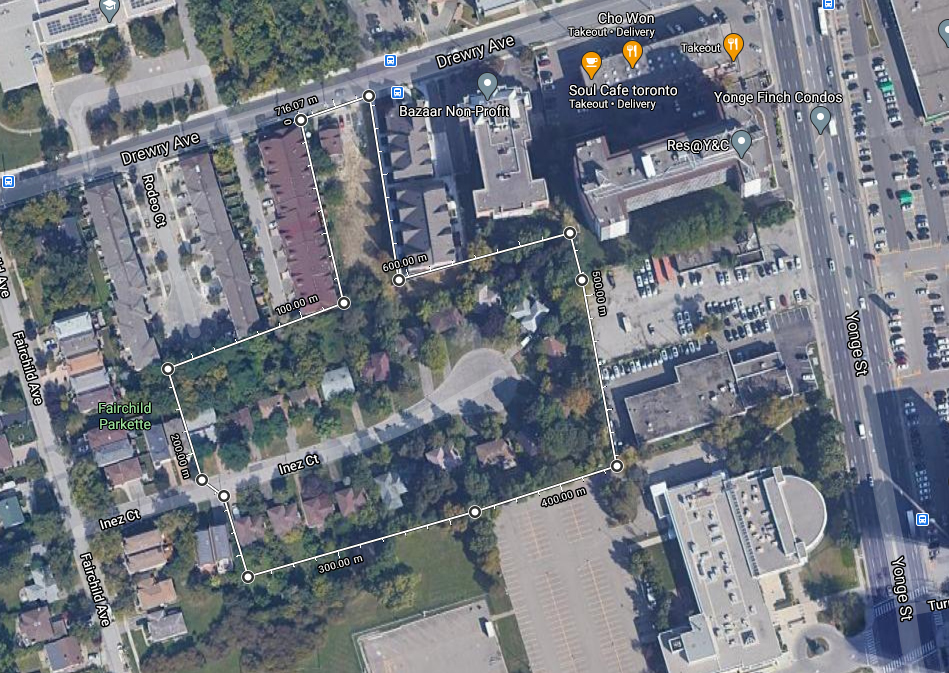 Aerial photo – demarcating the approximate site boundary. Image prepared by Googlemaps / UrbanToronto poster 'Northern Light'.
Truncating the street 'Inez Court' itself, the plan has always placed a park to the west of the new section of Beecroft, while redeveloping the east side with at least one high-rise tower. Evolving over the years, an earlier application by Conservatory proposed 57 townhouses and 483 apartment units in towers of 9 and 29 storeys with a 5-storey podium, while longtime UrbanToronto Forum readers may be familiar with the original 23-storey Ruby Condominiums proposal back in 2008…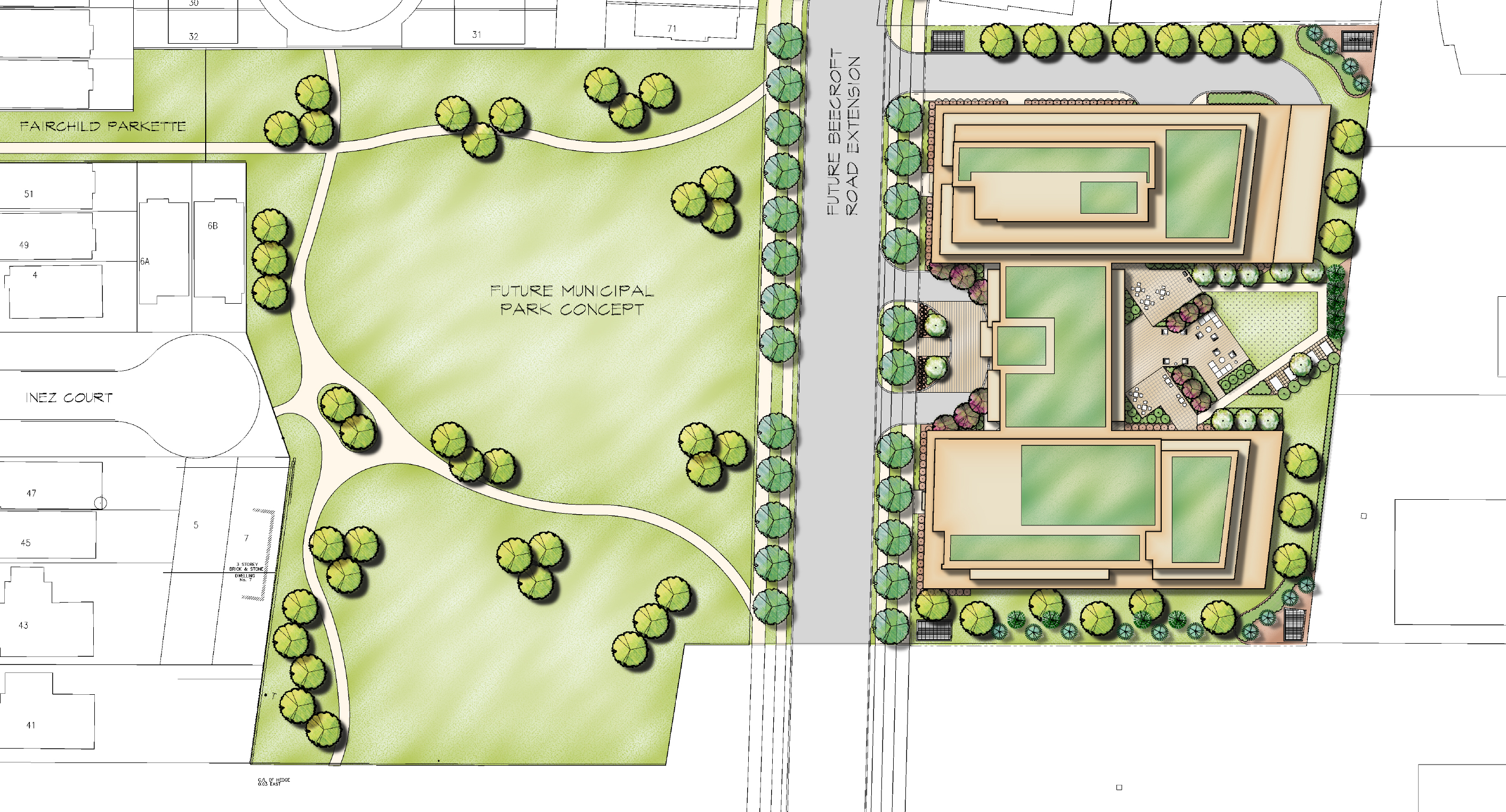 Coloured landscape plan. The block to the north is 10-storeys, the block to the south is 32-storeys. Image prepared by Alexander Budrevics + Associates Ltd.
Richmond Architects, a local firm behind high-rise developments like Eau de Soleil, 500 St Clair West, and blocks of Parkside Village, have been engaged for the latest version of the plan. The new design for Inez Court (the development at least currently is proposed with the same name as the street) comprises 10-storey and 32-storey residential towers connected by a 2-storey podium. The total gross floor area is 41,189 m² yielding a site density (FSI) of 2.29. The parkland dedication to the west is 7,535 m² in area.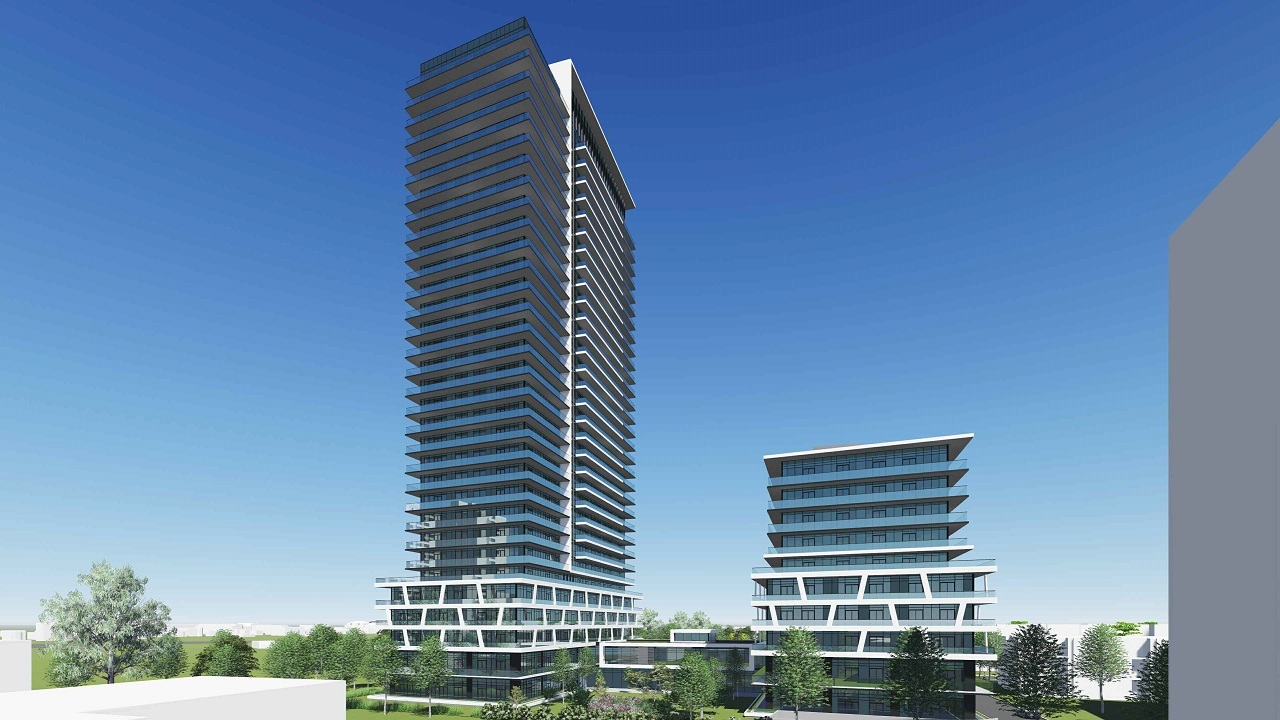 Rendering: looking west. The proposed building height is 100m. Image prepared by Richmond Architects.
Bridging the two residential towers and located off a rounded drop-off area, are the lobby and indoor amenity spaces which lead to an east-facing outdoor terrace. The second level houses a gym, fitness and yoga studios, a pool, and support spaces. According to the architectural drawings, the exterior elevations call for a combination of glazing with precast panel cladding or frame and pre-finished metal panel canopies at entrances.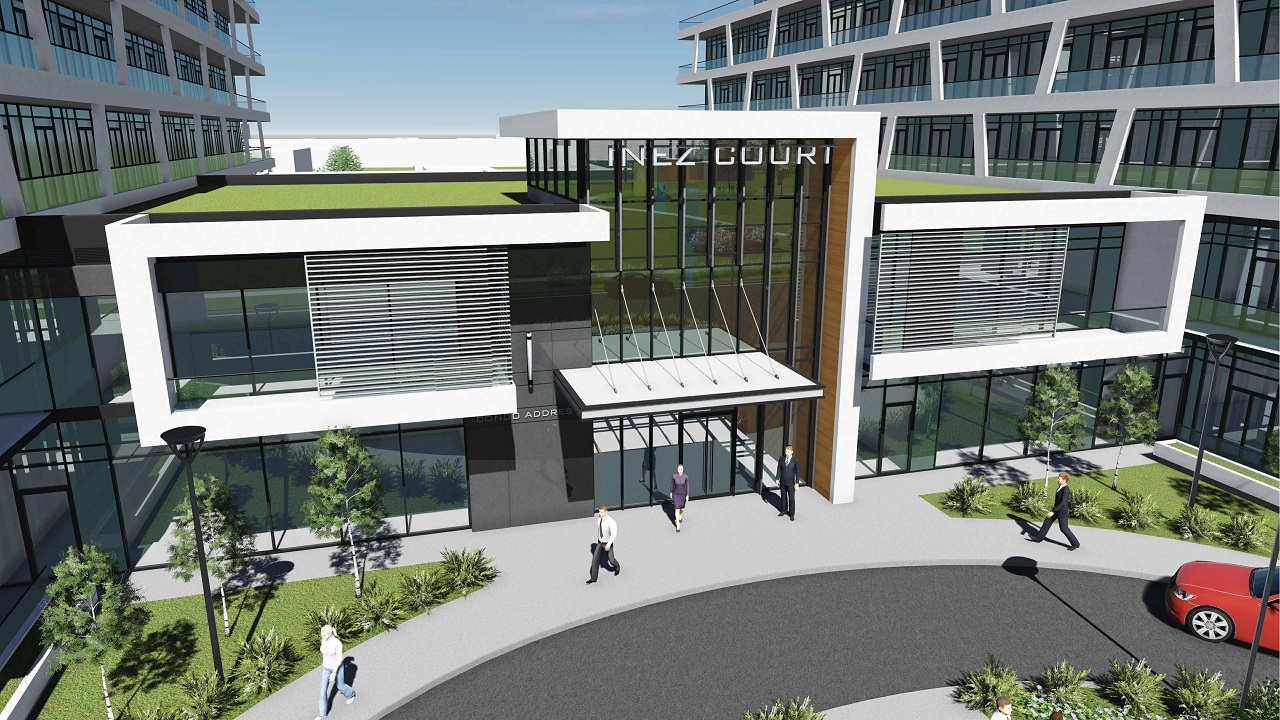 Rendering: looking to the 2-storey podium. Image prepared by Richmond Architects.
The entire complex will house a total of 551 dwelling units, in the following breakdown: 99 one-bedrooms (18%), 247 one+dens (45%), 149 two-bedrooms (27%), and 56 three-bedrooms (10%). Four levels of underground parking yield a total of 672 vehicle spaces and 375 bicycle slots.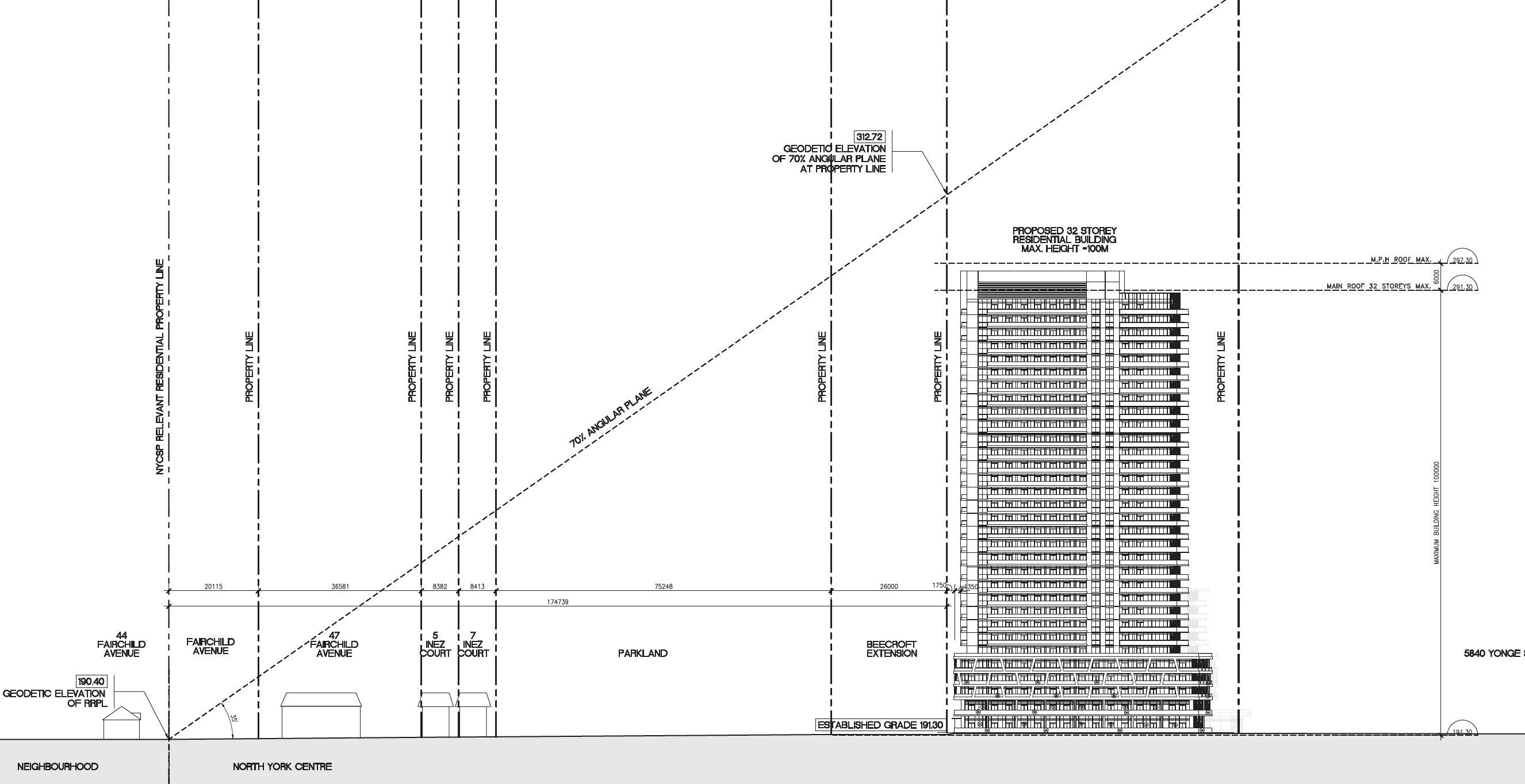 Angular plane diagram. Image prepared by Richmond Architects.
You can learn more from our Database file for the project, linked below. If you'd like to, you can join in on the conversation in the associated Project Forum thread, or leave a comment in the space provided on this page.
* * *
UrbanToronto has a new way you can track projects through the planning process on a daily basis. Sign up for a free trial of our New Development Insider here.