Last fall, Kingbird Developments Inc., an arm of developer the Conservatory Group, resubmitted a Site Plan Application (SPA) to the City of Toronto for a residential multi-building condominium development at 2173 Lake Shore Boulevard West in Etobicoke's Humber Bay Shores area. Anchored by a 43-storey tower, the proposal initially surfaced in 2012 regarding zoning permissions, with the earliest SPA documents dated to 2014. SPA resubmissions have been made in response to various rounds of circulation comments, and this resubmission comes on the heels of a Section 37 agreement which completes the requirements for the Zoning By-law Amendment.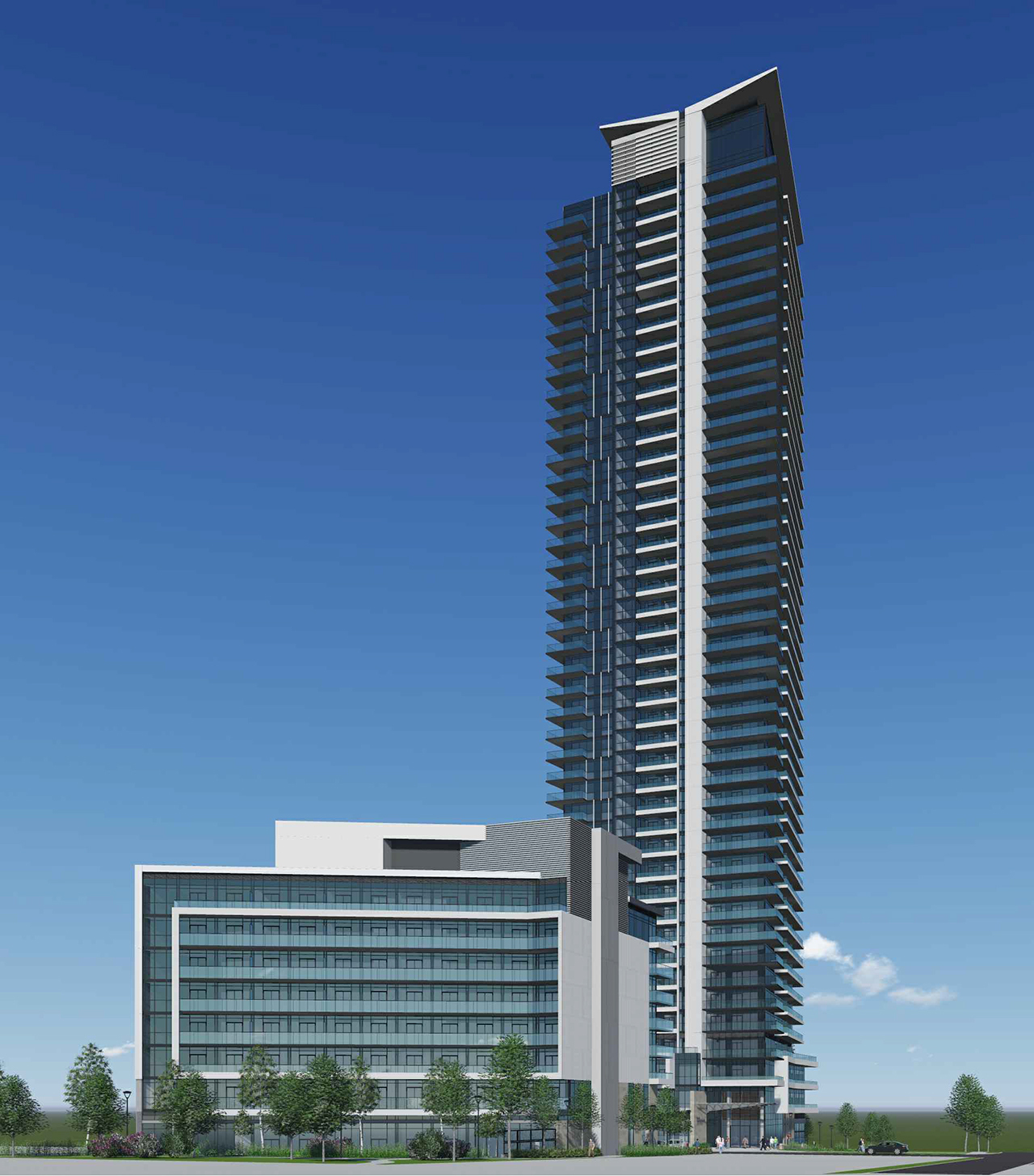 Looking southeast towards buildings B and A, image by Richmond Architects
The project site is one property to the east of Shore Breeze Drive and between Lake Shore Boulevard West and Marine Parade Drive. A sales off for two other Conservatory Group developments—the recently completed Cove at Waterways, and the under construction Water's Edge at the Cove—has long stood on the site. Given the current proposal's adjacency to Toronto Region Conservation Authority (TRCA)-owned lands on the lake side of Marine Parade, Kingbird recently requested that TRCA and the City enter into a Limiting Distance Agreement in order to facilitate construction of the site.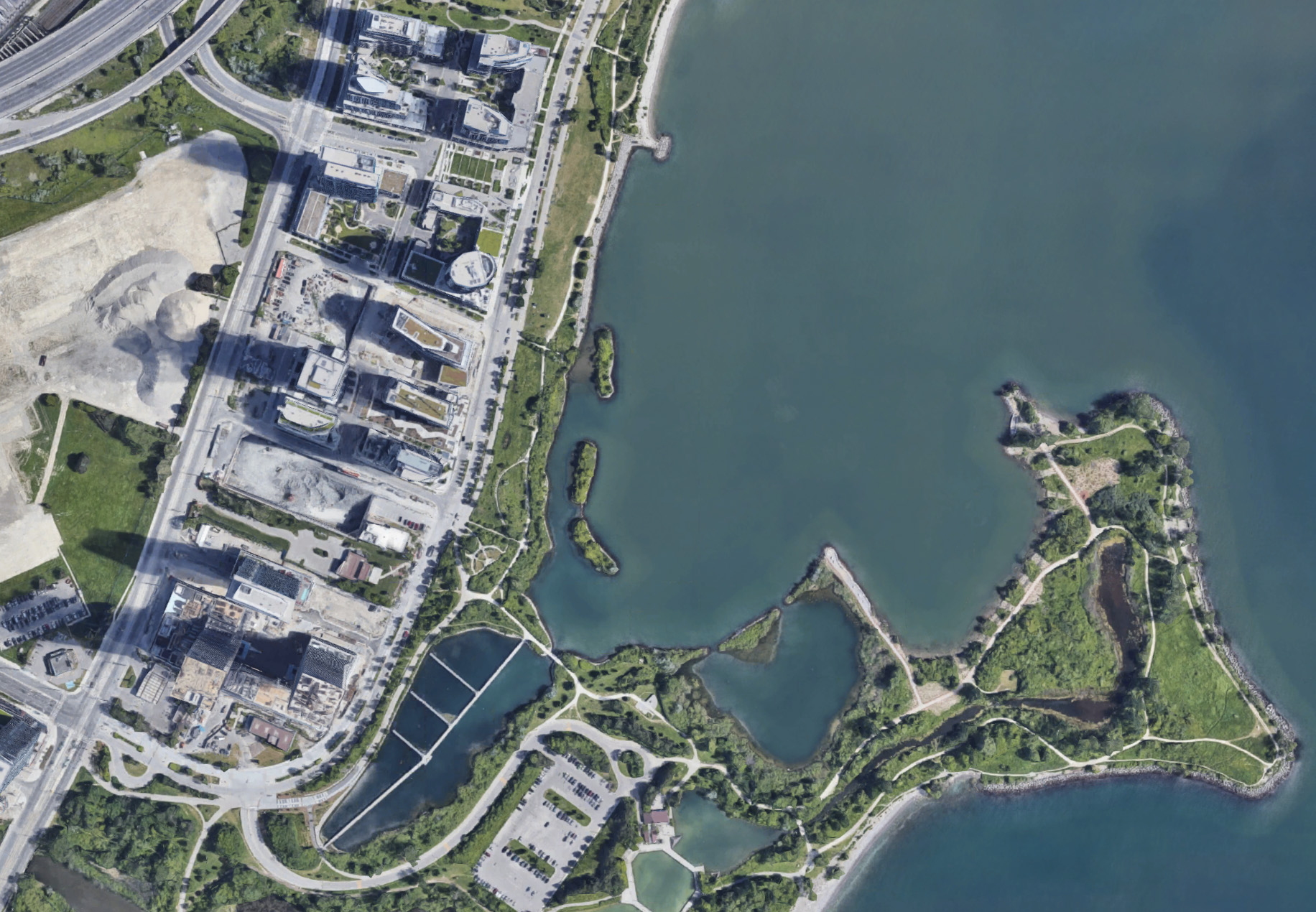 Site in existing context, image retrieved from Google Maps
Designed by Richmond Architects, the 2173 Lake Shore proposal calls for: a 43-storey mixed-use building (A) facing Marine Parade Drive; an 8-storey residential building (B) in the centre of the site; and a 2-storey commercial building (C) fronting Lake Shore Boulevard West.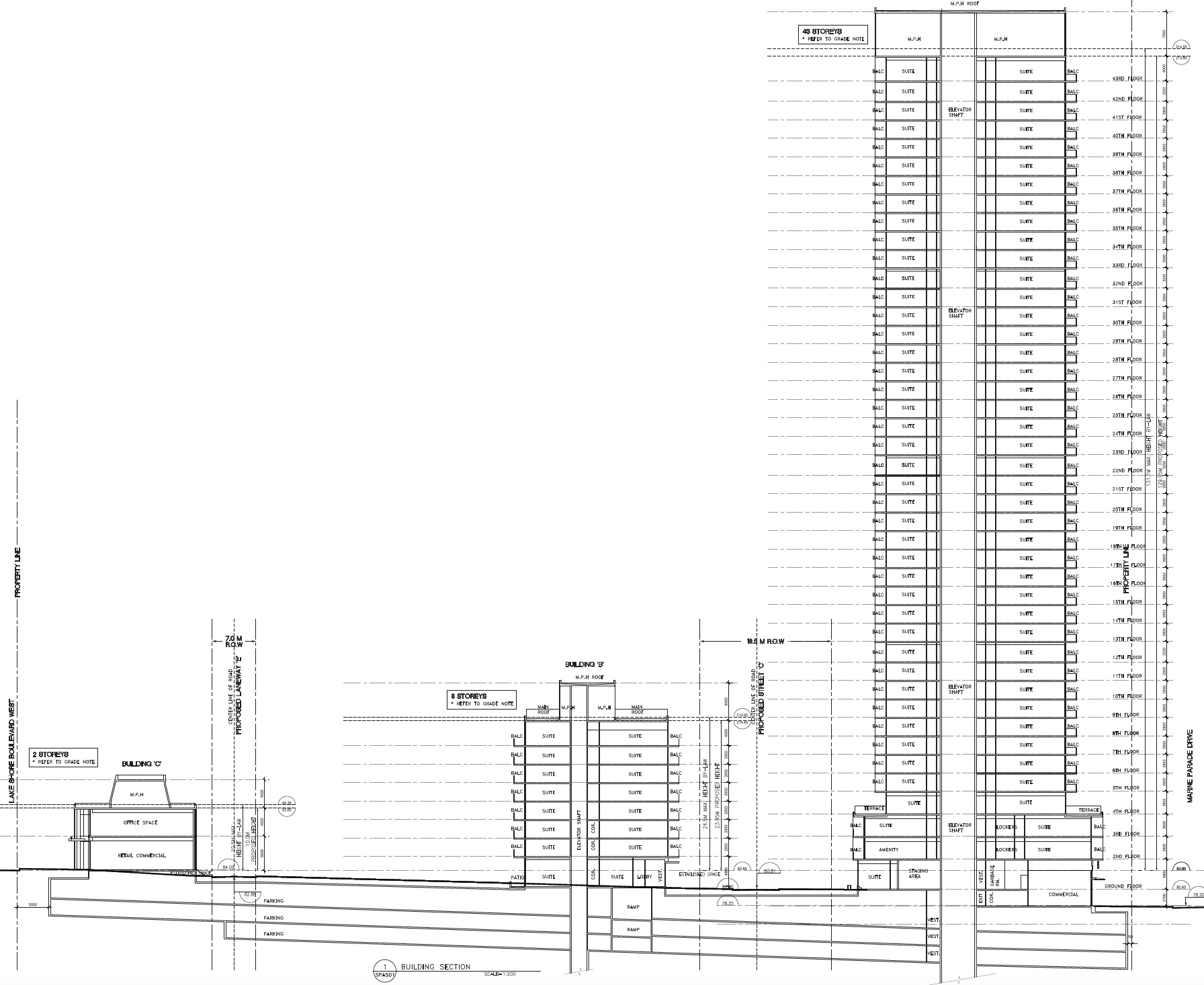 Longitudinal section, left to right: Building C, Building B, Building A, image by Richmond Architects
The proposal includes a total gross floor area of 36,482 m² (35,000 m² residential use; 1482.6 m² commercial use). The total proposed density is 3.21 FSI. Retail space is provided at grade in buildings A & C. Building A provides residential indoor amenity space on levels, 2, 3, and at level 4, where an outdoor terrace wraps the west and east elevations.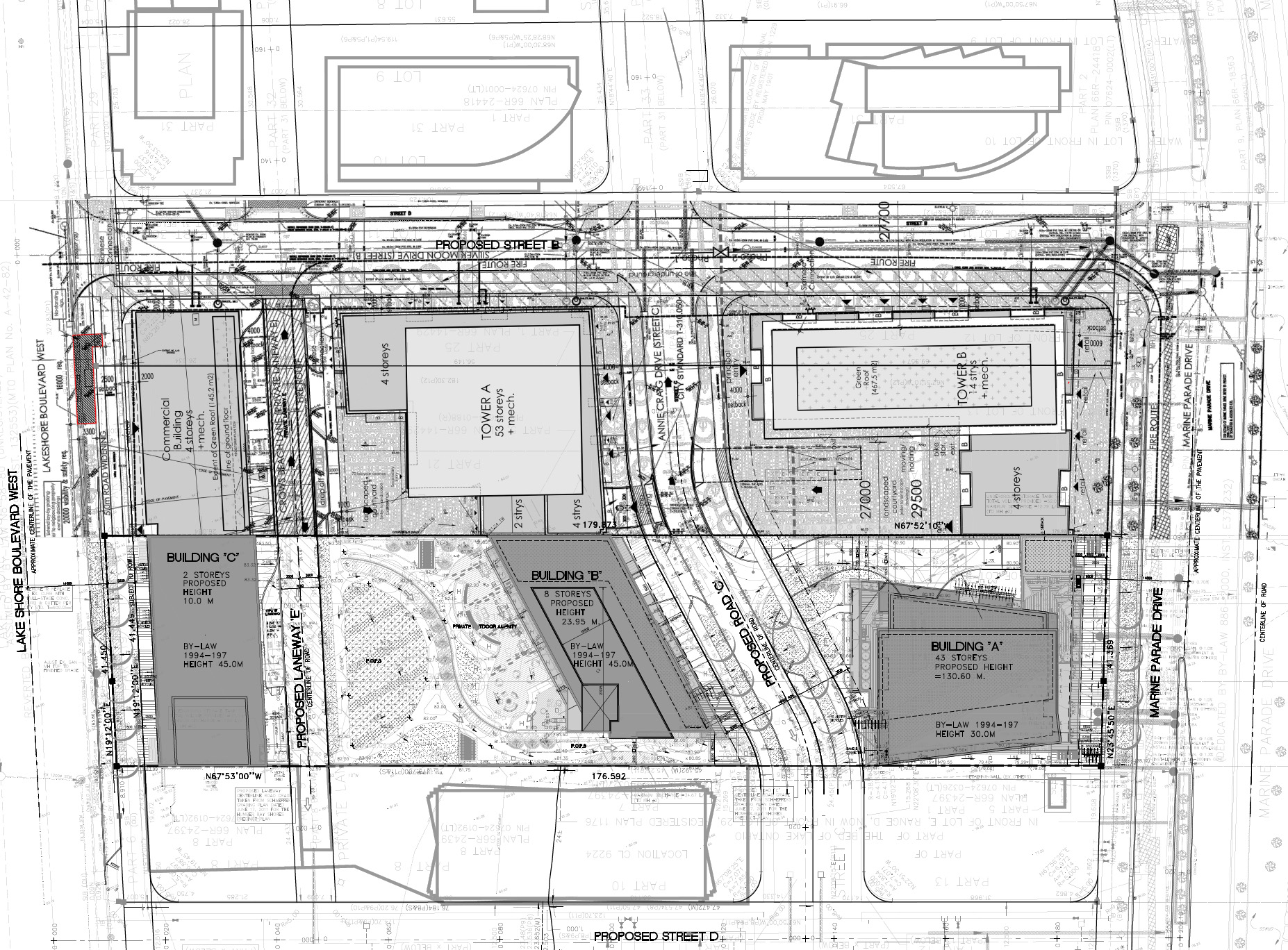 Context Plan; proposed buildings in dark grey, image by Richmond Architects
The developer said the architectural drawings have been coordinated with the available information provided by the adjacent land owners Mattamy, who own the lands to the north—particularly where Vita on the Lake and Vita Two buildings touch, and on pedestrian paths. The site will be bisected by the extension of Annie Craig Drive (marked as Proposed Road C in the plan above) and by a private lane (Crow's Beach Lane) located between the mid-rise and the commercial building. 43-storey building A will rise a park space to the southwest.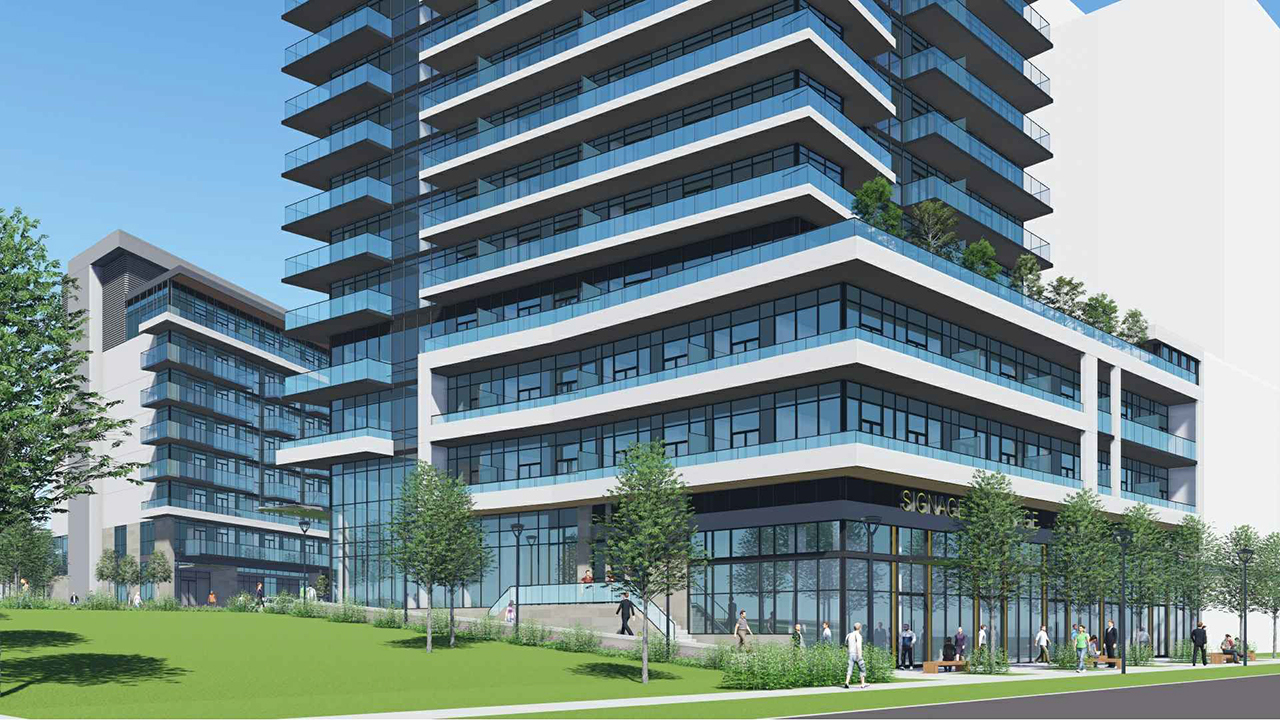 Looking north across a park space to the base of Building A in foreground, with Building B at back left, image by Richmond Architects
A total of 540 residential units are proposed (in buildings A & B), in the following breakdown: 98 one bedroom (18 %), 285 one-bedroom plus den (53%), 114 two-bedroom (21%), and 43 two-bedroom plus den suites (8%). No three-bedroom units are planned.
A total of 579 parking spaces are provided across 3 levels of underground parking, as well as 425 bicycle spots.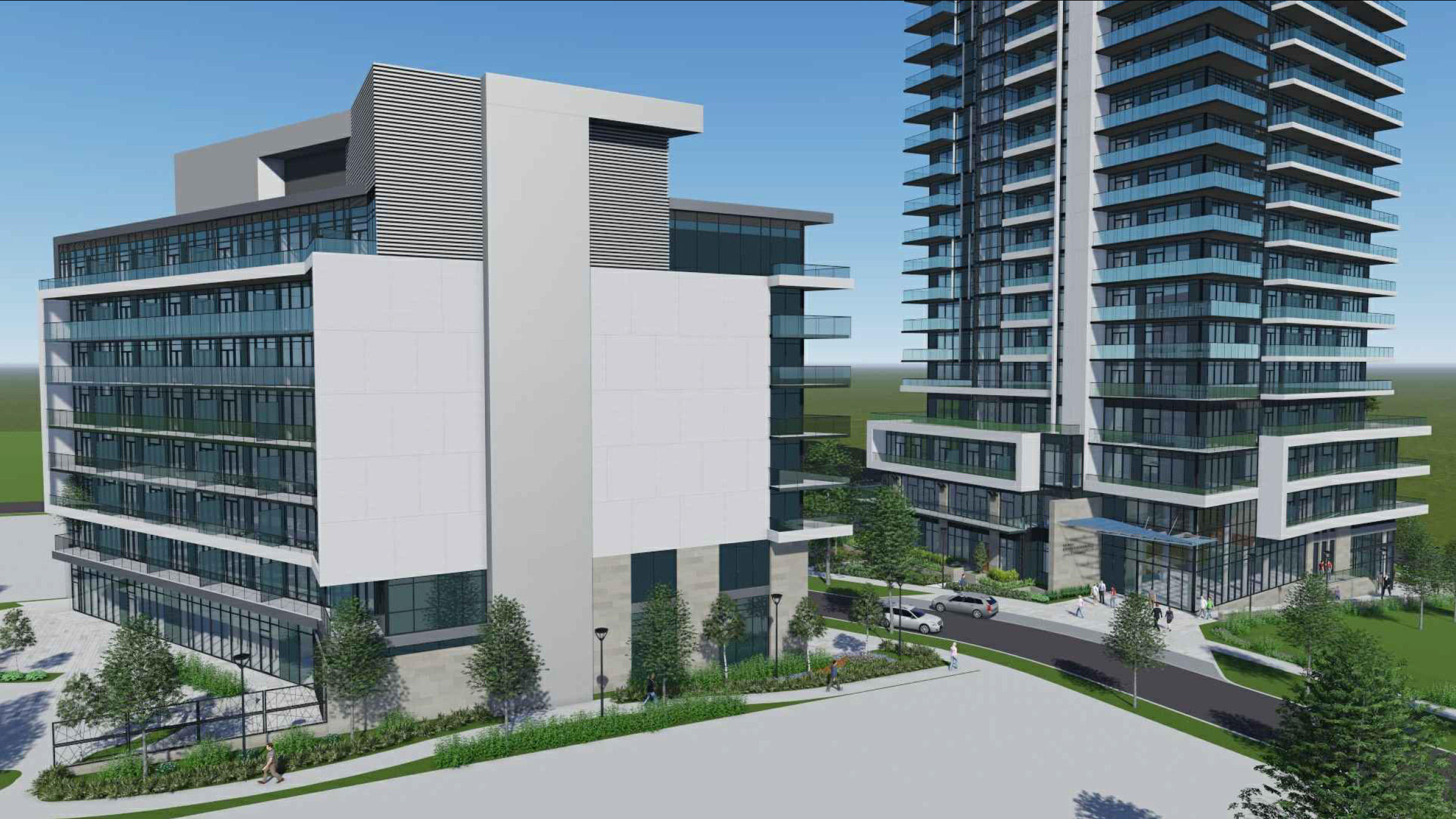 Looking east to buildings B and A, image by Richmond Architects
You can learn more from our Database file for the project, linked below. If you'd like to, you can join in on the conversation in the associated Project Forum thread, or leave a comment in the space provided on this page.
* * *
UrbanToronto has a new way you can track projects through the planning process on a daily basis. Sign up for a free trial of our New Development Insider here.