A seismic shift towards e-commerce and home deliveries was already occurring in Canada before COVID-19 broke that fault line wide open last year. A May, 2021 study by Statista Research Department points to a 6.5% growth in Canadian retail e-commerce in 2018 and an 8.1% growth in 2019. Unsurprisingly, these numbers leapt in between May, 2019 and May, 2020, peaking at $3.5 billion, or 7.8% of the total retail trade in January, 2021
Halfway through 2021, much about life is now gradually returning to normal, though some habits will likely remain for the long haul. Shopping habits are expected to continue to trend even further towards online, with a Canada Post survey findng that 93% of Canadians intend to maintain or increase their online spending after the pandemic.
Much of the rise in e-commerce is being attributed to the millennial and Gen Z demographics. The former accounts for one-third of all online shopping while representing 35% of people who purchase more than 25 items online per year. The latter is also helping to drive the rise of online food purchases, including meal kits from companies like GoodFood and HelloFresh, and ready-to-eat deliveries from companies like Uber Eats, SkipTheDishes and DoorDash.
This increased demand for deliveries has already put immense strain on the staff and space at multi-unit residential buildings, and it's expected to continue to tax their ability to accommodate the rising tide of deliveries. Pre-pandemic lobbies were designed to handle much lower volumes than what has since become normal, and both space and staffing shortages have become apparent over 16 months of never-ending truckloads of parcels.

Parcel buildup in a residential lobby, image courtesy of Snaile Inc.
In multi-residential buildings with staffed lobbies, a concierge is responsible for granting access to the building for delivery drivers, signing for parcels, logging the deliveries, storing them, and finally, contacting the resident to pick up their delivery. A survey conducted by parcel storage locker company Snaile Inc reveals that this process can take as much as ten minutes per parcel, leading to overflows at concierge desks that can lead to more serious security and fire code issues. One such example is the accumulation of cardboard-box parcels, which can result in buildings being cited under Ontario Fire Code Section 2.4.1.1 – Accumulation of Combustible Materials.
Multi-residential buildings with unstaffed lobbies or no lobbies are just as vulnerable to parcel delivery and storage issues. Some of these buildings offer a dedicated "buzz for deliveries" button that notifies a property manager or building resident, while others lack notification systems entirely. Those buildings without means of access for private parcel carriers are limited to Canada Post deliveries, where a notice delivery card is left to indicate a failed delivery with pickup instructions, a building's shortcomings having the potential to nullify much of the convenience of e-commerce. Other parcel carriers—paid according to the volume they can successfully deliver—will find other means of gaining access to a building like buzzer bombing or waiting to be let in by passing residents.
Parcel theft is another concern for unstaffed buildings, where parcels are sometimes stacked outside doors, leaving them open for theft while indicating that a resident is not home, tipping off would-be break and enter thieves that a resident is absent. A recent survey published by FedEx found nearly a third of online shoppers have fallen victim to package theft in 2020, versus just a quarter of shoppers the year before. The same survey finds that 30% of online shoppers are worried about their deliveries.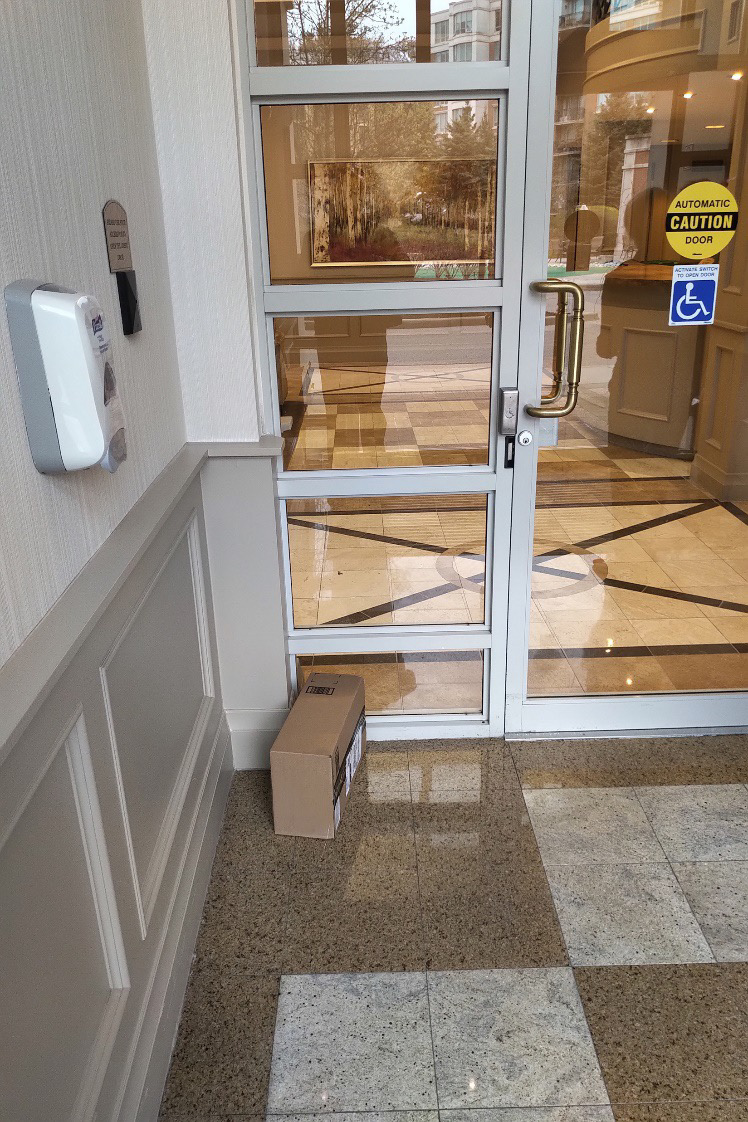 Unattended parcel at unstaffed building, image courtesy of Snaile Inc.
These mounting problems are already being addressed by parcel storage locker providers like Snaile, who have carved out a niche in the Canadian market with solutions to help stem the tide of parcel overload, being adopted en masse as property owners come to terms with changes to parcel management.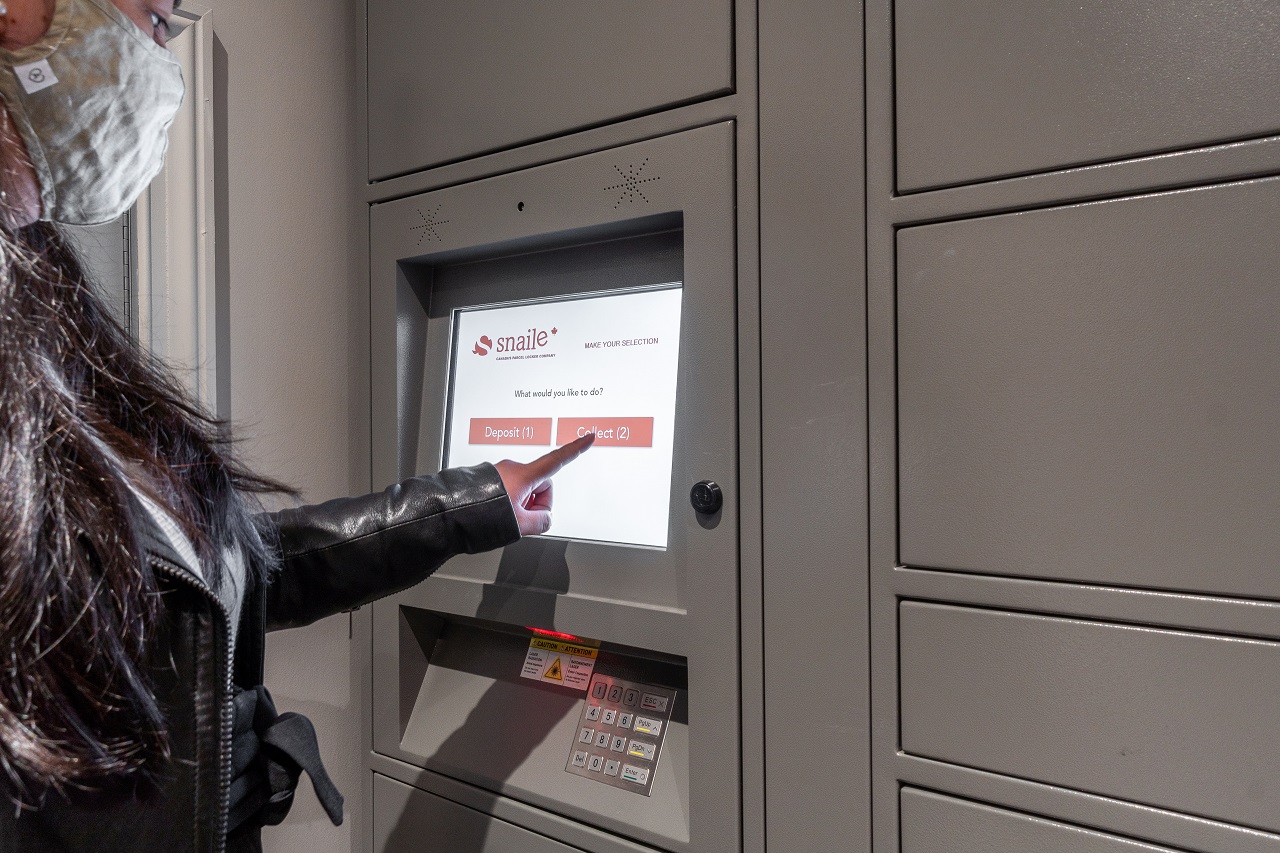 Snaile smart locker system with 1VALET integration at 221 Lyon Street in Ottawa, image courtesy of Snaile Inc.
Snaile has partnered with another Canadian company, 1VALET, with the two joining forces to develop an integrated parcel delivery solution catering to multi-residential buildings. This system makes use of a barcode scanner that scans parcels to verify and grant couriers secure access. Couriers then deposit parcels in Snaile lockers, and a one-time-use contactless QR pickup code is passed on to the recipient via the 1VALET Resident App, allowing for easy pickup.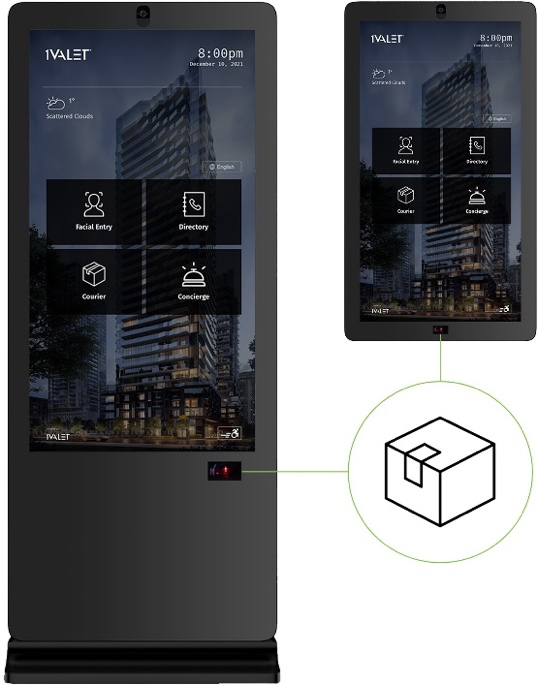 1VALET app interface, image courtesy of Snaile Inc.
The first installation of this integrated system was completed last year at Minto's The Carlisle at 221 Lyon Street North in Ottawa. "The 1Valet and Snaile solution has changed how resident deliveries enter this building and ensures the seamless operation of the building for its residents. We have recorded zero incidents of theft and never see parcels or delivery cards lying around. This really is the way of the future," reads a statement from Cheryl Margeson, Director of Centralized Property Operations at Minto Group.
A positive reception has led Minto to sign on Snaile and 1VALET for an installation at their 39 Niagara West building within the Minto Westside complex. Other developers around the country are taking notice, with contracts for Snaile and 1VALET systems in place with developers like Empress in British Columbia, Saroukian Group in Quebec, and Reid's Heritage Properties in Ontario.
You can leave a comment in the space provided on this page.
* * *
UrbanToronto has a new way you can track projects through the planning process on a daily basis. Sign up for a free trial of our New Development Insider here.