Recently, UrbanToronto has engaged in several conversations with representatives of Entuitive, a consulting engineering practice with, it says, "a vision of bringing together engineering and intuition to enhance building performance." Entuitive is completing the structural design of three underground Crosstown LRT stations. Its design scope for that transit project includes below-grade stations, pedestrian and ventilation tunnels and surface structures for access, substations, and ventilation equipment. Tunnel interfacing and excavation support to protect structures and utilities were also key design requirements.
Previous articles in this series include discussions of Entuitive's role in building:
This time, we discuss Entuitive's perspective on transit-oriented developments (or TODs) and how their work contributes to these sites. As part of the Government of Ontario's commitment to expand transit throughout the Greater Golden Horseshoe, Metrolinx has been creating partnerships to deliver transit-oriented communities (TOCs) at new and current transit stations. These communities are higher density, mixed-use developments that are connected, next to, or within a short walk of, transit stations and stops. According to the regional transit agency, "This type of development is designed to increase transit ridership and reduce traffic congestion, increase housing supply and jobs with access to transit, catalyze complete communities based on good planning principles, and provide positive value capture for the Province to maximize transit investment while reducing taxpayer burden."
Urban Toronto spoke to four members of the Entuitive team about their firm's role in designing and building such communities: Michael Meschino, Principal, Jonathan Hendricks, Principal, Fabiola MacIntyre, Senior Associate, and Louis Tilatti, Senior Associate.
UrbanToronto (UT): How does Entuitive view TODs and what do you see as your role in building them?
Fabiola MacIntyre (FM): TODs are a well understood concept, however the implementation of them is fairly new. There are few examples where TODs have been built as first envisioned and as community builders, we asked ourselves where did these projects go wrong?
Our observations were that the more the infrastructure is integrated to realize that full potential of a TOD site, the higher the technical challenges. And that's where we come in.
Over the last decade or more, our team, being on all sides of infrastructure projects—whether they're commercial or residential or transportation projects—have gotten to see how integration can be done successfully and, sometimes, not so successfully.
Canada Square development at 2180 Yonge. Image, Pelli Clarke Pelli + Hariri Pontarini for Oxford Properties and CT REIT
We've worked on projects like the New Central Library in Calgary as part of the East Village revitalization, the Manhattan West Platform—an overbuild project in New York, and the Eglinton Crosstown, where introducing transit within an already built environment is critical to the community's continued development.
In all these cases, we worked with varied client types, but the outcome remained the same—to deliver an integrated community where the movement of pedestrians was logical and seamless and where physical barriers are eliminated through our structural designs.
UT: So, for you, this is really all about delivering value for the client, whether it's an owner, transit authority, or a developer?
FM: Exactly. We understand the client's needs and desired outcomes, so our job is to really get creative in things like: 'how do you support an upper floor without placing columns below that impedes a pedestrian passageway?' or 'how do you not have piers interfere with the tracks below for an overbuild?' or 'how do you meet the requirements of the rail-safety code while encapsulating the tracks?'
What really resonates for me in our experience and our approach is that we're focused on the end outcome and the coming-together of the different parties who have different interests but focussing on the fact that we are bringing it all together in one space toward each of the individual successes that are required: the developer; the transit agency; the architect; the planner; the contractor; and the vision for the project. It is because of our inherent understanding of the various perspectives and our commitment to ask "why not" that we can work through the technical challenges ensuring the vision is not lost and that the plans come to fruition.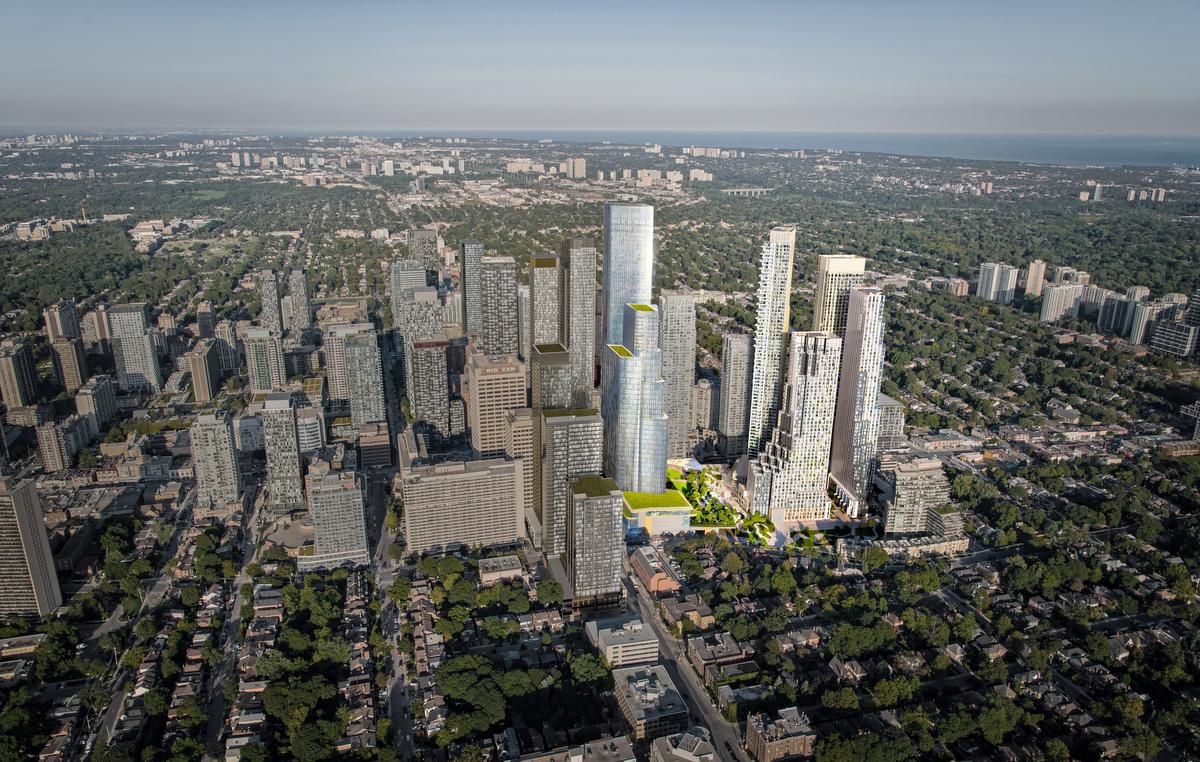 Canada Square development at 2180 Yonge. Image, Pelli Clarke Pelli + Hariri Pontarini for Oxford Properties and CT REIT
Michael Meschino (MM): One of the advantages we have as a company is that we have a very strong building design group, and we also have a very strong transportation group. A lot of times, firms are strong in one area, but not necessarily both. So, I think that is what makes us unique: we have the ability to bring different groups together. As we've done this over the last couple of years, we've realized that the transit authorities need some guidance on the development requirements. And, conversely, the developers are not used to working in and around transit facilities and they're worried about getting approvals and it becomes a real concern for them: how to navigate through that environment that they're not used to.
So, we're in a really good position that way, again because we have that experience on both ends of this world, where you're working on the building side, but also on the transit side.
UT: What do you see as some of the common challenges to realize a TOD?
Jonathan Hendricks (JH): Not all TODs are created equal and the optimal solution really depends on what's there first (the development or the rail or both at the same time). There's a great responsibility to address the issues and needs of the city, the community, and the client both in the current context and with a view to what is to come. This means our solutions need to be fine-tuned to accommodate for a wider future view.
MM: To just set it up from the technical side, two things happen when we're talking about TODs. First, there may be transit infrastructure that's going in at a site that's favourable for development, but the development isn't there yet. In such cases, the developer may or may not own the land yet, but there's a parcel that the transit authority has identified for possible development. We would be looking at designing the transit system to accommodate whatever future development may occur in a way that allows a development to happen without causing a lot of restrictions on whatever that development might be.
Another scenario occurs where the transit system already exists and we're working for a developer. We would then be in the role of checking the existing transit infrastructure for the impacts of the new development and satisfying the transit authority that we can do the development without actually impacting the infrastructure that already exists.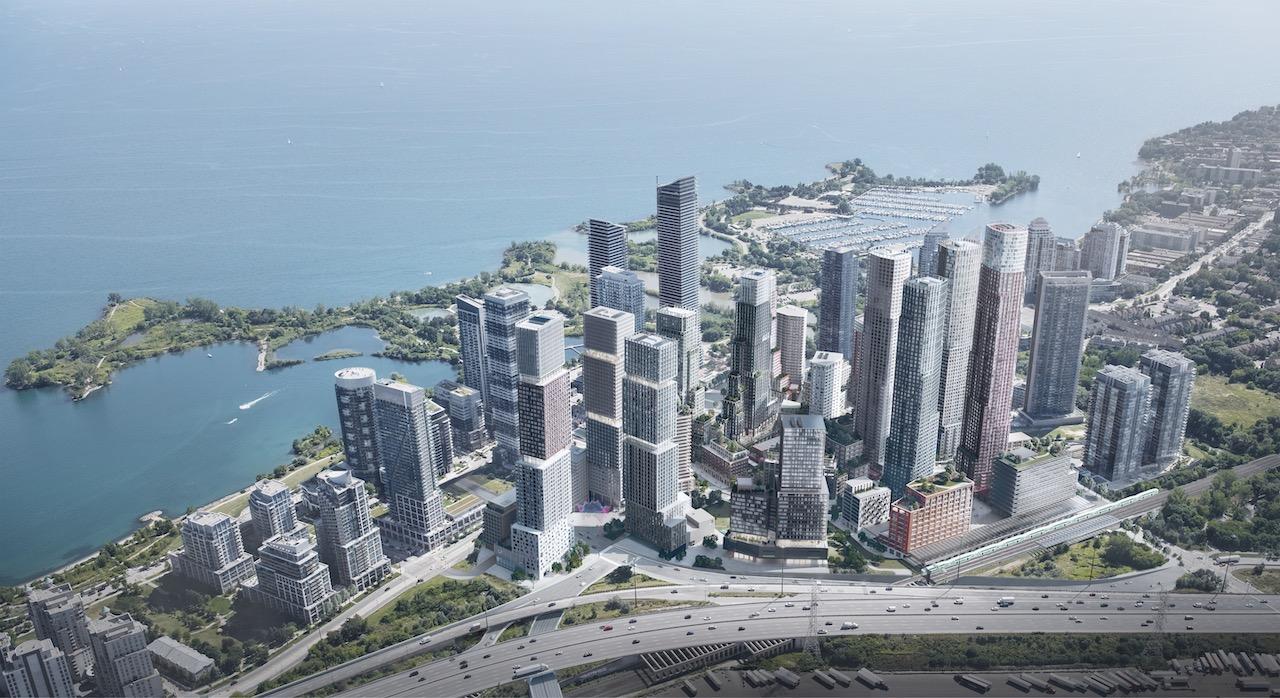 Aerial view facing east over 2150 Lake Shore West (the Christie lands). Image, Allies and Morrison for First Capital, CPPIB
There is another situation where developments exist ahead of the building of a new transit line. In this situation, the design of the transit system must be such that the existing adjacent buildings and utilities are not impacted by the construction of the transit infrastructure. This would affect the design of excavation support systems, tunnelling approaches, and transit alignments, among other things.
So, there's a few sides to this, depending on which one is first and where we're sitting at the table.
UT: Are there differences in how you approach the planning in those scenarios?
MM: In those cases, we're working there to try to determine how best to plan that area, where to put the station, where to put the entrances, where to put the exhaust shafts. There are many things that could be incorporated into the design of the station that would allow for a future development to happen easier. For instance, there's obviously going to be below-grade parking that would likely go beside the station. The depth of the parking and its proximity in relation to the station are things to think about that would impact the building of any future development.
The site layout of the development can also be adjusted to better coordinate with the transit infrastructure. For example, putting very tall towers over top of a station can be quite difficult to do, especially if the towers are built afterwards, so, in some cases, the better solution is to try and shift those towers on the site in order that they're either adjacent to the station or cantilevered slightly over top of the existing station.
For lower, podium-type structures, maybe five or six storeys, if the station is deep enough, you can sit them right on top of the station because the stations are designed for large depth of earth over top of them anyway. In this case, excavating some of the earth cover reduces the weight and that compensates for the weight of the building you'll add on top of it. You can actually balance the weight of the building by removing soil. It's a fairly easy way to accommodate low-level buildings. It's the high-rise ones that are much more problematic and need to be carefully planned on the site.
UT: Do you have any examples to help visualize what you're saying in action?
MM: Some examples we're working on now are potential future developments being built around the Yonge and Scarborough subway lines that are in the planning stage. Here, we're working for the owners, Metrolinx and Infrastructure Ontario, as part of a public-private-partnership procurement. They will be contracting with a consortium to design and build the transit infrastructure in accordance with performance specifications. We're developing the performance specifications that allow for future loading and configurations of a future development over and/or adjacent to the transit facilities. So that's the sort of exercise that helps Metrolinx understand what they need to incorporate into the transit system that would allow those future developments to happen.
Another project we're working on is Canada Square. Now this is the other side of the coin, where we're working for the developer, which is Oxford. We're trying to develop a site around an existing TTC subway line as well as the Crosstown station to the north. Both lines are actually impacted by this development and we're trying to help the developer understand what they can do—and we're actually providing the calculations for them to use to obtain approvals from the transit authorities. The calculations help them to demonstrate that, 'yes, we can do this development without impacting any of the existing Crosstown LRT infrastructure and the existing TTC subway infrastructure.'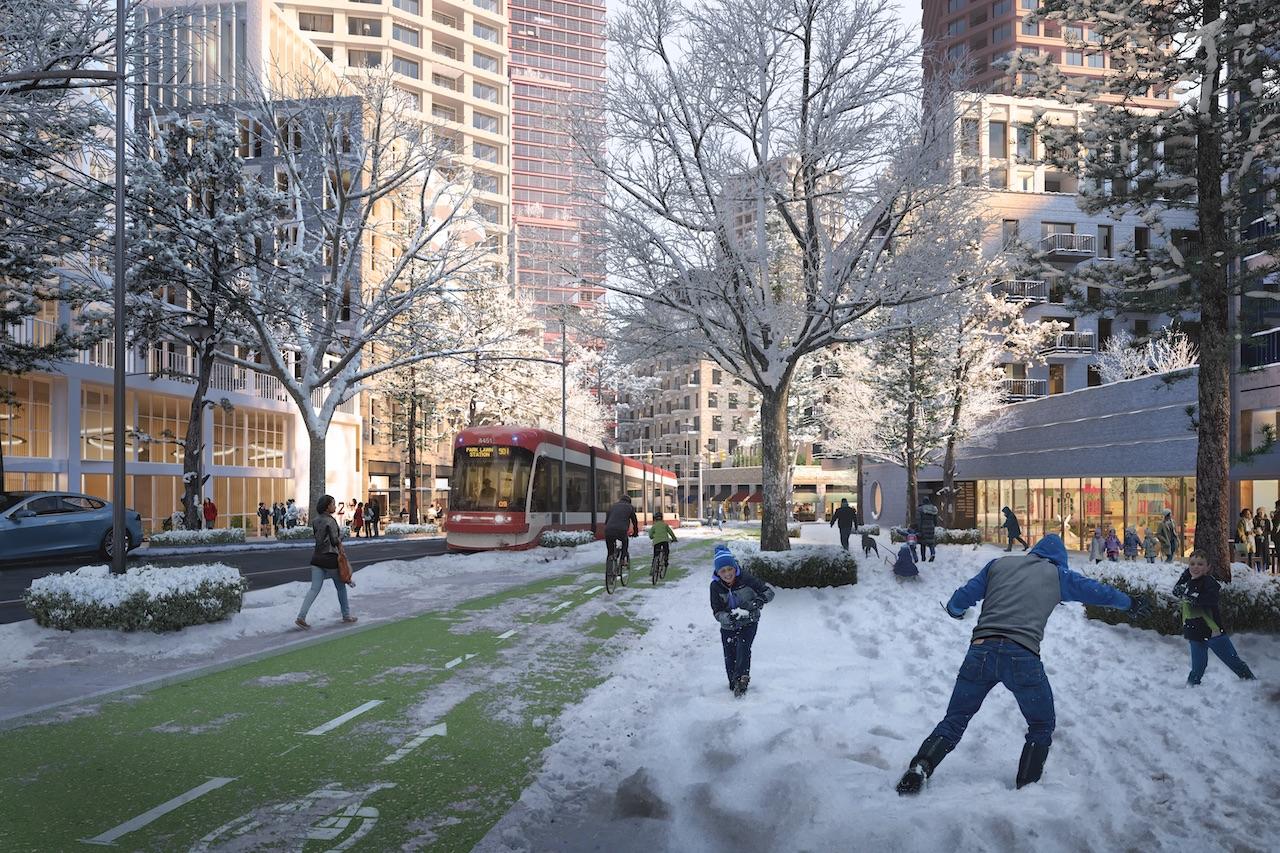 TTC streetcar and bike lane at 2150 Lake Shore West. Image, Allies and Morrison for First Capital, CPPIB
So, there's two examples. There's a number of other ones. The Mr. Christie lands is one where it's interesting because the development is happening at the same time as the station development. So, there's a case where both are going in at the same time. Both are being designed simultaneously—which has its advantages because it's much easier to incorporate the requirements for both."
Note; Metrolinx is working with private-sector partners on designing and building a GO Transit station in a future development on the former Christie cookie-factory lands at Lake Shore Boulevard West and Park Lawn Road.
UT: So, what does this all boil down to?
JH: I think, taking a step back, I would say that, in all of our cities, there's increasing pressure on making land work beyond a single function. So, traditionally, there's rail corridors through our cities and developments are placed well back. But now, developments are pushing closer and closer to the rail—a natural response to densification.
The national guidelines associated with heavy rail lines through cities [require] a 30-metre setback on either side, plus a berm, to maintain safety between rail and development. But that sterilizes an unacceptable amount of land through our cities. So, one of the things that we get involved with is what kind of mitigating safety measures we can design that can provide an equivalent level of safety that will allow development to move closer and closer, if not immediately adjacent to, the rail corridor.
And then, you take that a step further, where instead of being adjacent to, the project development goes over or under the rail infrastructure. Some of those examples are related to TOD, but they're not TOD by definition. They don't engage the transit; they're just working in and around the transit. They're not associated with a station, but they are associated with the running track (not the node but rather the corridor).
[For example], at the Distillery, there's a thin parcel of land that's immediately adjacent to the track, so it doesn't work with a 30-metre setback. So, instead of a 30-metre setback, we designed and built a safety barrier – a crash wall – to suit the site-specific conditions that allows the development to get tight to the property line. Without this solution, the development would not have been possible.
Louis Tilatti (LT): Another example of TOD, and perhaps the more traditional, is where you establish a symbiotic relationship between the transit station and the planned development around the "node". An example that I worked on a few years ago is a simple thing, actually. The TTC, as you may know, has old existing stations that don't have very good accessibility. They have a program, the Easier Access program, where they're putting in elevators in these older stations.
At St Patrick Station a few years ago, we had a little bit of a problem in finding a good location for the elevator that would take people down from the street to the concourse level. What happened was, after a few years of studying the options, the best option was one that was a bit too far away from the fare line at the concourse in St. Patrick. So, the northwest corner, where the CIBC building is, was bought by a developer. He wanted to add some storeys onto the structure and convert it into a condo building, but couldn't get the densification increase that he needed for the zoning for that building. However, by getting that developer and the TTC together, we were able to get the developer to pay for the elevator and put it into that northwest-corner property and it was fairly close to the station, so it was a win-win.
That's an example of a symbiotic relationship and the developer, in turn, got his increase in densification and everybody's happy.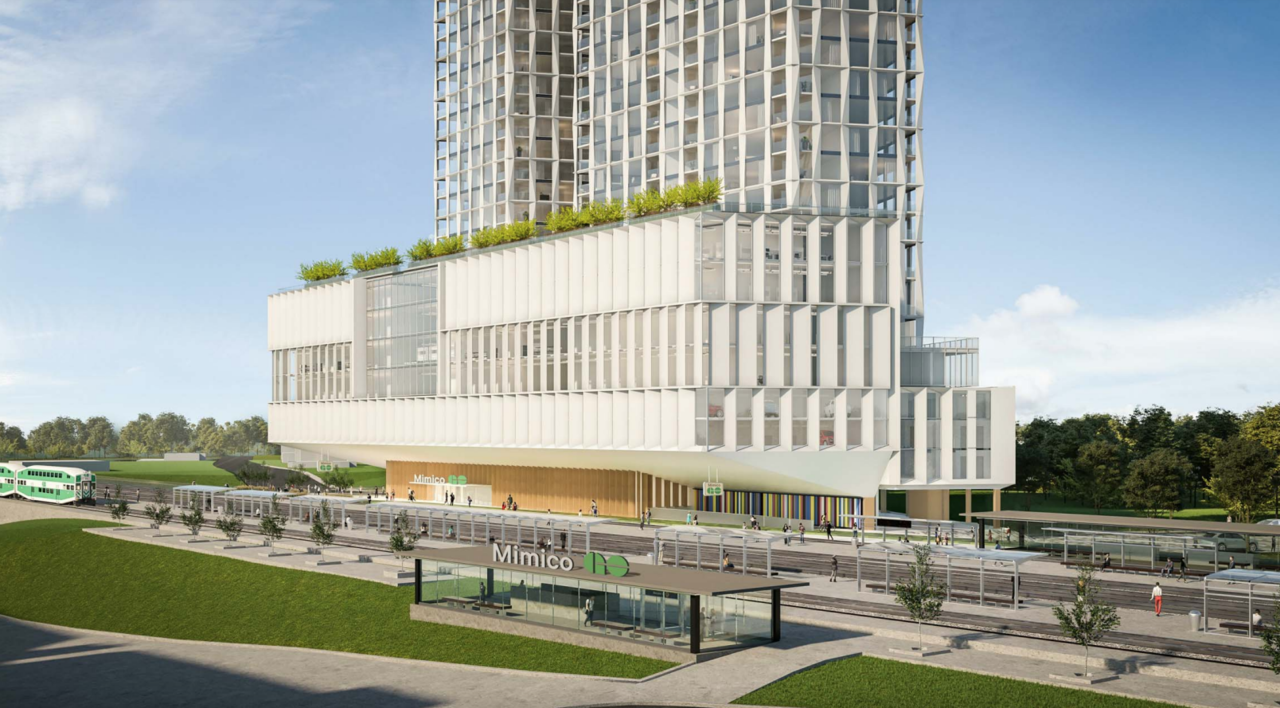 Looking northwest toward 327 Royal York Road and Mimico GO Station. Image, SvN for VANDYK Group of Companies
JH: Similar to that is what Metrolinx is doing with air rights over top of their stations, in exchange for the refurbishment or redevelopment of the station. So that's a win-win for both sides. That's exactly what is happening at Mimico GO Station.
Some of the issues associated with TOD—or the pure, or extreme examples of TOD—are in their infancy in Canada and in Toronto. So when you talk about air rights, everyone understands the principal of getting extra density and building on the air rights. But what's not as well explored is what are the safety aspects [such as] "how do you support those air-rights developments, bringing the load down through the track level, in a safe manner?"
At Mimico, for example, some of the options we're looking at avoid that by cantilevering out off the adjacent development. It looks rather extreme… because it has no load-bearing elements coming down in proximity with the tracks.
But, if we really wanted to explore the full potential of our air rights, we have to come up with alternate cost-effective solutions that do bring load-bearing elements down safely through the track level.
And, let's be fair. The agencies involved—both the railway authority… and the developers—don't have a lot of case history with this in Canada. So, we need to illustrate what the technical issues are on both sides and then road map [to guide them] to how you get approvals that satisfy both parties.
And 'both parties' is the situation in its simplest form. Most times, there are many more parties than that. It could be a rail authority, a city, and a developer, or maybe even a group of developers.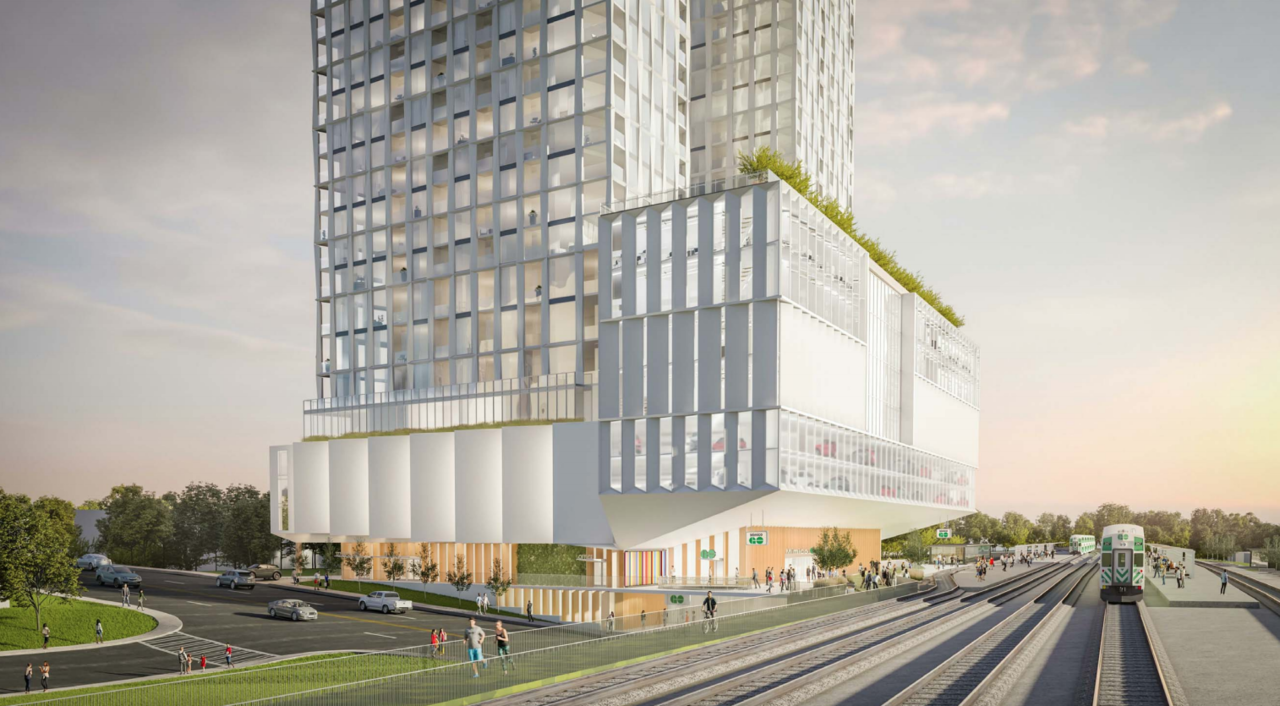 This view of 327 Royal York Road shows how the building extends over Mimico GO Station. Image, SvN for VANDYK Group of Companies
UT: So, there are development-first, transit-first projects, developing along corridors or at nodes. Are there any other scenarios?
MM: There's a variation in the development-first situation that we discussed earlier. The variation is a scenario where the development happens first but with the awareness of a future transit expansion passing through the development site. In fact, Jonathan and I are working on a confidential project in downtown Toronto… where the development will happen first, but we're going to do it in a way that allows the transit to come into it after its constructed. The solution is actually a little bit—I won't say unconventional—it's been done before—but it wasn't a solution that either the developer or the transit authority had really thought of.
JH: It's bringing international experience to the local market… that the local market wasn't familiar with.
MM: Exactly. It's that category where the development happens first, the transit comes second and how do you actually make those two things happen. By having that experience at both ends, we were able to come up with that solution for them.
(Mike and Jonathan say that while the details of this project are still confidential, when the details are announced, "it will be spectacular.")
UT: Ultimately, why TODs? What do they do for our cities and our communities?
LT: One of the things that will help in the push toward TOD is policy at the government level regarding TOD. If you look at other jurisdictions around the world, like in England, or in California where this was first started, is what is called tax incremental financing, or TIF. The municipal government recognizes that, by encouraging TOD developments, their future property-tax revenues from those developments will increase, in comparison with not doing anything. So, in those jurisdictions, typically, bonds are floated based on the future value of those increased tax revenues to basically finance the project. So, developers and transit agencies alike in those jurisdictions can take advantage of that. Around those policies are also development policies regarding zoning etc. that help all the players and they create the rules for the players involved in TOD to follow. So that's what's lacking in the local market here in Ontario, and likely across our country.
(Note that, when John Tory was first campaigning to become mayor of Toronto, he proposed implementing a TIF scheme to finance part of his SmartTrack commuter-rail proposal.)
MM: It's very interesting when you look at Toronto. I think Fabiola said that it's in its infancy, which is a good way to describe it, when you compare it with, say, New York. We've done a couple of projects down there. In New York land is so scarce that sometimes it's about creating land to make a development happen. One of our projects is at Hudson Yards, where we're helping to create a platform over a large rail storage yard over which they're putting six tall towers… a very interesting example. But it's very common there in New York, that type of scenario, compared to Toronto where we're just getting into that, as now land is becoming scarce in Toronto.
JH: We're all getting there. With the trend of urbanization, all of our cities are getting there… slowly or quickly.
MM: If we explore some of our work in Toronto, we find that there are areas of the city that can be opened up for development if transit is built. For example, the development of areas around the Port Lands really can't happen without having transit infrastructure in place to be able to service the area. Right now, we're involved in a number of bridges that are part of Waterfront Toronto's overall flood-control mitigation system.
Why is that necessary? They need to solve the flooding problem in that area of the city in order for developments to happen. Otherwise, developments are not practical because of the flooding. So, Waterfront [Toronto] has embarked on a fairly large program to solve that flooding issue by essentially extending the Don River southward… and doing so interrupts a number of roads. We're actually designing a number of really beautiful signature bridges that go across this new river that will then be used to help mitigate the flood situation and allow the areas of the Portlands to be repurposed for development.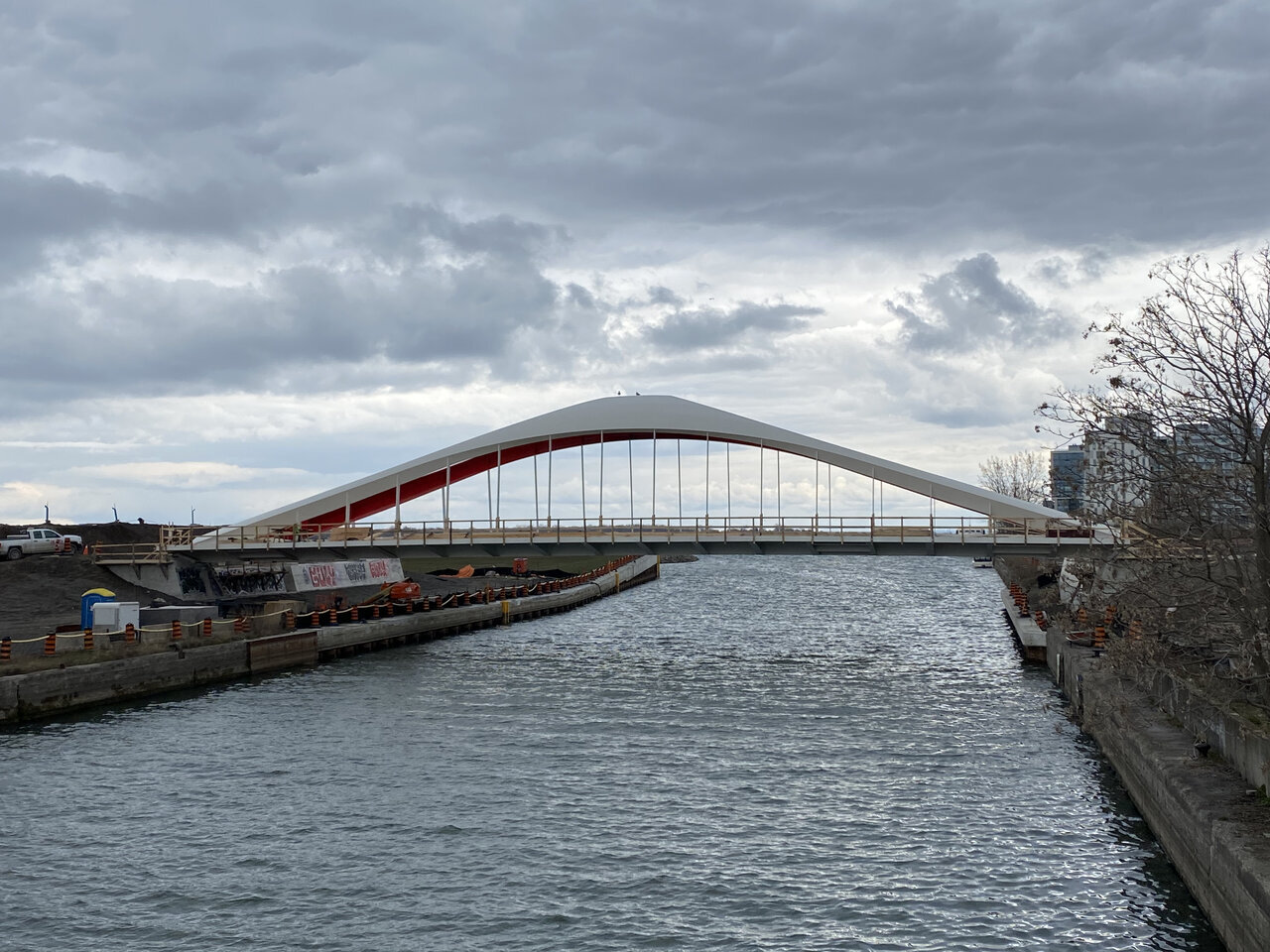 The Cherry Street North Bridge in the Lower Don Lands redevelopment area. Image, Forum contributor kevin.rupasinghe
In the end, you're going to have a beautiful community there which has great transit infrastructure. It'll have mixed-use buildings down in that area in which people will be able to work and play and live all in the same area. Beautiful parkland will be created with the new river. It's really about creating community, but ultimately driven by the need for transit in that area. Without the transit, none of this happens. And then there'll be extensions of the existing light-rail lines that ultimately run along Queens Quay or that currently run along Queen Street or King Street. This will extend down into those areas as well. So, again, providing transit to those areas enables developments to happen.
(Several months ago, one of those bridges arrived by barge to the Port Lands, seen above.)
MM: The Cherry Street North Bridge was the first of four main bridges that will go through three sites there. We were really happy to see that as well.
FM: Mike brings up a very good point regarding how density is encouraged and that the solution to each development is context sensitive. Regardless of whether the development is first and transit must be woven in, or the transit is first and must incent adjacent development, or development and transit are planned together, we are confident there is a technical solution, so long as we as an industry work together to deliver solutions that promote the activation of space. This may be through policy, financing structures, reconsideration of operations, and acknowledging the need for shared spaces instead of the historical territorialism of property bound developments.
Successful implementation of TODs is not only about encouraging the right type of mixed used density but more importantly it's about using the land available in the most efficient manner. Obviously, across Canada, we certainly have the luxury of being able to sprawl and have infrastructure that [is] adjacent to each other, instead of integrated. However, our cities are now seeing the ramifications of these inefficient designs that are costly, inaccessible, and single use. The goal for our team is to provide city-building solutions that are adaptive, efficient, community focused, and that maximize the use of space more efficiently, ultimately providing a more logical and vibrant TOD.
* * *
Ultimately, Entuitive has a vision for building a better tomorrow and is looking to collaborate and provide technical solutions as part of industry teams that can deliver comprehensive TODs.
* * *
What do you think about transit-oriented developments or these specific projects? Add your comments in the form below this article, or join the discussion on our Forum.
Forum discussion threads:
* * *
UrbanToronto has a new way you can track projects through the planning process on a daily basis. Sign up for a free trial of our New Development Insider here.