Ever since the first shovels broke ground on the Crosstown LRT in Summer, 2011, Torontonians have either suffered, endured, or avoided the annoyance of the first major transit infrastructure project in the centre of the city in more than a generation. But after this 'Decade of Disruption,' few though have the patience remaining to wonder how they are doing this in the very middle of a working metropolis, or better yet ask what's going on down there and who's doing it?
The close to $13 billion project is planned to open as Line 5 sometime in 2022 and consists of 25 stations and stops through the heart of the city along Eglinton Avenue. The Crosstown travels 19 kilometres from Mount Dennis in the west to Kennedy in the east, with 10 kilometres underground. All that tunnel boring through bedrock and the supporting infrastructure is extremely technical, potentially dangerous and takes skilled teams of engineers and workers to get it right.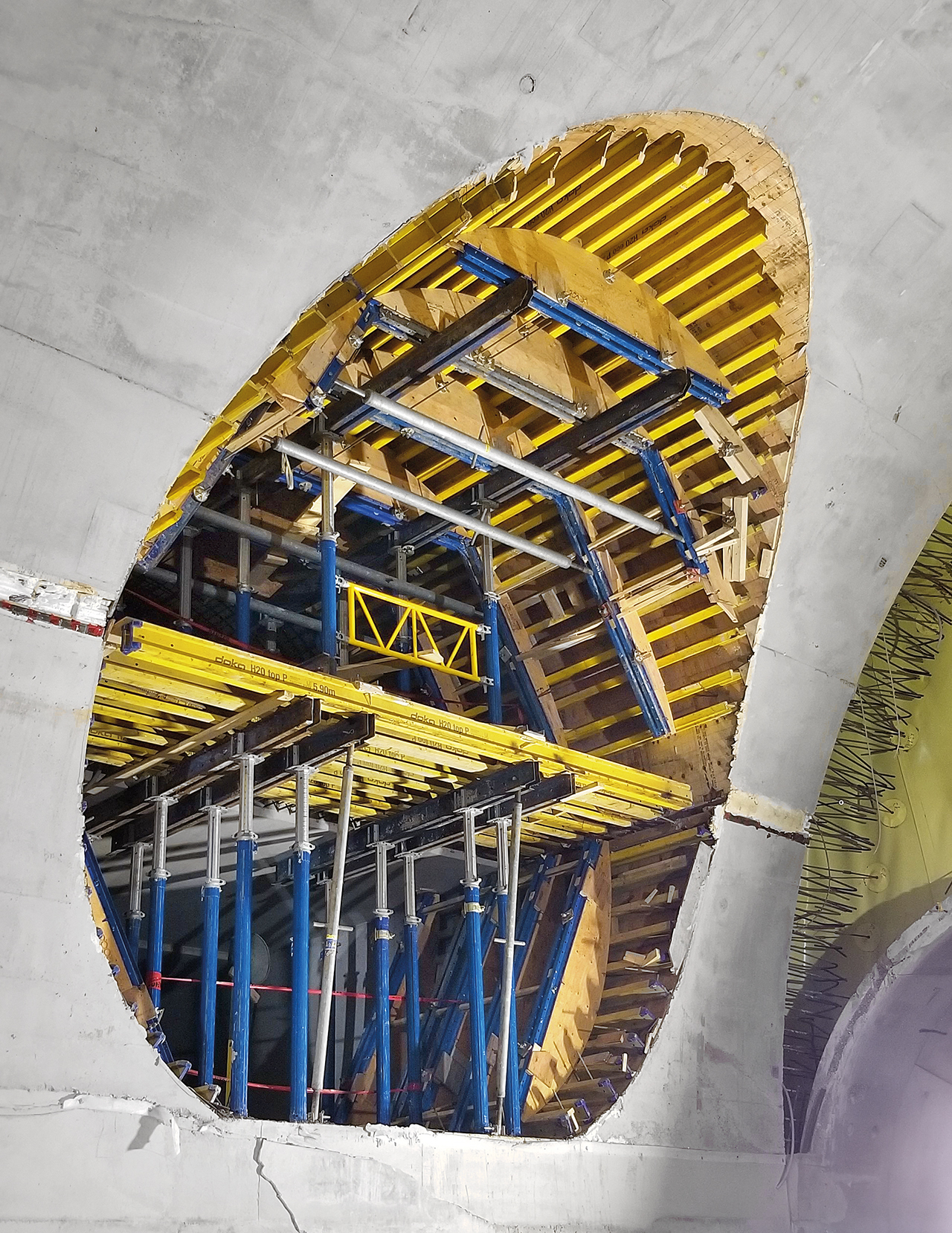 Tunnel formwork at Oakwood Station on the Crosstown LRT, image courtesy of Doka
One of the more challenging stations of the Crosstown LRT project is Oakwood Station on the western half of the line, where construction began in 2016. It is one of three 'mined' stations on the line, meaning it uses a construction method that involves forming a cavern underneath an active roadway. For this, Metrolinx turned to construction giant Doka, one of the world's leading companies in tunnel construction, which had to create innovative custom solutions at the station for the formwork, which is the process of creating a temporary mould into which concrete is poured and formed. The formwork at Oakwood station began in April, 2019 and is in the process of wrapping up.
Starting as a family woodworking company 150 years ago, Doka has grown into a global behemoth, with 160 locations operating in 60 countries on five continents and employing more than 7,300 professionals. If you've ever traveled by train in Europe, chances are you've ridden through a tunnel built by Doka.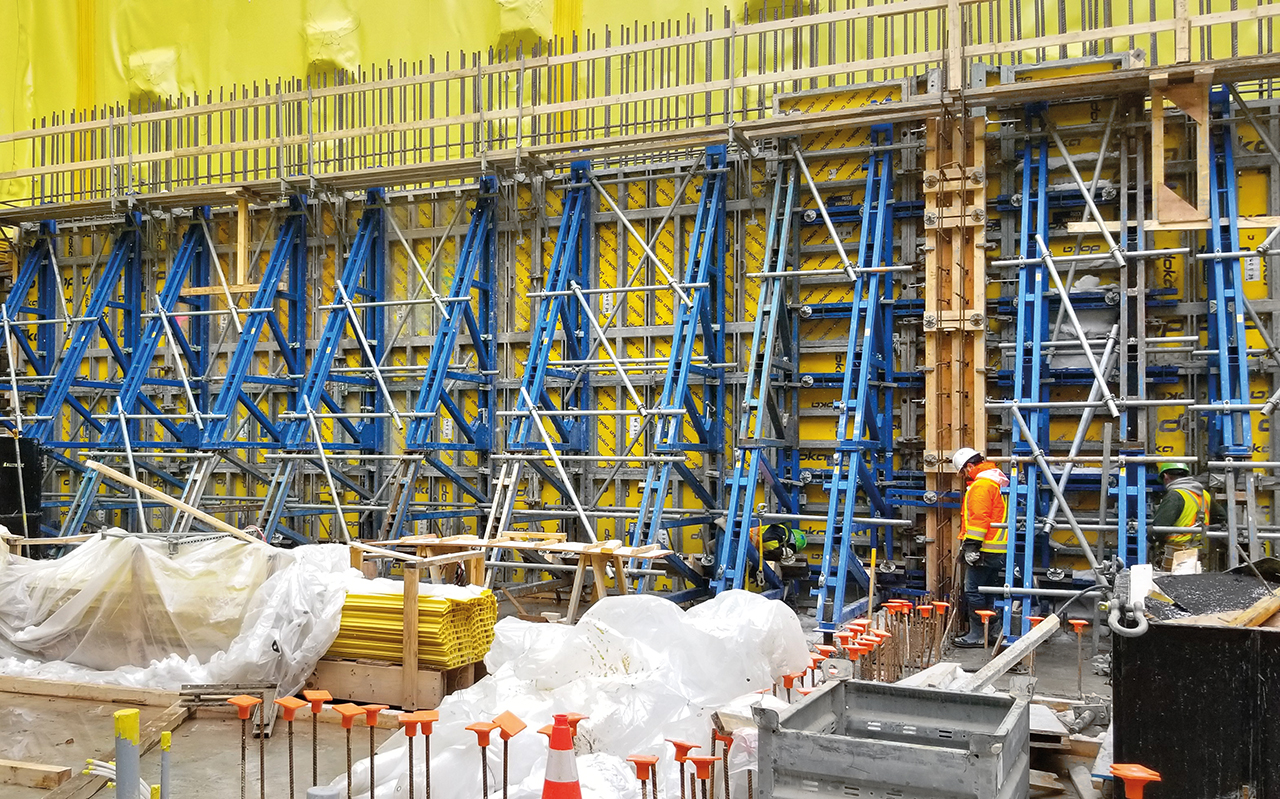 Tunnel formwork at Oakwood Station on the Crosstown LRT, image courtesy of Doka
The company is known for providing custom-tailored solutions not just relating to formwork systems, but also engineering, field service, and pre-assembly of formwork to ensure successful completion of projects. These Doka solutions are always developed in partnership with their customers, in this case Crosslinx, and each construction method is unique and selected based upon on-site conditions related to soil/rock, traffic concept during construction, and groundwater conditions.
Oakwood Station will include two station entrances: one directly north of the T-intersection at Eglinton and Oakwood, and one west of the intersection on the south side of Eglinton. A construction challenge was that the site was extremely tight with limited access and minimal storage available, and the schedule to construct the crosscut tunnel, which intersects with the main cavern, was very short.
This required Doka to pre-assemble all the crosscut and cavern forms at its Toronto yard to accommodate the site's space restrictions and to ensure the exact fit of intersected panels. Doka also scheduled and arranged all the delivery and return trucks to avoid any material shortages. The assignment at the Oakwood Station provided many unique challenges for which Doka provided the answers to successfully complete the project.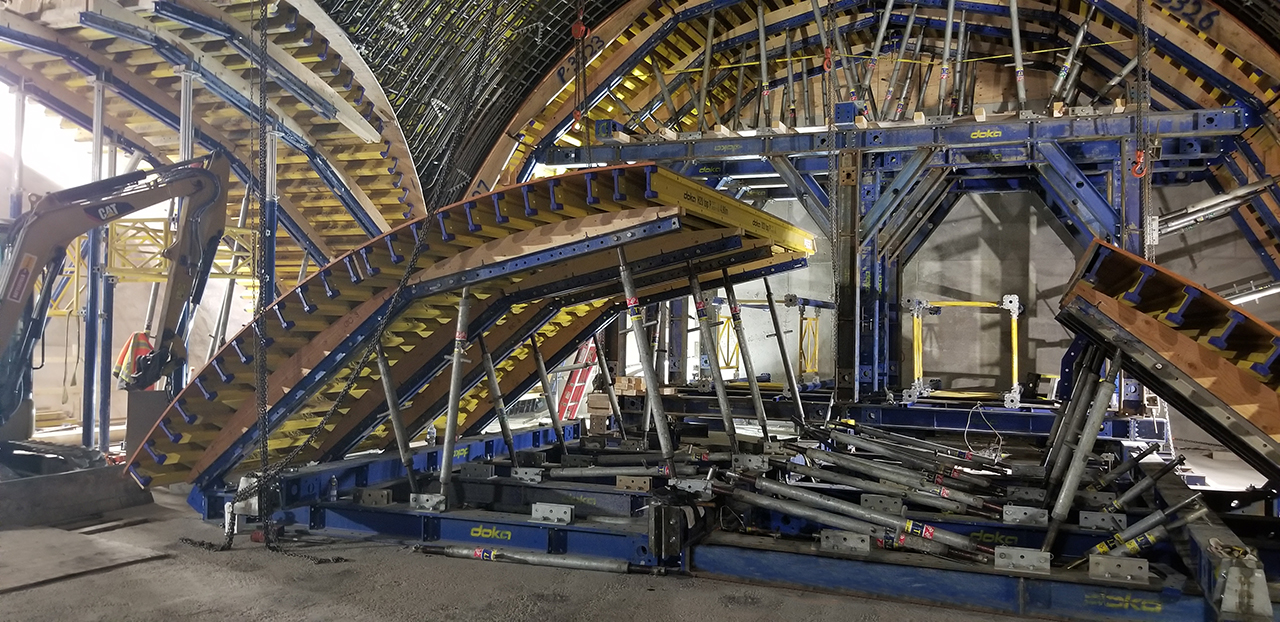 Tunnel formwork at Oakwood Station on the Crosstown LRT, image courtesy of Doka
"Doka was able to provide us with innovative solutions that in addition to regular site visits and ongoing communications allowed us to use complex formwork applications effectively," says Aybek Otceken, one of the on-site Project Managers. "We were very pleased with the services provided by Doka's engineering and operations teams at Oakwood Station."
At some point in the not-too-distant future, as you swipe your Presto and descend to Line 5 to be whisked across the city 60 per cent faster than surface transit, we all might take a moment to remember the skill, ingenuity and innovation brought forth from companies like Doka which made it all happen.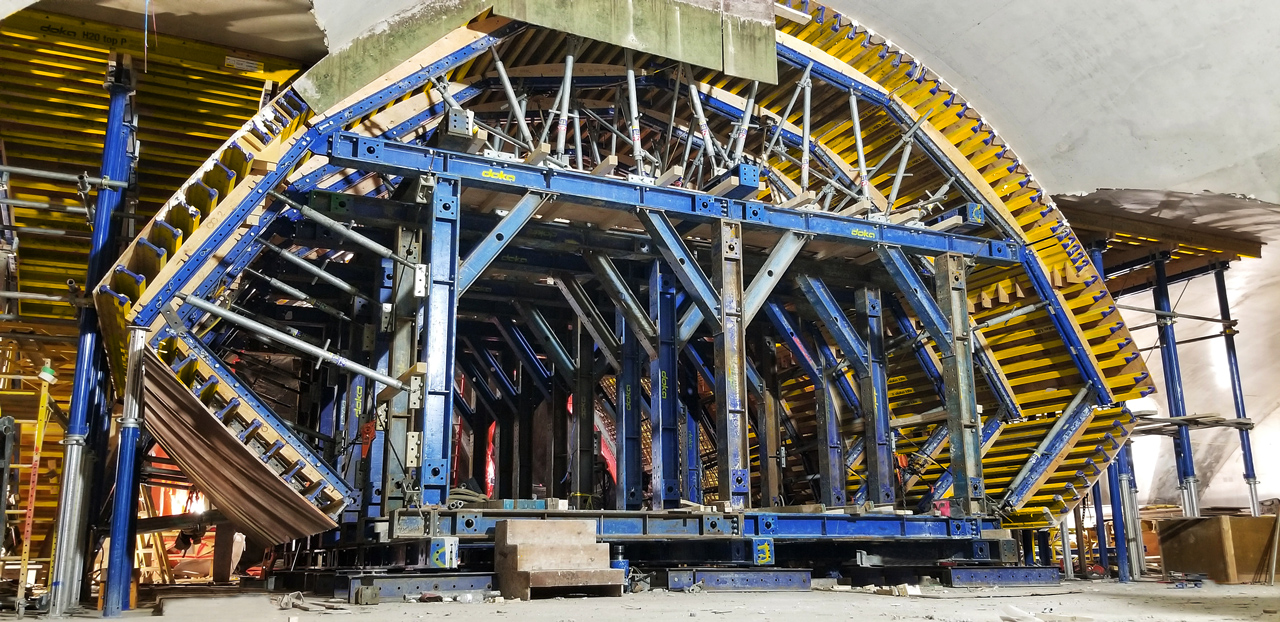 Tunnel formwork at Oakwood Station on the Crosstown LRT, image courtesy of Doka
You can learn more from our Database file for the project, linked below. If you'd like to, you can join in on the conversation in the associated Project Forum thread, or leave a comment in the space provided on this page.
* * *
UrbanToronto has a new way you can track projects through the planning process on a daily basis. Sign up for a free trial of our New Development Insider here.