Months of record-breaking sales in the Greater Toronto Area (GTA) have brought the word "bubble" back into the housing market discussion, though the latest monthly report from the Toronto Regional Real Estate Board (TRREB) reveals that the market has begun to cool. 13,663 sales were recorded across the GTA in April, 2021, representing a 12.7% decrease in sales activity versus March, 2021. While double-digit month-over-month figures can be cause for concern, last month sales still amounted to more than four times the volume of sales recorded in April, 2020, when the industry was reeling from the first wave of shutdowns due to COVID-19.
"While sales remained very strong last month, many REALTORS® noted a marked slowing in both the number of transactions and the number of new listings. It makes sense that we had a pullback in market activity compared to March. We've experienced a torrid pace of home sales since the summer of 2020 while seeing little in the way of population growth. We may be starting to exhaust the pool of potential buyers within the existing GTA population. Over the long term, sustained growth in sales requires sustained growth in population," reads a statement issued by TRREB President Lisa Patel.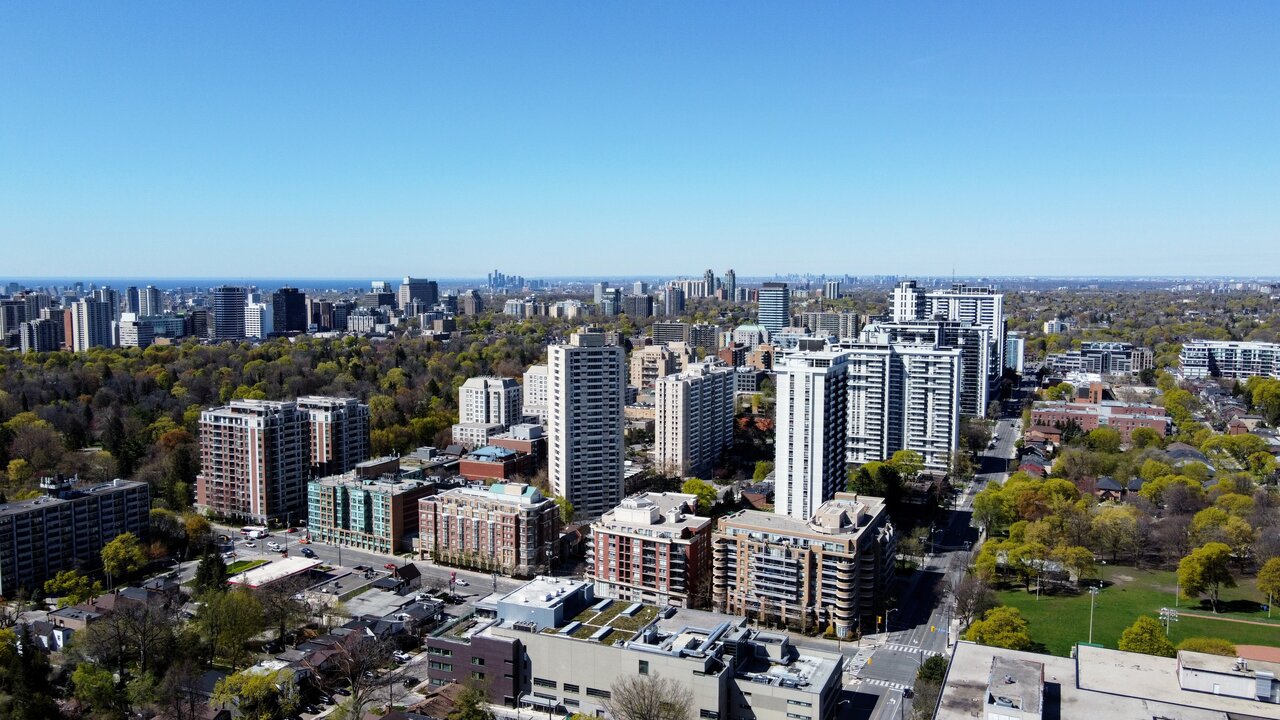 Residential buildings in Toronto, image by Forum contributor Jasonzed
A very similar story played out in new listings for April, 2021, which fell by 8.4% month-over-month, while still tripling the new listings reported the previous April. TRREB weighs the latest numbers against their ten-year new listings average for April in 2010 through 2019, showing a result up by 18.3%.
Average selling prices in the GTA remained in line with numbers seen this past March, though the year-over-year comparison shows an increase of 33%, with the region-wide average selling price of $1,090,992 up from last year's $820,226. The 416 average selling price now sits at $1,088,021, while the 905 average is now $1,092,547.
"Despite a modest slowing in market activity in April compared to March, selling prices for all major home types remained very high. Low borrowing costs during COVID-19 clearly had an impact on the demand for and price of ownership housing. While the pace of price growth could moderate in the coming months, home prices will likely continue on the upward trend. Renewed population growth over the next year coupled with a persistent lack of new inventory will underpin home price appreciation," stated TRREB Chief Market Analyst Jason Mercer.
"All levels of government – most recently the federal Minister of Finance – have acknowledged that long-term housing affordability in Canada, including the GTA, will be predicated on the ability to bring more supply online. With the federal, provincial, and municipal governments on the same page, we need to see a coordinated and collaborative effort to streamline the development approvals process to pave the way for more ownership and rental housing," stated TRREB CEO John DiMichele.
* * *
UrbanToronto has a new way you can track projects through the planning process on a daily basis. Sign up for a free trial of our New Development Insider here.