In the wake of developer Cresford's financial troubles in 2020, a number of their active high-rise projects in Downtown Toronto were sold off. Among them was Halo Residences, a 38-storey condominium tower on Yonge Street north of College. The project was well under construction when it was acquired by QuadReal Property Group in a sale approved in September, 2020. QuadReal have moved forward with construction of the architects—Alliance-designed building incorporating the 1871-built former Fire Hall No.3's clock tower.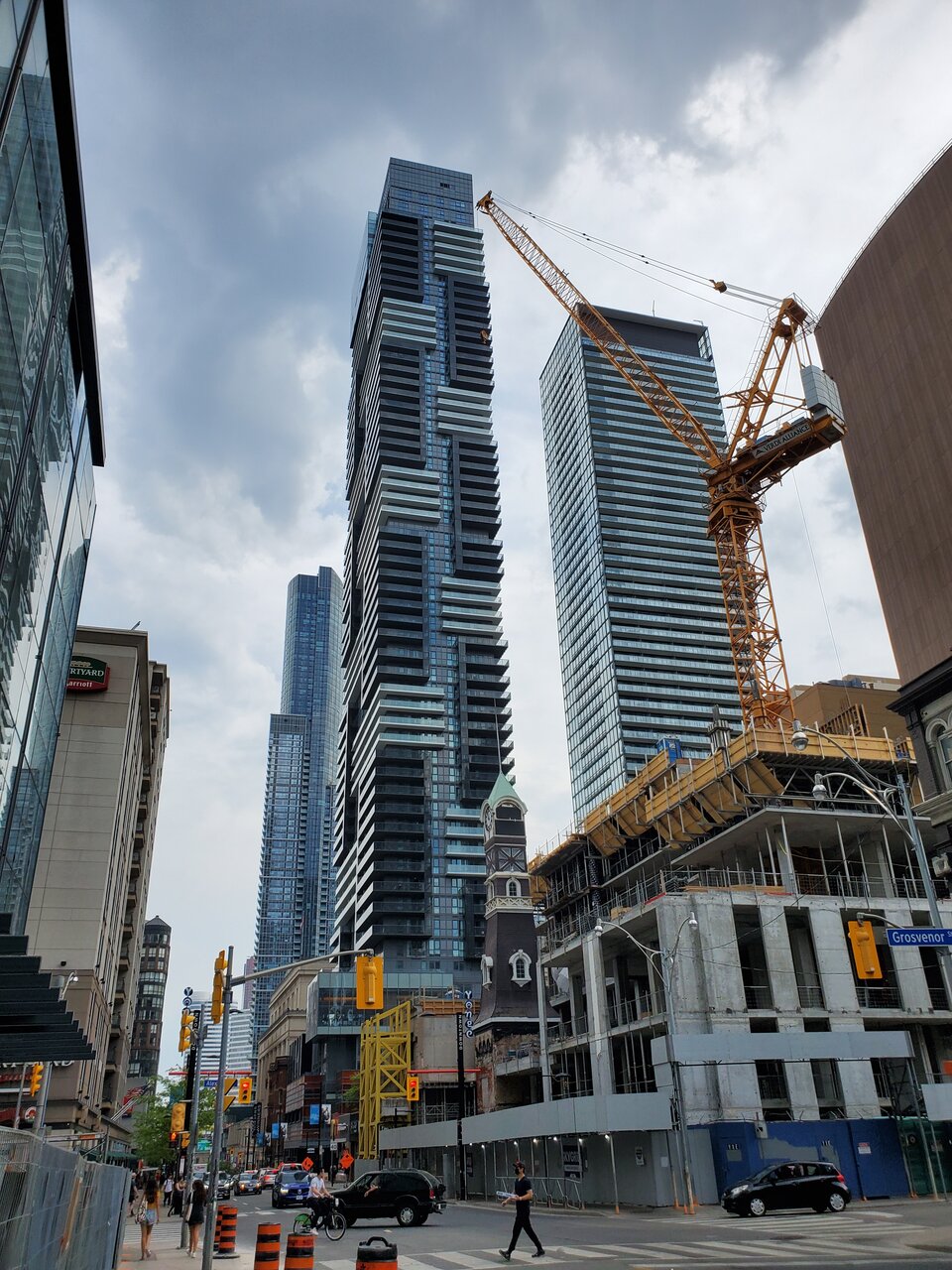 Looking south to Halo Residences on Yonge, image by Forum contributor Bjays92
The site has been active for about three years now, since demolition began to clear away the low-rise buildings surrounding the fire hall, while preserving the outer facade of a three-storey heritage building at 480 Yonge Street. The fire hall's clock tower was later relocated as shoring progressed for the site in late 2018, followed by an excavation that continued into mid-2019. Next, forming shaped out the building's five-level underground garage, before work was delayed due to Cresford's financial challenges. Once under QuadReal's ownership, work restarted with the forming finally reaching the surface in late 2020.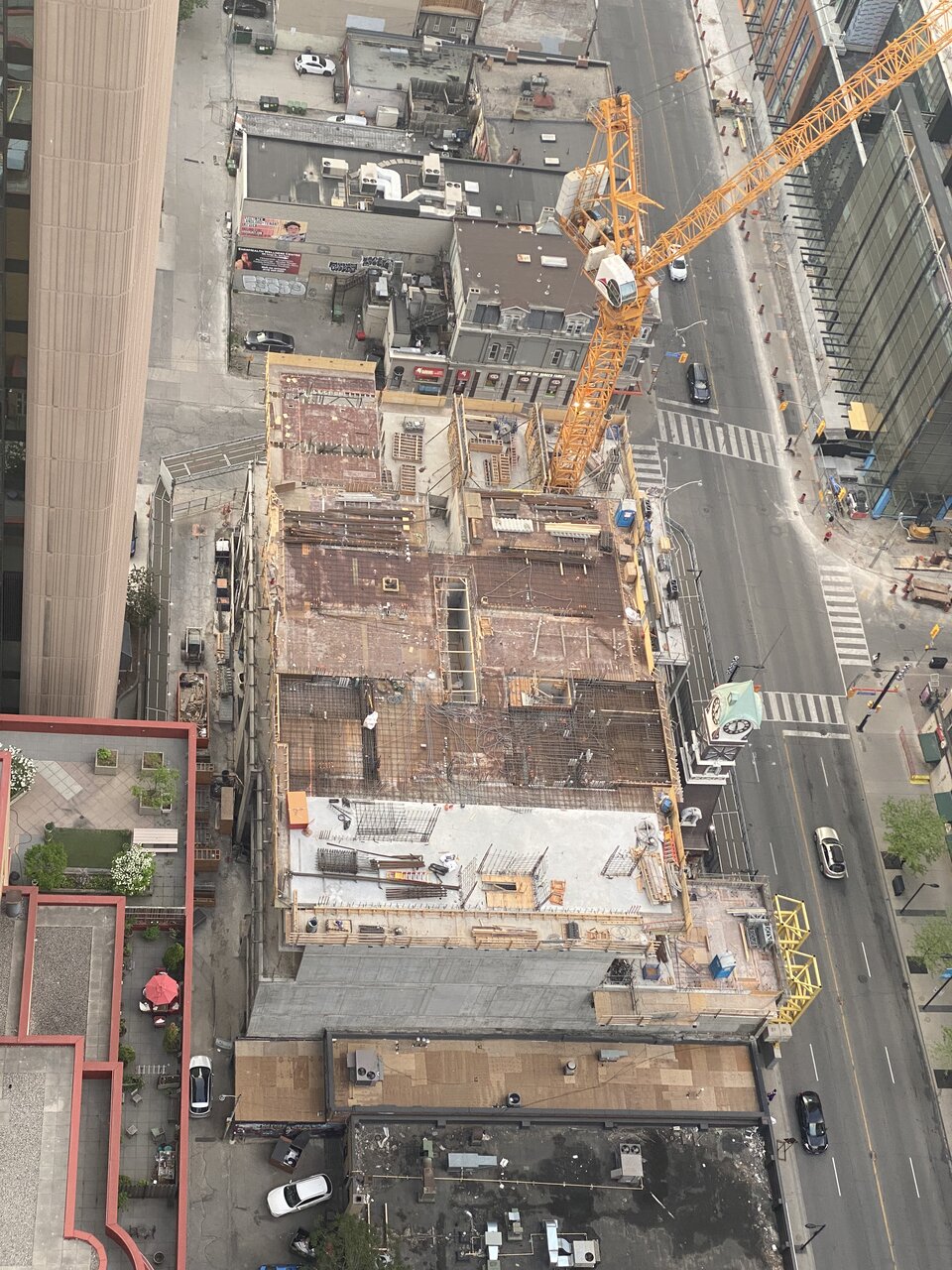 Aerial view looking north over Halo Residences on Yonge, image by Forum contributor austinchencym
In the months since, Halo's lower levels have begun to materialize above Yonge Street. The podium is now fully formed, and will soon meet Yonge Street with wide expanses of glazing, while the north podium elevation over Grosvenor Street will feature glazing framed by vertical piers of dark brick. At the south end, the heritage facade now appears to be fully integrated into the modern structure behind, with its yellow-painted steel bracing to be removed in the near future.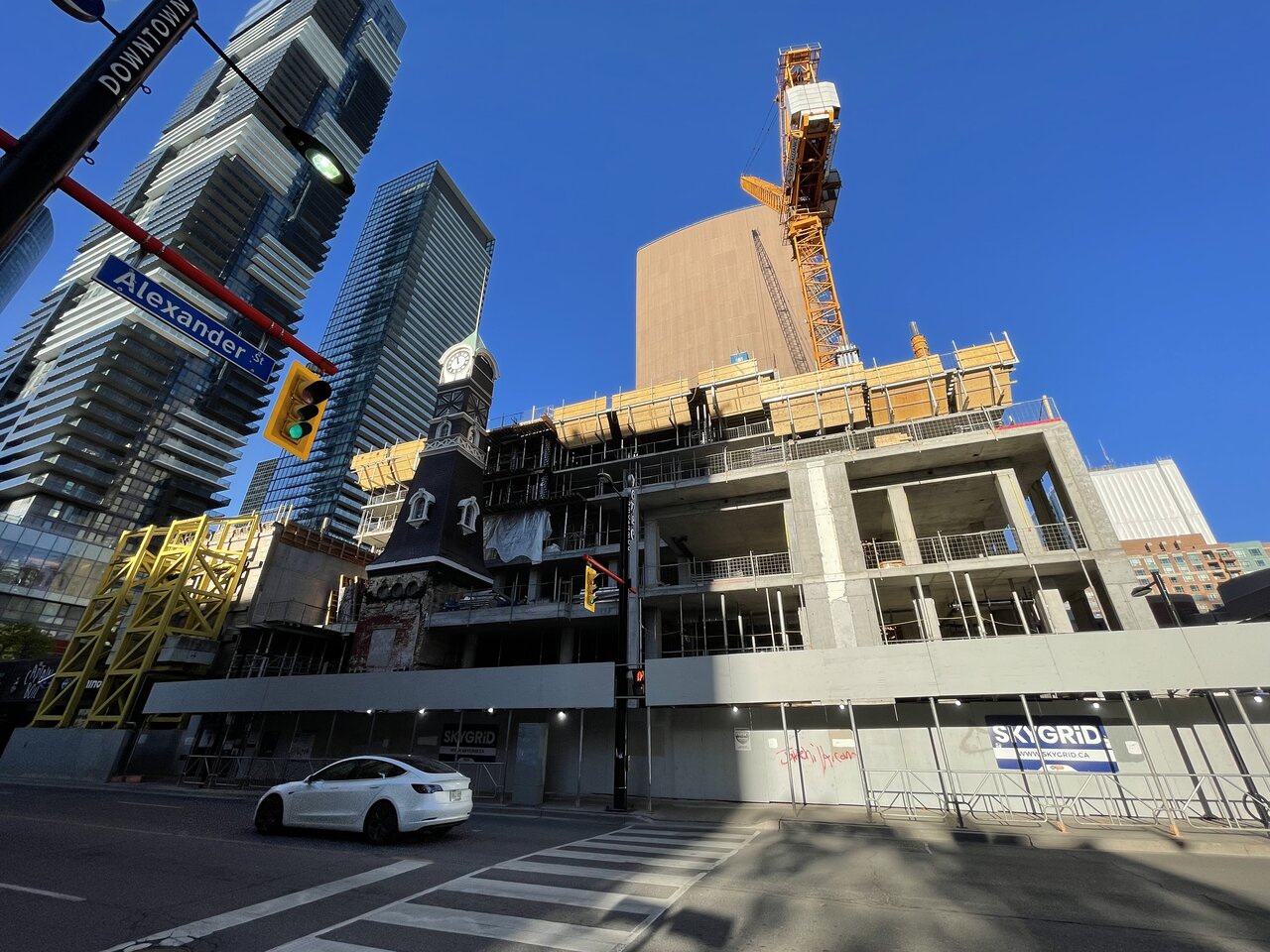 Looking west to Halo Residences on Yonge, image by Forum contributor Benito
The building's fifth and sixth levels are currently being formed, with structural work well clear of the two-storey podium. The speed of forming is expected to continue increasing during the coming months as teams develop a rhythm of forming repeating floor layouts.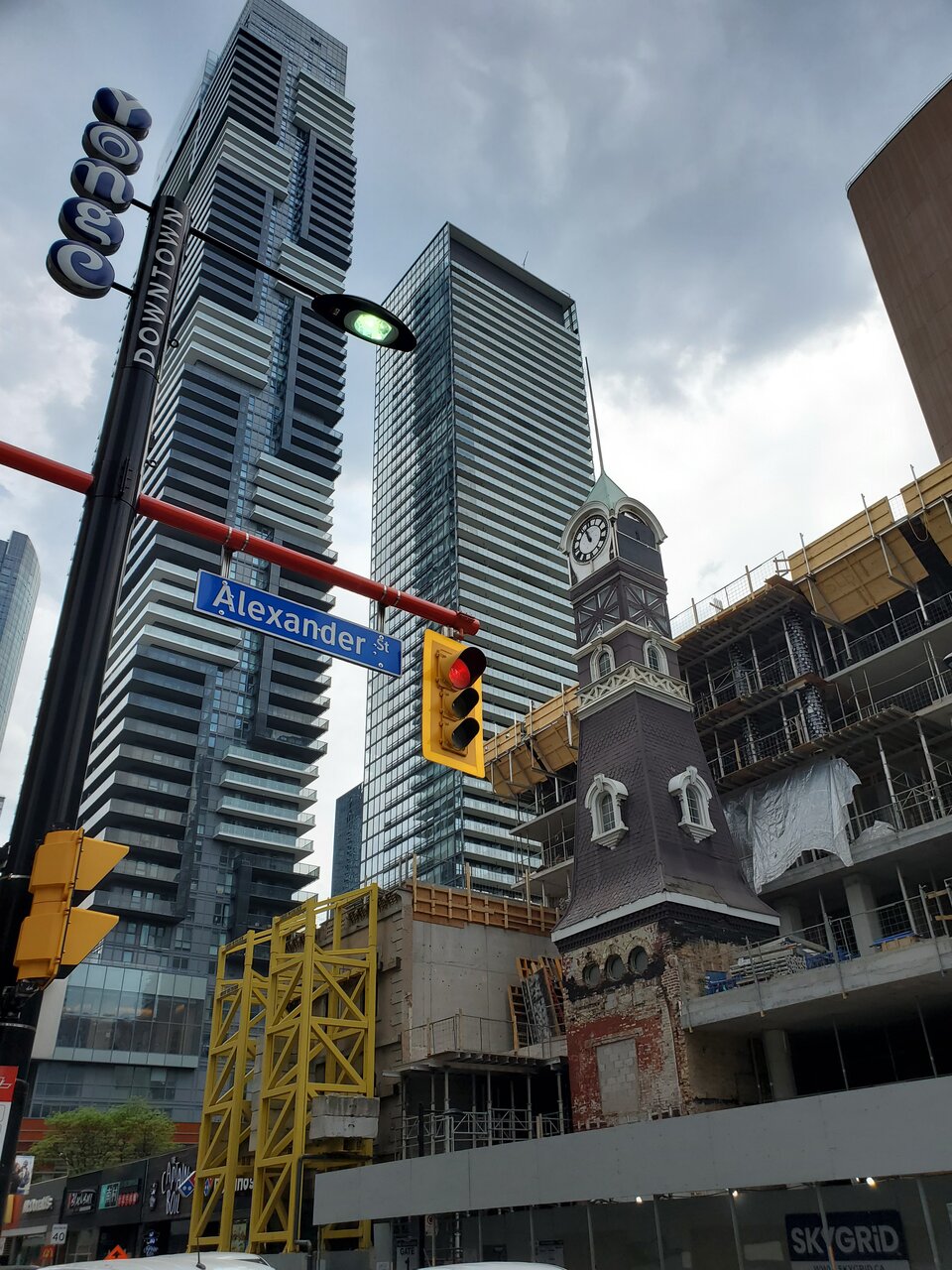 Looking southwest to Halo Residences on Yonge, image by Forum contributor Bjays92
The Yonge Street frontage's minimalist look will place extra focus on the clock tower, which will be surrounded by an etched glass "ghost facade" representing the long-lost fire hall that once surrounded the clock tower. Such tributes to lost buildings are rare but not unheard of in Toronto, with examples including a moulded concrete ghost heritage facade at the Bay Adelaide Centre's East Tower, and a similar glass etching in the works for the new Ontario Court of Justice being built near City Hall.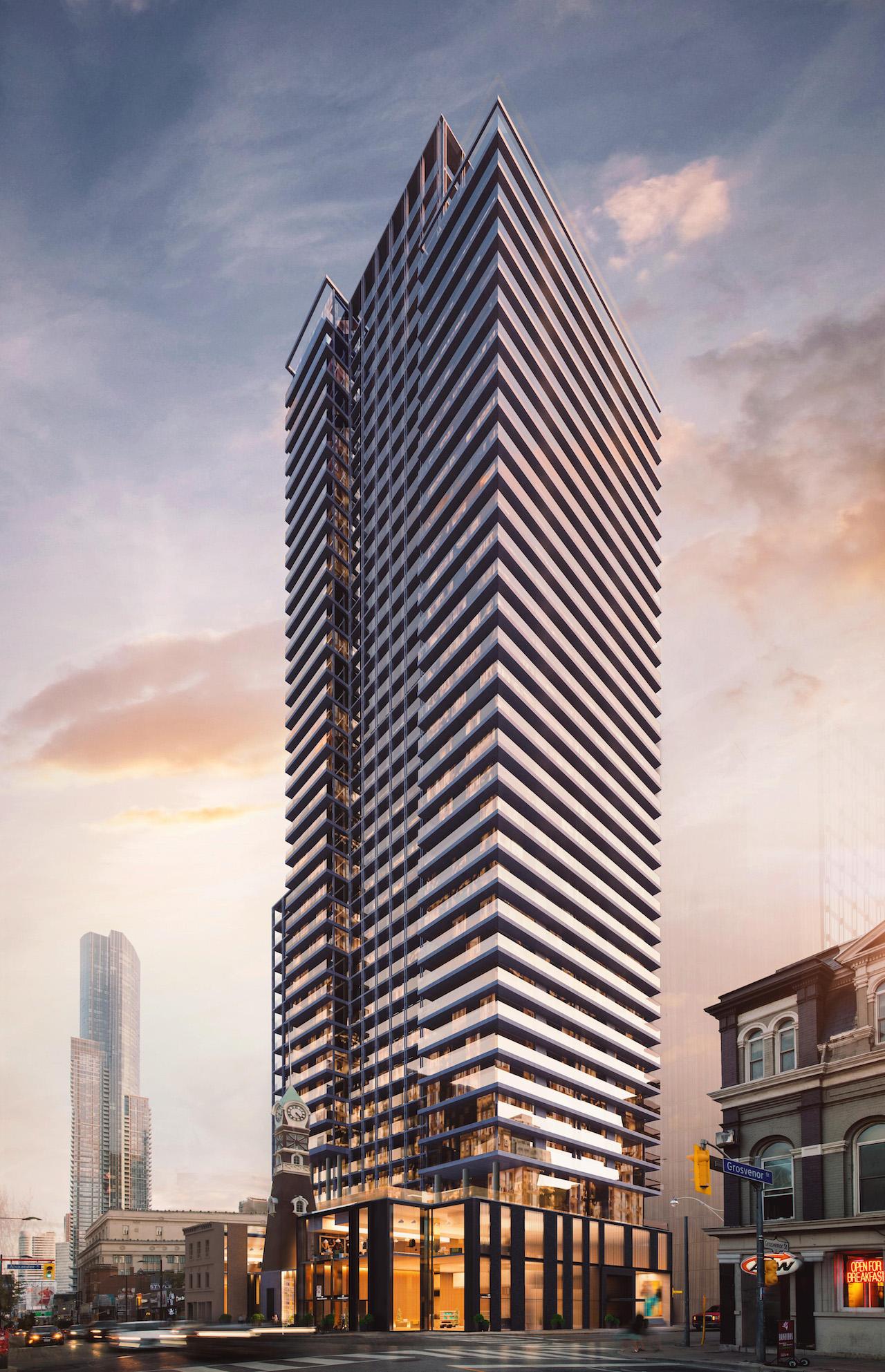 Halo Residences on Yonge, image via submission to City of Toronto
You can learn more from our Database file for the project, linked below. If you'd like to, you can join in on the conversation in the associated Project Forum thread, or leave a comment in the space provided on this page.
* * *
UrbanToronto has a new way you can track projects through the planning process on a daily basis. Sign up for a free trial of our New Development Insider here.