Located just north of the Vaughan-Toronto limits on the east bank of the Humber River, Primont Homes' SXSW Condos development is gearing up to bring four towers to the Islington Avenue and Steeles area. Two more towers are now in the works for the 42-acre community incorporating 30 acres of designated ravine lands, with details in the latest marketing release concerning a new pair of towers on the SXSW site dubbed 'Hillmont.'
Hillmont at SXSW, image courtesy of Primont Homes
Designed by BDP Quadrangle, the two new buildings carry on the design language established for the community by the initial phases. The SXSW complex's third tower is to rise 30 storeys and the fourth tower is to rise 22, both featuring the same flowing balcony aesthetic as the first pair of 19- and 22-storey condominium towers to the north.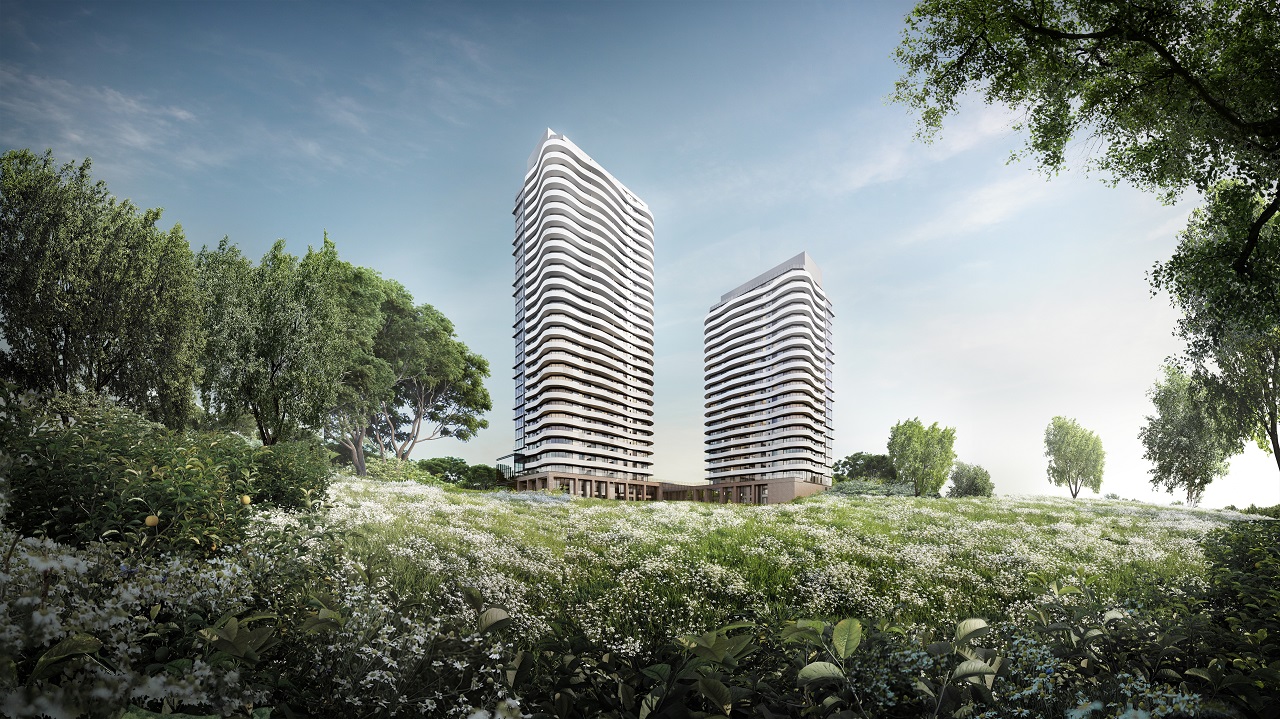 Hillmont at SXSW, image courtesy of Primont Homes
The Hillmont project offers 450 condominium units spread across the two towers, with units ranging from 528 ft² to 1,372 ft² in area, and prices starting from the low $600,000s. Combined with the 379 condo and 135 townhome units from the first phase, the SXSW community will bring 964 new homes to the Islington Avenue and Steeles area.
Residents of Hillmont will have access to a selection of common and amenity spaces with interiors appointed by Figure3. Residents and visitors will get their first taste of Figure3's work in a double-height lobby that boasts large expanses of glazing, a wood panel feature wall, and a marble concierge desk. Other amenities include a coffee bar and lounge, a lobby bar and social room, a fully-equipped fitness facility, a fireplace lounge, a Zoom meeting room, an outdoor terrace, and a room dubbed the "Think Space," all boasting the same interior design cues planned for the lobby.

Think Space, Hillmont at SXSW, image courtesy of Primont Homes
The complex will also be home to a new community park, a ravine lookout area overlooking the natural setting of the Humber River, a basketball court, a kids' play zone, natural hiking trails, and a bocce court.
Located at the meeting point of two of Ontario's fastest-growing cities, the project will make local and regional commuting easy for residents via a free shuttle service that connects the complex to Vaughan Metropolitan Centre (VMC) subway station and to York University. After arriving at VMC, residents will be able to reach Union Station in Downtown Toronto in just 45 minutes.
Additional information and images can be found in our Database file for the project, linked below. If you'd like, you can get involved in the discussion in the associated Forum thread, or leave a comment in the space provided on this page.
* * *
UrbanToronto has a new way you can track projects through the planning process on a daily basis. Sign up for a free trial of our New Development Insider here.