Built in 1905, the Canadian Niagara Power Company Generating Station in Niagara Falls just outside of Toronto's sprawl, has been restored and renovated to become an entertaining and educational experience, along with a new nighttime attraction. Its grand opening is today, September 3, 2021. The one-of-a-kind structure is considered to be the only fully intact, decommissioned hydroelectric power plant of its era in the world. Its construction was a landmark achievement in design, engineering and architecture, and for 100 years, it harnessed the energy of Canada's Horseshoe Falls as a source of electricity.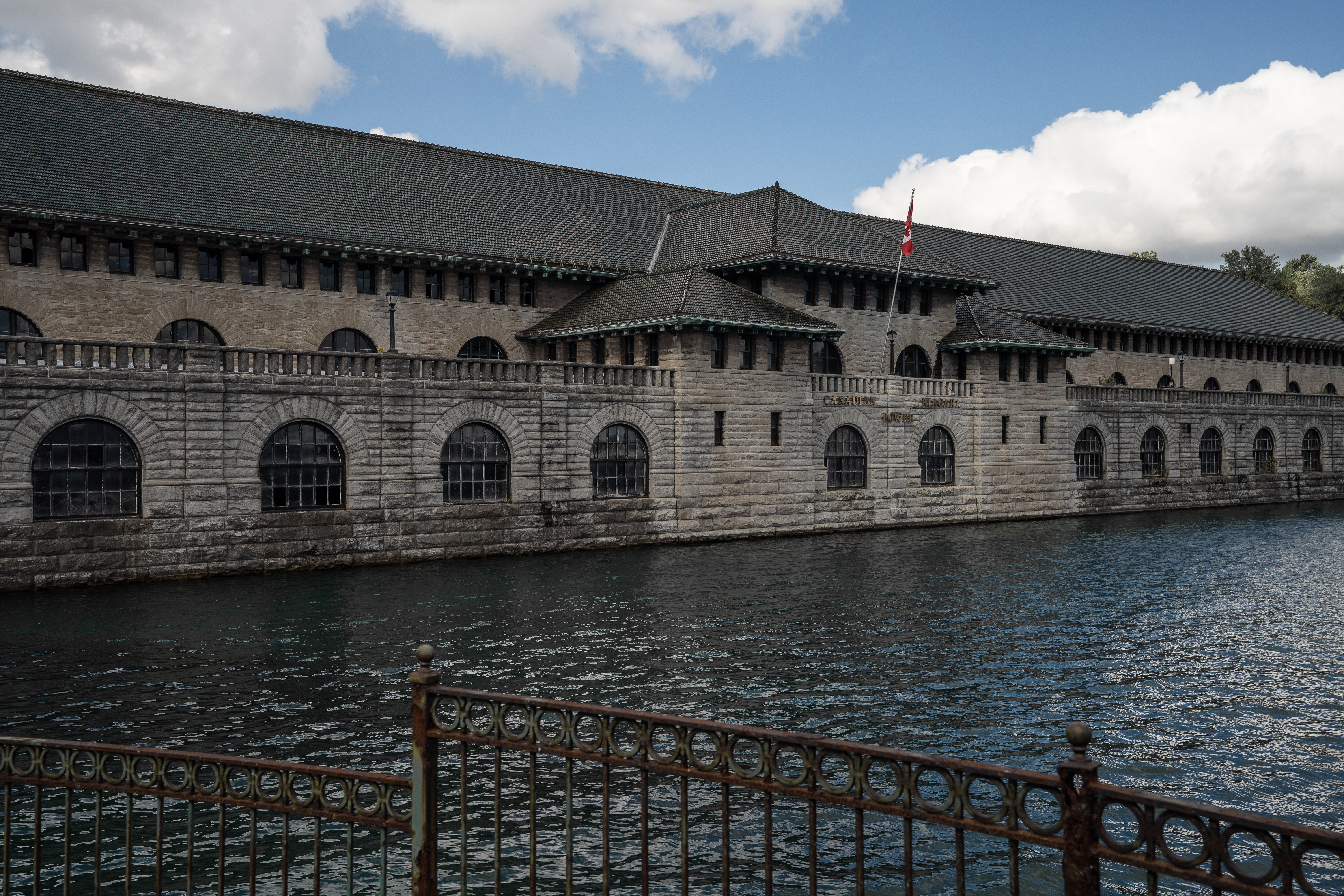 Current exterior of the Canadian Niagara Power Company Generating Station, image courtesy of Niagara Parks
The new nighttime immersive multimedia experience "Currents: Niagara's Power Transformed" created by Thinkwell Group features sound and 3D projection mapping technology, while highlighting both the history and unique features of the 115-year-old architectural and engineering marvel.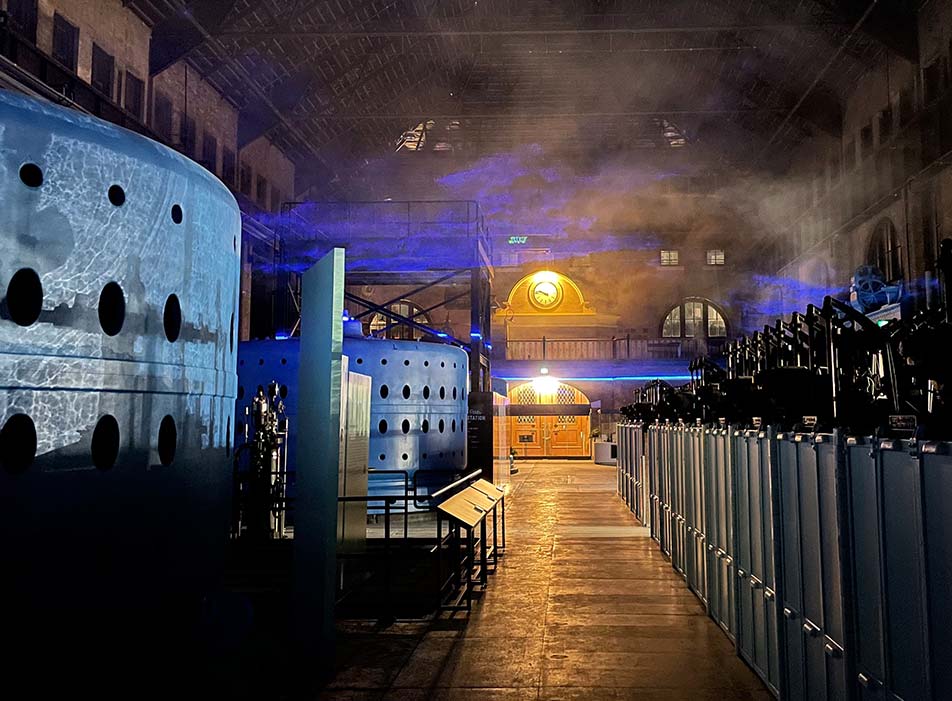 The Currents Experience, image courtesy of Niagara Parks
The rusticated stone-walled station was originally designed in tandem by the William Grace Company and the Hamilton Bridge Works Company. It was inspired by the nearby Adams Generating Station on the American side of the Niagara River. The building sits 457 metres from the lip of the Canadian Horseshoe Falls, with a low profile design and a dark green roof. Stone, brick and cast iron were primarily used in the plant's construction with integrated steelwork throughout. If looked at closely, one can see that the industrial architecture includes the design details that craftsmen used to pour into important public buildings.
Senior Director of Engineering Marcelo Gruosso was the lead on the engineering side for the restoration and adaptive reuse of the Power Station, with the support of over 100 Niagara Parks staff and 75 contractors including Toronto's ERA Architects. The restoration was completed and the station's interactive exhibits were soft-opened earlier this summer, on July 1.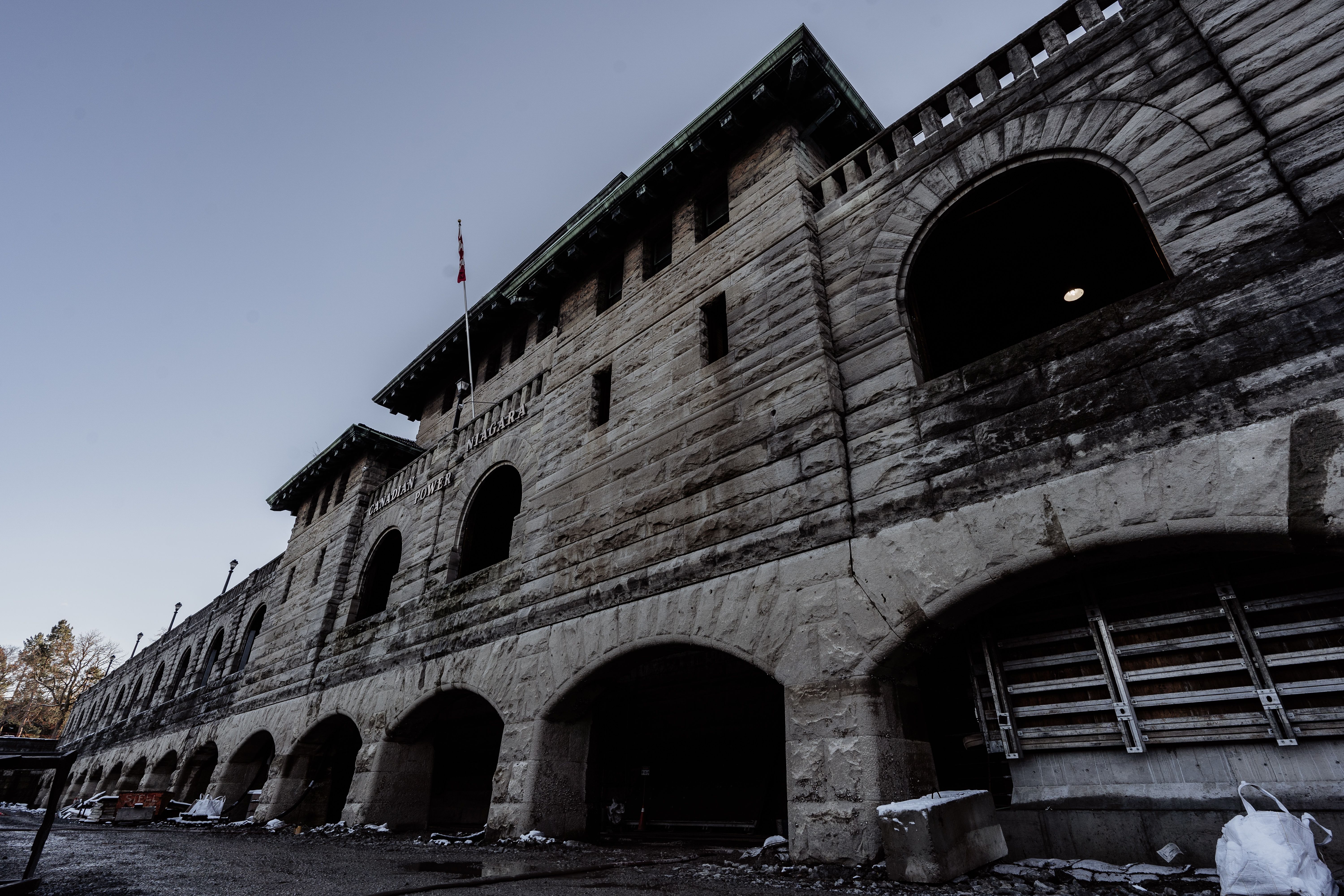 Current exterior forebay of the Canadian Niagara Power Company Generating Station, image courtesy of Niagara Parks
The interactive exhibits and interpretative installations feature repurposed artifacts that offer a look at how the power of water was harnessed at the station to generate electricity from 1905 until 2005, when the station officially ceased operation before it was decommissioned the following year.
Beginning in July 2022, phase two of the attraction will open, and the underground portions of the power station will be accessible by visitors, where they can take the century-old Tailrace Tunnel to the base of the Horseshoe Falls with a view of the lower Niagara Gorge.
Love can learn everything you would need to know about visiting the station and more about its past via the official website. If you'd like, you can leave a comment in the space provided on this page.
* * *
UrbanToronto has a new way you can track projects through the planning process on a daily basis. Sign up for a free trial of our New Development Insider here.