Three films at at the Hot Docs International Film Festival 2021 provide extraordinary looks at three very different cities. All three of these films—Rift Finfinnee about Addis Ababa's relentless expansion, A River Runs, Turns, Erases, Replaces about Wuhan's relationship to the Yangtze River, and Molecules about a deserted Venice—are all observational in character, commentaries on the state of these cities today—the latter two as affected by COVID-19—and all are extraordinary cinematographic records of them.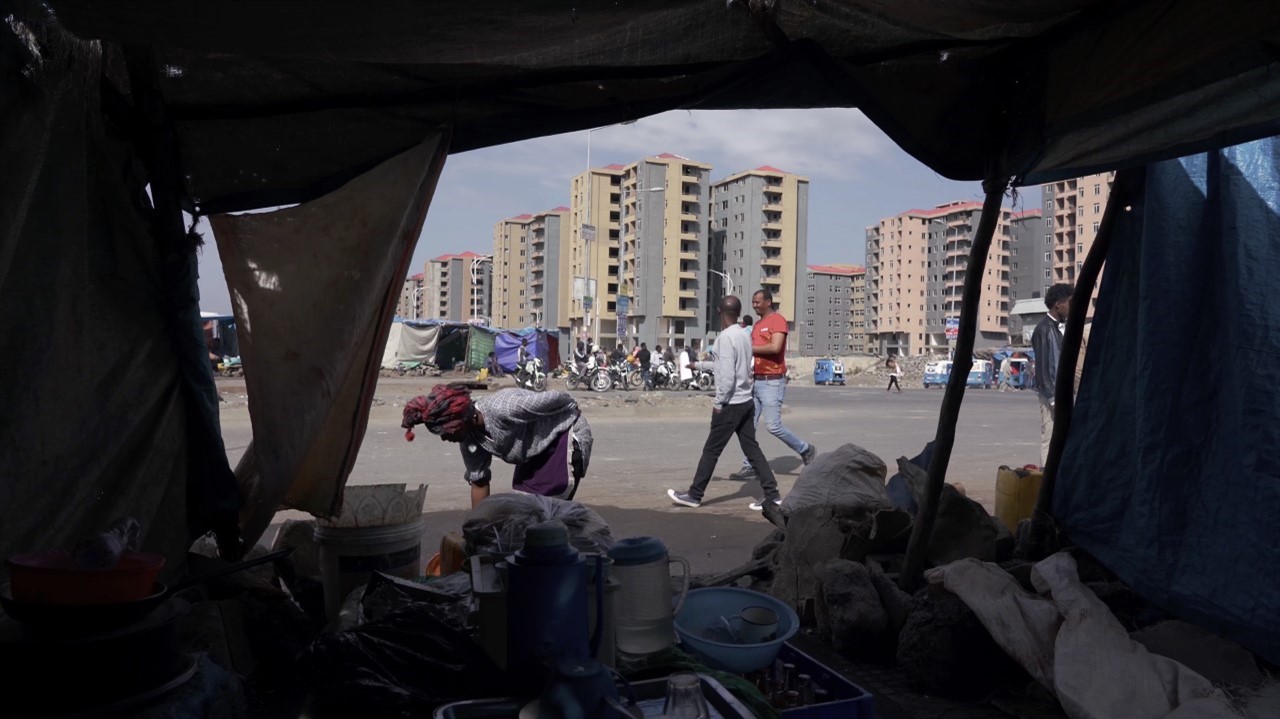 Still from the film Rift Finfinnee: from a makeshift foodseller to relentless urbanization in Addis Ababa
Rift Finfinnee is all about liminal spaces on either side of the urban/agricultural divide on the outskirts of Addis Ababa, Ethiopia. We start just beyond the city's encroachment, in lands that have been farmed by the Oromo people for countless generations. Mostly, they want to keep farming to feed the people of Addis (for which the Oromiffa word is Finfinnee), but the government has had a history of taking their land for city expansion for very little compensation. While the compensation has improved somewhat lately, there's still little willingness to sell. Soon enough though, just as Addis is expanding into the Oromia countryside, it expands into the film as we move through endlessly repeated mid-rise apartment blocks in various stages of construction and habitation.
We follow the construction, from the quarrying of rocks, to their being crushed, to the making of cinder block, to the raising of buildings. Meanwhile, new roads define relentless new suburbia: the scale of it all is simply amazing. While 90% or more of the film concentrates on housing for the poor, and the 'poorest of the poor' that one settler laments she has been labeled, Addis Ababa is gaining suburban estate subdivisions too, and we do spend some time in them too.
As the images glide along, discussions are superimposed on the live soundtrack, subtitles supplied for those of us who don't speak Oromiffa nor Amharic. Villagers, farmers, urban settlers, construction workers, merchants, real estate investors; everyone has opinions on how Addis Ababa is expanding and what the upsides and downsides are. It's a lesson that even in quite differing situations, people are essentially the same deep down, all around the planet. It's all quite fascinating for the urban observer.
The cinematography throughout is truly noteworthy, absolutely beautifully lensed: every shot would make for a stellar photograph. Late night and other low light work is just as gorgeous and even more magical than the daytime photography. No doubt this is a film that many would consider slow, but for its qualities, I was totally absorbed by it, and it has been on repeat on my HDTV as urban eye candy on-and-off for two days now, and once this is available on iTunes sometime in the future, I'll be purchasing this for the long-term.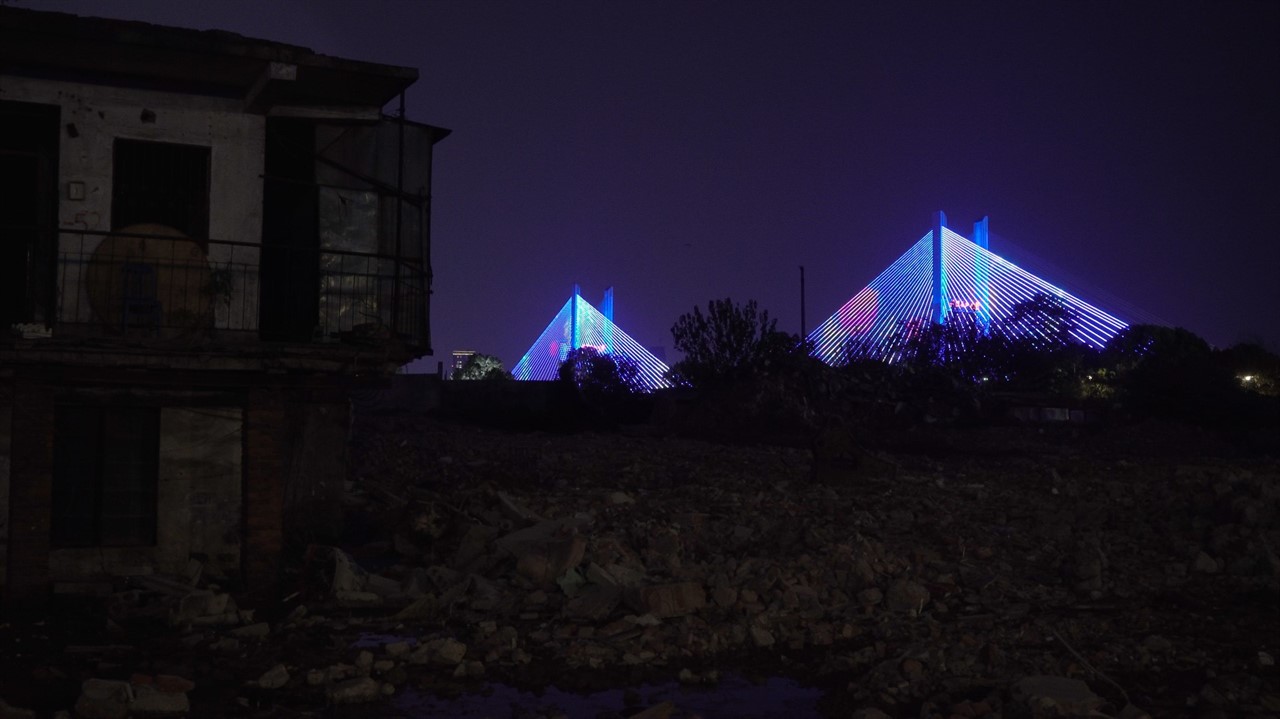 Still from the film A River Runs, Turns, Erases, Replaces: Old beside New in Wuhan
A similarly gorgeous film is A River Runs, Turns, Erases, Replaces. Its first eight minutes—the first six of them silent—comes from a surveillance camera posted above a Wuhan city centre street corner. Snippets are cut together from several days during March 2020, with little activity; the city is obviously in lockdown. Finally, in a snippet taken from April 4, 2020, activity begins to return to the street.
For the rest of the film, Zhu Shengze similarly sets up an unblinking camera, capturing it after it returned to life again in the summer of 2020. With a stunning eye for composition, Zhu records her hometown on better days: we are treated to a spectacular nighttime light show projected on the city's skyscrapers and viewed from across the Yangtze River, workers are captured on camera building viaducts, people swim the immense river, car ferries cross amidst shipping traffic, people dance, the Yangtze floods, a cow plods through a waterlogged lot.
The video camera is always fixed this time, but again, each shot would make for a stunning still photograph. On occasion throughout the film, Zhu overlays a subtitles from a letter from someone still around to see the city return to life, each writing to someone they have lost to COVID. The letters are moving.
This is not typical documentary filmmaking, this is observational work at its most extreme. One could see it as the video version of an UrbanToronto thread on Wuhan. Other than the few letters there's no other text though, no narration, all city-gazing. It went a little long for me, but it's still gorgeous and eye-opening about a city we probably knew nothing about until a little over a year ago.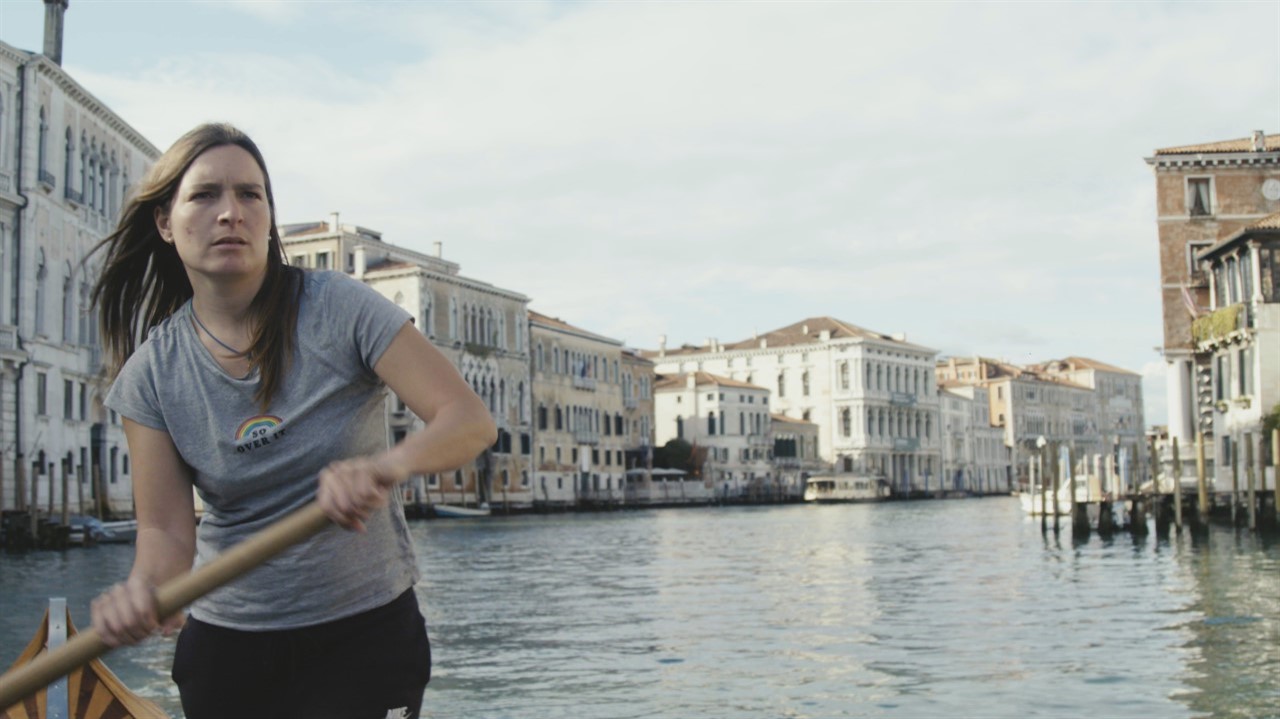 Still from the film Molecules: a practically deserted Venice
Molecules starts out with Venice the way we know it; crowded with tourists, gondolas, and vaporettos filling the canals. COVID-19, though, has done strange things to us all, not simply trapping us indoors, and—if we haven't had to deal with more tragic consequences personally—it will have caused more introspection about the way we live individually and corporately. Not only have we been given pause to consider our own lives, but there's also been unending amounts of reflection on what we appreciate about out cities, our environment, and what we want for the future.
Molecules is the most personally reflective of these three films, less about the city as a whole, and more of a personal reflection for director Andrea Segre, about both his relationship with his late father, and his unique relationship to Venice: his father was born and raised there, but Andrea has been only an occasional visitor, until COVID hits and Andrea finds himself and his small family living in an essentially deserted Venice. With the crowds of tourists gone (in most of Molecules it seems that only a few Venetians remain, left behind in an apocalyptically empty city), Segre and a few friends with time on their hands suddenly contemplate what the city means, what their lives mean, and what recent historically high tides mean for the future of Venice and Venetians. At the same time, Andrea's memories of his father Ulderico haunt his thoughts. It's beautiful, and somewhat eery.
* * *
Click on any of the links above to learn more about the films, and how to get digital access to them. All films are screening until the end of the day on Sunday, May 9.