Throughout the last year of global turmoil brought on by the COVID-19 pandemic, most people who commuted to offices previously have since been working remotely as a means to limit the spread of the virus. As a result, most offices are currently staffed by small crews, while businesses face continued overhead costs for the currently under-utilized space. While working environments that fostered a spirit of collaboration and community now feel like a distant memory, many people are seeing the silver lining of remote working, free of their daily commutes while being able to spend more time with loved ones.
With all the changes to our work environments since early 2020, real estate investment titan Ivanhoé Cambridge is asking the question "Do you miss the office?" in a new podcast series that launched this spring.
+++
Launched in March with a debut episode touching on the series' main themes, the second episode of the podcast covered how innovation is shaping future workplaces, with a third episode then contemplating a rethink of physical workplace and a fourth episode asking the question of how we can accommodate a more flexible way of working for large office buildings. The podcast returned with a fifth episode last month, asking what role can the office play in helping to restore a live/work balance fractured by pandemic working conditions.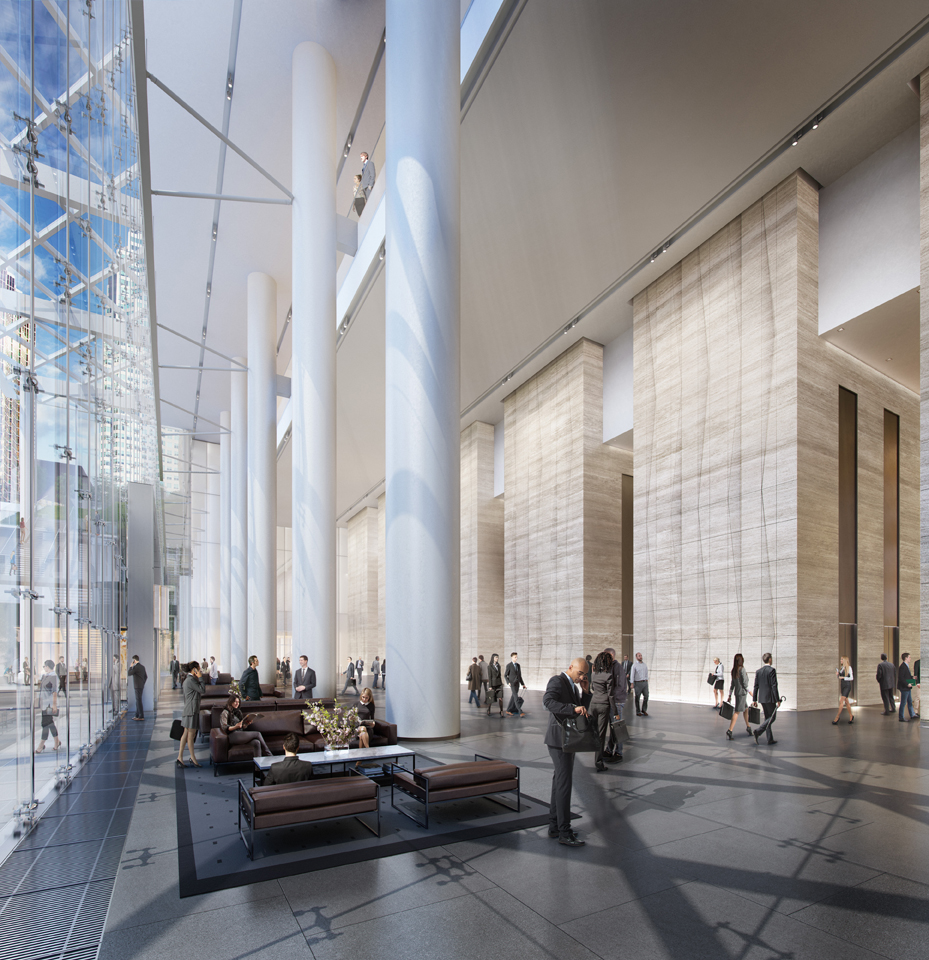 Bay Street lobby at 141 Bay, Phase 2 of CIBC SQUARE, image courtesy of Ivanhoé Cambridge
Once again hosted by Annie Bergeron, Design Director and Principal at workplace design firm Gensler, the latest episode gathers Cindy Fagen, Managing Director of enterprise software firm SAP Labs Canada; Anne Helen Petersen, journalist and co-author of the forthcoming book Out of Office: The Big Problem and Bigger Promise of Working From Home; and Jonathan Pearce, Executive Vice President, Leasing and Development, Office and Industrial, North America, Ivanhoé Cambridge.
Bergeron kicks off the episode with a bit of framing, stating "long before the pandemic, the concept of nine to five was on its last legs, communication and connectivity tools that promised us efficiency, productivity, and freedom made it possible to do work anywhere, anytime. Work crept into every crevice of the day, or so we thought."
Pearce acknowledges that the changes we've felt during the pandemic will likely become the norm moving forward, while stressing that these changes are already coming at a personal cost. "Expecting the office to serve the same function as it used to before is a complete fallacy. The home used to be a sanctuary, an escape from work and stress and now there is very little distinction and I think it's really having an impact on mental health," says Pearce, continuing "I also feel now that work is lonely. And I think what the office hopefully could play a solution in, is potentially ameliorating some of that loneliness, some of that isolation, so that we don't feel that when we do work remotely that it's actually less fulfilling."
Fagen ponders the coming return to normal and what could be an abrupt transition back to daily office hours, saying "We've had people work through the last 12 months of a pandemic during the most difficult conditions and they have shown incredible resilience and they continue to be super productive. I think it's absolutely crazy to be able to think that we can come back from a pandemic and then say now you need to come back to the office Monday to Friday. We've afforded and empowered people trust, and we need to be able to continue to extend that. And that is through the policies that we have from an HR perspective and also from the space that we think about very purposefully to allow for this."
In looking at alternative ways of returning to office life, Fagen states "I would prefer to see the future of work having futuristic technology so that I can come into an office that is designed with inclusivity in mind. We need to recognize that there will be choices where 50% will be from home and the 50% might be from the office and we have to design for inclusivity so that it's an even experience, so we don't have the stigma."
In contrast, Petersen talks about how the work from home climate is less conducive to a structured life, saying "I think the character of the work we're doing has degraded. We are working longer hours and that has upped our extensible productivity levels and I think most people would describe this work that we're doing as half-work – and checking emails while you are watching TV at 8 PM Those habits have been accelerated and normalized in a way that we're going to have to be extremely deliberate about counteracting when the pandemic is over."
Petersen looks to the long term, and how the further degrading of the work/life balance needs to be restricted, saying "The word that I keep thinking about as I am writing this new book is guardrails. We need actual guardrails that protect us from the runaway train of work and how can we implement things that are really intended as nonporous protective measures."
The discussion closes out by discussing post-COVID ideas for the workplace, bridging the divide between the physical and the digital. All guests weighed in on how things can and must change, though we'll leave the rest to the listener. Plenty more is discussed in the podcast, which can be found for free at Apple Podcasts.
While the series was initially intended to run for five episodes, a sixth and final episode is set to be released later this month, the last podcast in the series to present the perspectives of the younger generation on the future of work.
* * *
UrbanToronto has a new way you can track projects through the planning process on a daily basis. Sign up for a free trial of our New Development Insider here.