A proposal for the redevelopment of The Oaks, a complex of six two-and-a-half-storey rental apartment buildings southeast of Yonge and Sheppard could bring 452 purpose-built rental apartments, a significant contribution to the rental housing supply in the North York City Centre area. Last month, developer KG Group filed Official Plan and Zoning By-Law Amendment applications with the City of Toronto to permit two 18-storey residential towers connected by a terraced podium, to replace the existing low-rise buildings at 10 Oakburn Crescent.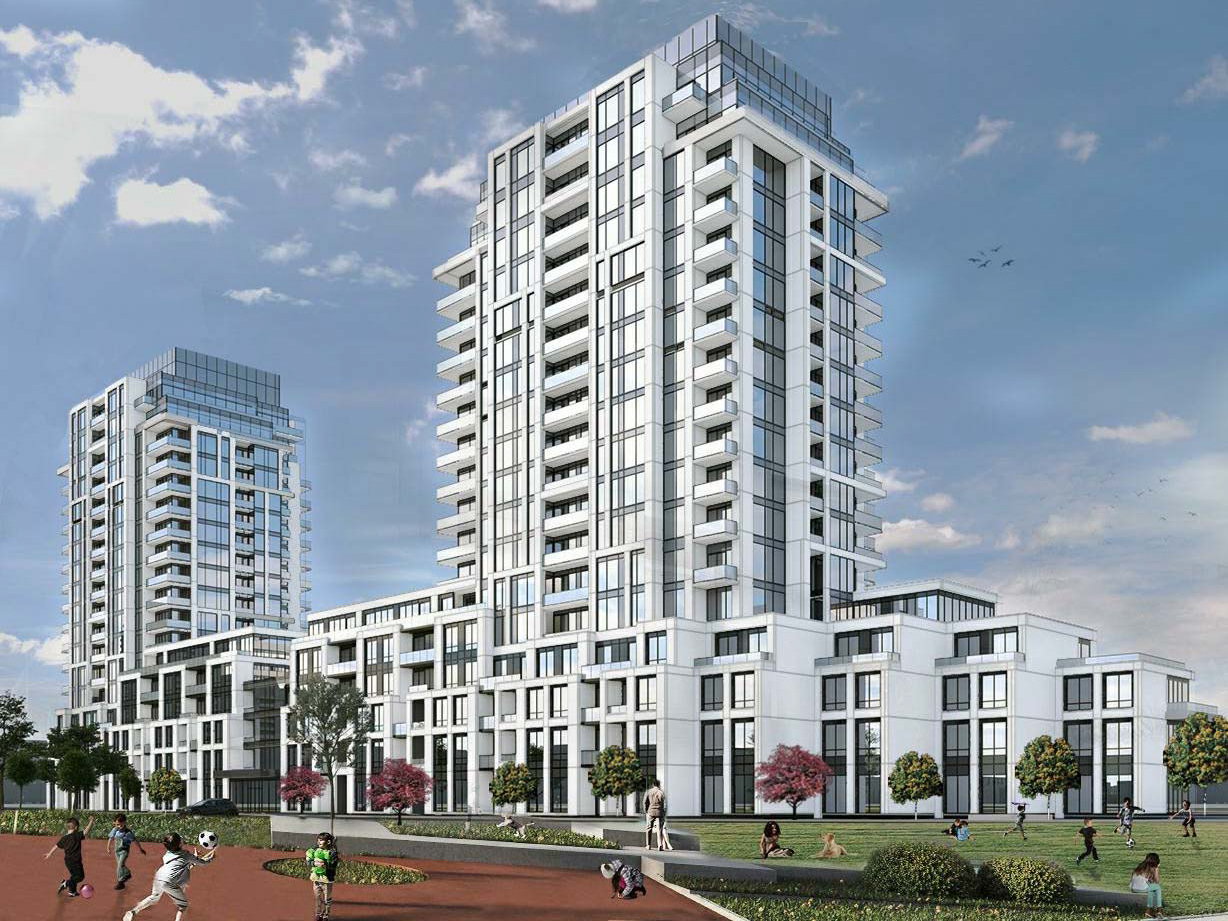 Looking northwest to the redevelopment of 10 Oakburn Crescent, image by Kirkor Architects & Planners
The 8,000 m², semi-circular-shaped site is located 330 metres east of Yonge Street. Currently occupied by buildings constructed in the 1950s, The Oaks contain a total of 66 rental housing units. To the rear of the existing buildings is a surface parking lot and two single-storey garage structures located along the north property line.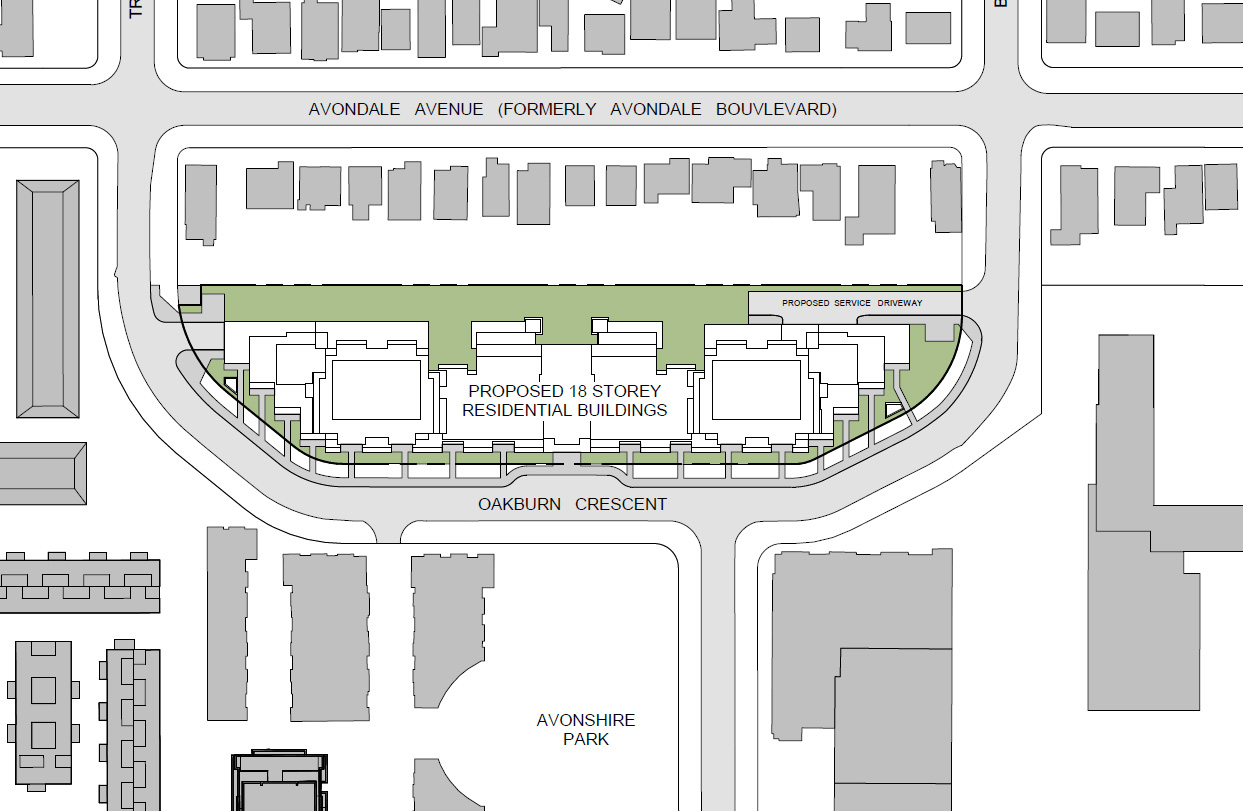 Context Map; frontages of 249m on Oakburn Crescent, a depth of 45m and east-west width of 198m, image by Kirkor Architects & Planners
Kirkor Architects & Planners have developed a design that comprises an extended podium with two towers atop, rising to a total of 18 storeys. The buildings would have a single front entryway and lobby at the centre. The proposal would have a total gross floor area of 35,776 m² which would bring the overall density on the Oakburn Crescent lands to 3.26 times the area of the lot. The proposed development could result in an increase in the number of purpose-built rental units on the site from 66 currently to 452, in a mix of 248 one-bedroom (55 %), 159 two-bedroom (35 %), and 45 three-bedroom (10%) units.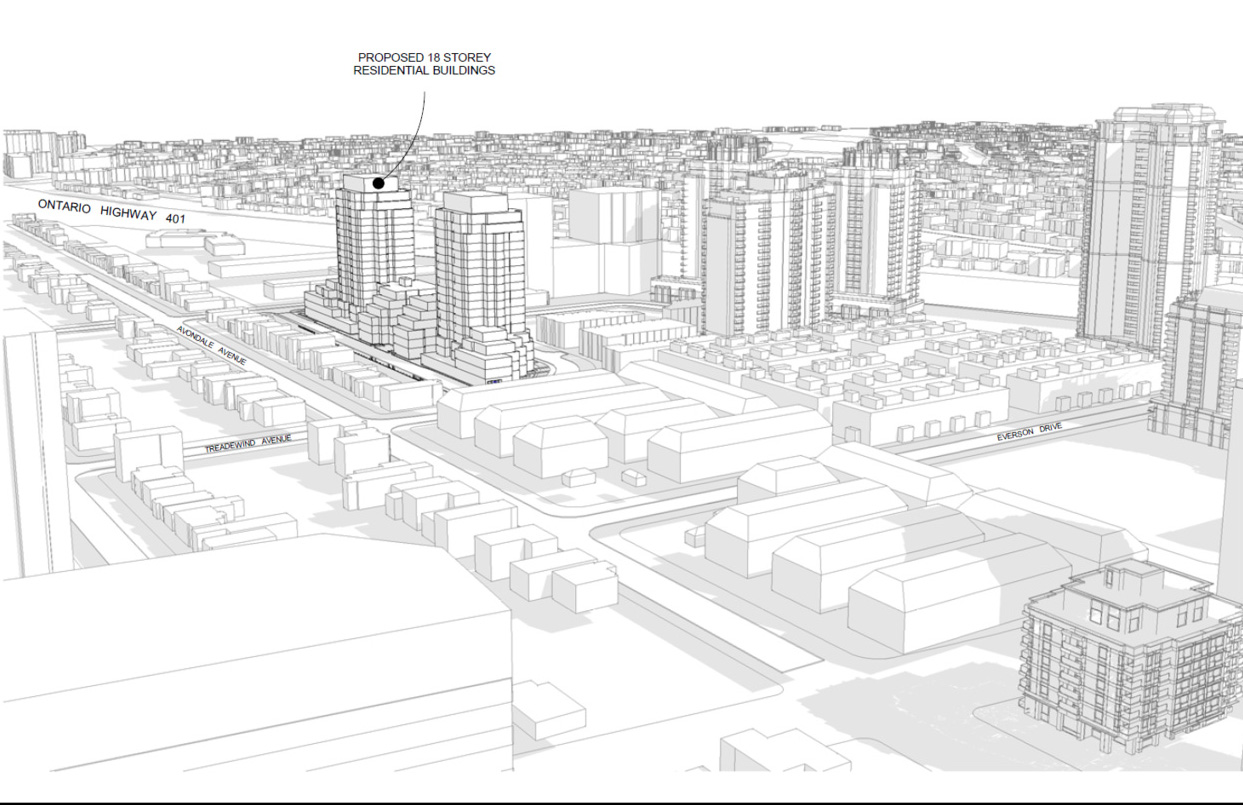 Context aerial view looking southeast, image by Kirkor Architects & Planners
The two towers, both oriented in a north-south direction and separated by 60m, are a mirror image of each other, and each have a 750m² floor plates decreasing to some 644m² at the top. The podium spans the length of the site and is separated into two distinct sections. It is designed to terrace from 3 to 6-storeys to fit with neighbouring buildings and contribute to a pedestrian scale. The ground floor comprises residential units fronting onto Oakburn Crescent, the centralized lobby, and doubled up mail rooms, indoor amenity spaces, and internalized shared loading spaces for the two sections.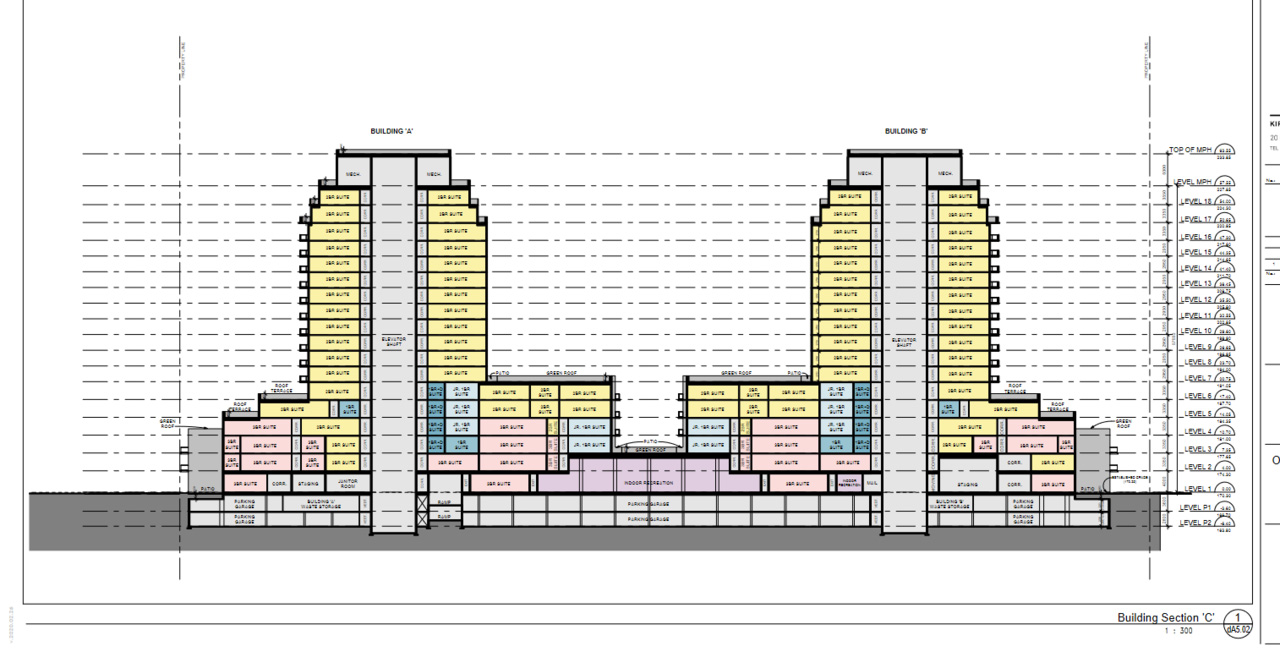 Longitudinal building section, image by Kirkor Architects & Planners
The proposal includes 926 m² of residential indoor recreational space located on the ground level. The primary space is a double height space located at the centre of the podium, while the second and smaller amenity area provides connection to one of the outdoor dining areas. A total of 1,427 m² of outdoor amenity space is provided along the building's north face, including outdoor dining areas, an lounge, a dog run, a children's lawn and an outdoor exercise area.
South Elevation with primary entrance at the centre, image by Kirkor Architects & Planners
Two-levels underground parking garage provide for a total of 262 vehicular and 340 bicycle parking spaces.
You can learn more from our Database file for the project, linked below. If you'd like to, you can join in on the conversation in the associated Project Forum thread, or leave a comment in the space provided on this page.
* * *
UrbanToronto has a new way you can track projects through the planning process on a daily basis. Sign up for a free trial of our New Development Insider here.