A development proposal has been submitted by Lamb Development Corp to the City of Toronto for a flatiron-shaped mid-rise building at Dundas Street West and Howard Park Avenue in Roncesvalles Village. Addressed to 6 Howard Park Avenue, currently onsite is an automobile service and repair shop and its associated surface parking which takes up around 60% of the site.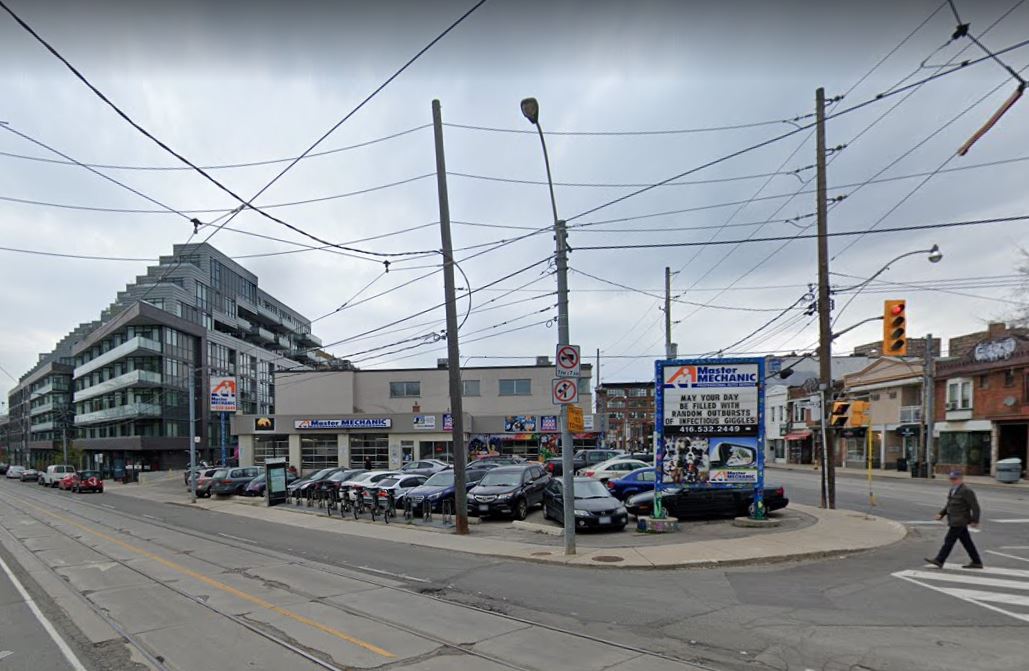 Current site of Automobile repair shop, 6 Howard Park Avenue, City of Toronto
Requiring an Official Plan Amendment (OPA) and Zoning By-law Amendment, the proposed architects—Alliance-designed 10-storey mixed-use building would have 8,130 m² of residential gross floor area, made up of 60 studio units, 44 one-bedrooms, 11 two-bedrooms, and 13 three-bedrooms. The proposal also has 331.00 m² of retail space on the ground floor that faces both Dundas and Howard Park, though the plans indicate only one door for the space along Dundas.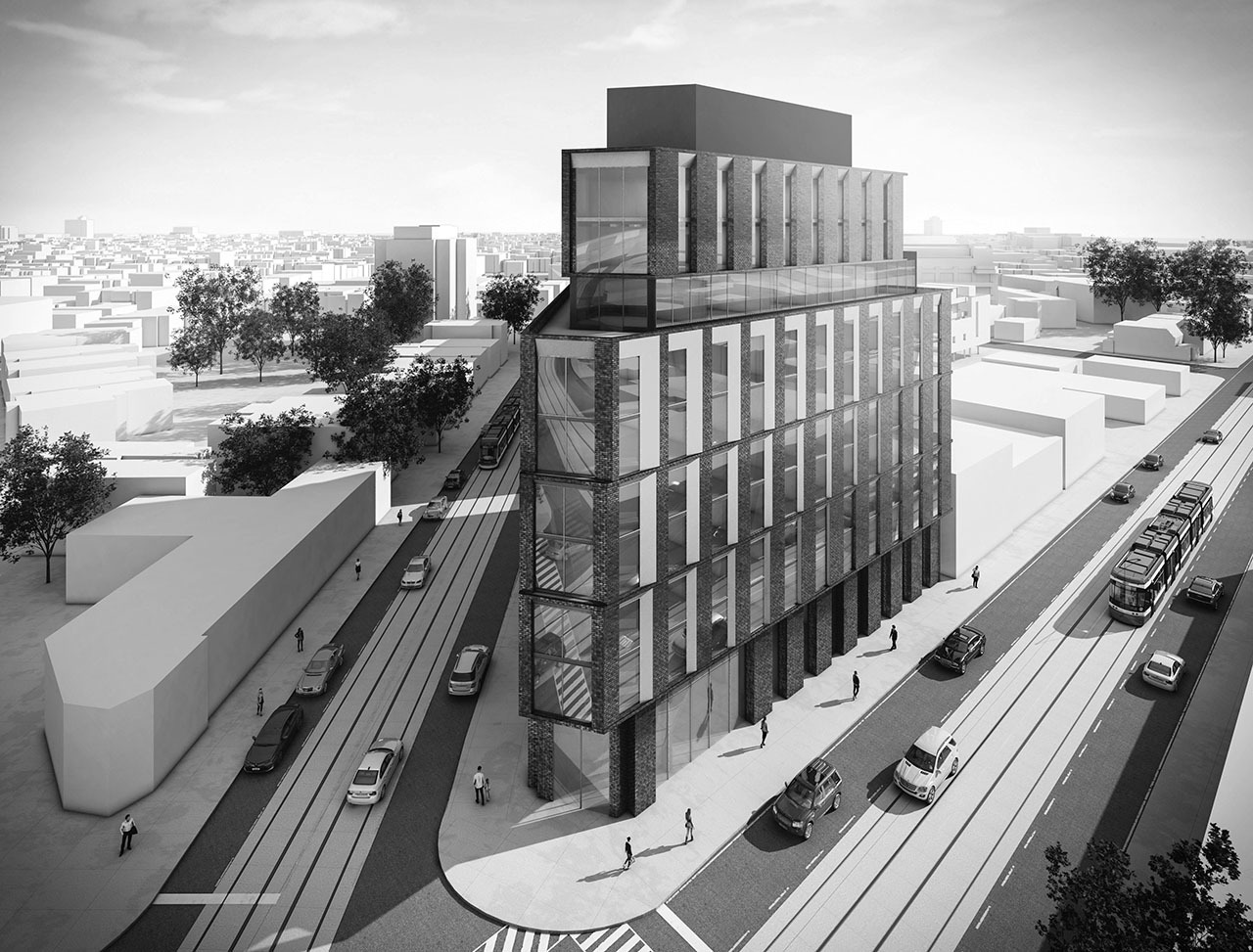 Artist Rendering of Proposal, 6 Howards Park Ave, architects-Alliance, Lamb Development Corp
The design creates a 7-storey street-wall infused into the flatiron building before stepping back on the eighth floor, and—according to the planning rationale—reflects the new character of Dundas Street West as it becomes more of a main street, similar to how other recent redevelopments along Dundas in the West End have been handled. The design also provides for widened sidewalks along both streets, while introducing high-quality retail space with views to both streets.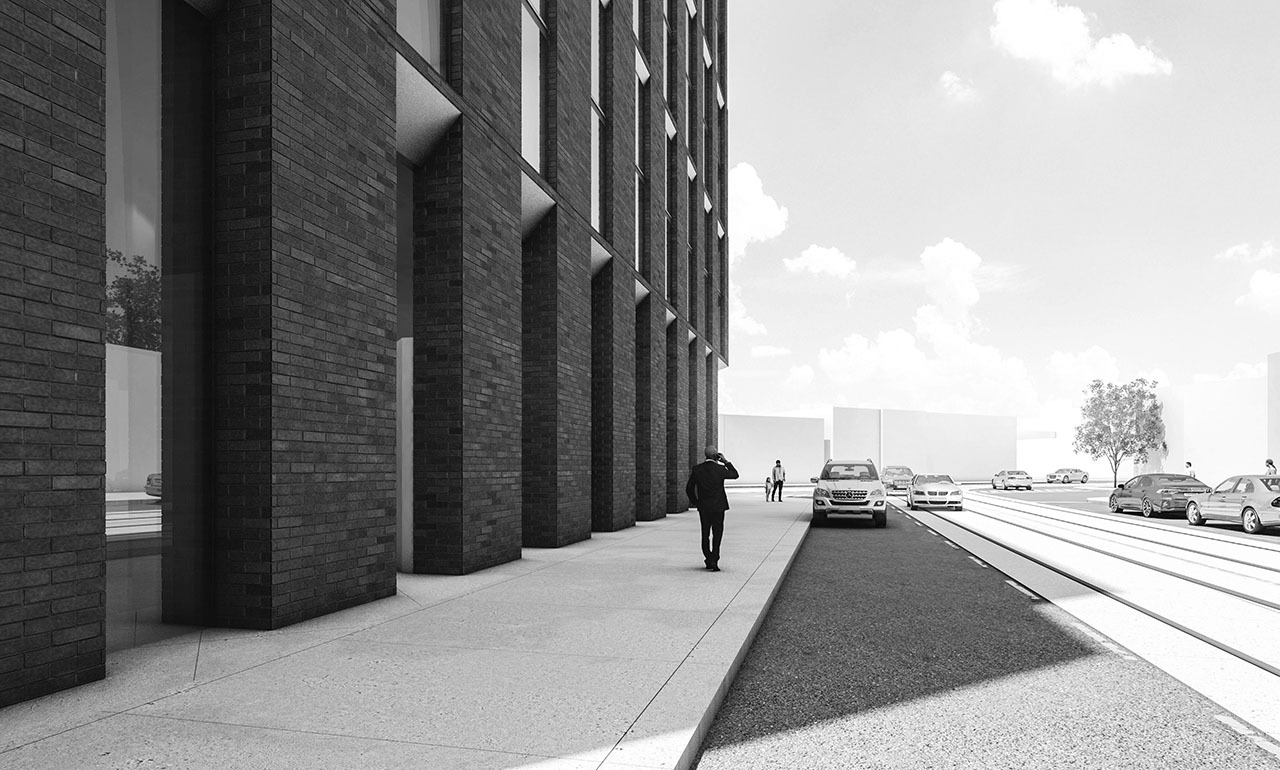 Artist Rendering of streetscape, 6 Howards Park Ave, architects-Alliance, Lamb Development Corp
The residential lobby would be accessed from the sidewalk along Dundas, while servicing would be via a lane just off of Howard Park. A pair of car elevators accessed from the lane would access a 3 level underground garage of 40 spaces, including 8 electrical vehicle spaces. The underground garage would also house 116 long-term bicycle parking spaces and 13 short-term spaces. Vehicular access to the proposal would come from a private laneway accessed from Howard Park Ave.
Site Plan of development, 6 Howard Park Ave, architects-Alliance, Lamb Development Corp
The site is served by both the 505 Dundas streetcar and the 506 College car, and is close to the 504 King streetcar. The lines lead to several TTC subway stations with Dundas West being only a short ride away, or 10-minute walk. Nearby Dundas West is Bloor GO and Union-Pearson Express station.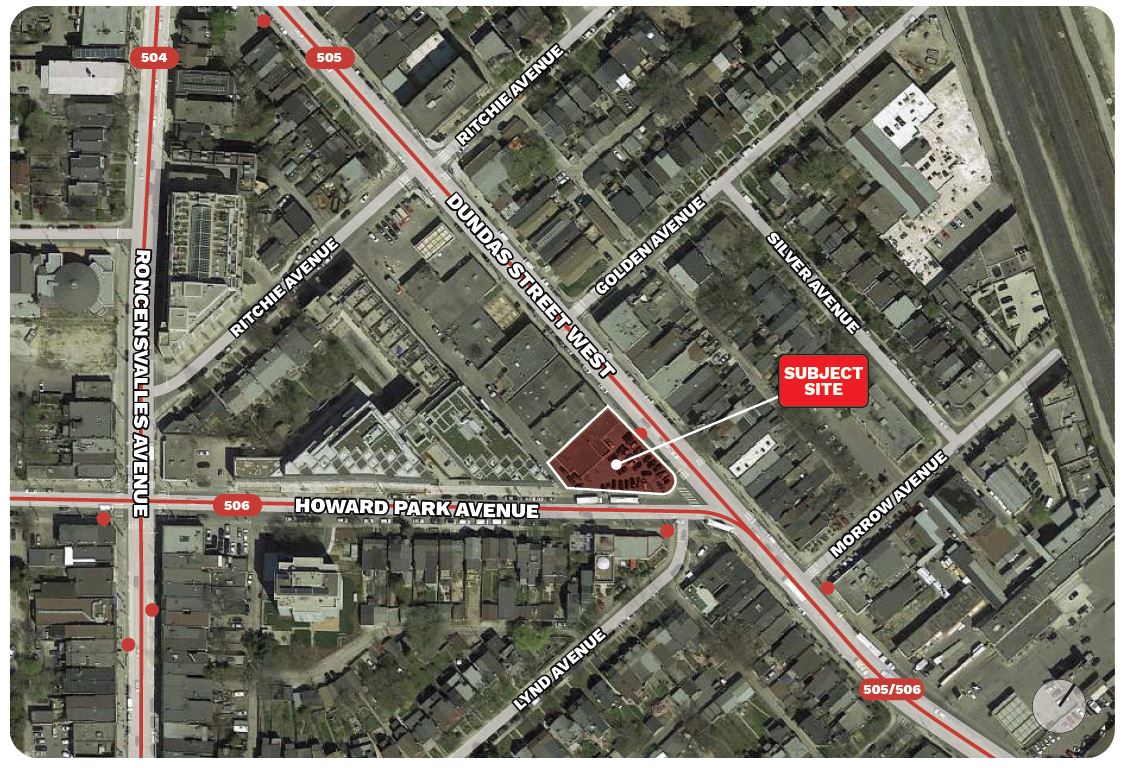 Aerial View of 6 Howards Park Ave, City of Toronto
Recent nearby redevelopments have also intensified under-utilized lots, including the Howard Park Residences Condos at 36 and 38 Howard Park Avenue immediately to the west, which also include retail at street level.
Additional information and images can be found in our Database file for the project, linked below. Want to get involved in the discussion? Check out the associated Forum thread or leave a comment in the space provided on this page.
* * *
UrbanToronto has a new way you can track projects through the planning process on a daily basis. Sign up for a free trial of our New Development Insider here.