When it was first planned, 10 Dundas Street East was to be a home to new attractions for Toronto, a 10-storey entertainment behemoth across from Yonge-Dundas Square in the heart of the city. Initially to have been named 'Metropolis,' there were plans to build a new Canadian Music Hall of Fame inside, and at another point an indoor Disney amusement park was planned called Disney Quest. While those never materialized, a multi-screen cinema did go in as did restaurants and shops. Now though, the building is finally home to a major attraction, and one that could not be better located nor better suited for the heart of Toronto: Little Canada is now open.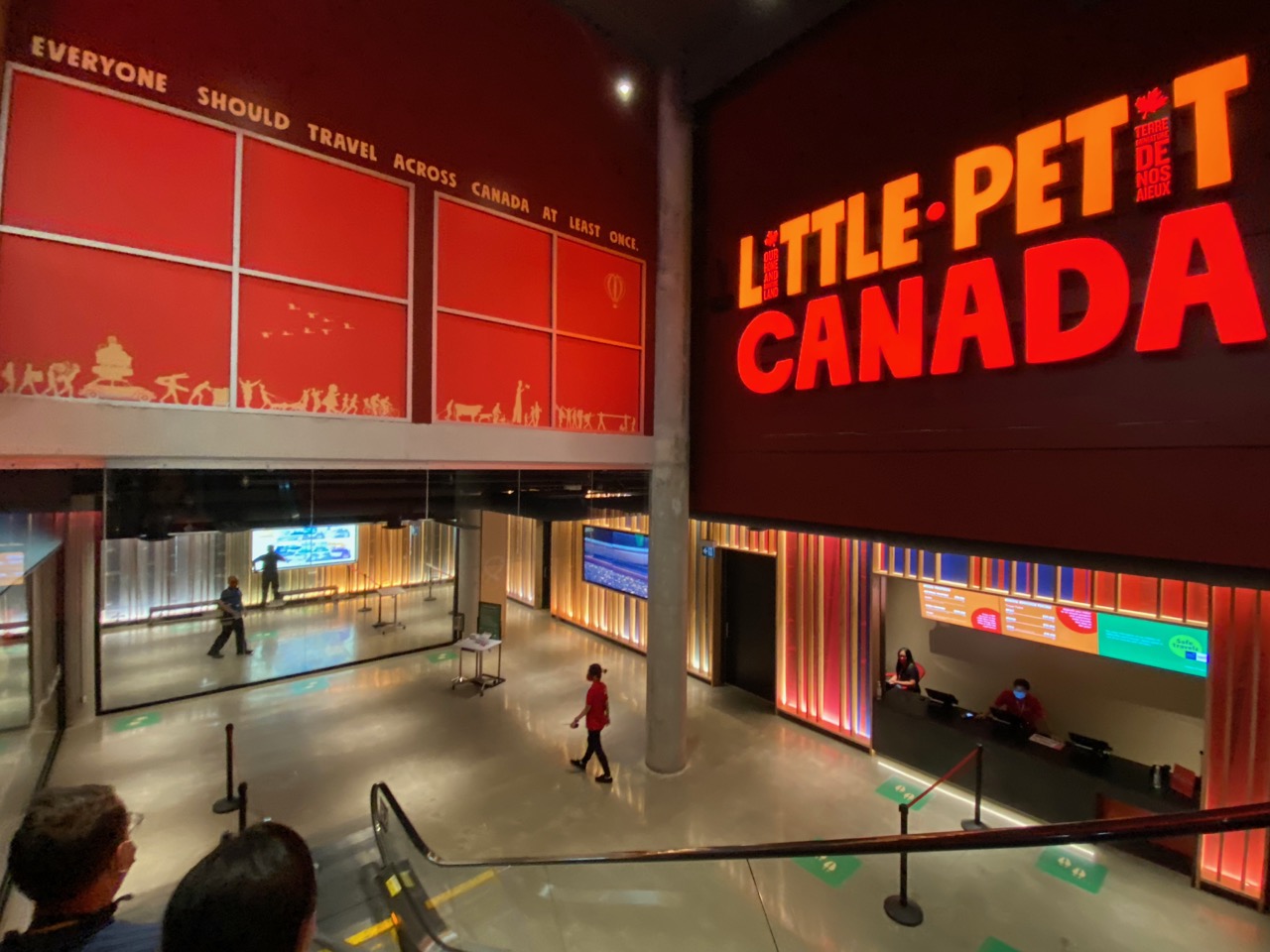 Entry area to Little Canada at 10 Dundas Street East, image by Craig White
Housed in 45,000 ft² on the lower levels of the complex that most recently hosted a mega-gym, one might be tempted to describe the spacious attraction as Canada's largest model railroad setup… and while that's a part of it, it's so much more than that too. The result of twelve years of work—the last several of which were in a warehouse in Mississauga while an appropriate location was scouted to open the attraction to the public—Little Canada is the brainchild of Jean-Louis Brenninkmeijer, who moved his family here in 1999, and who fell in love with the country. During a trip to Hamburg in 2011, Brenninkmeijer visited Miniatur Wunderland, the largest and attraction of this kind in the world, and came out from it thinking "Why not in Canada?"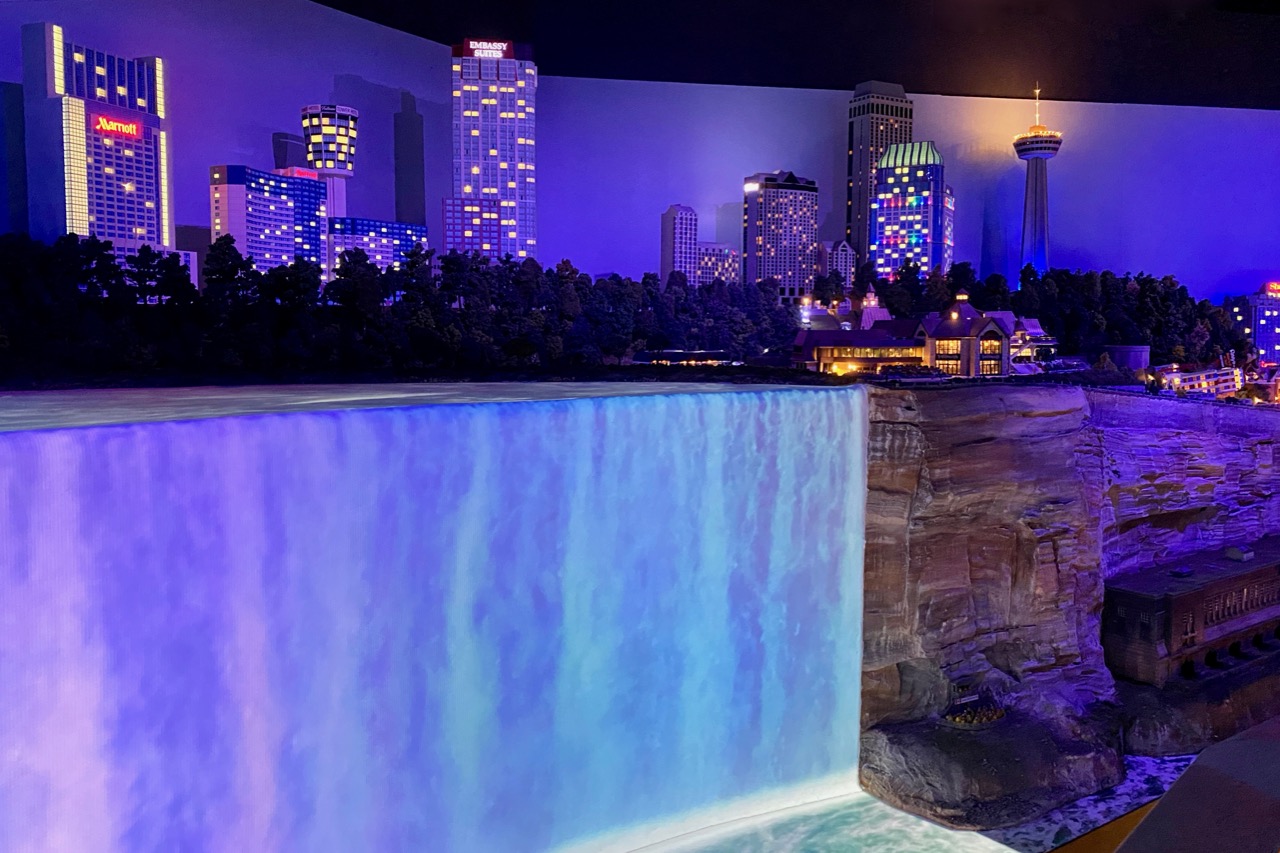 An animated Niagara Falls by night at Little Canada, image by Craig White
Back in Toronto, Brenninkmeijer contacted model railway clubs in the Greater Toronto and Hamilton Area, seeking out others who would share his vision for such an attraction. Dave MacLean, President of the Model Railroad Club of Toronto at the time, responded, and the two began planning. Hiring artists and model builders who specialize in many areas, about 4 dozen people are now employed on the team that contributes their skills to build the displays that now recreate many of Canada's landmarks and wonders. Those start with one of Canada's best known sites—an animated Niagara Falls—which unfolds before you walk into the first room.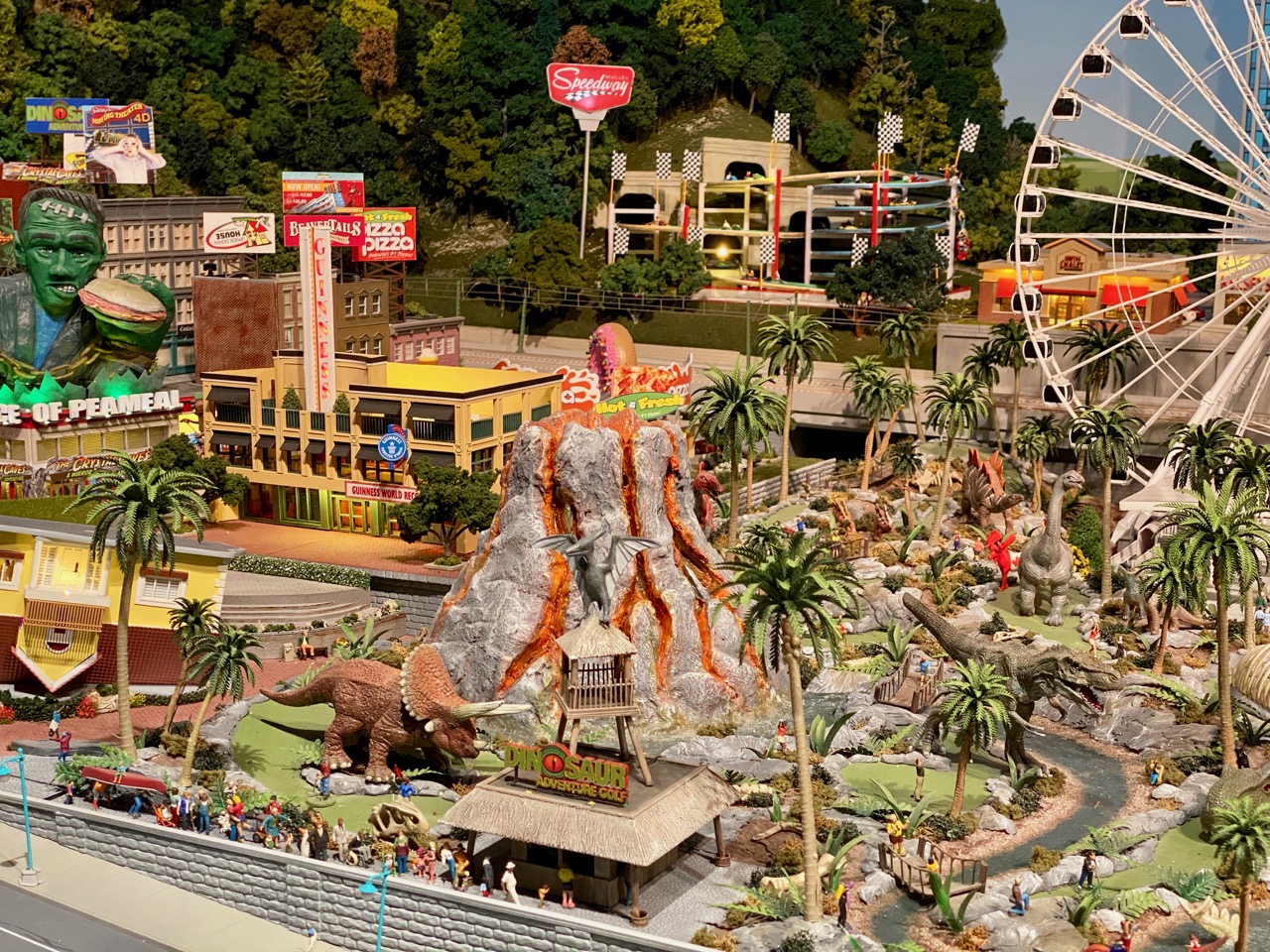 Some of the crazy attractions from Clifton Hill in Niagara Falls at Little Canada, image by Craig White
Little Canada's displays capture a bit of everything that makes a place a place: the natural scenery, the built world, and the people that populate the land. Thousands of miniature people (and animals too) populate the grounds around the mostly 1:87 scale replica buildings (some massive buildings like the CN Tower and the Rogers Centre are at smaller scales simply to fit the spaces), walking the sidewalks, lining up for attractions, enjoying meals, shopping, scaling cliffs, skiing, or doing just about any other activity you can imagine. Lots of miniature people are working to, erecting buildings, staffing tollbooths, driving horse-drawn carriages, painting theatre props: the list goes on and on.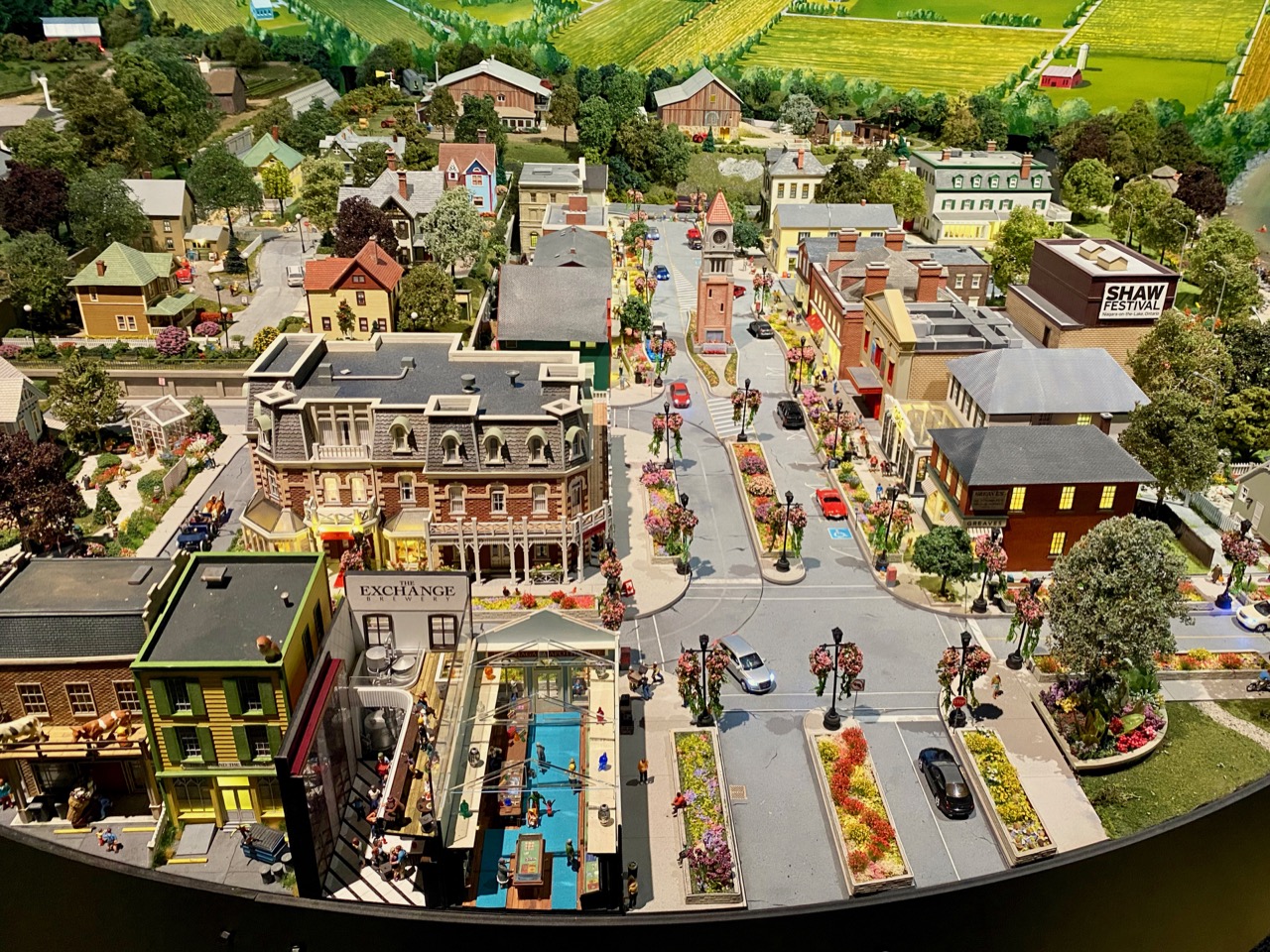 Niagara-on-the-Lake in Little Canada, image by Craig White
Little Canada is organized into several geographically-themed areas; Little Niagara features more than the Falls, as it stretches over the parks of Niagara Escarpment (with replicas of such sights as the famous floral clock and the Brock Monument at Queenston Heights) down to Niagara-on-the-Lake with its quaint shops and hotels, the Shaw Festival theatres, and plenty of vineyards including Little Canada's own winery as a major stop along the way.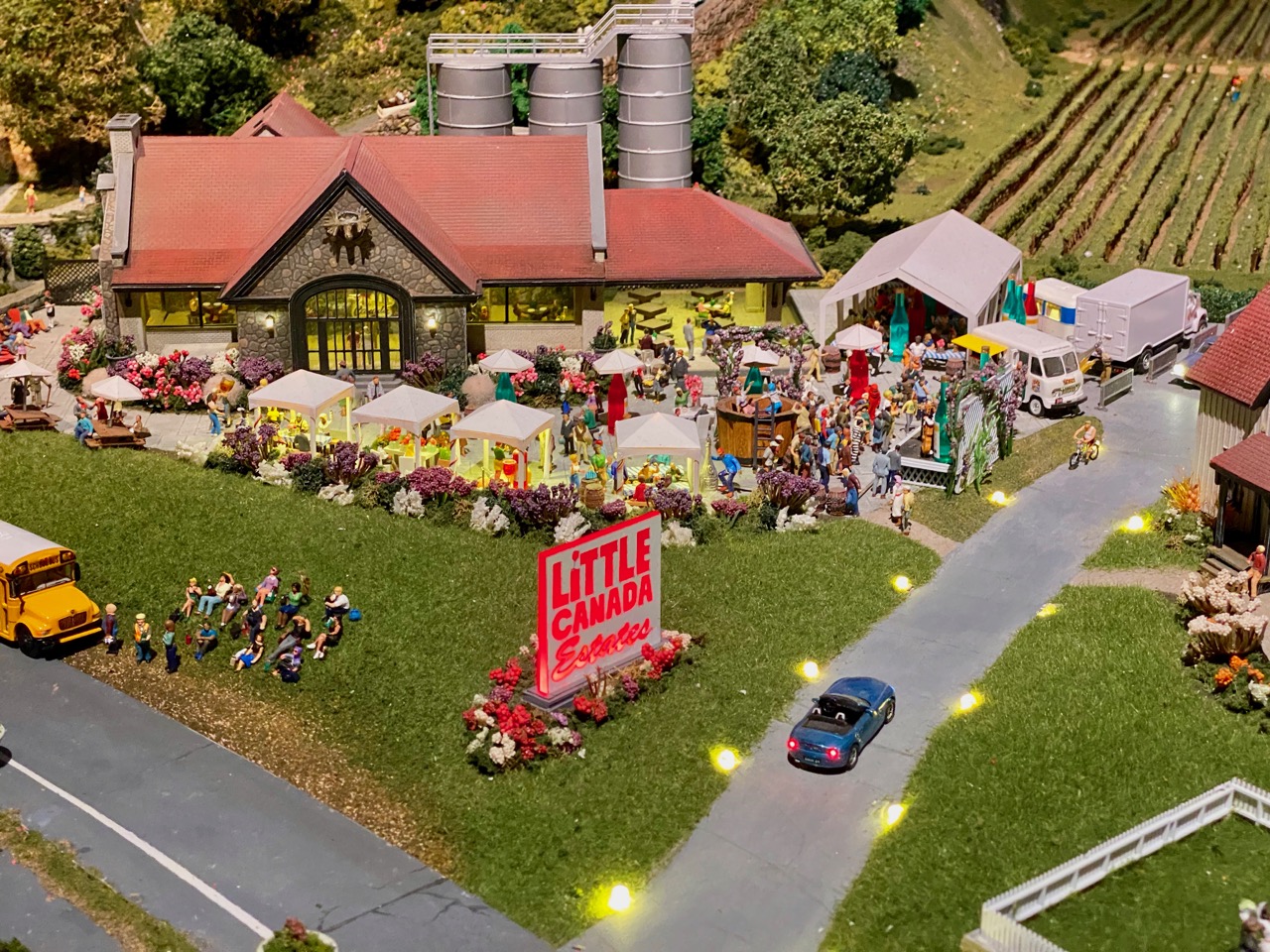 A Little Canada winery in the Niagara display, image by Craig White
Taking escalators down another level, visitors arrive at Little Toronto and Little Golden Horseshoe. The Toronto display focuses on downtown's skyscrapers, attractions, and transportation facilities, and then morphs into older parts of town where you'll find the St Lawrence Market and Distillery District among many other buildings. Geographies don't precisely match reality in Little Canada, they're more akin to dreamlike associations of one site to another, but the basic ingredients and flavours of places are there, and a GO Train leaving the amazingly modelled Union Station will take you past Mississauga's iconic Absolute World towers and pieces of Oakville, Burlington, and across the skyway to Hamilton, with its steel mills, Dundurn Castle, and Royal Botanical Gardens. More of Southwestern Ontario lies just beyond, like a Kitchener Oktoberfest parade, the University of Waterloo, a Branford hockey rink with players on the ice skating, a Goderich salt mine, and more.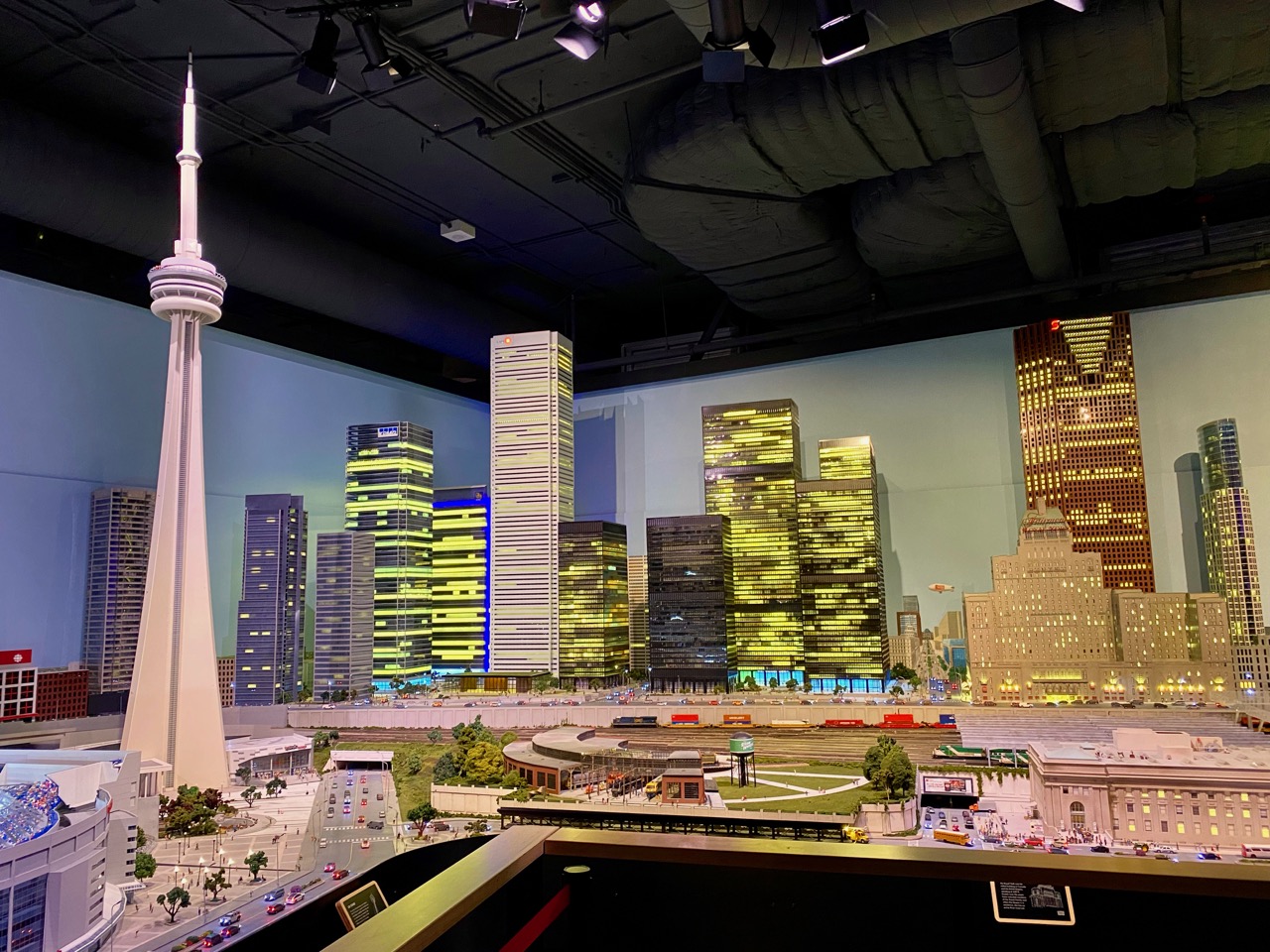 Some of Toronto in Little Canada, image by Craig White
There's a quarterly hour cycle of day and nighttime lighting at Little Canada, with dusk coming on every 15 minutes, and thousands of miniature LEDs popping on to light up the scenery. The Ottawa River shot below catches Parliament Hill in the half light of transition from day to night, with lights from one of the bridges reflecting off the glistening surface below. Little Ottawa features many of the national capital's most visited sites including a bustling By-Ward Market area, an RCMP Musical Ride, and a fascinating cutaway of the Chateau Laurier where the craziest cast of characters have booked rooms for the night. A person could stare at that model alone and be delighted for hours, it has so much to take in.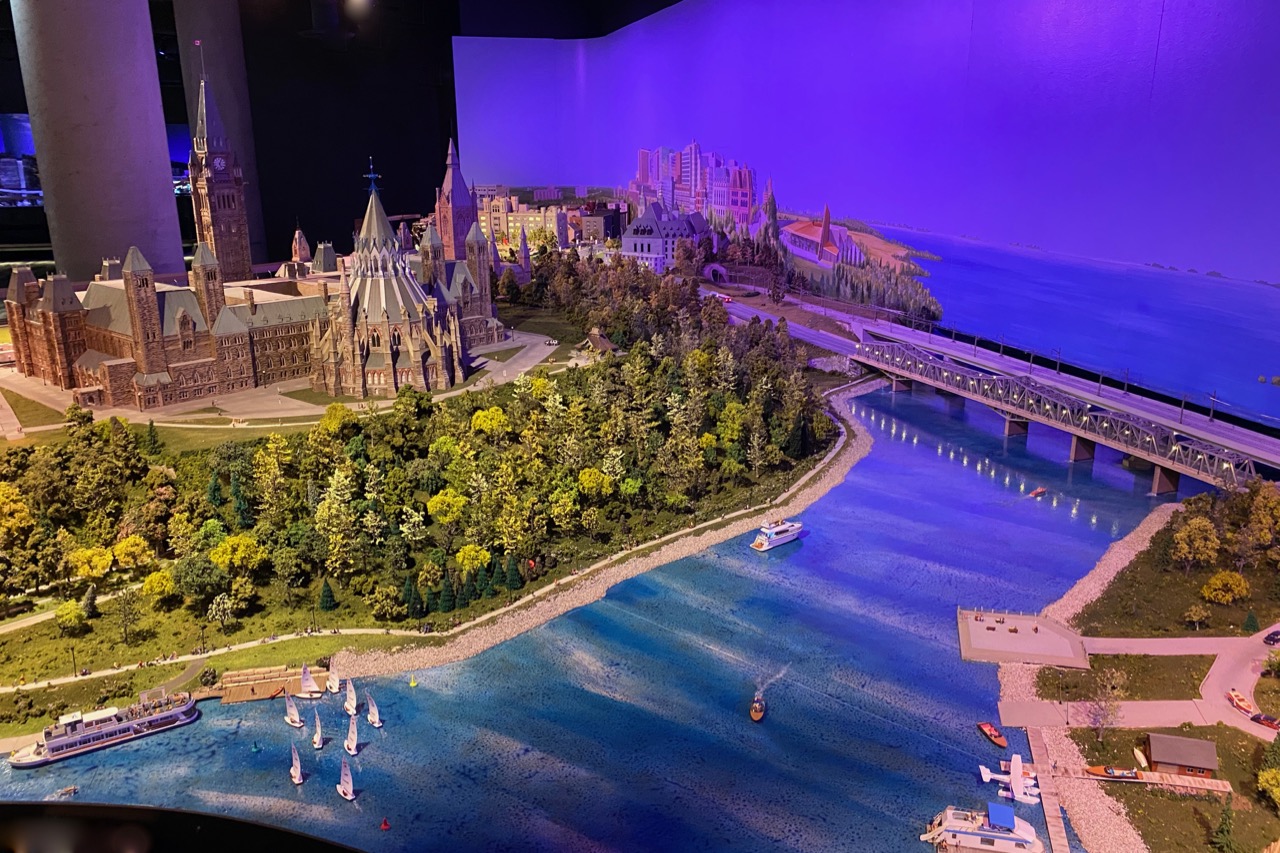 Looking across the Ottawa River to Parliament Hill in Little Canada, image by Craig White
Little Quebec City is the fifth area already open, and it's caught below, all lit up at night. Dominated by the Chateau Frontenac, this model includes beautiful recreations of Place Royale in Vieux Québec, Montmorency Falls, a sugar shack, the shrine at Ste-Anne-de-Beaupré, and Mont-Ste-Anne, all of it under a blanket of snow, and with its miniature people getting the best out of the Quebec Winter Carnival.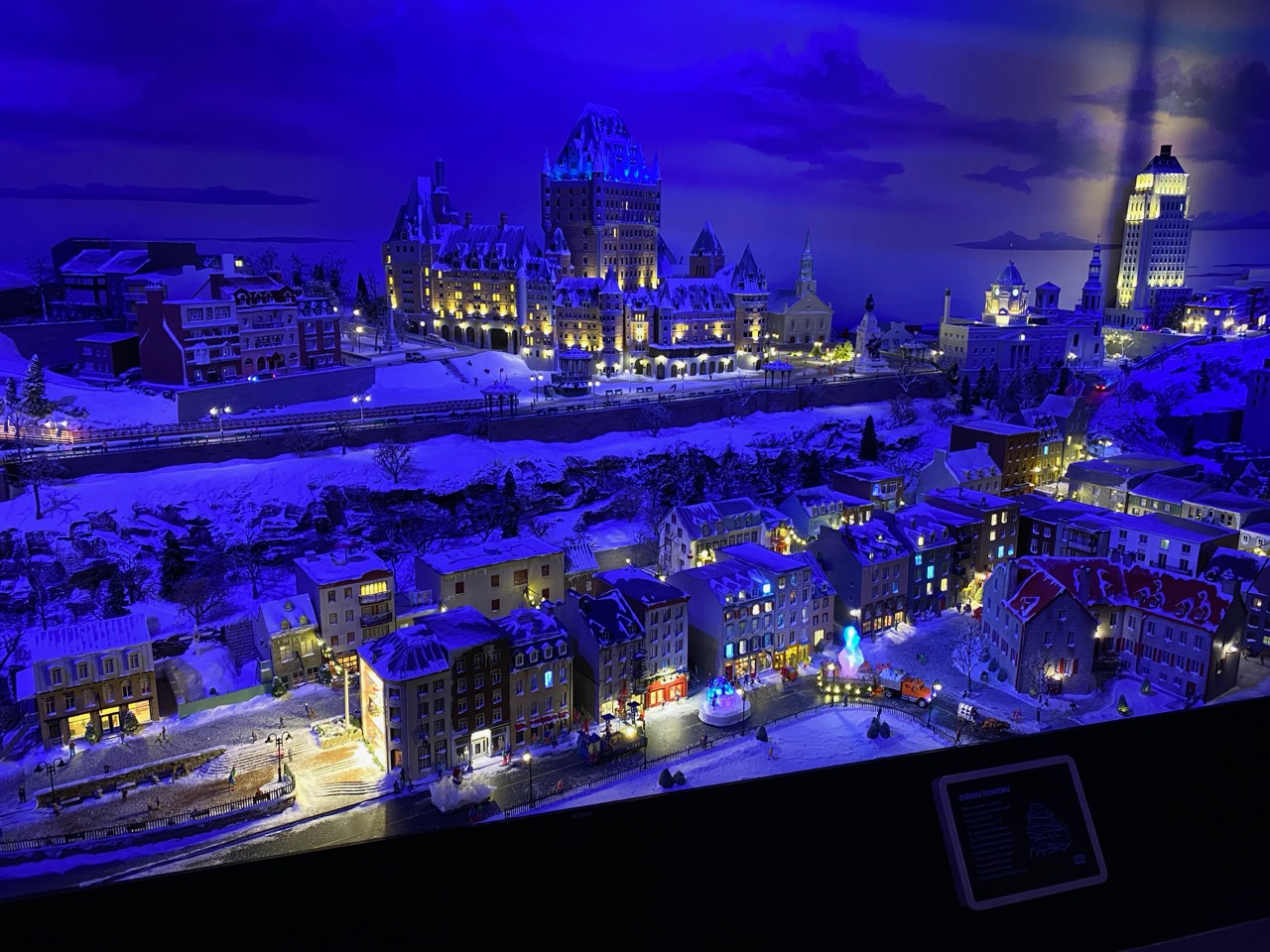 Some of Quebec City by night, Little Canada, image by Craig White
There are another half dozen displays planned for Little Canada, each with representative models and artwork covering each hoarding.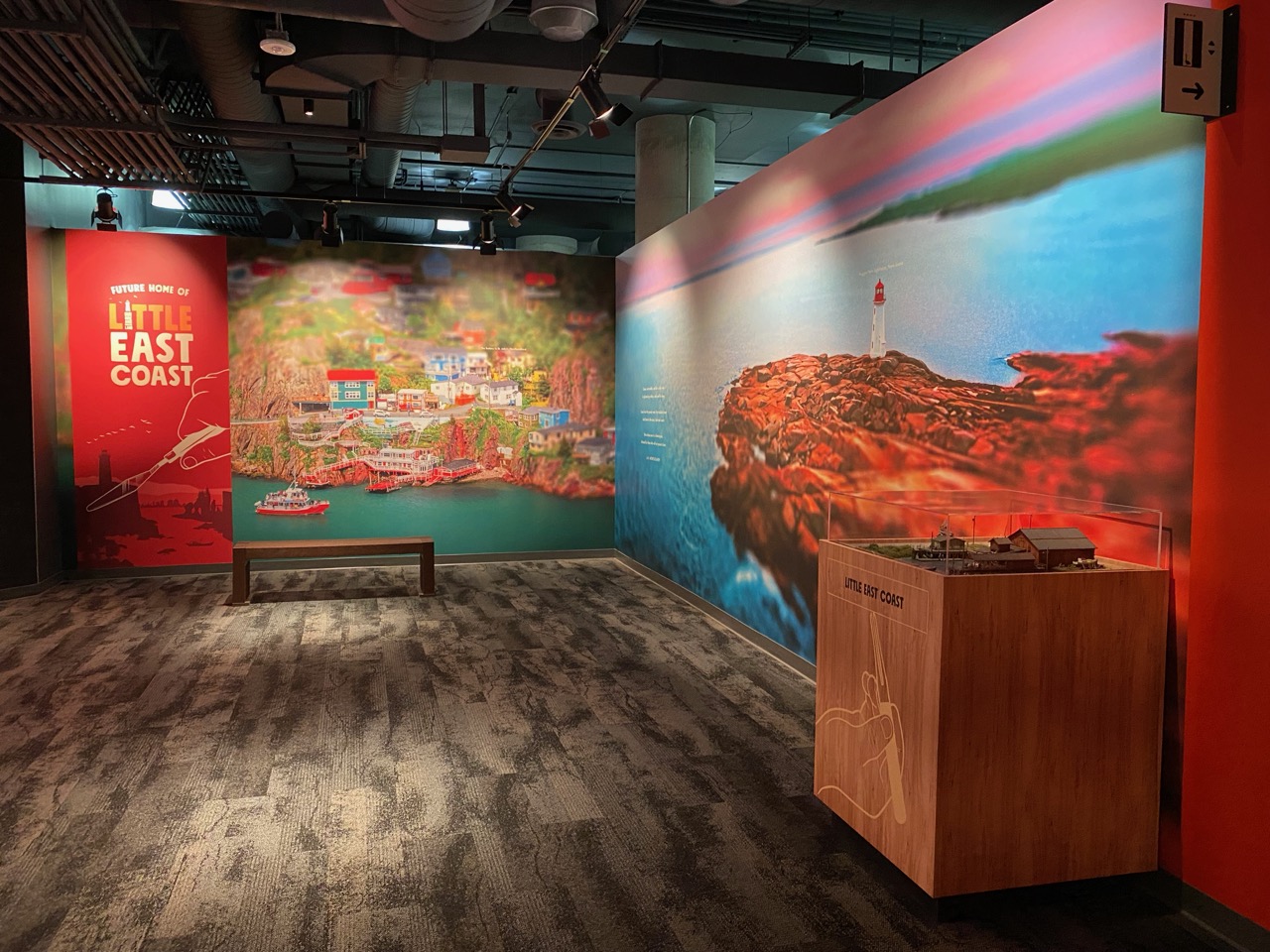 On of the future displays coming to Little Canada, image by Craig White
Opening up in coming years will be Little East Coast, Little Montreal, Little Prairies, Little Rockies, Little West Coast, and first up; Little North—its construction will be visible to those passing by as it is assembled over the next year. Visitors will also be able to watch new models being built close-up in the Miniature Makers workshop, or talk to the drivers overseeing the moving trains and vehicles at Miniature Mission Control.
A map of Little Canada
There's hours and hours worth of entertainment here, and you'll leave knowing that there will always be something more to catch on subsequent visits. As little of the attraction that appears in the images above, the video below will give you a fuller idea of what's in store during a visit, especially the moving parts. If you want to be more surprised when you go, don't watch the video, especially its last two minutes where it gives away a rather spectacular end to Canada Day celebrations in Little Ottawa.
Little Canada plans to be open 364 days a year, currently from noon until 9 PM every day. You can find out everything you need to know to plan a visit from their website.
You can also learn more from our dedicated thread for the project where you'll find many more photos, and where you can join in on the discussion if you wish. You can also leave a comment in the space provided on this page.
* * *
UrbanToronto has a new way you can track projects through the planning process on a daily basis. Sign up for a free trial of our New Development Insider here.