Construction is underway on a 320-bed long-term care facility at the Humber River Hospital (HRH) Finch site, a fast-track project that is expected to be completed by Spring, 2022. Located in North York at 2111 Finch Avenue West at Oakdale Road, the project is part of the Province's Accelerated Build Pilot Program (launched in July, 2020), which also includes the construction of three other 320-bed long-term care homes; two in Mississauga and one in Ajax.
HRH and Infrastructure Ontario are partnering in order to build much-needed capacity quickly in a large urban area. Krystle Caputo, press secretary to Minister of Long-Term Care Dr. Merrilee Fullerton, said while HRH will own the "physical asset," the long-term care home will be operated by a "non-profit entity."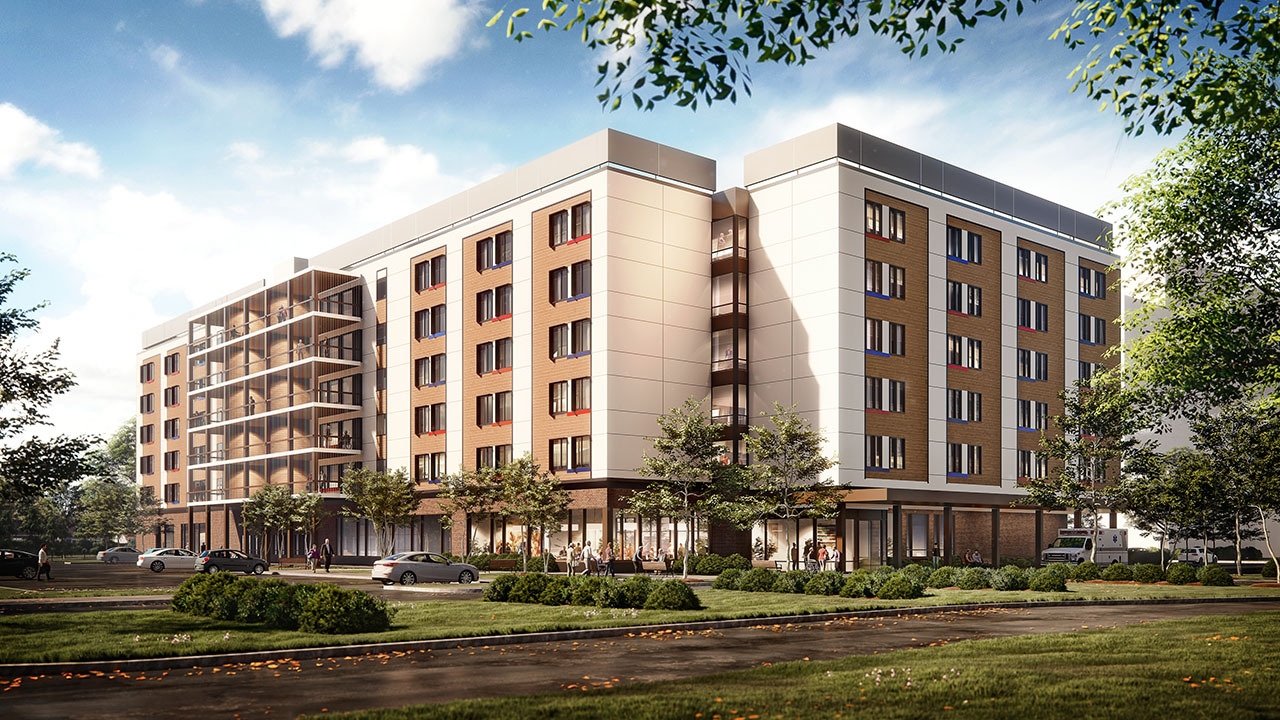 View from Finch Avenue West and Oakdale Road, looking southwest, image by Montgomery Sisam Architects
Montgomery Sisam Architects have designed a 6-storey facility at the east end of the hospital site close to Oakdale Road, replacing much of the surface level parking there, as illustrated on the site plan below. Per the MZO, the maximum permitted floor space index (FSI) is 2.5. The proposed index is 1.36. While HRH is still working with the Ministry of Health to finalize some details of the plans, the project team submitted plans and reports to the City of Toronto for Site Plan Approval in April.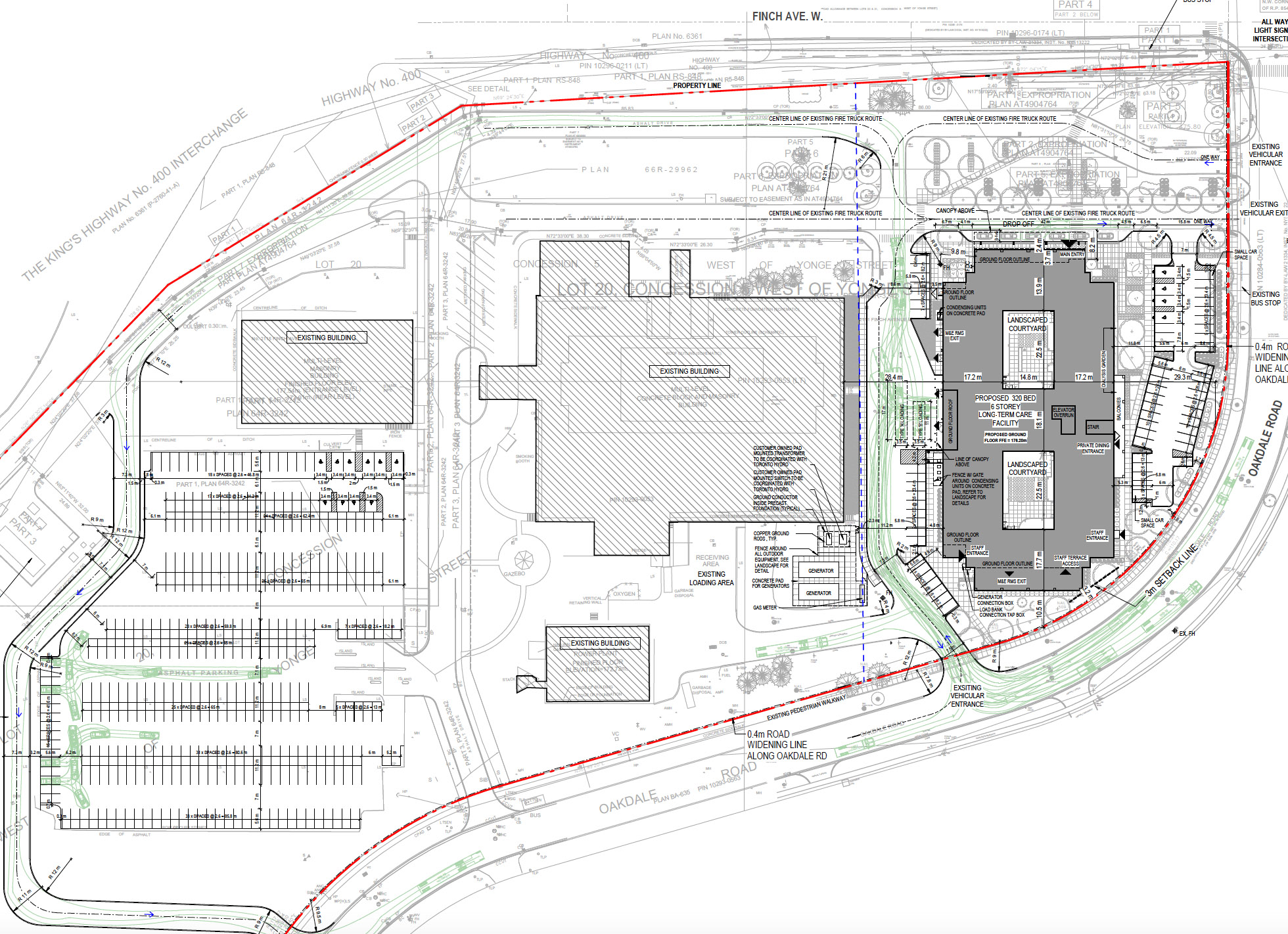 Site Plan (existing buildings indicated by hatch), image by Montgomery Sisam Architects
HRH's Finch site is home to a Reactivation Care Centre, which opened in 2017 and cares for 350 patients who no longer need acute care, but either are not ready to go to a long-term care home or are waiting to get into one.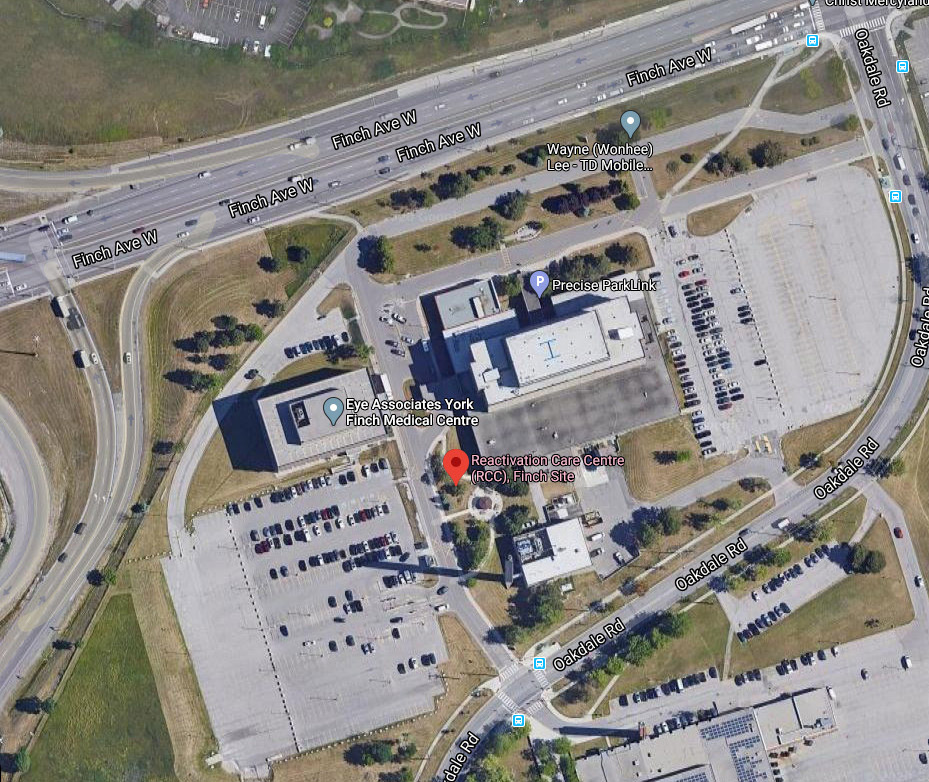 Aerial view of the existing hospital, image retrieved from Google Maps
Through the use of hospital lands, and a range of accelerating measures such as modular construction and rapid procurement, the government and its partners are targeting completion of the project by this time next year. The building layout has an '8'-shape, organized around 2 courtyards. The ground floor plan is split between services and back-of-house areas, admin & support spaces, and resident amenities including a clinic, salon, café, lounge, and entertainment room.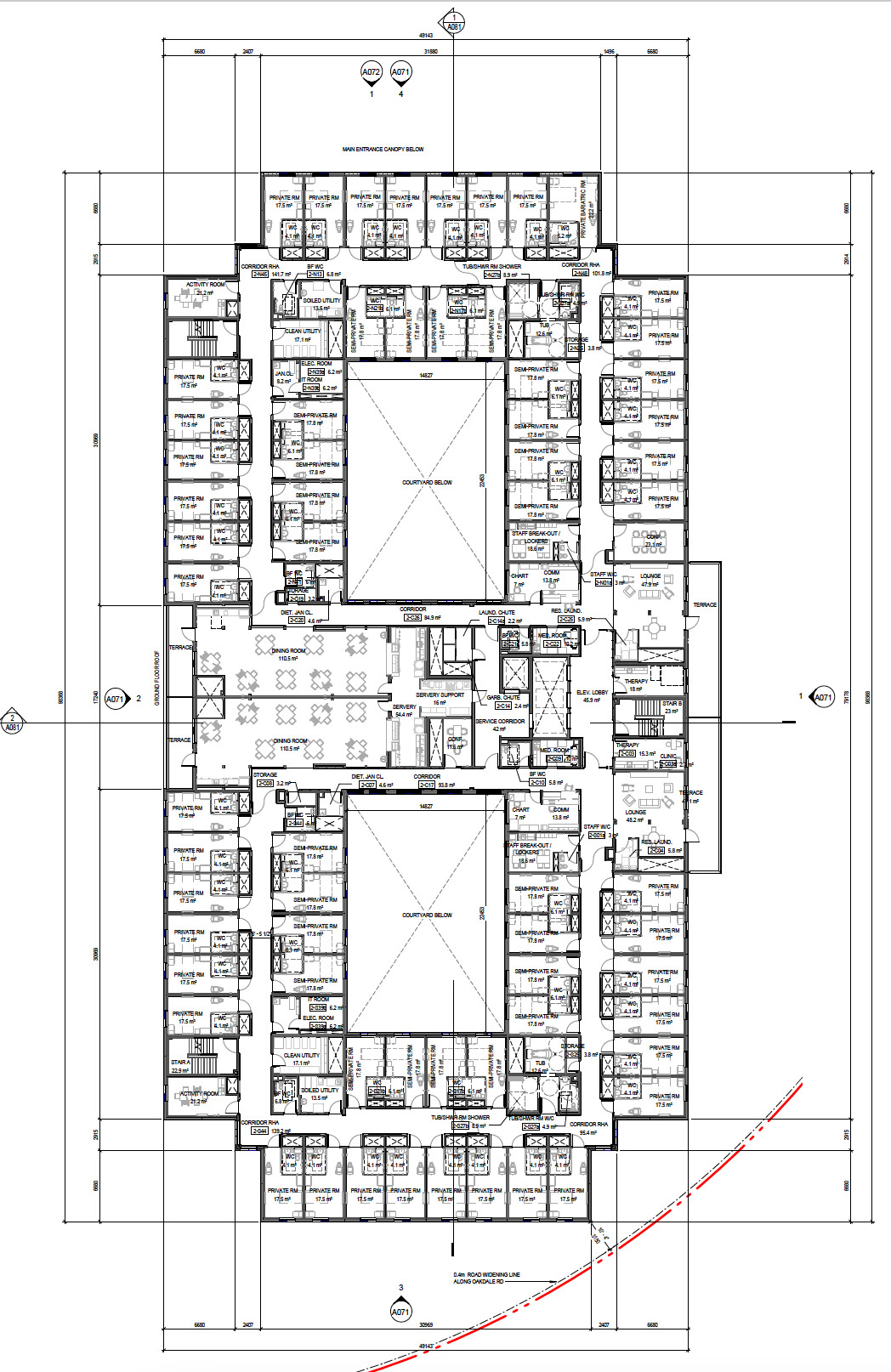 Typical floor plan (floors 2-6), image by Montgomery Sisam Architects
As illustrated in the residential floors (2-6) above, double loaded corridors place the inner units facing into the courtyard. Each half is a mirror of the other. Most of the resident rooms are 17.5 m² private (single) rooms with their own bathroom. There are also 17.8 m² semi-private rooms – in which adjacent units share a bathroom. On each floor there are lounge, amenity, and dining areas, while the building also features terraces and other places for people to be able to be outside and protected.

Building Section: North- South, image by Montgomery Sisam Architects
The pandemic revealed some weaknesses in facility designs, lessons learned that are being incorporated, moving forward. We can expect to see more outdoor space and larger common areas to allow for physical distancing among residents. Interiors may integrate multi-use spaces that could double up as small dining rooms, activity rooms, or visitation rooms (if COVID-19 persists).
More attention is also being given to heating and cooling systems that have adequate filtration so that they do not inadvertently spread viral particles throughout the facility. Fixtures, furniture and finishes/materials are being specified that can be easily cleaned and disinfected. More sufficient space is also being provided for screenings, and for disinfecting delivered packages and equipment.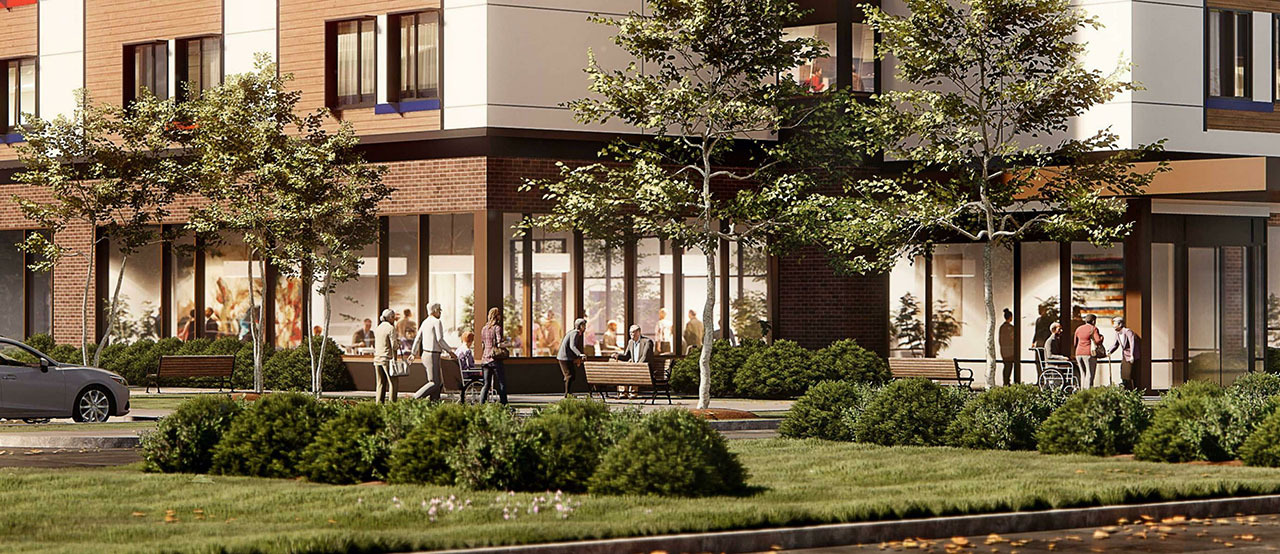 View to main entrance, image by Montgomery Sisam Architects
You can learn more from our Database file for the project, linked below. If you'd like to, you can join in on the conversation in the associated Project Forum thread, or leave a comment in the space provided on this page.
* * *
UrbanToronto has a new way you can track projects through the planning process on a daily basis. Sign up for a free trial of our New Development Insider here.