Across the Greater Toronto Area, several municipalities are seeing emerging races to build the tallest towers. In Mississauga, a westward shift in the city's emerging Downtown is reaching a climactic point with the development of three towers at Burnhamthorpe Road and Confederation Parkway, each taller than current local title-holder, the 56-storey Absolute World. Part of Rogers Real Estate Development and Urban Capital Property Group's 4.3 million ft², master-planned M City community, the initial three towers—M1 and M2, and M3 at M City—are well under construction, and expected to be among the tallest in the group of towers coming to the 15-acre site.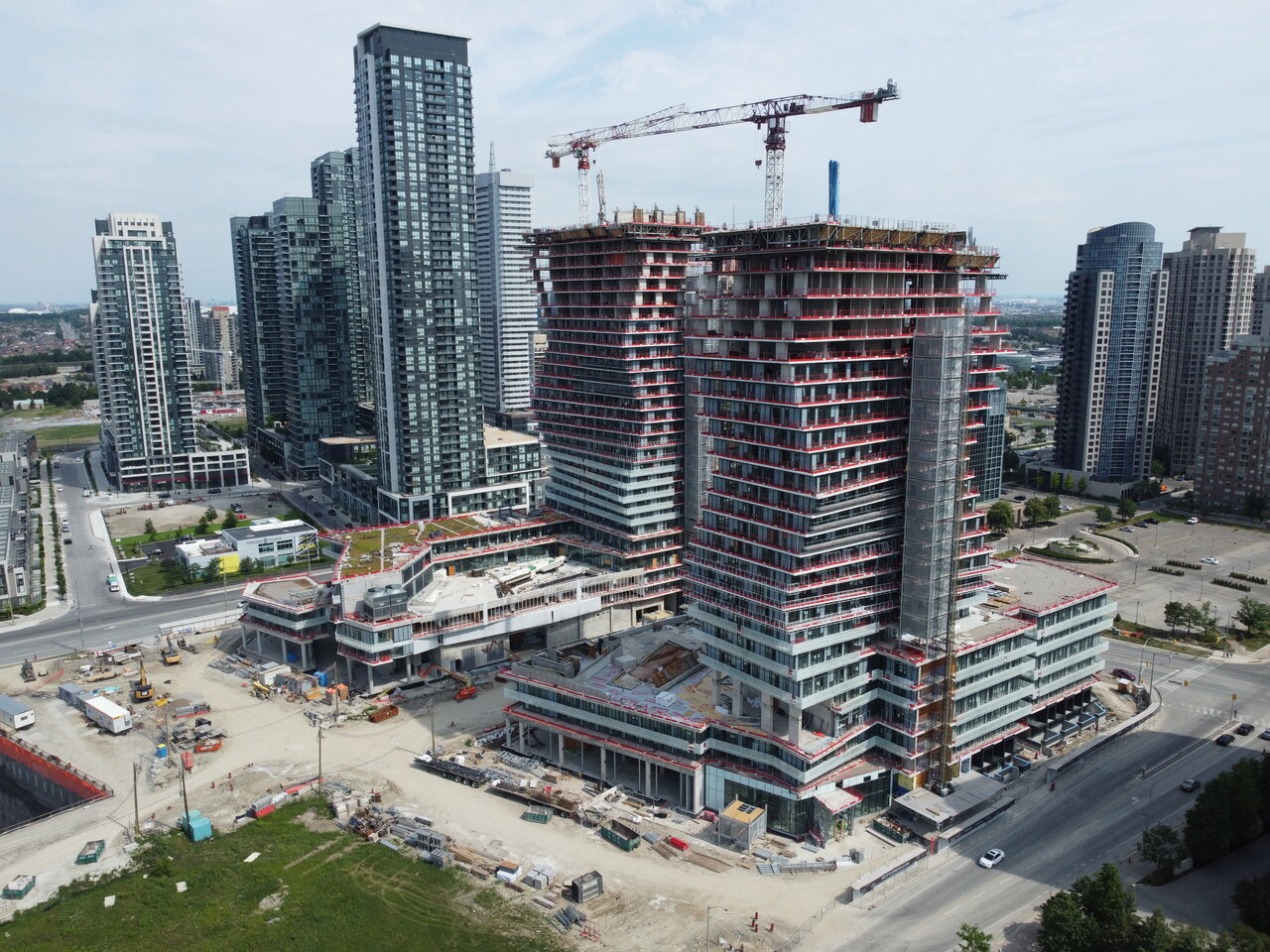 M1 and M2 at M City, image by Forum contributor bangkok
M1 and M2 will be the first towers set to break Absolute World Tower 1's Mississauga record-holding height of 179.5 metres tall. The M City duo began construction early in 2018, and the matching 60-storey, Core Architects-designed towers are now quickly rising into the City Centre skyline and generating plenty of attention. We last checked in on construction at the start of 2021, when the towers had risen to heights of 13 and 14 storeys, revealing their signature twisted massing.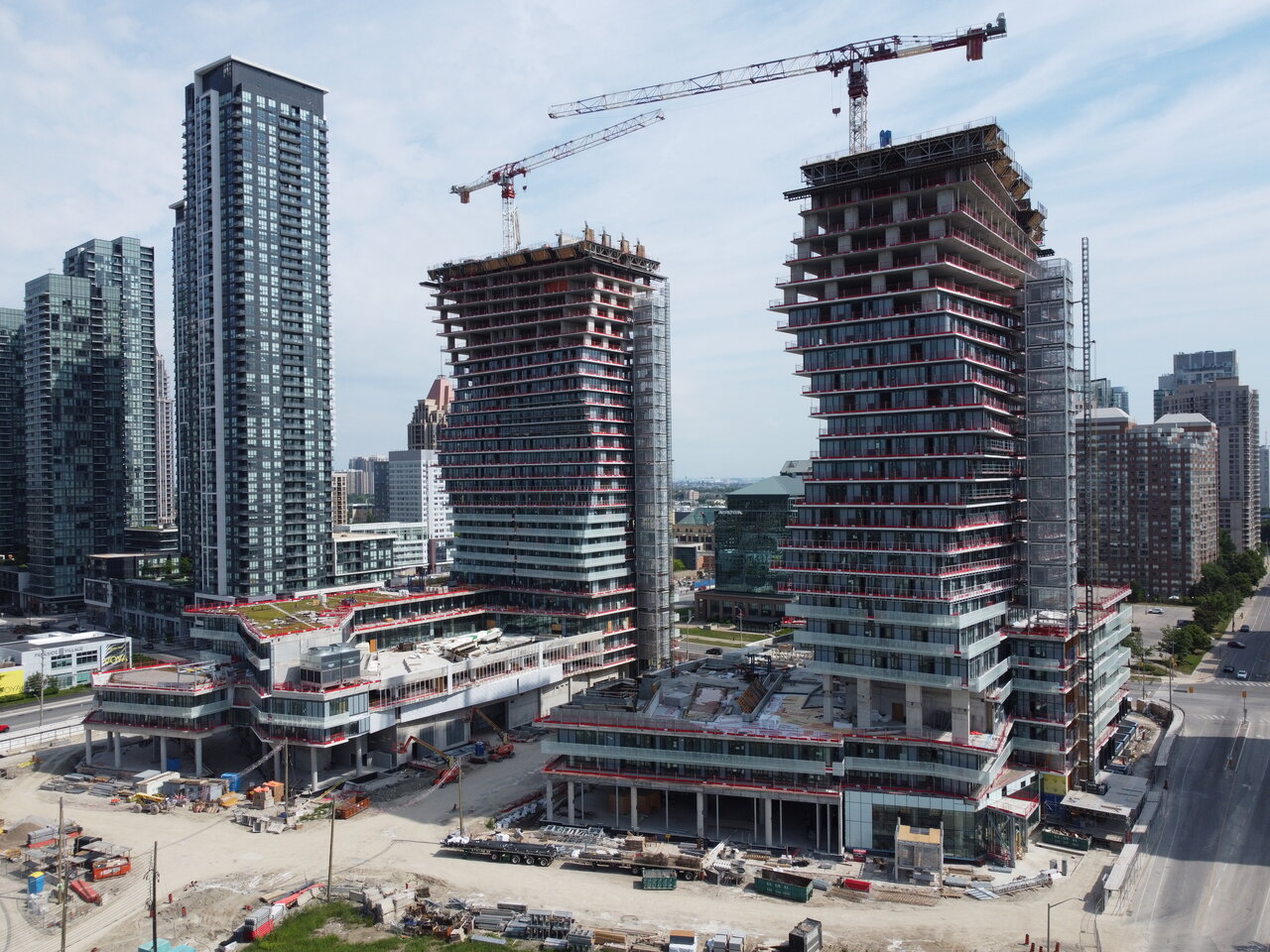 M1 and M2 at M City, image by Forum contributor bangkok
The buildings have more than doubled in height in the time since, now standing at 26 and 30 storeys and well on their way to shared final heights of 197.81 metres.
Forming progress, M1 and M2 at M City, image by Forum contributor bangkok
Cladding installation was just getting underway at the time of our last update in January, when the installation of a window wall cladding system with spandrel panels framed in dark aluminum mullions had progressed as high as the seventh floor of the north tower. Window wall has since risen to the towers' 20th and 22nd floors, and the window wall has since been joined by more finishes, most notably the fritted balcony guards and white balcony slab underpainting that will define the twisted massing.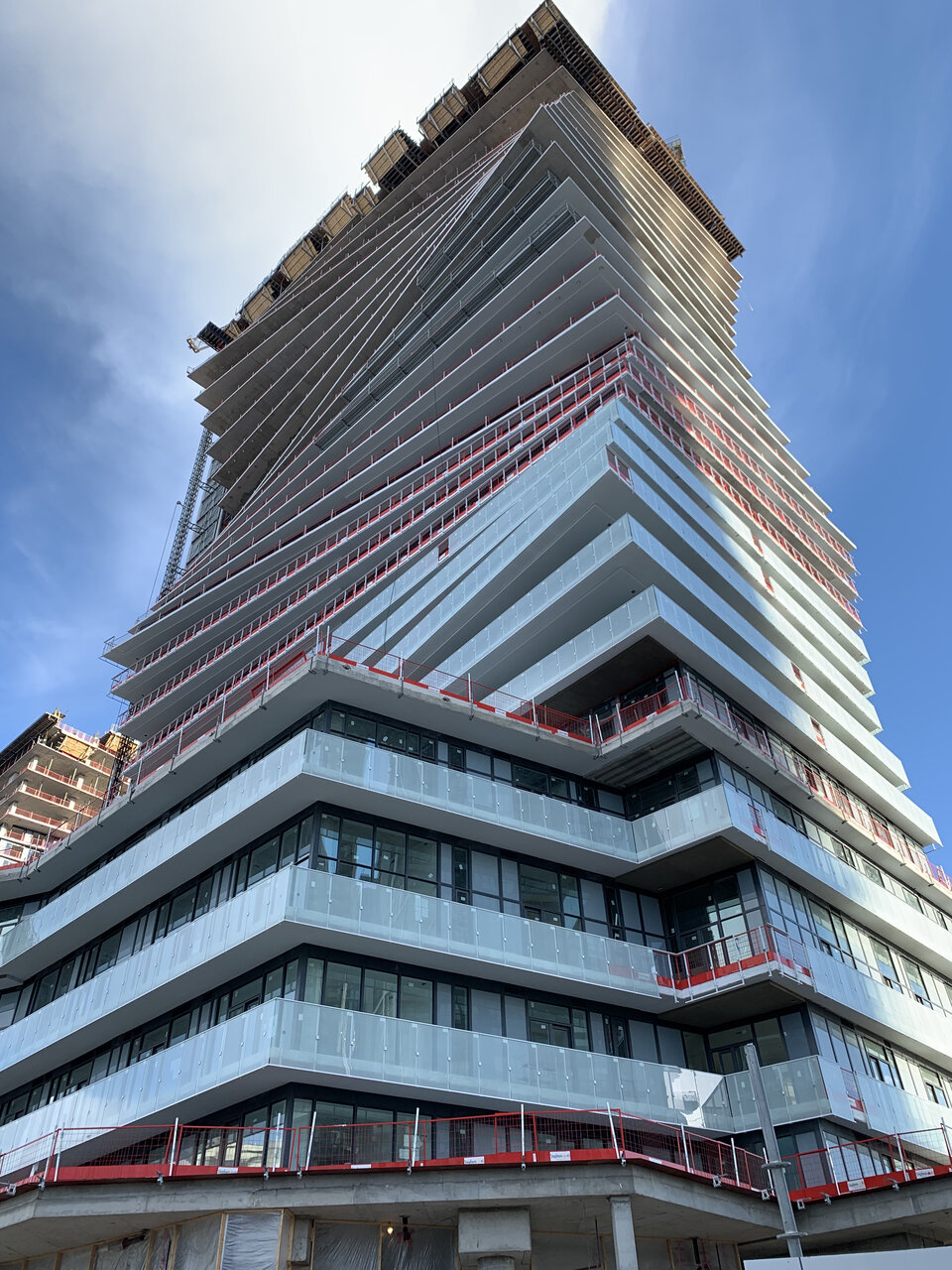 Balcony cladding and underpainting progress, image by Forum contributor Khaldoon
With M1 and M2 soon to surpass Absolute World and become the tallest points in the Mississauga skyline, the M City community is gearing up to best its own upcoming title with third tower M3. Designed by IBI Group, M3 is to rise 77 storeys and a height of 260 metres southwest of the first phase, meaning M1 and M2's upcoming title of tallest in the 905 will be short lived. This new phase started construction last year, having celebrated a ceremonial ground breaking in September. Excavation was in the process of shaping out a large pit when we last checked in January. In the months since, excavation has wrapped up, leaving a substantial pit in the heart of the M City site. Most recently, a pair of tower cranes were erected, with one adjacent to and another at the base of the pit. With cranes in place, forming has since begun for M3's underground levels.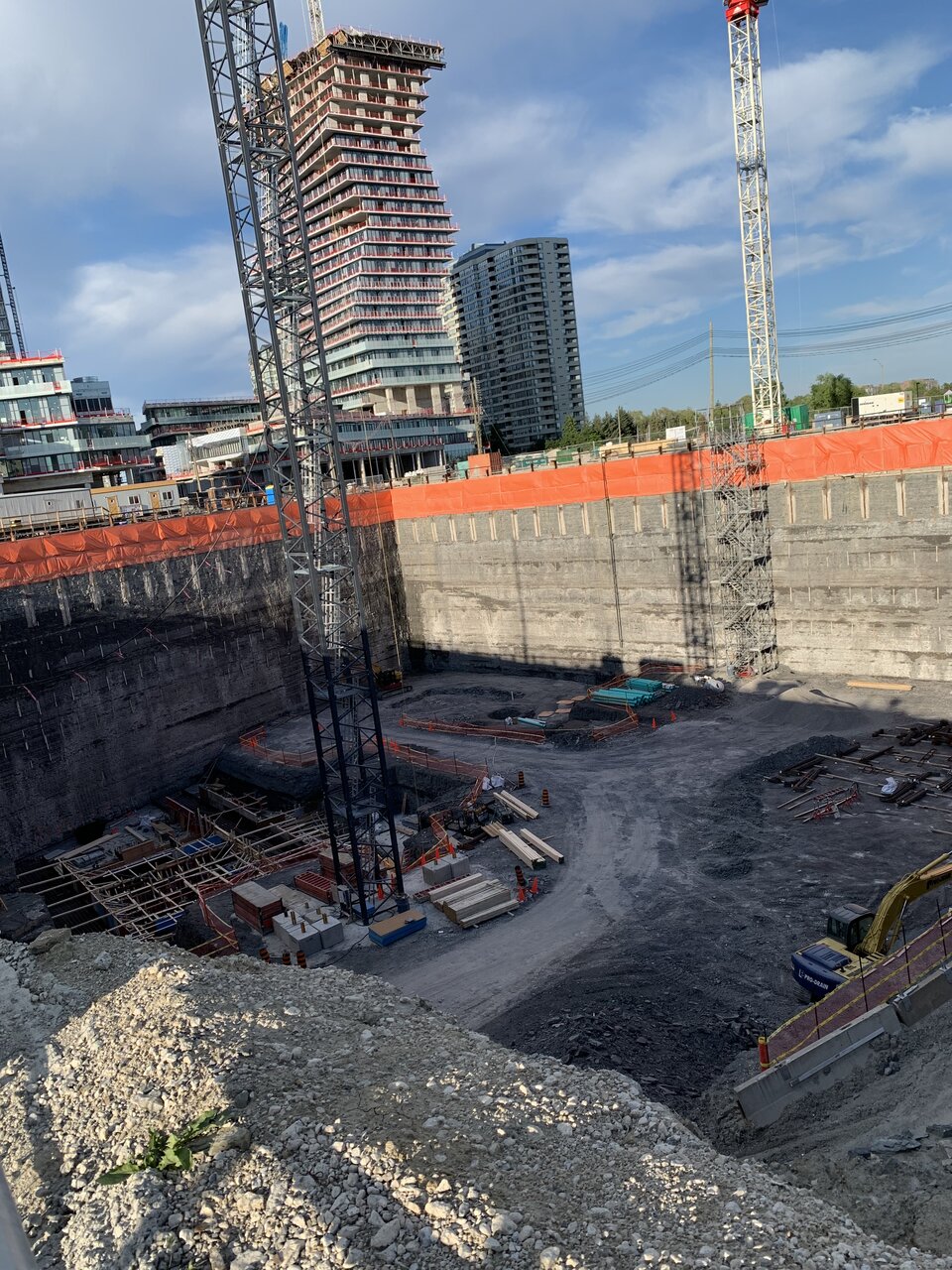 M3 at M City, image by Forum contributor Khaldoon
Even more height is in the works for the community, with the upcoming M4 tower to rise taller than the M1 and M2 towers, but not quite as tall as M3. Taller than anything in Mississauga, this cluster of four towers will form the new high ridge of the city's Downtown skyline.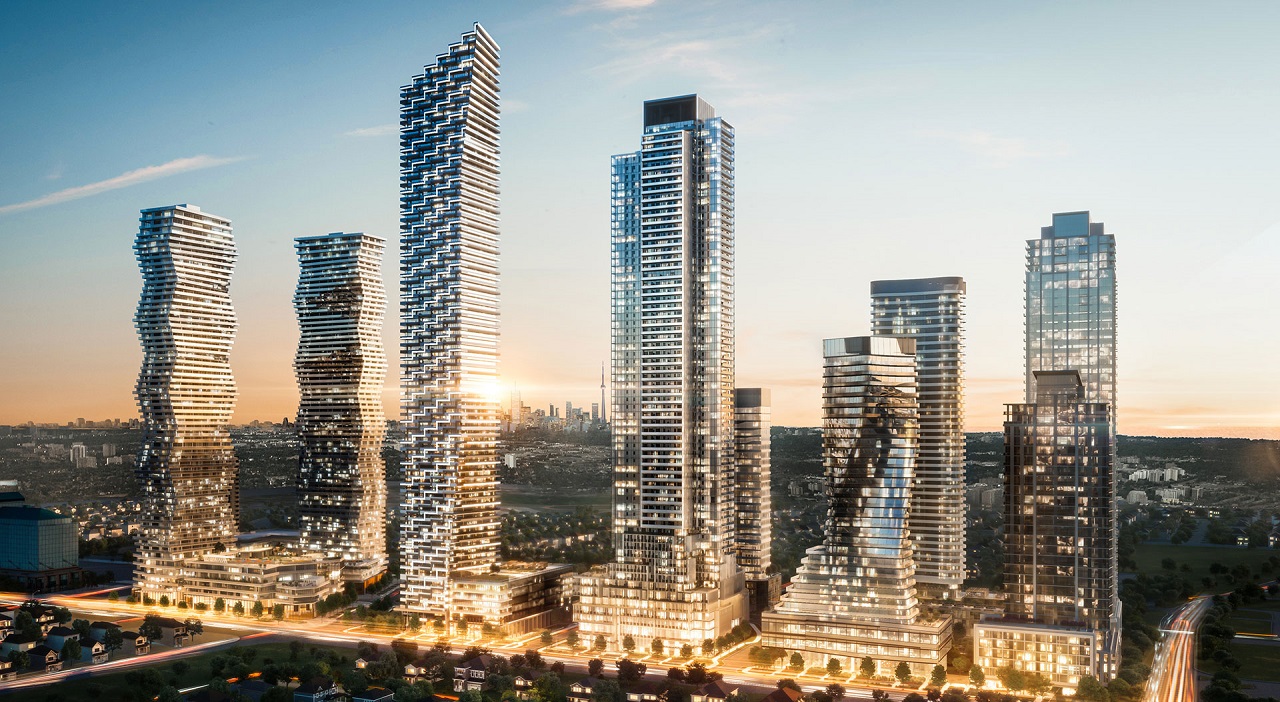 M1, M2, M3, and M4 within M City community, image courtesy of Rogers/Urban Capital
You can learn more from our Database file for the project, linked below. If you'd like to, you can join in on the conversation in the associated Project Forum thread, or leave a comment in the space provided on this page.
* * *
UrbanToronto has a new way you can track projects through the planning process on a daily basis. Sign up for a free trial of our New Development Insider here.