Following the 2018 approval of a proposed tower at 150 Eglinton Avenue East in Midtown Toronto, the Madison Group — developers behind Capitol Residences and Nobu Residences Toronto — has expanded its landholdings on the block east of Yonge Street and has resubmitted applications to the City, now seeking a redevelopment that reflects the larger assembly of properties. The new submission for Official Plan and Zoning By-law amendments calls for a pair of residential towers atop a vibrant mixed-use podium with a verdant, light-filled public atrium.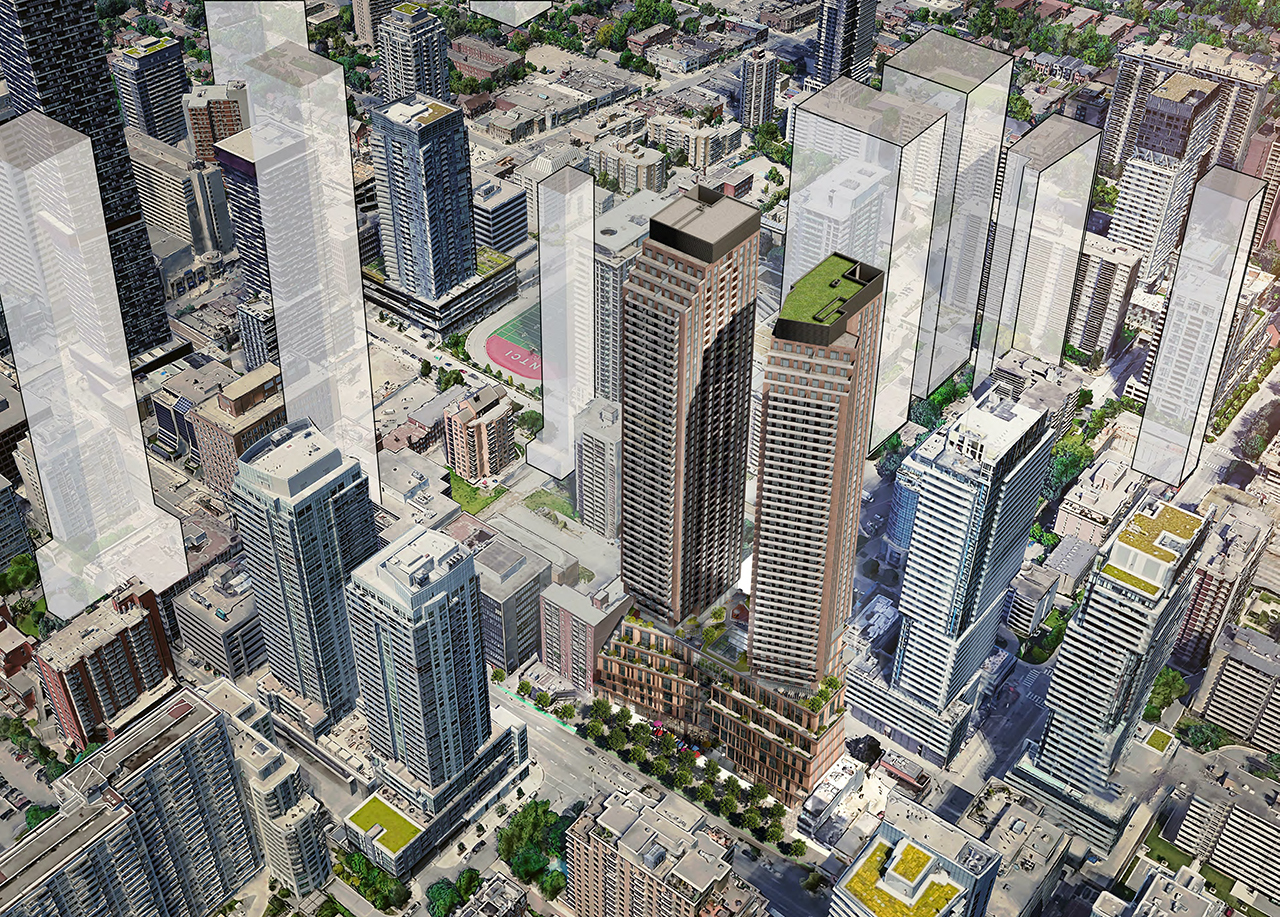 Rendering: Birds eye view looking northwest. The site comprises properties at:150, 160, 164 Eglinton Ave E and 134, 140 Redpath Ave. Image by BDP Quadrangle Limited.
The 5,172 m² site on the north side of Eglinton Avenue East assembles 150, 160, and 162 Eglinton, and 134 and 140 Redpath Avenue. Currently, low and mid-rise commercial office and retail buildings fill the properties other than 140 Redpath which is used as a surface parking lot.
Madison Group's original application was from 2015 was to build a 39-storey, mixed-use building with retail, office, and residential uses on only the 150 Eglinton East property. In 2018, the City of Toronto adopted two zoning by-law amendments to permit a revised proposal, including a 46-storey structure, 429 residences, and retail and office space. This latest design maintains elements of the original approval and expands upon the development principles established.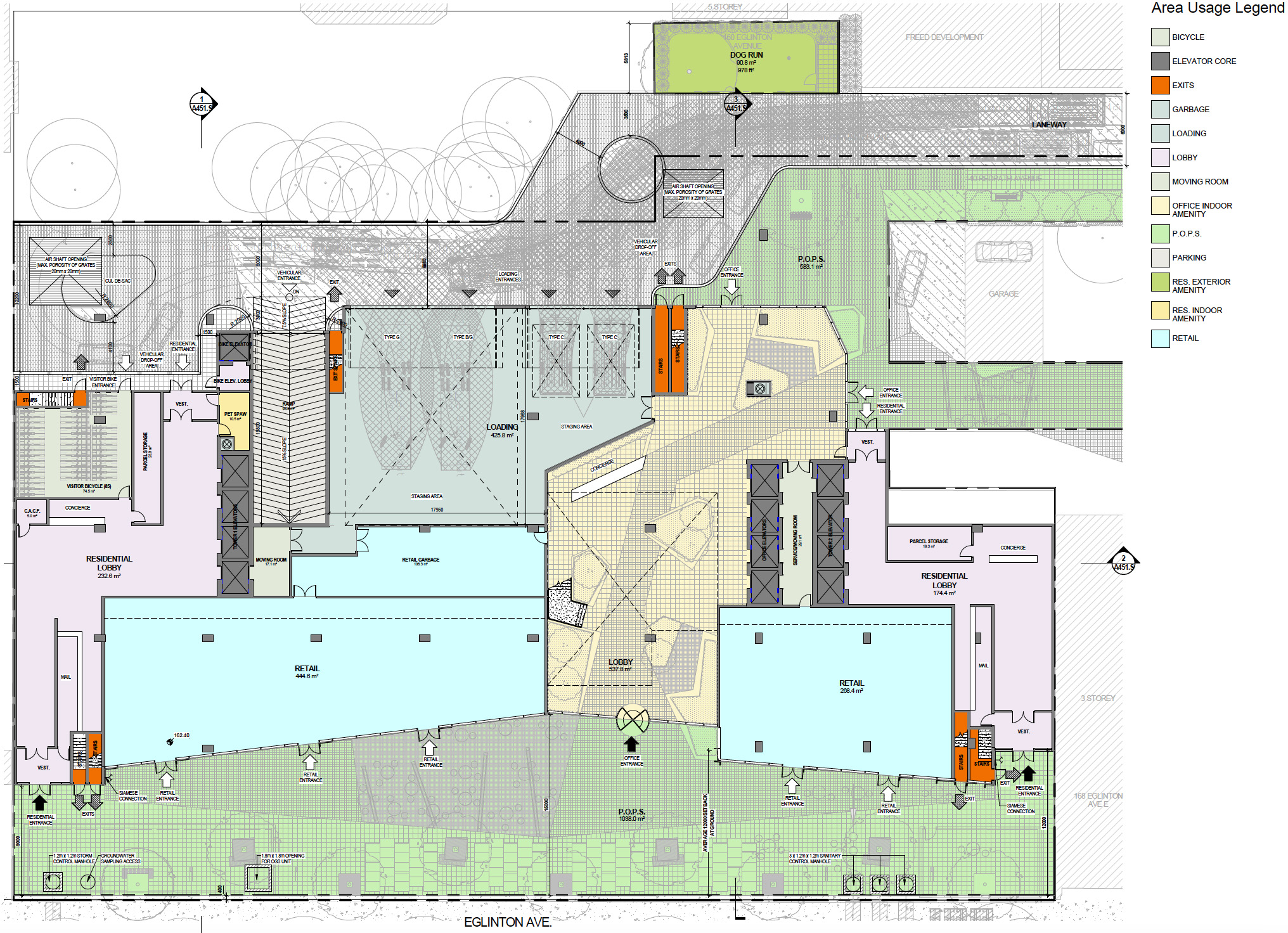 Ground Floor Plan. Image by BDP Quadrangle Limited.
Designed by BDP Quadrangle, a 6-storey mixed-use podium is topped by two residential towers of 43 and 46 storeys in height. Central to the design is a landmark 6-storey tall sky-lit atrium that provides a publicly accessible, generously landscaped mid-block connection between a POPS (Privately Owned Publicly accessible Space) along Eglinton Avenue East, and two additional POPS spaces through 134 and 140 Redpath Ave on the east side of the site.
The podium has been designed with steps out and in, to promote visual interest, provide for weather protection, and to help differentiate it from the massing of the residential towers. It includes a residential lobby entrance on either side (one for each tower), and a grand centralized 6-storey tall lobby flanked by retail units, that leads through the site as well as up to traditional office plus innovative live-work office space above. In total, the project proposes 62,554 m² residential GFA, 13,046 m² office GFA, and 819 m² retail GFA, bringing a density of 14.79 FSI on the expanded site, slightly less than the approved 15.22 FSI on the originally smaller site.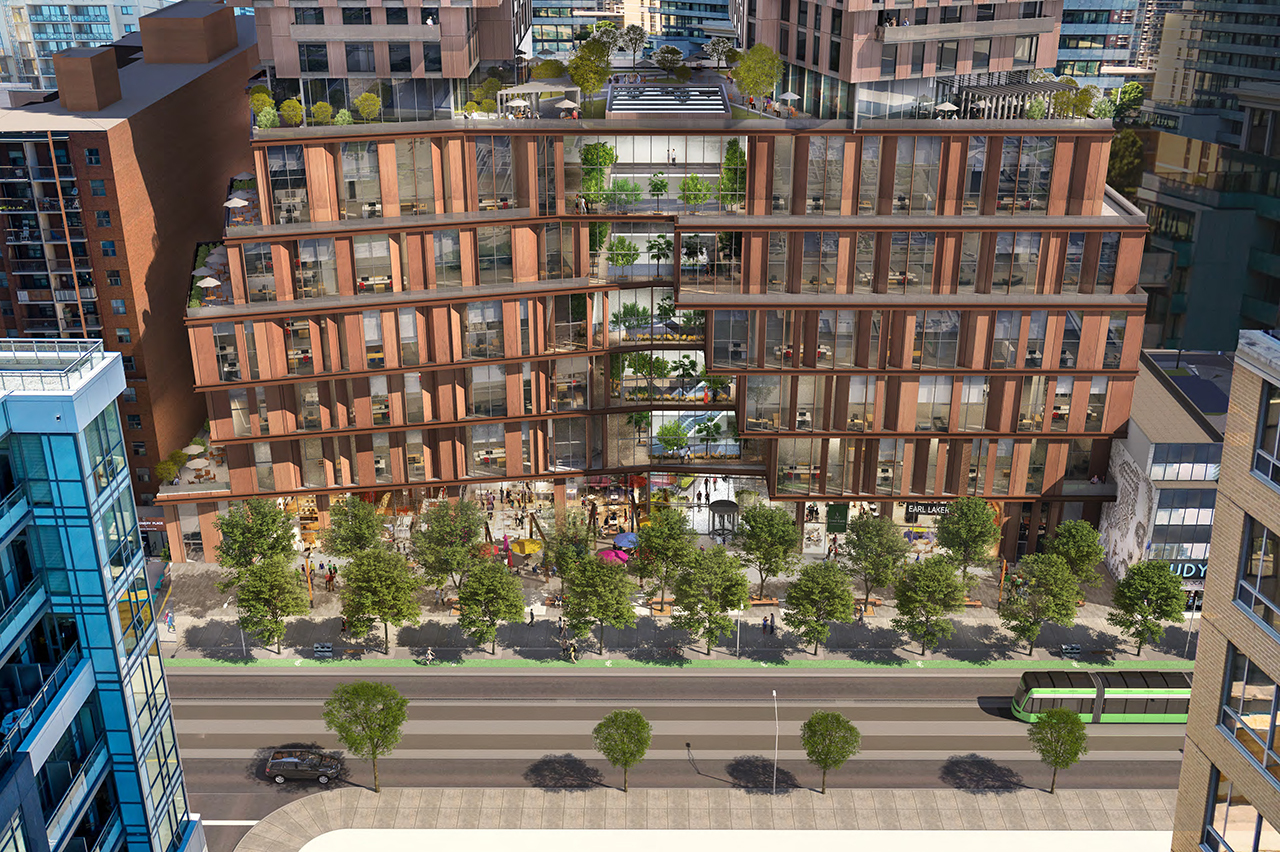 Rendering of the building podium – view looking north. Image by BDP Quadrangle Limited.
The POPS space along Eglinton Avenue—part of Toronto's Greenline plan for this stretch of Eglinton—will be a programmed green space animate the front of the building providing ample space for pedestrians and access to retail, office, and residential uses. The publicly-accessible throughway is envisioned to provide year-round greenery within the atrium, while the POPS at 134 Redpath Avenue will serve as an "art-lane" for flexible programming and the 140 Redpath Avenue POPS proposes a sidewalk, seating, planting and lighting.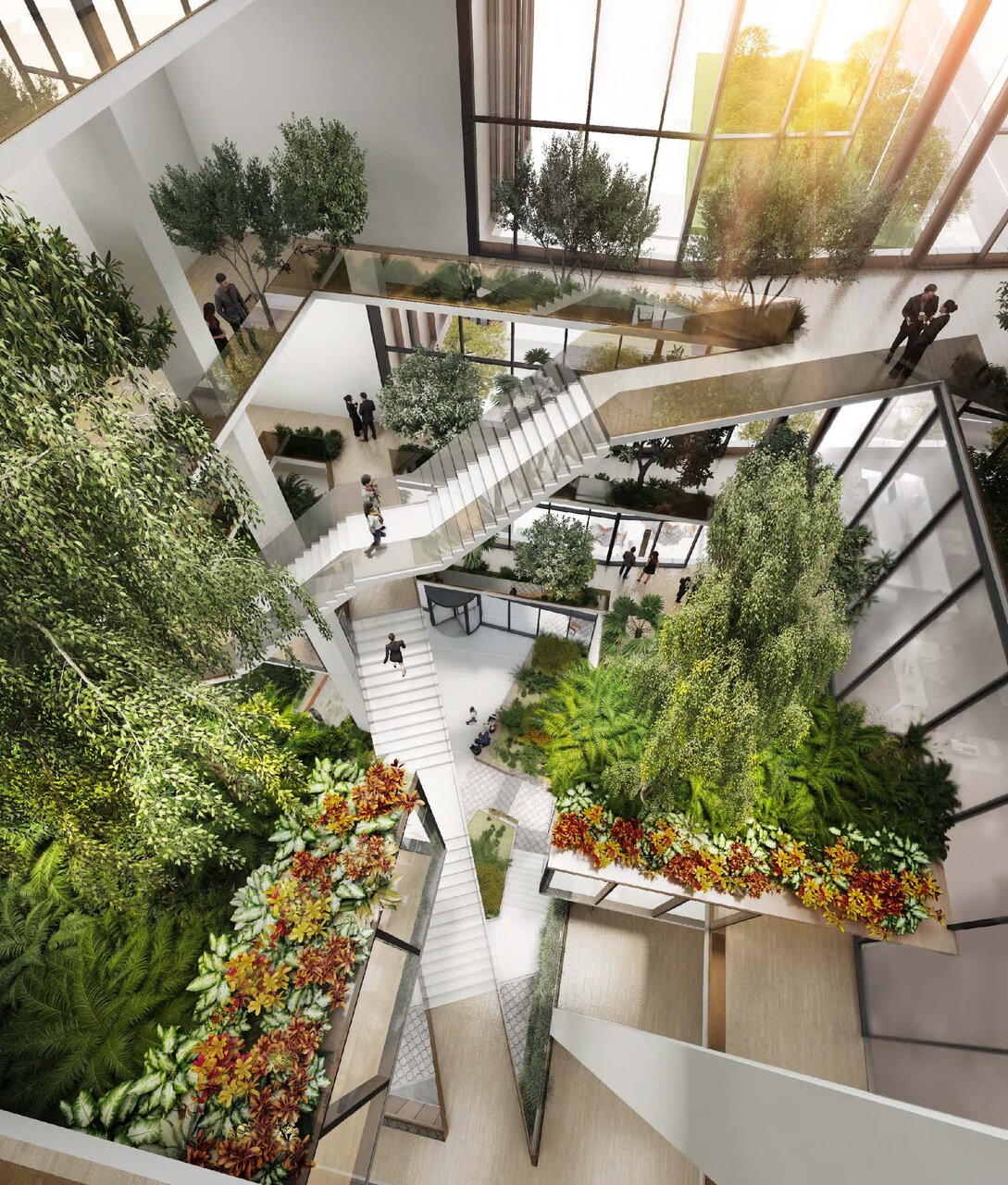 Rendering of the Atrium view from above looking south at Eglinton Avenue. Image by BDP Quadrangle Limited
The two towers' combined 845 residential units include a mix of 2 studios, 126 one-bedrooms (15%), 288 one-bedroom-plus-dens (34%), 338 two-bedrooms (40%) and 91 three-bedrooms (11%).
Residents would have access to a total of 2,247 m² of indoor amenity space situated at grade, on the 5th, 6th, and 7th levels, as well as 1,137 m² of outdoor amenity space. In addition, amenity space is provided for the office users who would have access to showers and change rooms, a meeting room, and outdoor space on terraces on floors 2 through 5.
Three levels of underground parking would accommodate space for 304 vehicles, while space is also provided for 907 bicycles.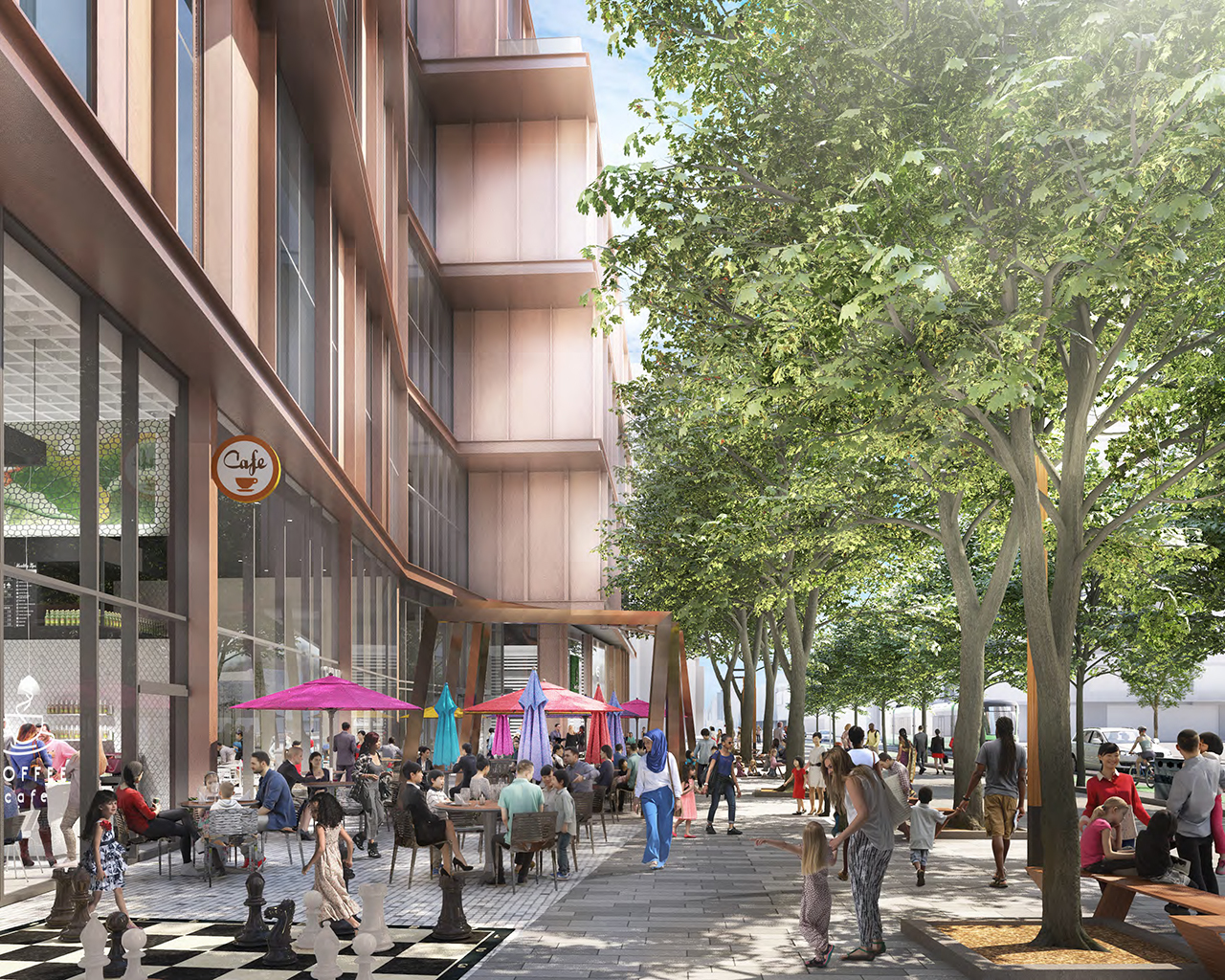 Rendering – Greenline view looking east along Eglinton Ave. The two proposed POPS provide for 1,621 m2 of outdoor space. Image by BDP Quadrangle Limited.
You can learn more from our Database file for the project, linked below. If you'd like to, you can join in on the conversation in the associated Project Forum thread, or leave a comment in the space provided on this page.
* * *
UrbanToronto has a new way you can track projects through the planning process on a daily basis. Sign up for a free trial of our New Development Insider here.