A mixed-use community has been proposed in North York on the lands of Tyndale University, a Christian seminary that backs onto Don Valley ravine. The proposal comes from Markee Developments, a new company formed by Jennifer Keesmaat, Toronto's former Chief Planner and Jason Marks, former CEO of Shiplake Properties. The proposed development, dubbed Tyndale Green, retains the University as a central feature of the site while accommodating over 1,500 units across 15 new residential buildings. Central to the community vision is housing affordability and sustainability: 50% of the units would be affordable rental, and 50% market rental. This month, Markee submitted Official Plan Amendment and rezoning applications. Despite the scale and additional environmental conservation considerations, Keesmaat says it is important to note that the "majority of the site will not be developed."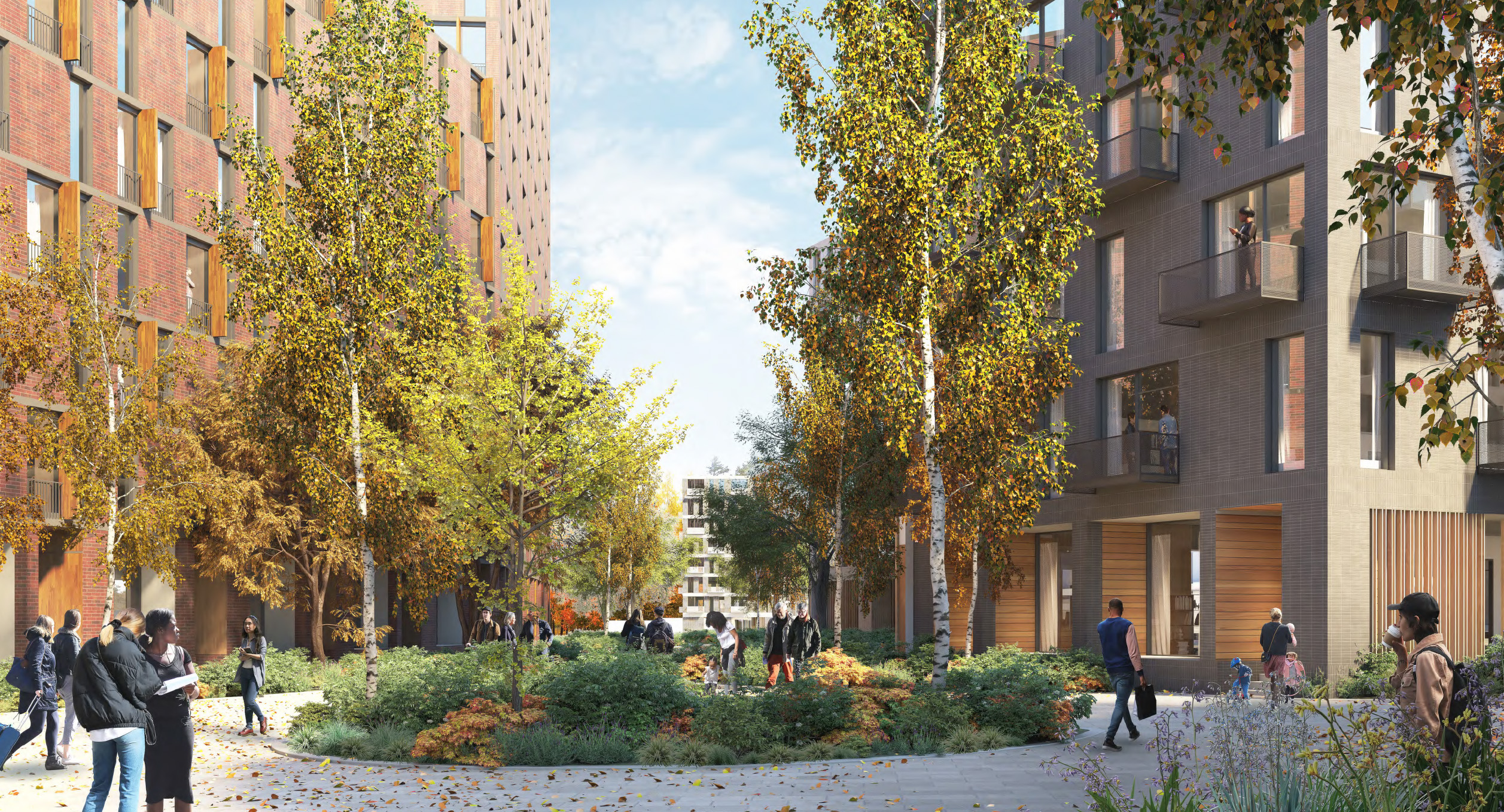 Looking southeast across the Tydale Green site, image by KPMB Architects for Markee Developments
Located south of Steeles, the subject site is bounded by Bayview Avenue to the west, Garnier Court to the north, German Mills Creek and ravine to the east and a string of residential properties along Bowan Court to the south.
The campus was designed for the Sisters of St Joseph in 1960. It expanded into a full Catholic Secondary School, before Tyndale University took occupancy in 2013. The 22.8-hectare site is occupied by a large 3-to-4-storey campus building with a series of wings that flank a central north-south building, in addition to landscaped areas and surface parking lots.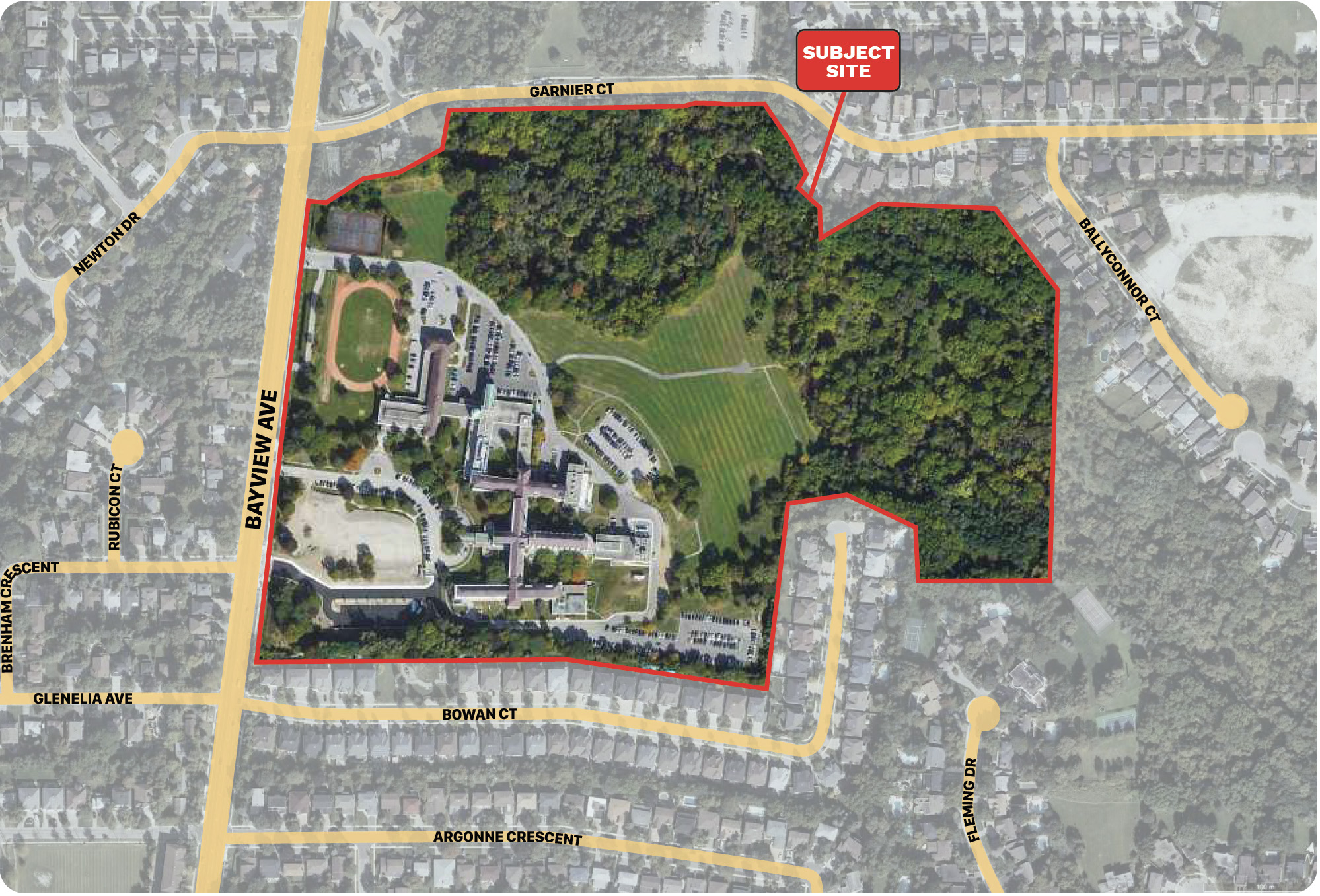 Aerial plan of the site, which is located within the Toronto and Region Conservation Authority regulated area, image by Bousfields Inc.
The project's design team includes KPMB Architects and The Planning Partnership. The Tyndale Green proposal envisions 15 buildings across three phased development areas, as illustrated below. The buildings range in height from 5 to 8 storeys, with three between 12 and 20 storeys. The masterplan establishes four new blocks on the site, including the lands retained for the University, in addition to a new public street. It calls for a total 84,059 m² Gross Floor Area (GFA), comprised of 82,674 m² of residential and 1,385 m² of non-residential uses, resulting in a density of 1.30 FSI. The plan accommodates 1,504 purpose-built rental units, 752 of which would be offered at affordable rents in perpetuity. The University would retain land ownership and remain operational, including during construction.
The Phase 1 buildings—located nearest the main entrance to the University and adjacent to the 'Village Green'—include a daycare, an independent café, and flexible use spaces for the University. A new recreation centre, accessible by the community, is contemplated by the University for the north end of the existing building.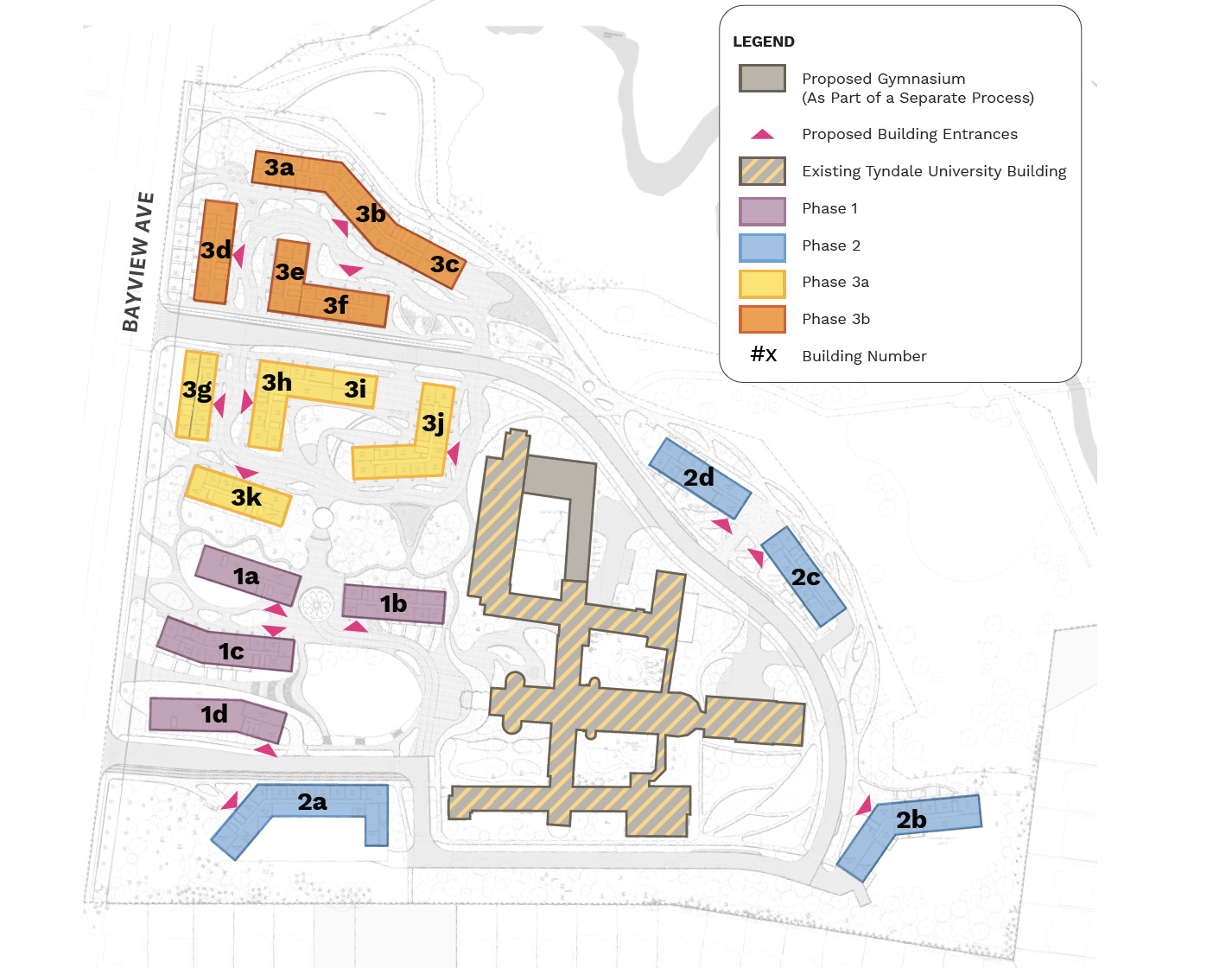 The development is divided into Blocks (1, 2 and 3), which will be developed in a separate phase, with each phase/block providing amenity areas, parking and open space, image by Bousfields Inc
The residential unit breakdown includes: 85 bachelor (6%), 1,055 one-bedroom (70%), 277 two-bedroom (18%), and 87 three-bedroom units (6%). Common amenity areas—indoor (1,523 m²) and outdoor (3,061 m²)—are included, with outdoor amenity generally located at grade, but also at rooftop for certain buildings. Because of the clustering of buildings over shared below-grade parking, there are opportunities for shared amenity spaces with direct connections through the below-grade areas.
Five underground garages would provide spaces for 1,165 vehicles (including 233 EV parking spaces), and 1,527 bicycles.

Looking east across Bayview Avenue. There is a varied topography across the site; buildings range in height from 16.5m to 61.5m, image by KPMB Architects.
The plan introduces a network of public and private streets, shared streets, and a publicly accessible open space. Also included are new pedestrian and cycling connections throughout the site and between Bayview Avenue and the adjacent ravine pathway network.
The proposal takes advantage of n expansive, underused site within a strategic growth area to make a substantial contribution to the City's housing market and affordable purpose-built rental housing stock in particular. It also enhances the German Mills Creek area, improves the public realm along Bayview Avenue, and preserves the cultural heritage character of the existing University complex, the majority of whose buildings will be retained.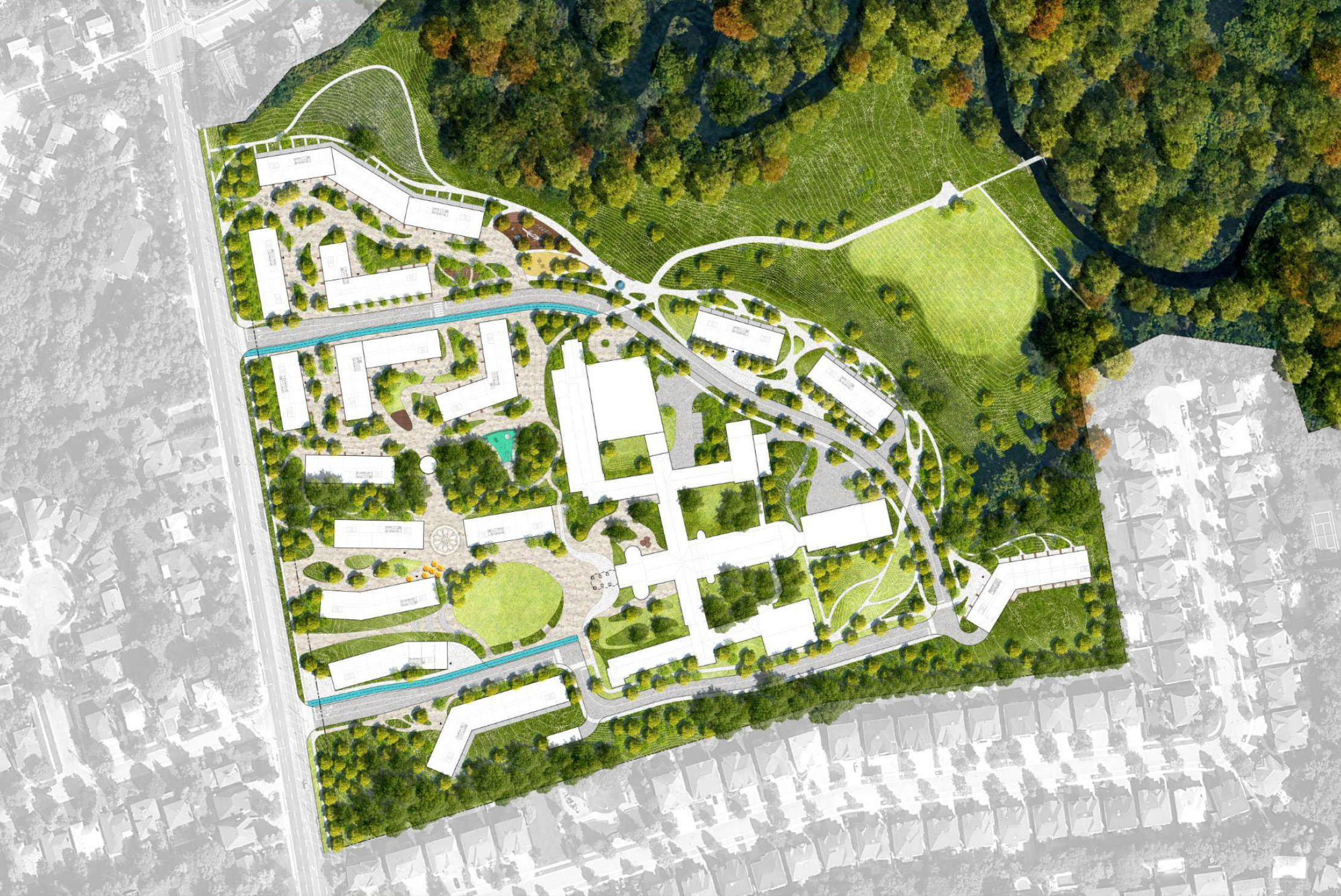 Landscape plan is comprised of an extensive open space system; no new development is proposed below the top of bank, image by The Planning Partnership
The proposed development is based on Tyndale University and Markee Developments' "shared vision to create an inclusive, welcoming new affordable residential community that will set a new bar for sensitive redevelopment of a large inner suburban site, embracing walkability, environmental sustainability, and excellence in architectural and landscape design and heritage preservation."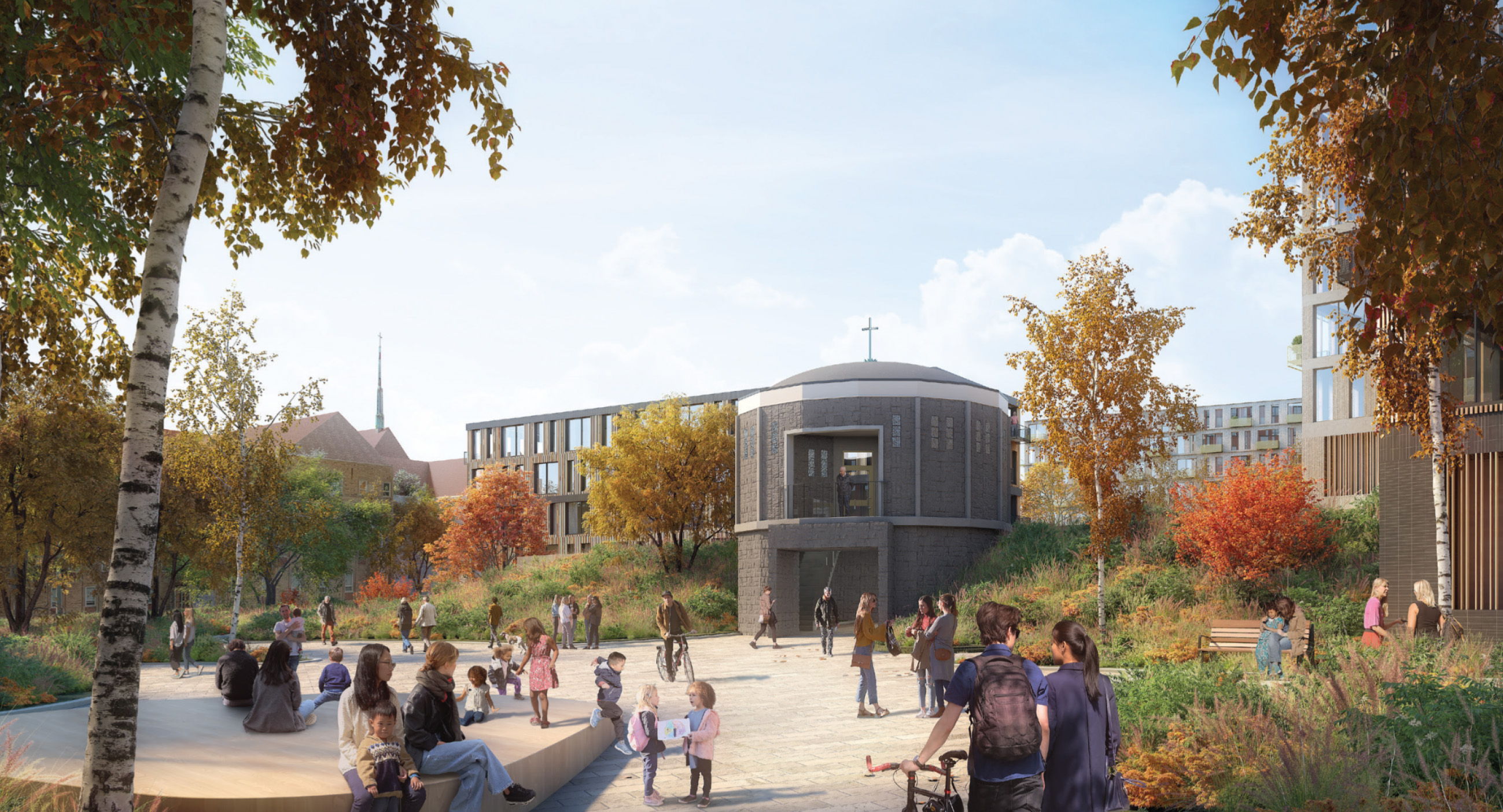 The new buildings have also been carefully sited to preserve key heritage view corridors, image by KPMB Architects.
You can learn more from our Database file for the project, linked below. If you'd like to, you can join in on the conversation in the associated Project Forum thread, or leave a comment in the space provided on this page.
* * *
UrbanToronto has a new way you can track projects through the planning process on a daily basis. Sign up for a free trial of our New Development Insider here.