Fleur Condos is Menkes Developments' latest contribution to a growing cluster of high-rise development in Downtown Toronto's Church and Shuter streets area. Under construction from late 2017 until early 2021, the 29-storey, architects—Alliance-designed condominium tower is now welcoming residents with a new art installation that adds a bold shot of colour, texture, and play of light next to the lobby entrance. Named Digital Wave, the work by Matt Donovan was unveiled last month.
Measuring 8 feet wide by 25 feet tall, Digital Wave's projecting wave pattern is formed in aluminum. Toronto-based OCAD-U trained Donovan states that playing the all-time top-selling video game Minecraft with his son inspired him to enter a LEGO contest, which led to the idea for Digital Wave's design. "My approach to art-making is like when I make these LEGO pieces with tens of thousands of parts, there's this kind of obsessive, compulsive, repeated activity that I do, and even though this is different, it's very much a translation of that process."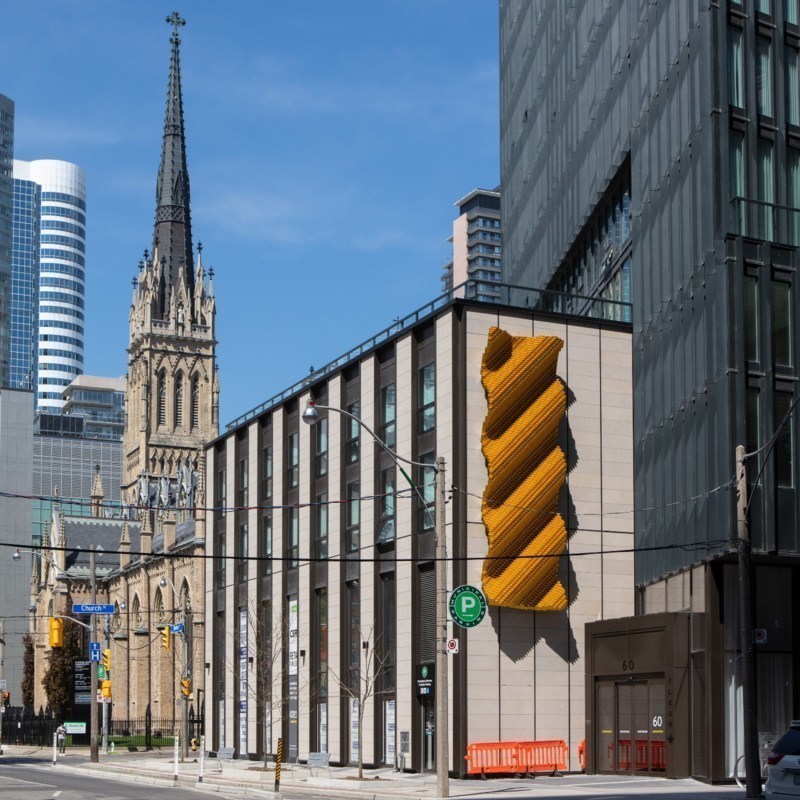 Digital Wave art installation featured on Fleur Residences, image via CNW Group/Menkes Developments Ltd
Digital Wave was fabricated off-site, delivered to the Fleur site and mounted to the podium wall with the assistance of a crane in May. Several factors played into the design process, including choosing the right materials to withstand the fluctuations between Toronto's harsh winters and hot, humid summers, as well as the right form to create a prominent presence at the base of a tall tower. Gold anodizing was chosen to create a strong contrast with the Neomodern building behind, inspired by anodized aluminum architectural details from the mid-20th century.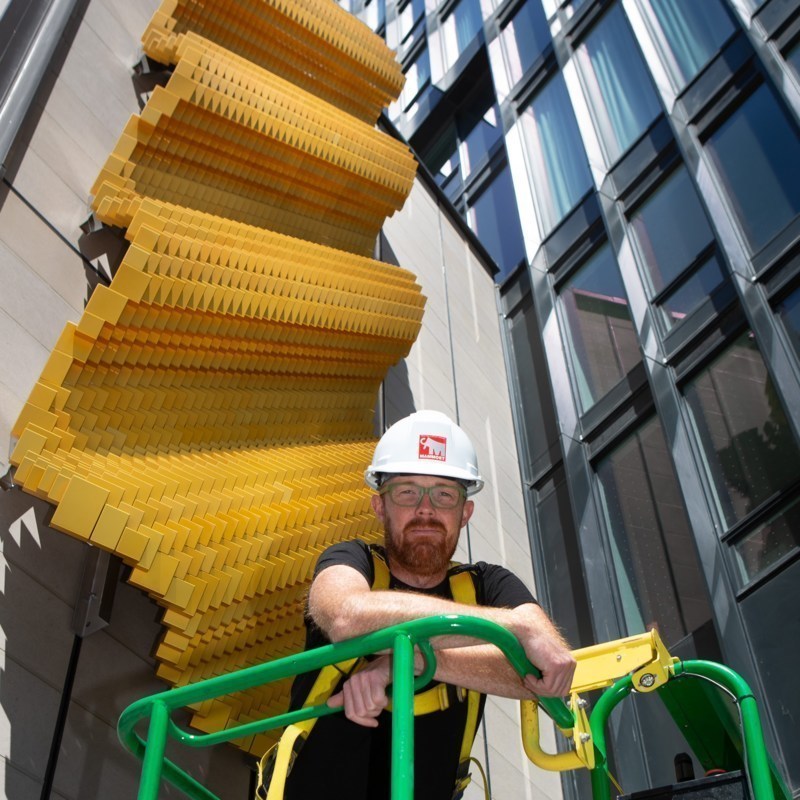 Local artist Matt Donovan with his piece titled Digital Wave, image via CNW Group/Menkes Developments Ltd
"It is rare to have a public art component that can be mounted on a wall," reads a statement by art consultant Fela Grunwald who put forth Donovan as a candidate to Menkes. "They usually call for independent sculptures. I thought of Matt because his indoor series of LEGO works were in relief and this added an interesting sculptural element."
"What I like about having public art affixed to the exterior of the building is that this outdoor work can be enjoyed by the general public as well as the residents, especially for a building like Fleur which neighbours the lively Dundas Square," reads a statement by Jared Menkes, Executive Vice President, High Rise. "What attracted me to Matt's work is that it was a simple concept with a very intricate design. I also felt it added a nice pop to the building without taking over."
You can learn more from our Database file for the project, linked below. If you'd like to, you can join in on the conversation in the associated Project Forum thread, or leave a comment in the space provided on this page.
* * *
UrbanToronto has a new way you can track projects through the planning process on a daily basis. Sign up for a free trial of our New Development Insider here.