With the challenges that we face currently due to Covid, and with working from home remaining our reality for the foreseeable future, many buyers are seeing the benefit of living beyond Toronto's sprawl and in close proximity to nature more than ever before. While some developers are just now taking notice, MDM Developments, a prominent developer across Central Ontario, has long seen the appeal of bringing boutique style condominiums to smaller towns. MDM's project, Fenelon Lakes Club, which officially launched in April 2021, is comprised of 86 private residences including 66 condos, 10 waterfront townhomes, and 10 bungaloft townhomes.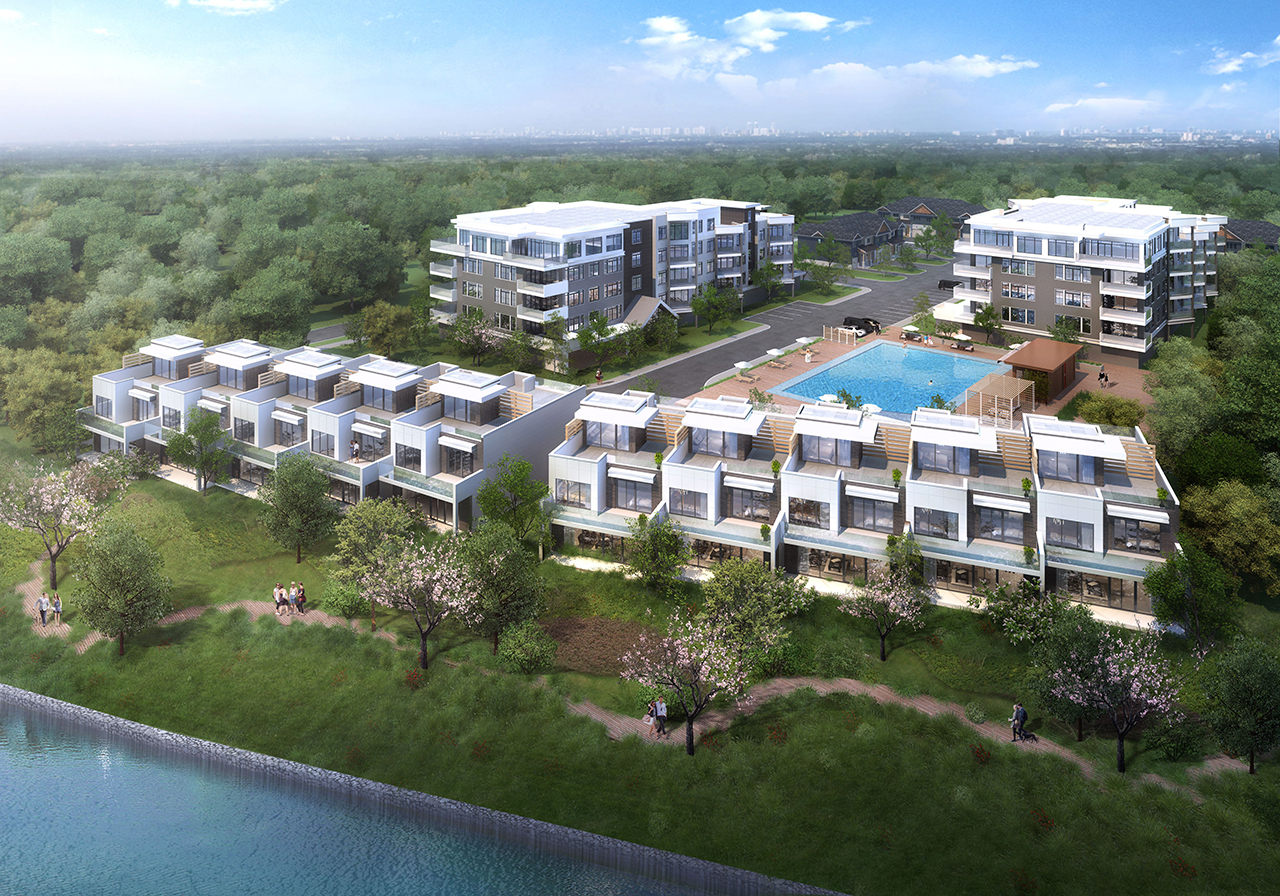 Fenelon Lakes Club on the shores of Cameron Lake, image courtesy of MDM Developments
Located about an hour and a half from Toronto, Fenelon Lakes Club is located on the sunset-watching side of Cameron Lake, about a half kilometre from Downtown Fenelon Falls, and close to many of the amenities that make Ontario's Cottage Country such an appealing place to live. Appealing enough that 85% of the first offering at Fenelon Lakes Club sold in less than 3 weeks, while the second offering is now 65% sold.
That brisk activity has meant that on August 9, MDM celebrated breaking ground at the site. On the occasion, Doug Gray, President of MDM Developments remarked "We have put a lot of effort into ensuring our offering at Fenelon Lakes Club was unparalleled. Knowing there is little on the market for boutique waterfront residences, we wanted future residents to experience the ultimate in cottage living without the hassle of actually owning one. We're proud to be part of the growth in the Kawarthas and our goal as a company is to add even more value to the beautiful and growing communities in this area."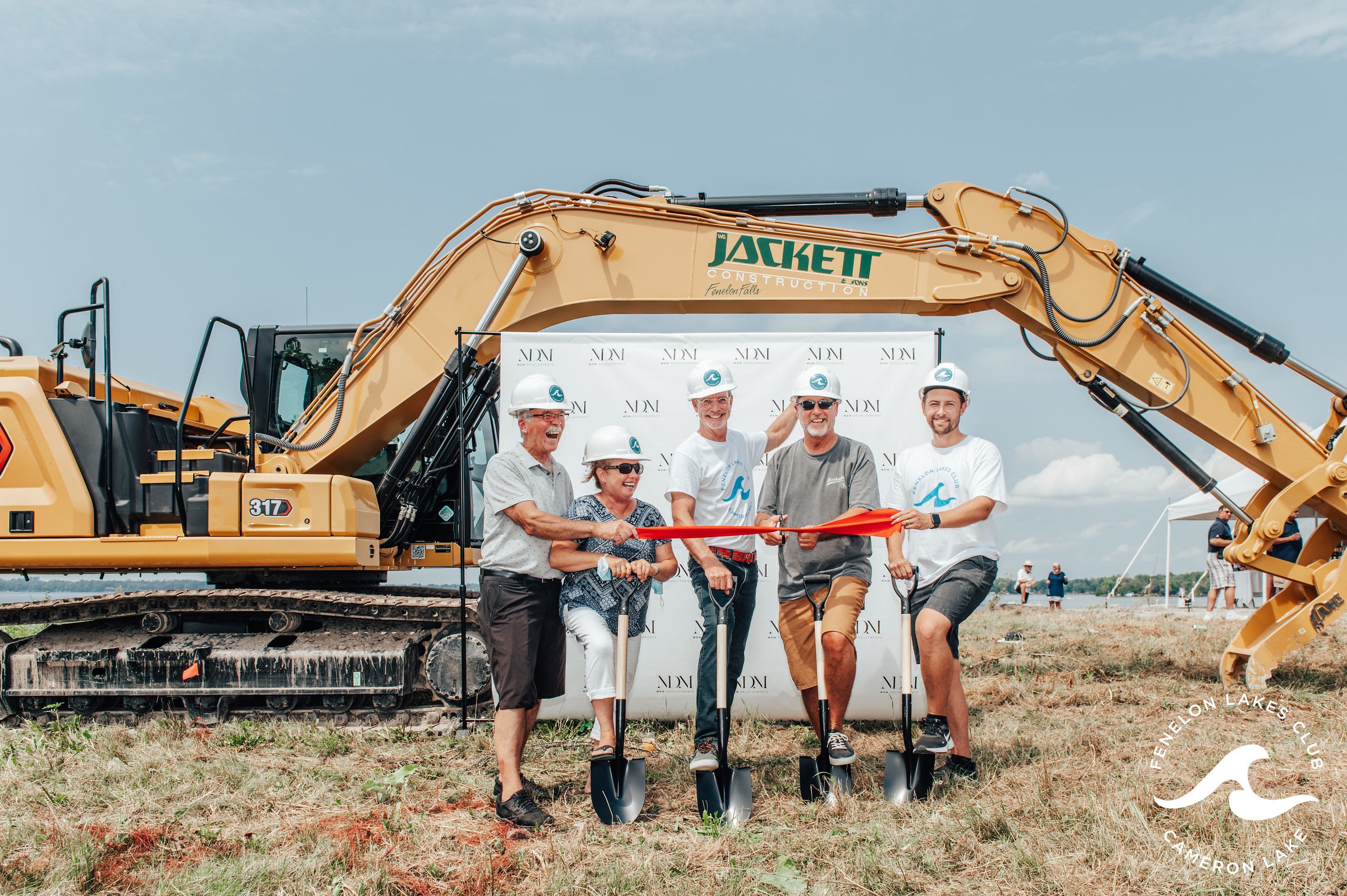 Ground breaking ceremony for Fenelon Lakes Club, image courtesy of MDM Developments
Designed by RD Architect, the buildings have been tailored so that the condo suites take best advantage of their lakeside setting with balconies angled to take in the views. The clean-lined modernist buildings are clad in earth tones that blend with the natural setting while expansive picture windows and glass balcony guards minimize the distance between you and the outdoors.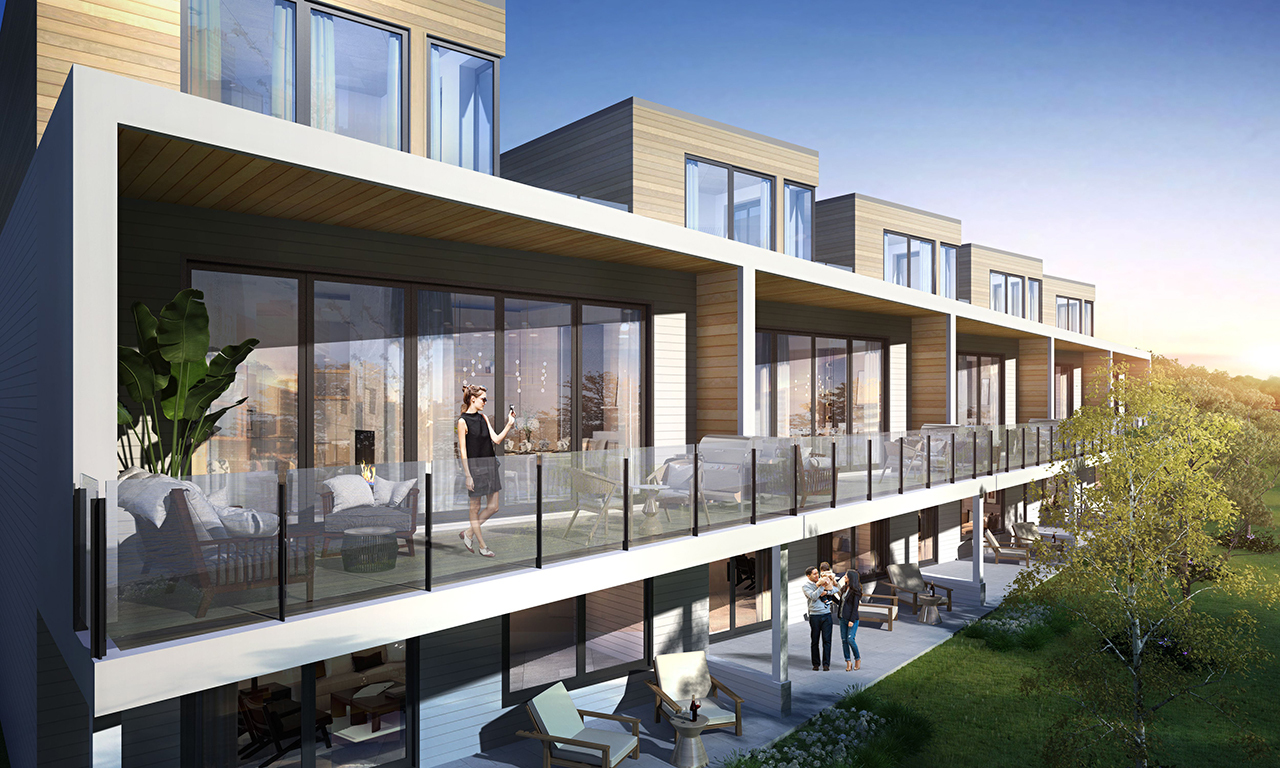 Towns, Fenelon Lakes Club, image courtesy of MDM Developments
MAPA Interiors are responsible for amenities and the suite finishes at Fenelon Lakes Club. While the outdoor pool, pool deck, and tennis court will be the focus of much of the summer activity at Fenelon Lakes, there will be plenty indoors year 'round too. 'The Lake Club' will be residents' place to work out in the fitness area, have fun with friends over a game of pool, play racquetball, talk in the social club, or relax in the fireside lounge. When it's time for a group get together, a meeting room will provide the necessities for getting down to business, or just enjoying time with others.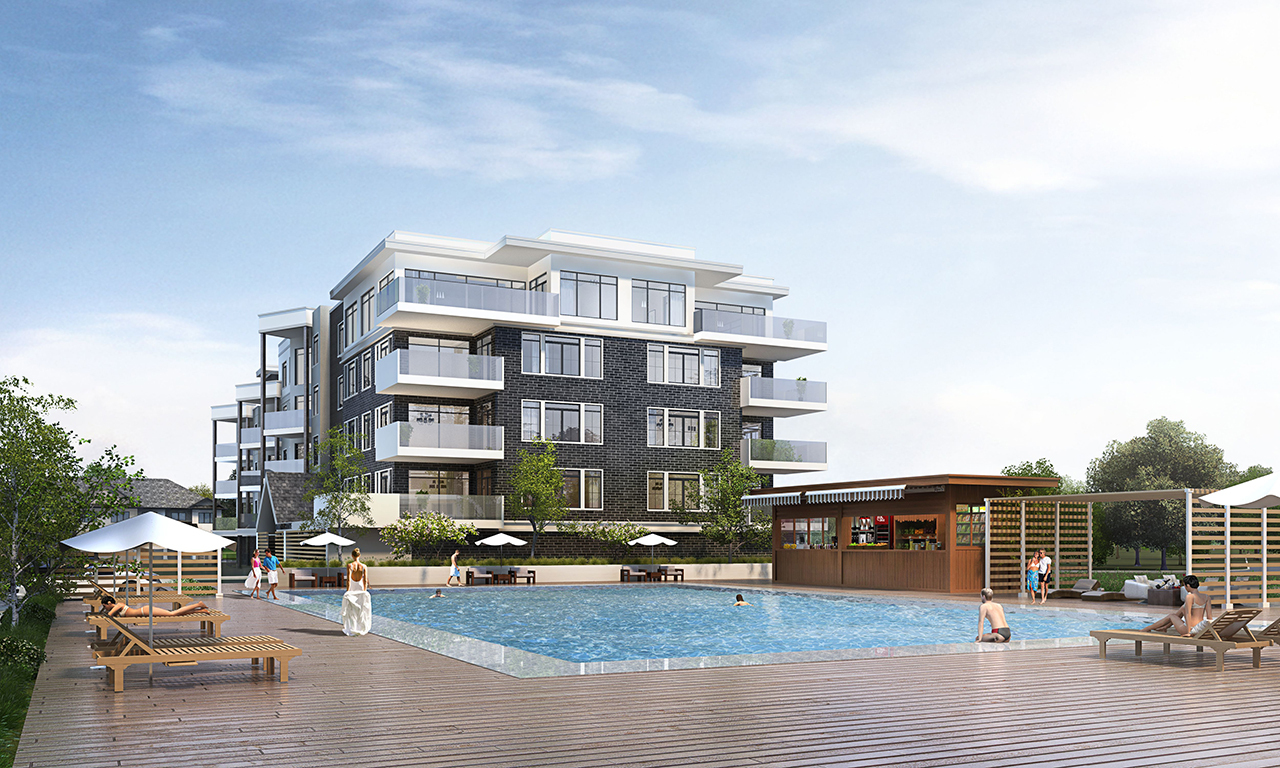 Outdoor pool, Fenelon Lakes Club, image courtesy of MDM Developments
Fenelon Falls and Cameron Lake offer plenty of options to satisfy most desires. With Cameron Lake on the Trent-Severn system, boaters have Southeastern Ontario's necklace of lakes at their leisure, while kayaking and paddle boarding are also just a short stroll away at the end of the docks along Fenelon Lakes Club's 355 feet of waterfront. While Fenelon Falls offers shopping and dining, the Fenelon Lakes Club will also work great as a home base for hiking or biking the Victoria Rail Trail or other paths through the beautiful region. Those practiced with a nine-iron will be happy that the Byrnell Golf Club is close by.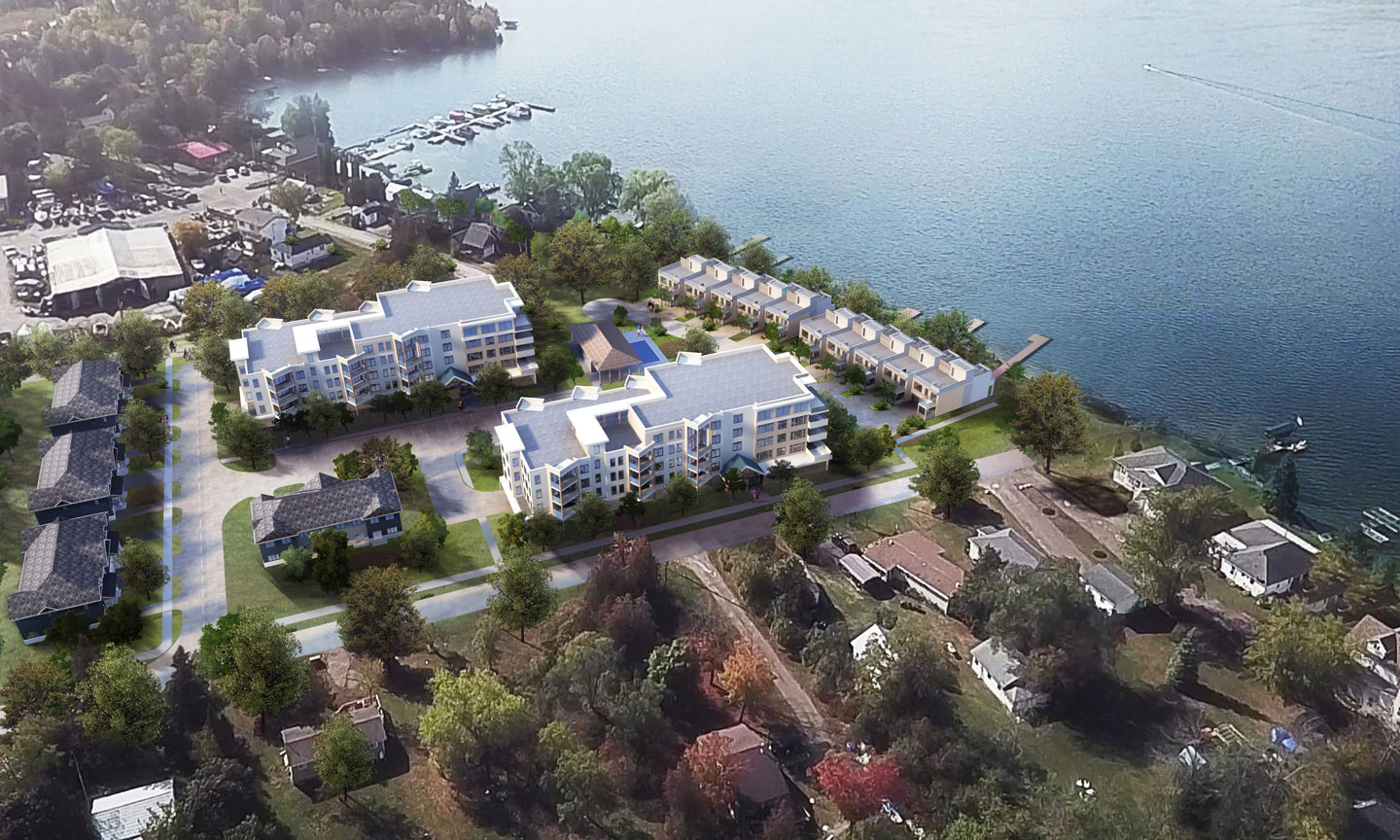 Looking west across the Fenelon Lakes Club, image courtesy of MDM Developments
Luke Wilson, Partner at MDM Developments, considered the changing times and how they have affected planning for the future; "With the pandemic came a shift in typical purchasing habits we've seen dominate the market over the last decade. In the last year and a half we have seen a heightened demand for outdoor space, and waterfront properties afford residents with the best of both worlds: condominium living and proximity to nature." Suites at Fenelon Lake Club offer 9 foot or higher ceilings and range in area from 1,004 to 2,500 ft² in 2 or 3-bedroom layouts, and start in the low $700s.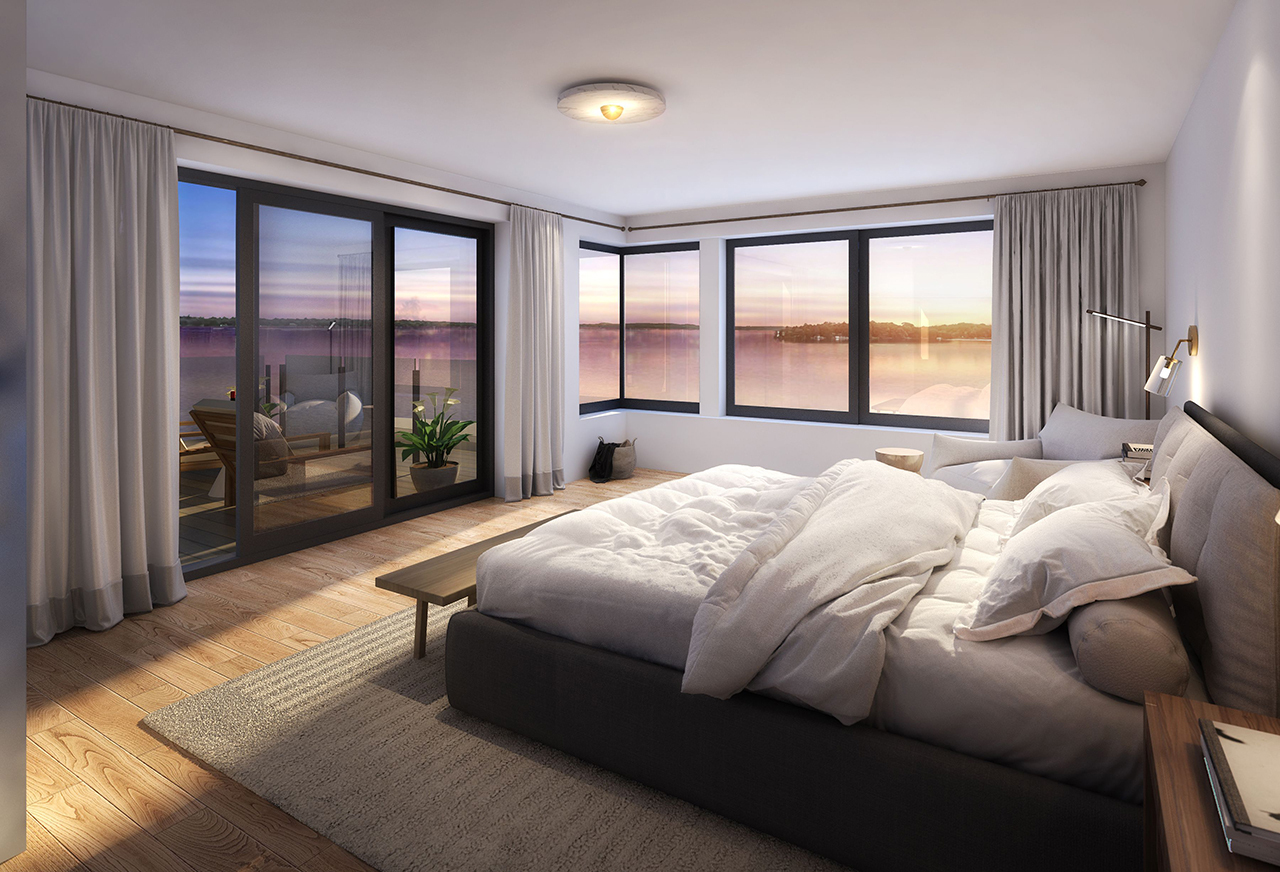 Suite Interior, Fenelon Lakes Club, image courtesy of MDM Developments
Additional information and several more images can be found in our Database file for the project, linked below. Click on the magenta box to register. Want to get involved in the discussion? Check out the associated UrbanToronto Forum thread, or leave a comment in the space provided on this page.
* * *
UrbanToronto has a new way you can track projects through the planning process on a daily basis. Sign up for a free trial of our New Development Insider here.