Due to the explosion in growth of the e-commerce sector and the resulting home package delivery business in Canada during the pandemic, many residents of condominiums have felt they are entering a warehouse at the end of the day instead of returning to the quiet lobby of their buildings. Packages are stacked up and overwhelming building staff and concierge desks, causing security concerns and possible fire code violations due to the accumulation of excessive combustibles in common areas.
Deliveries are not restricted to residential buildings as anywhere people are, packages go. That includes commercial office buildings, shopping malls, student residences and even the industrial sector. The dam has broken, and package deliveries, and more importantly, smart technology package locker receiving systems designed to handle the logistics, are a reality here to stay.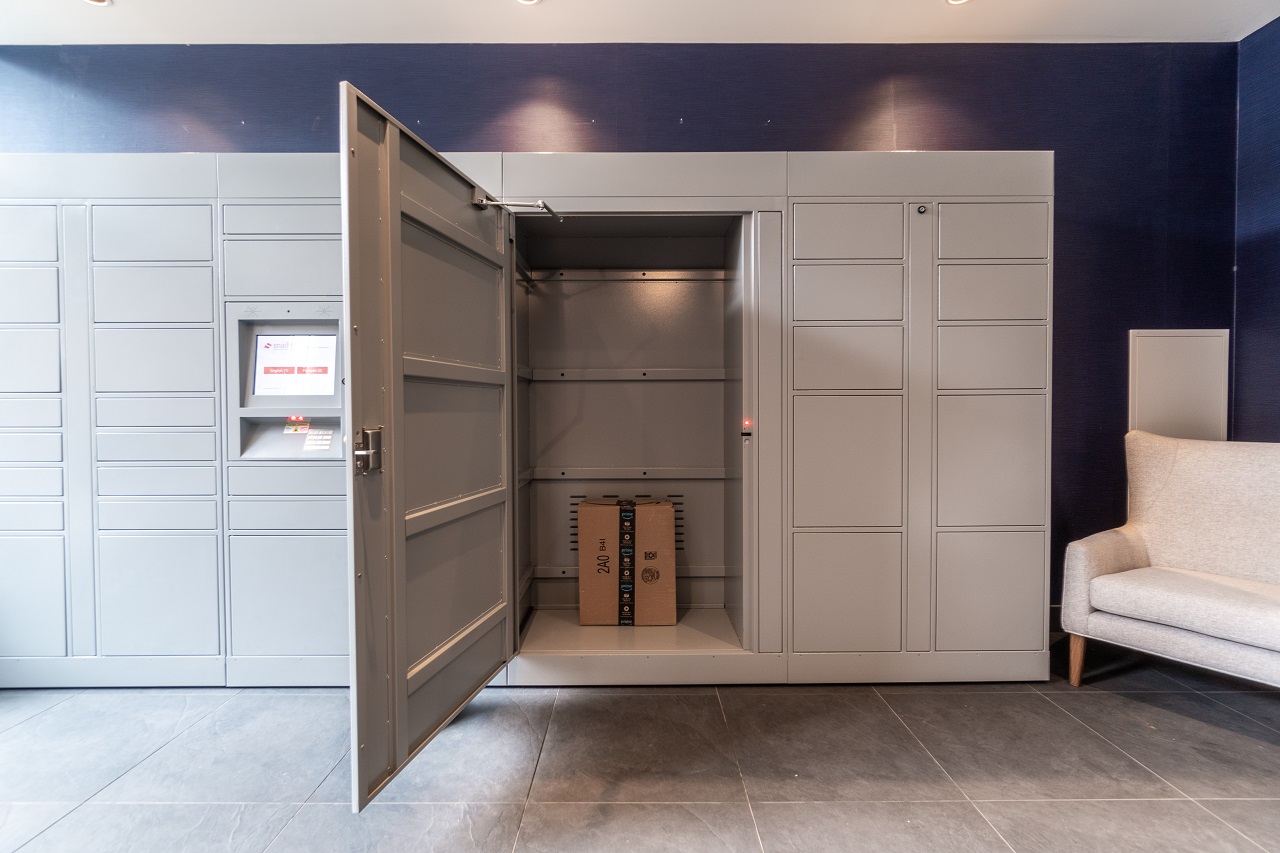 Package delivery using a Snaile parcel locker, image courtesy of Snaile Inc.
"Apartment buildings built in the 1970s and 1980s had big lobbies, but today's condominium towers are super tight," says Patrick Armstrong, who founded parcel locker company Snaile in 2017 and who has seen his business grow in volume by 57% during the pandemic. "Today, existing buildings are splitting up their party rooms, or getting rid of the ping pong room or AGM room and new buildings are being designed with dedicated parcel locker rooms that allow carriers to come inside the buildings to accommodate the trend."
Beyond condominiums, Snaile Lockers provides fully integrated, automated smart parcel locker systems for office buildings, retail outlets, pharmacies, school campuses and industrial buildings across Canada. Carriers and delivery companies simply place the package in an appropriate-sized locker and digitally notify the recipient when the package has been delivered.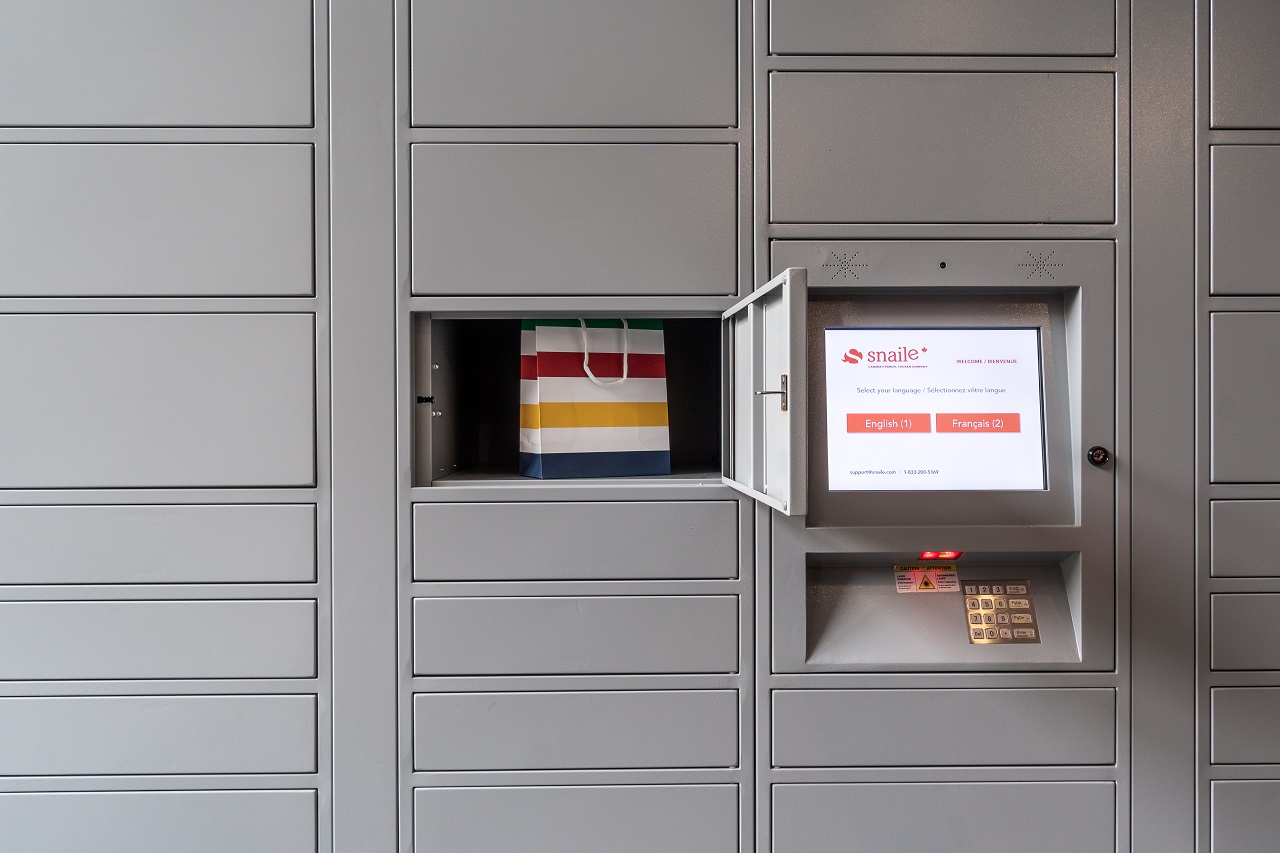 Package delivery using a Snaile parcel locker, image courtesy of Snaile Inc.
"Our entire network is in 55 Canadian cities and towns," says Armstrong. "Our digital notification is proactive and repeated to encourage people to pick up their packages, and we don't stop until the locker is empty. Our average in-locker hold time for a package is 19 hours."
Snaile has been in the right place at the right time and with the right product since the pandemic began. A May 2021 study by Statista Research Department showed a massive 110.7% growth in Canada in retail e-commerce between May 2019 and May 2020. The numbers peaked at $3.5 billion in January of this year, and while large, that number still only represents 7.8% of total retail trade.
While the global pandemic has been a key driver of the e-commerce and home package delivery boom, it also marked a major shift in global retail patterns. According to a Canada Post survey, 93% of Canadians intend to maintain or increase their online spending after the pandemic, with Millennials and Gen Z demographics driving this trend.
"While the Boomer generation spend more online, the Millennials were the first to purchase online, with 67% of them preferring to buy online, while the Gen Z generation is the most eager to buy food online," says Armstrong. "As the Millennials get older they'll have more disposable income, so the runway ahead is huge for home package deliveries, and as people subscribe to new services to get delivered, it will only increase."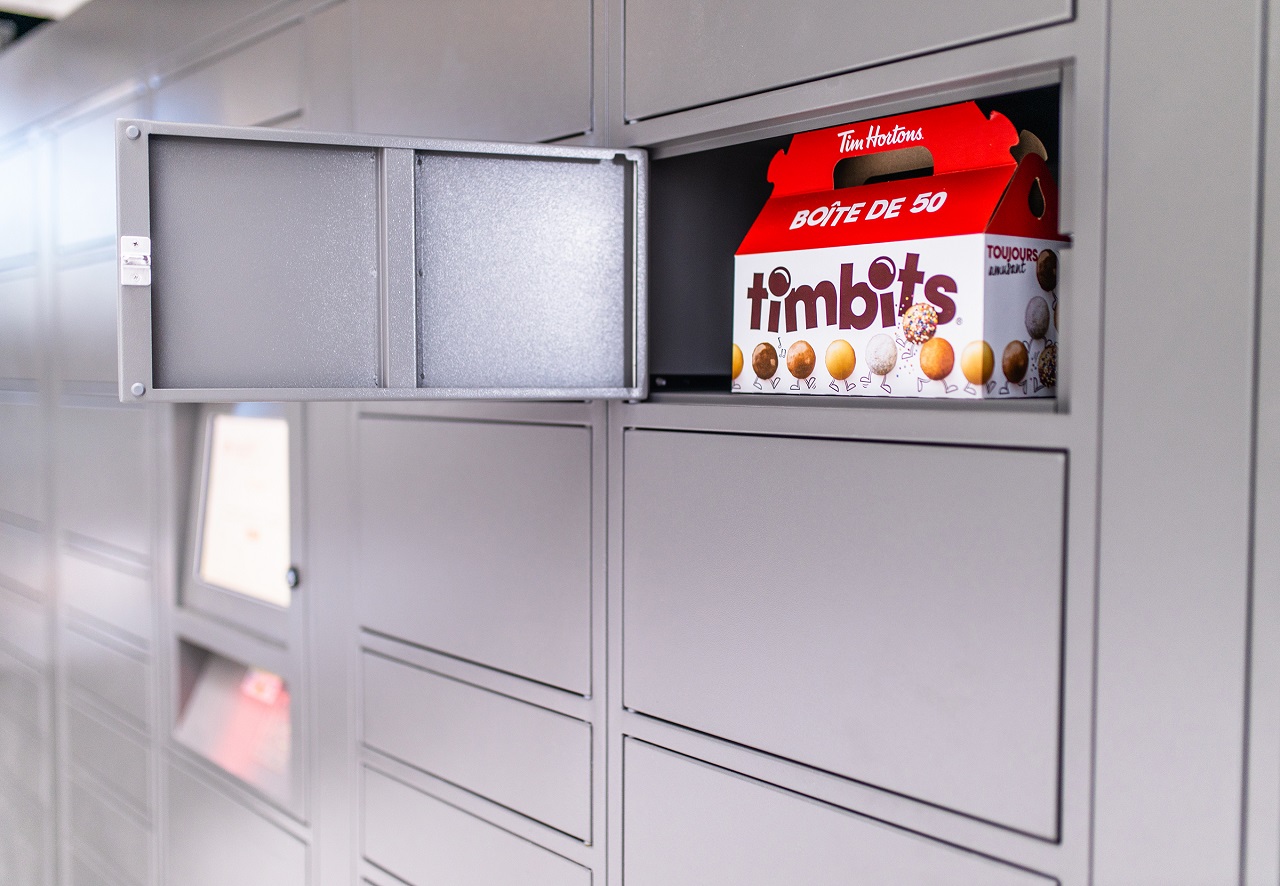 Food delivery using a Snaile parcel locker, image courtesy of Snaile Inc.
The home package delivery boom has also benefitted from people working from home. As the pandemic has allowed people to re-evaluate their lives and priorities, many workers have enjoyed the flexibility of working from home. HR specialists Randstad Canada expect most employers will be offering a hybrid working solution post-pandemic. A June 2021 survey from the Business Development Bank of Canada showed only 9% of businesses saw a decrease in productivity as a result of working from home. The same survey showed 55% of employees want to work remotely as much or more than they do now, and 74% of businesses plan to offer employees remote work after the pandemic.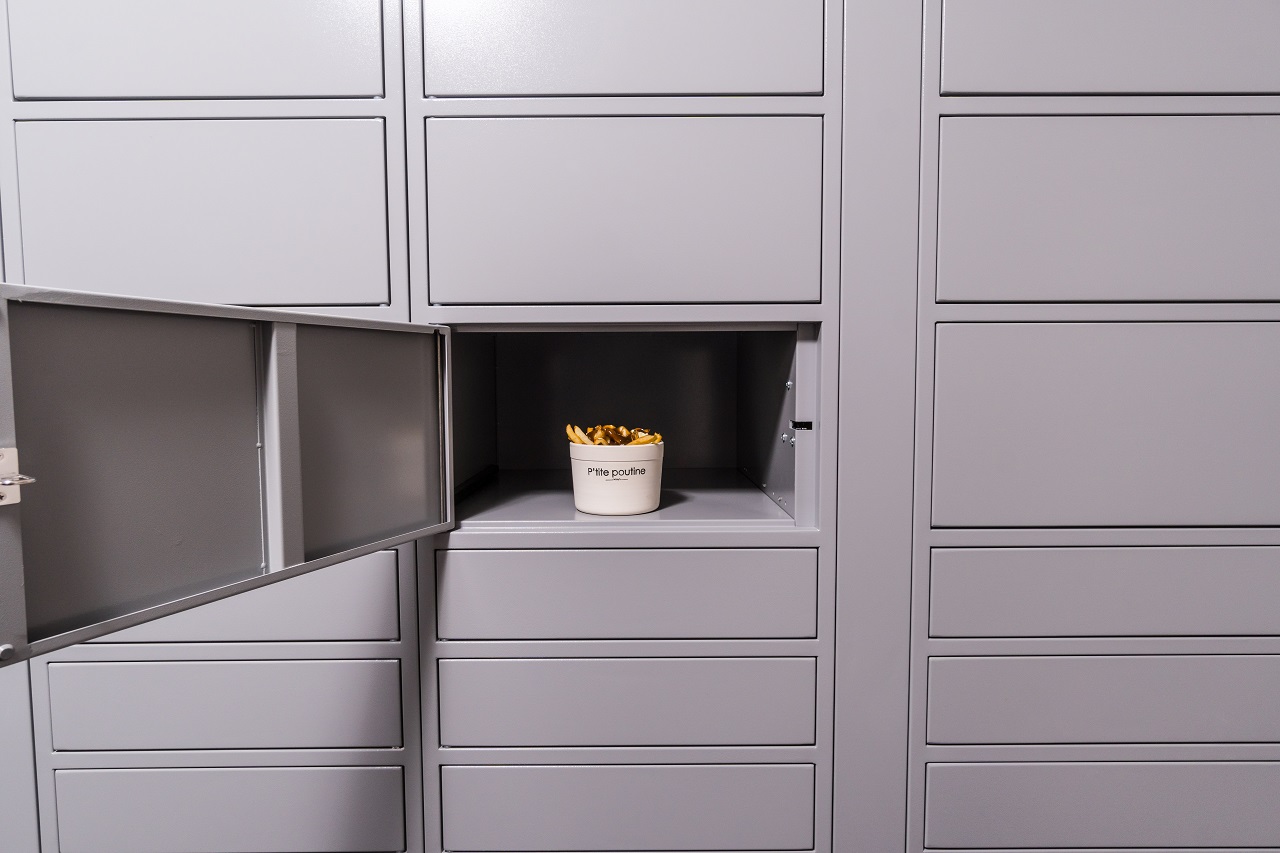 Package delivery using a Snaile parcel locker, image courtesy of Snaile Inc.
As part of his due diligence in founding Snaile, Armstrong surveyed a typical residential building on an average day. He chose Cresford Developments' The Merchandise Loft, a 526-unit building on Dalhousie Street in downtown Toronto. On that average day, 131 packages were delivered by all sorts of carriers including Amazon or an Amazon partner, Canada Post, FedEx, UPS and Purolator. Touchless smart parcel lockers were the perfect solution to handle the volume.
Beyond residential buildings, Snaile parcel lockers already exist in student residences at the University of Calgary and at Queen's, York and Brock Universities. Armstrong also sees growth in the By Online/Pick-up In-Store (BOPIS) sector, though Canada lags other western nations in that trend.
A major opportunity for growth in smart parcel locker systems is the commercial office sector, where Armstrong sees office towers as being similar to where condominiums were five years ago. An early adopter was the Ontario Power Generation (OPG) property at 700 University Avenue, which installed Snaile parcel lockers in 2019.
"It takes about ten minutes per parcel to deliver to a business up in a commercial office tower, so it's very labour intensive," says Armstrong. "Office towers have security guards but as volumes rise, so does the labour problem. The pandemic accelerated that with capacity limits on elevators so some carriers were leaving packages at security."
Looking back just a few short years, maybe all those pizza companies saw the future before the rest of us – the luxury of delivery. Snaile parcel lockers has now taken this a step further and added convenience to the package delivery process. Efficiency for the future which has already and suddenly, arrived.
* * *
UrbanToronto has a new way you can track projects through the planning process on a daily basis. Sign up for a free trial of our New Development Insider here.