Evolving through a few years of changing designs and ownership, a planned mid-rise development in Toronto's Leslieville neighbourhood is closing in on shovel-ready status. Designed by CMV Group architects, the project known as Grove Condos would rise at 1001 Queen Street East on the southwest corner at Pape. Developers Presidential Group and Groupe Tyfoon have been advancing the six-storey project, their late-2020 application for Site Plan Approval having recently received Notice of Approval Conditions by the Planning Department.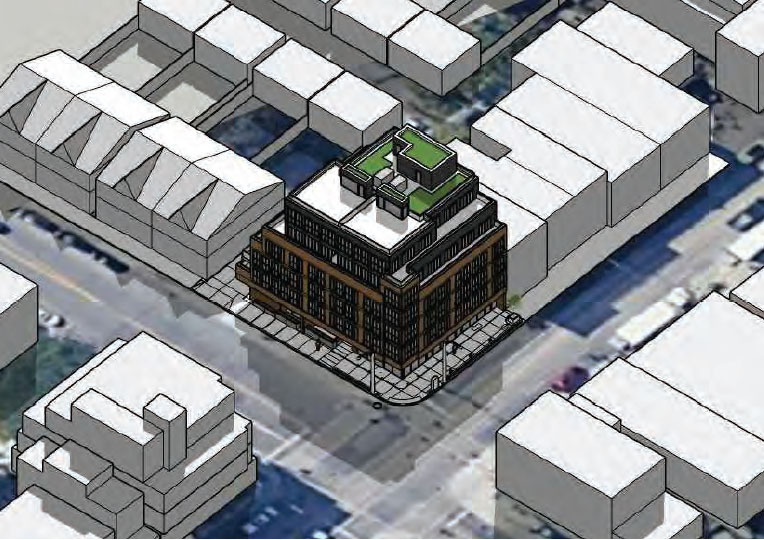 Looking southwest over Grove Condos, image via submission to City of Toronto
Grove's massing takes on a form common to Toronto mid-rises with main frontages on major thoroughfares and backing onto established low-rise neighbourhoods: a pronounced streetwall along the Queen elevation with upper storey step-backs, while the side facing a low-rise neighbourhood transitions down to it with a terraced massing.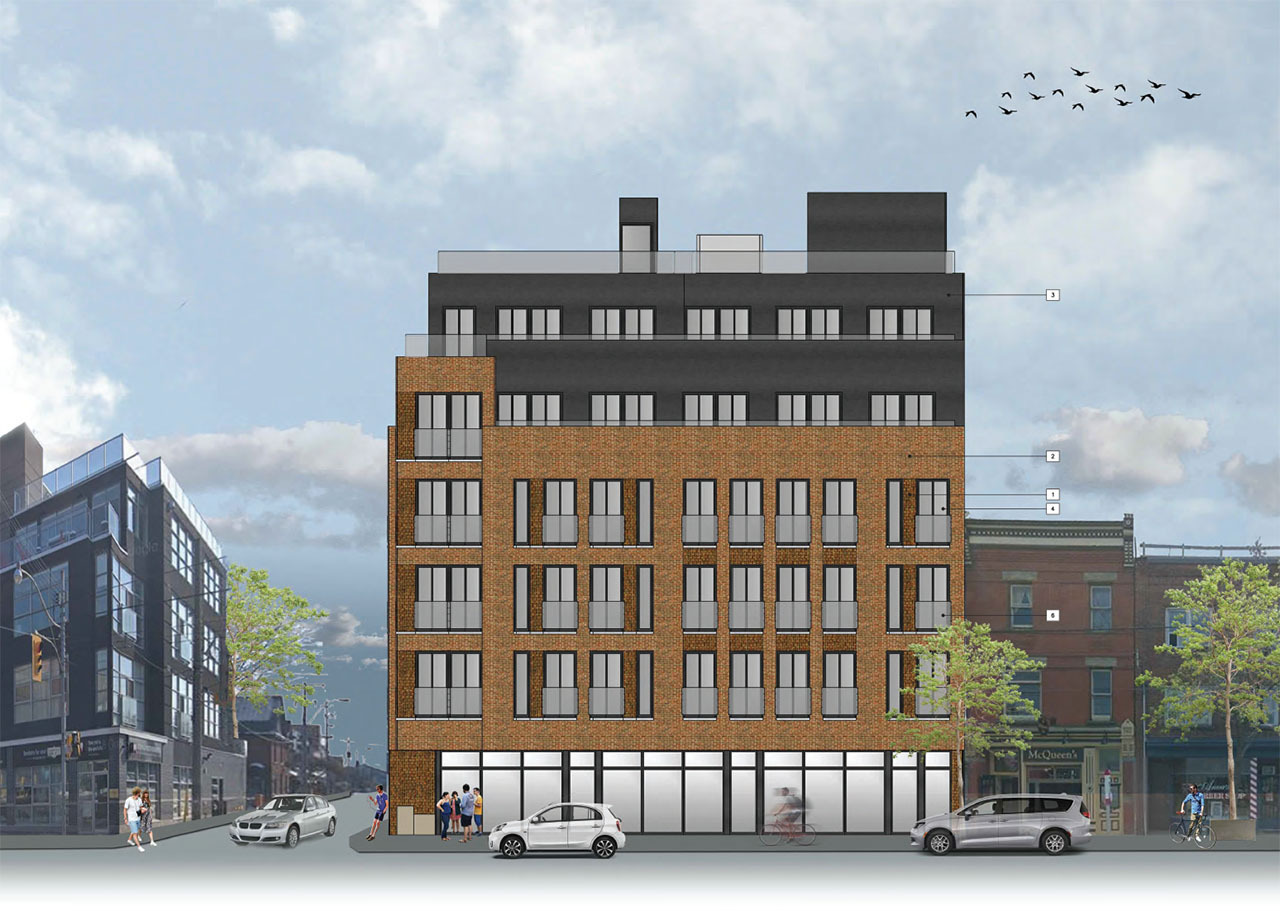 Looking south to Grove Condos, image via submission to City of Toronto
Grove is planned with a total gross floor area (GFA) of 2,773 m², of which 149 m² of retail/commercial space on the ground floor will front onto Queen. The remaining residential GFA of 2,624 m² will be made up of 28 condo units in a mix of 18 one-bedrooms with average sizes of 64 m² and 10 two-bedrooms with average sizes of 88 m².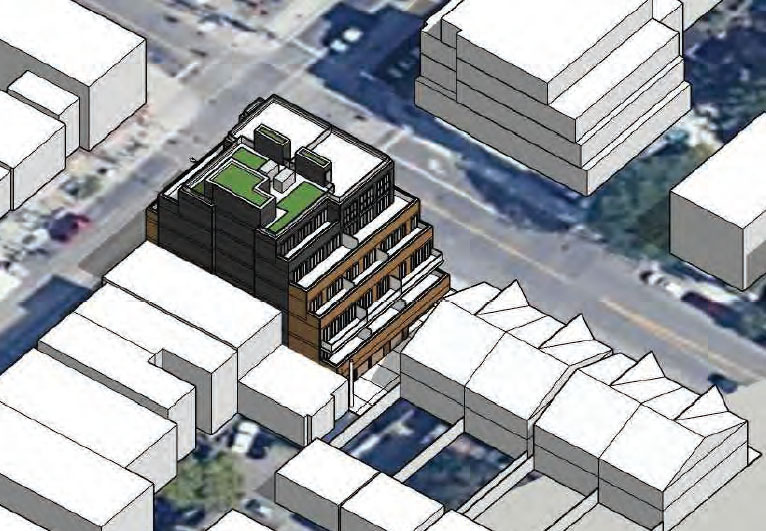 Looking northeast over Grove Condos, image via submission to City of Toronto
The exterior material palette features red/brown brick finishes, accented by sections of vertically stacked bond brick, framing punched windows and glazed balconies. Pre-finished charcoal-toned metal siding is planned as the primary finish for upper floors.
Looking west to Grove Condos, image via submission to City of Toronto
Located at a 501 streetcar stop and in close proximity to the future Leslieville station on the Ontario Line, just 17 parking spaces are proposed for residents, none for visitors. Five of the spaces are located at the back of the ground floor in a garage area, while 12 are proposed in a single-level underground garage.
A sales centre was set up on the project site earlier this year, while applications for demolition, shoring, and building permits that were filed in 2019 remain under review.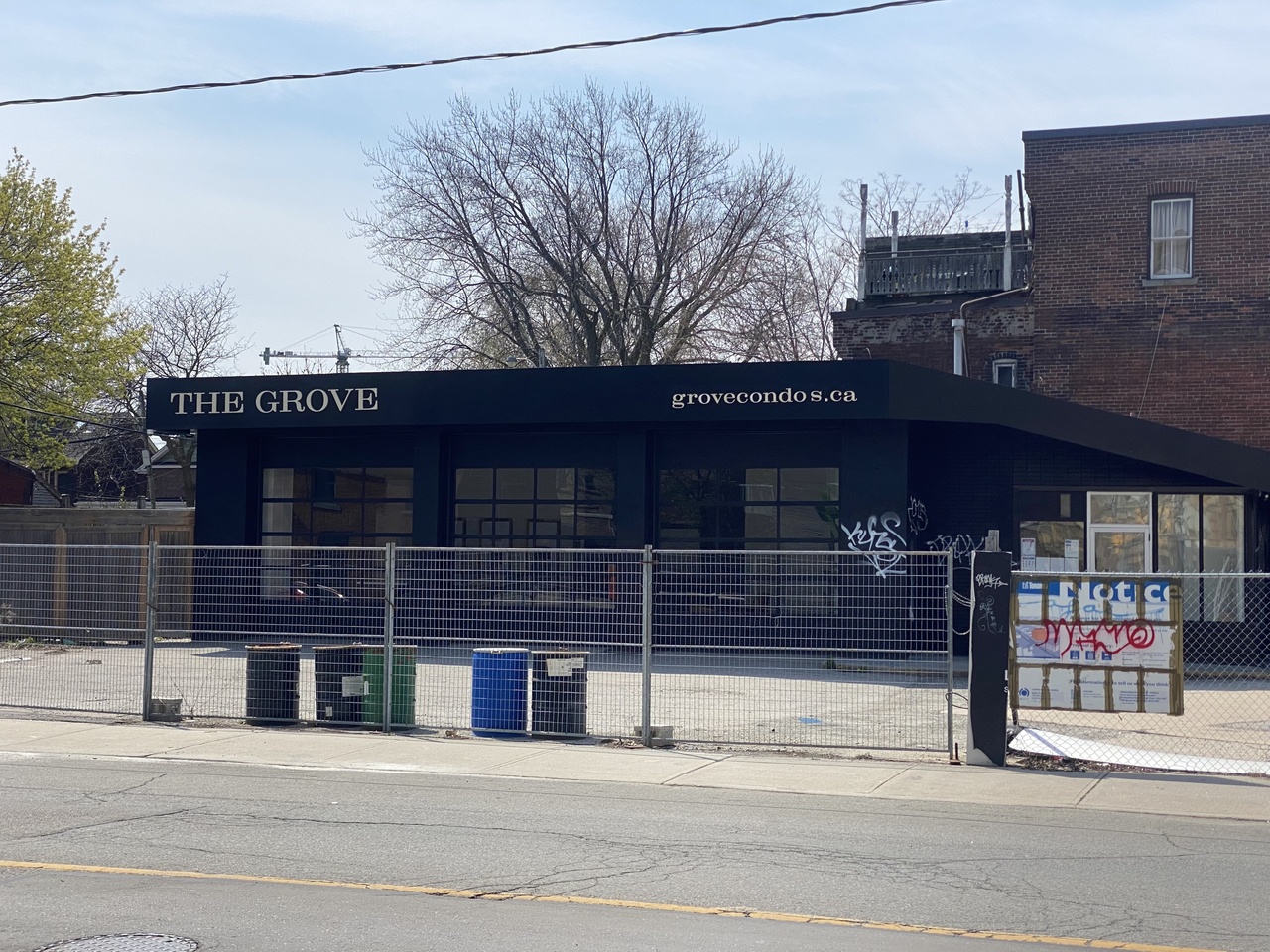 April view of Grove Condos presentation centre, image by Forum contributor coreybrendan
You can learn more from our Database file for the project, linked below. If you'd like to, you can join in on the conversation in the associated Project Forum thread, or leave a comment in the space provided on this page.
* * *
UrbanToronto has a new way you can track projects through the planning process on a daily basis. Sign up for a free trial of our New Development Insider here.