A proposal to redevelop the northwest corner of Toronto's Bloor and Dovercourt intersection has been revised since it was first submitted in 2017 as a 12-storey, Diamond Schmitt Architects-designed building by developer Main and Main. With the site under new ownership, Sierra Communities is now seeking Site Plan Approval (SPA) for an 11-storey project at 990 Bloor Street West, with a new design by RAW.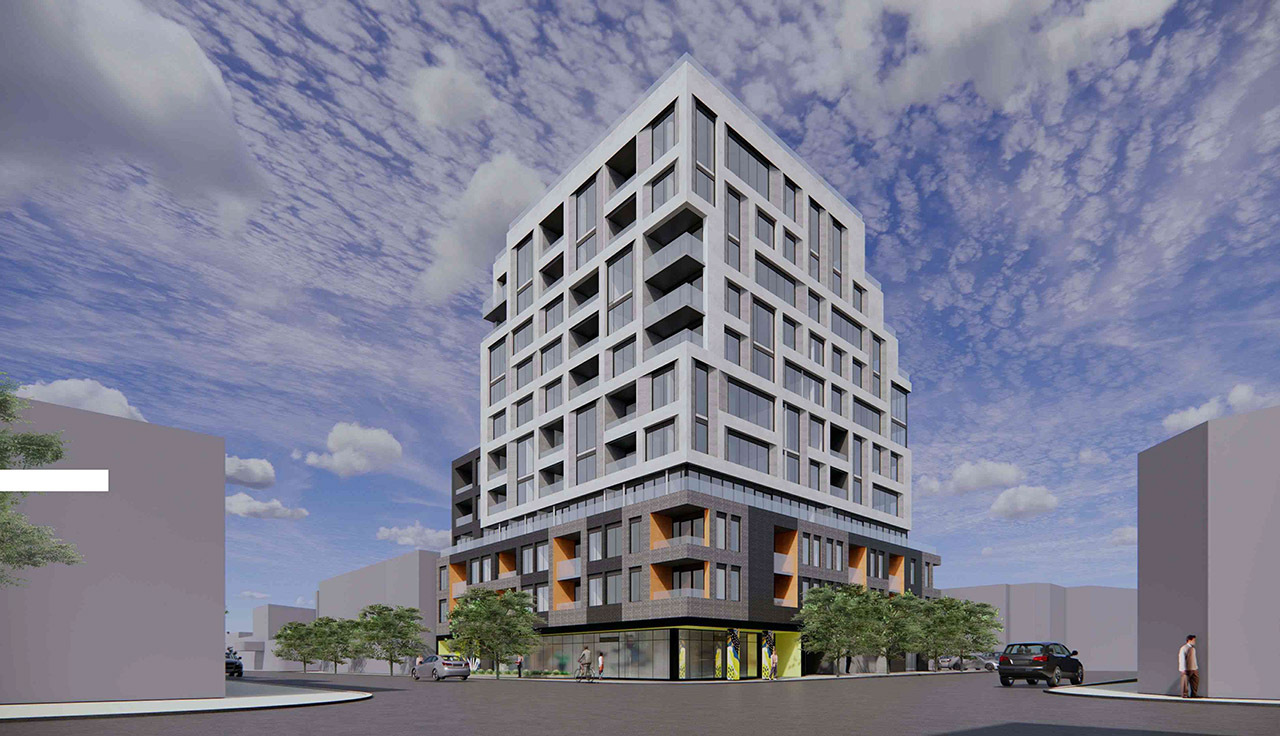 Looking northwest to 990 Bloor West, image via submission to City of Toronto
The original Main and Main submission (seen below) was appealed to the Local Planning Appeal Tribunal (LPAT), where a settlement was reached to permit an 11-storey mixed-use building on the site. Adopted by City Council in late 2019 and approved in principle by the LPAT in early 2020, the settlement has allowed the revised project to proceed to the SPA stage in a form that adheres to the conditions set by LPAT.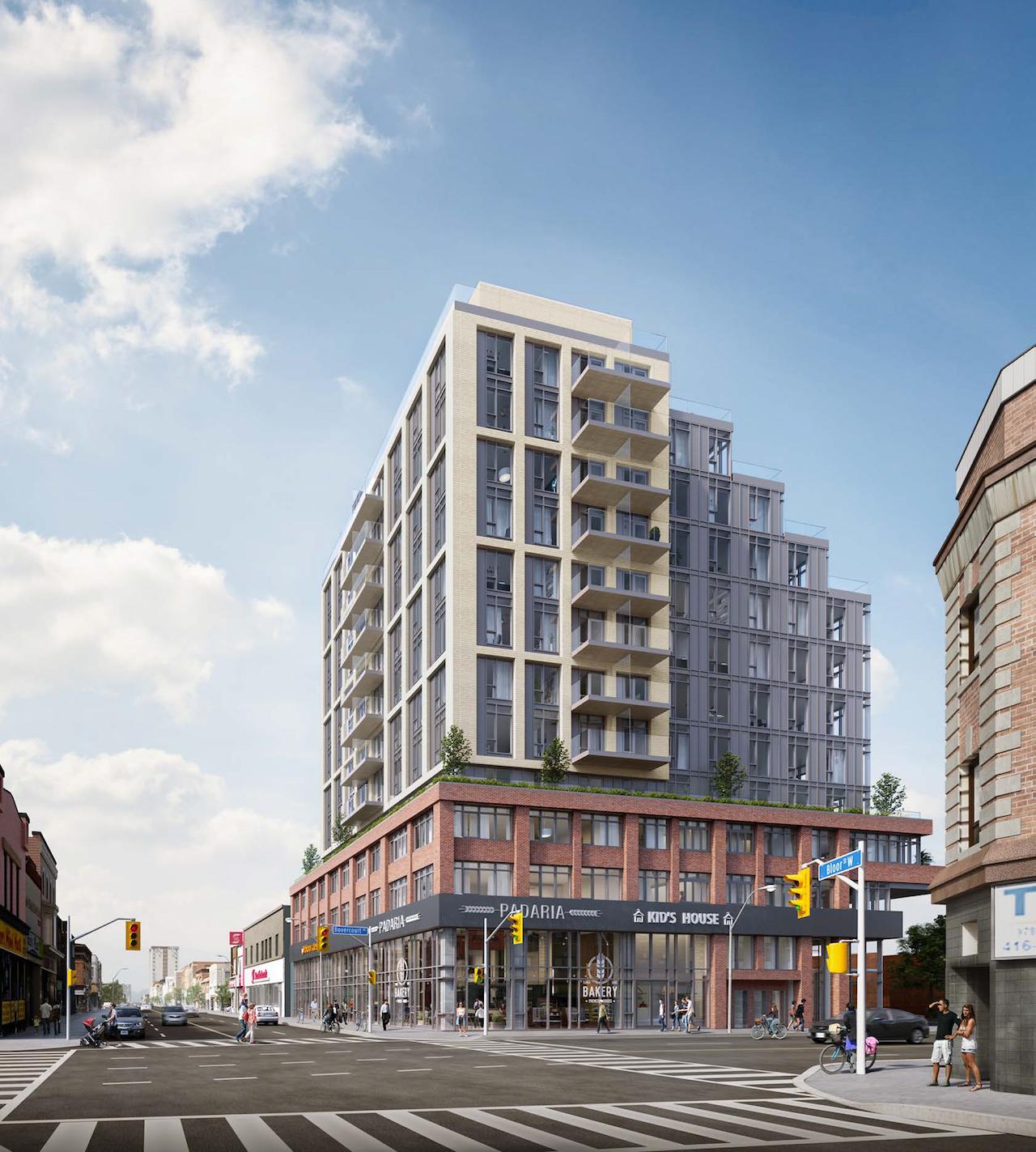 Previous plan, lookin west to 990 Bloor West, image via submission to City of Toronto
The new proposal calls for a building rising just over 38 metres tall, with a gross floor area of 7,494 m², the vast majority of which, at 7,241 m², would be dedicated to residential space, while the remaining 238 m² is planned as ground-floor retail space. The residential space would consist of 96 units, 88 of which would be condominium suites and 8 which would be rental replacement units for existing suites that would be demolished for the new building. Units are planned in a mix of 57 one-bedrooms, 27 two-bedrooms, and 12 three-bedrooms.
While images of the new design are limited, documents supporting the SPA application indicate that cladding materials would include a base with brick masonry in dark grey and black tones framing window wall glazing. Podium balconies would feature walls of ceramic panels, adding a warm hue to balance out the black and grey finishes, while balcony guards are glazed. Further colour is planned at street level with a colourful entrance mural, and yellow ceramic soffit. Tower levels above would be clad primarily with light grey precast concrete, with chamfered edges framing punched windows.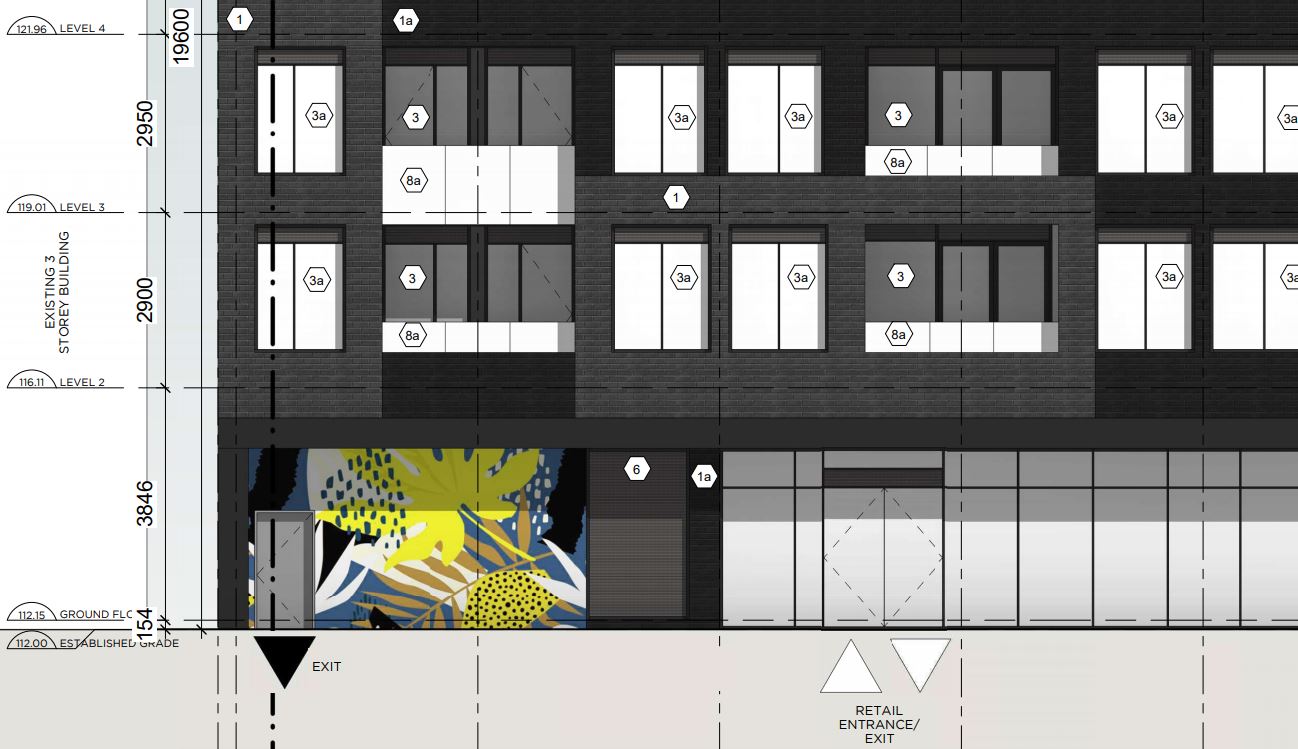 Ground level at 990 Bloor West, image via submission to City of Toronto
Parking for the development is proposed within a two-and-a-half-level underground garage containing 43 long-term parking spaces for building residents.
You can learn more from our Database file for the project, linked below. If you'd like to, you can join in on the conversation in the associated Project Forum thread, or leave a comment in the space provided on this page.
* * *
UrbanToronto has a new way you can track projects through the planning process on a daily basis. Sign up for a free trial of our New Development Insider here.