The City is reviewing plans for a proposed 14-storey residential development at 11 Pleasant Boulevard in Toronto's Deer Park neighbourhood. Plazacorp has submitted a rezoning application to permit a 14-storey building on an underused site just across from the St Clair subway station.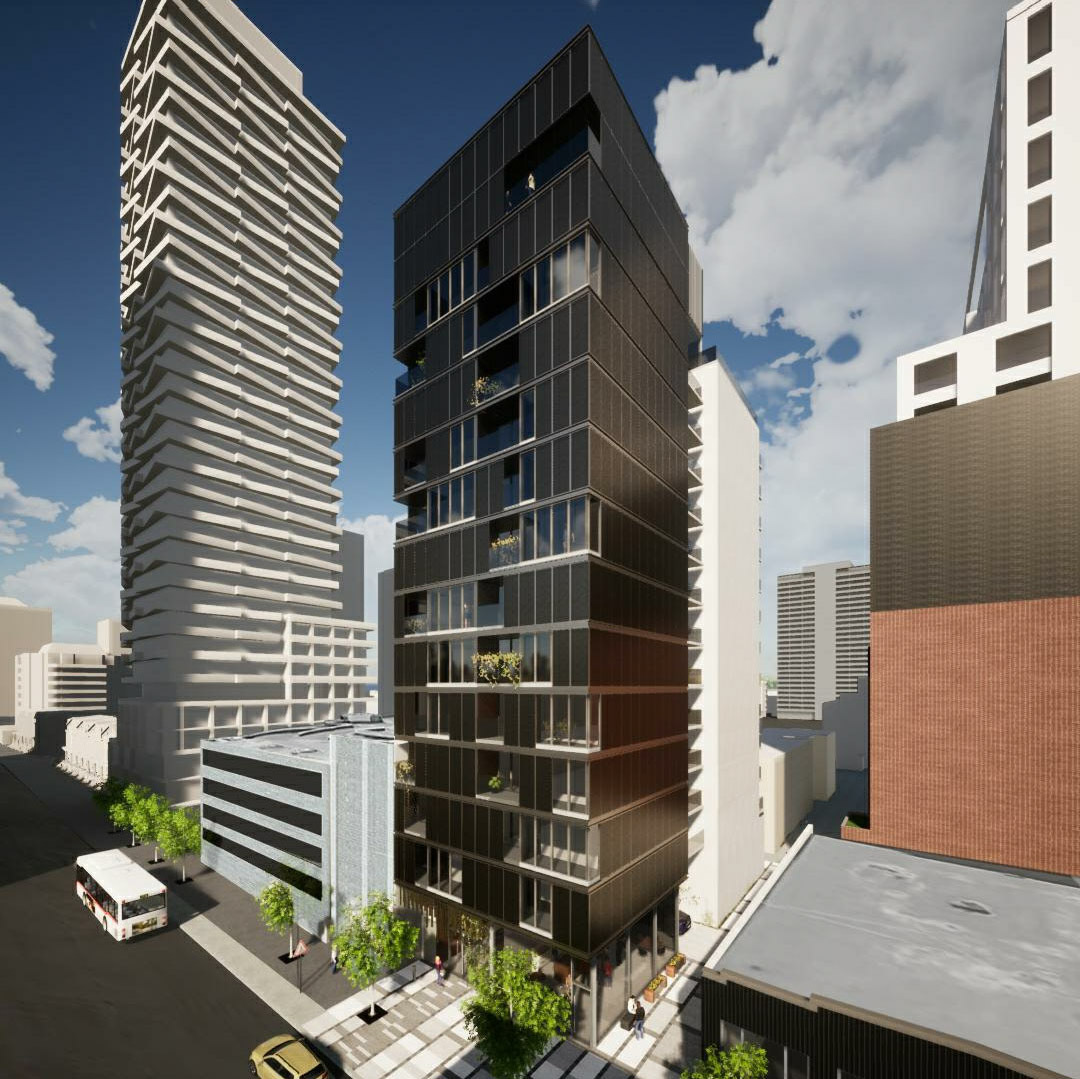 Looking southeast to 11 Pleasant Boulevard, image by BDP Quadrangle for Plazacorp
The 525 m² site is located on the south side of Pleasant Boulevard, just east of Yonge Street, and immediately across the street from one of the St Clair subway station entrances. It is currently occupied by a one-storey "Circle K" convenience store and a surface parking lot.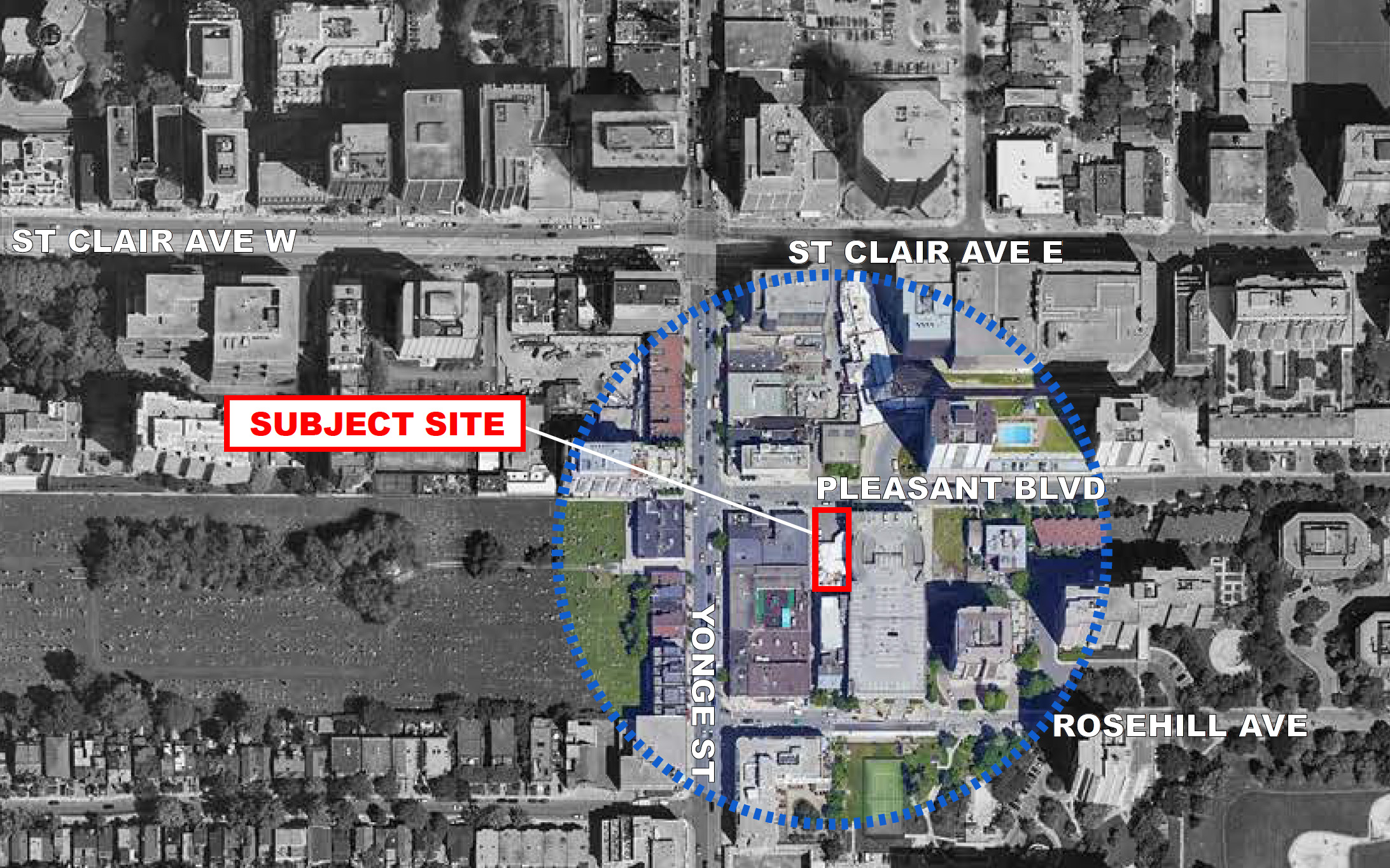 Aerial view of the site, image by Bousfields for Plazacorp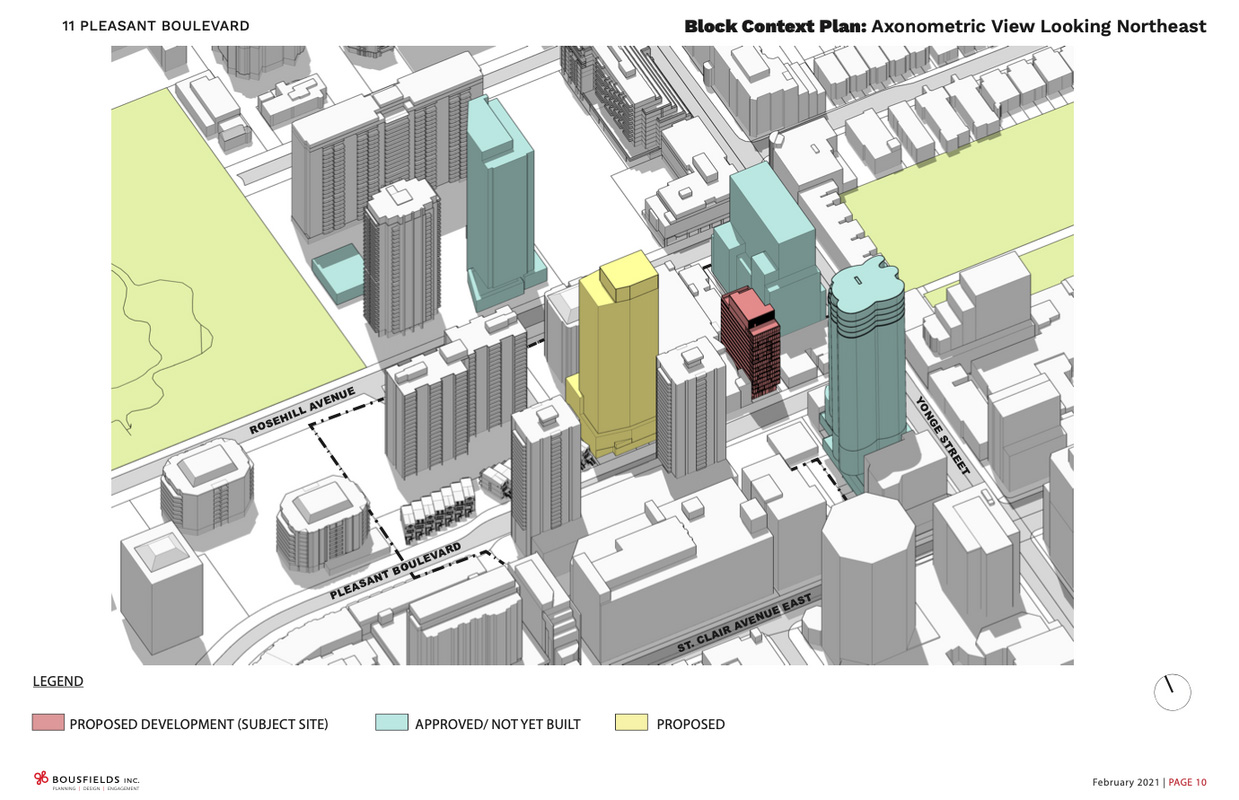 Block Context Plan; axonometric view looking northeast, image by Bousfields for Plazacorp
BDP Quadrangle have designed a 14-storey building with a slender floor-plate and a well-articulated narrow frontage along Pleasant Boulevard. The total gross floor area is 5,022 m² for a density of 9.68 FSI. While the current permitted zoning height is 30 metres, the proposal calls for a 42 metre-high building rising just above the approved 39.5-metre podium height of the building at 1365 Yonge Street to the southwest, along the same laneway.
A small residential lobby is accessed from the northeast corner of the site while an adjacent 65 m² of street-level retail wraps the west corner. Back of house spaces—servicing and loading, garbage and storage rooms, and a dog washing station—are located at the rear.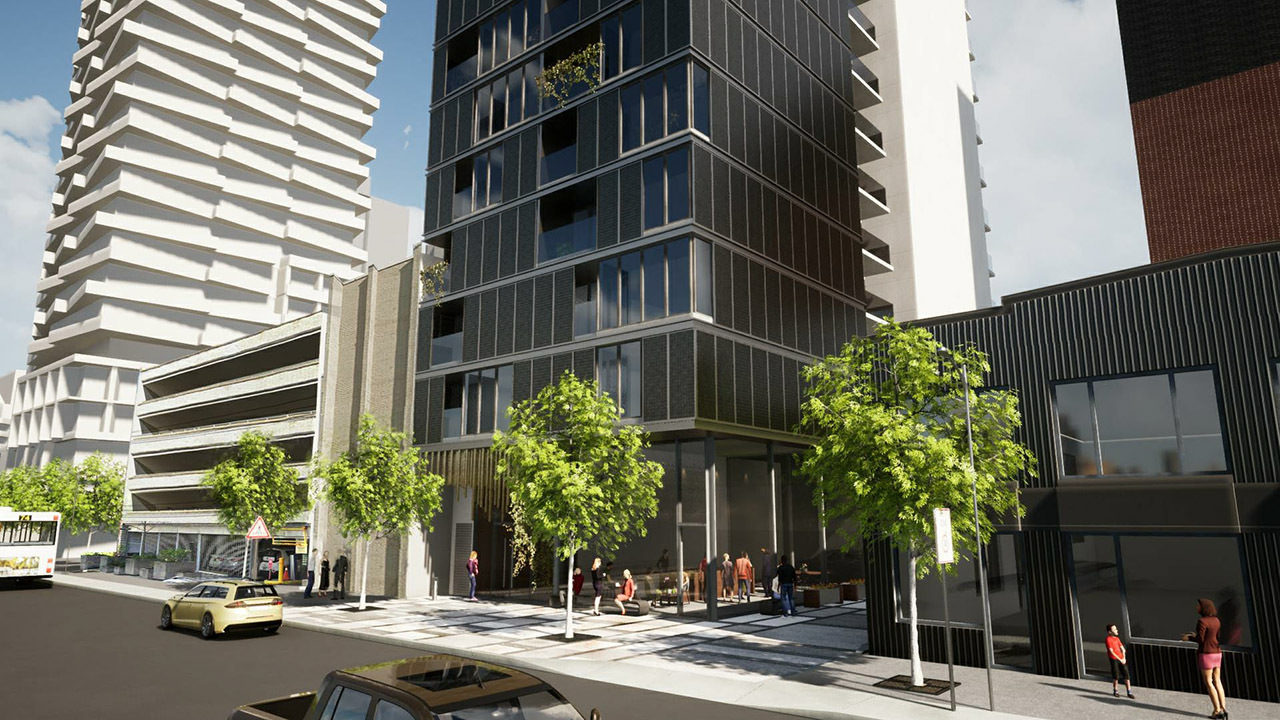 Street view looking southeast to 11 Pleasant Boulevard, image by BDP Quadrangle for Plazacorp
The entirety of the east elevation of the building would be built to the property line without windows. Immediately to the east is a 550-space, seven-storey, above ground Green P parking garage built over the subway tunnel. To the south is a three-storey all-girls school.
Across floors 2 through 13 the building would house 72 residential condominium units, in a mix of 9 bachelor (13%), 44 one-bedroom (61%), 12 two-bedroom (17%), and 7 three-bedroom (10%) units. The 14th floor is dedicated to residential amenity space, with 236 m² of indoor and 185 m² of outdoor space facing south.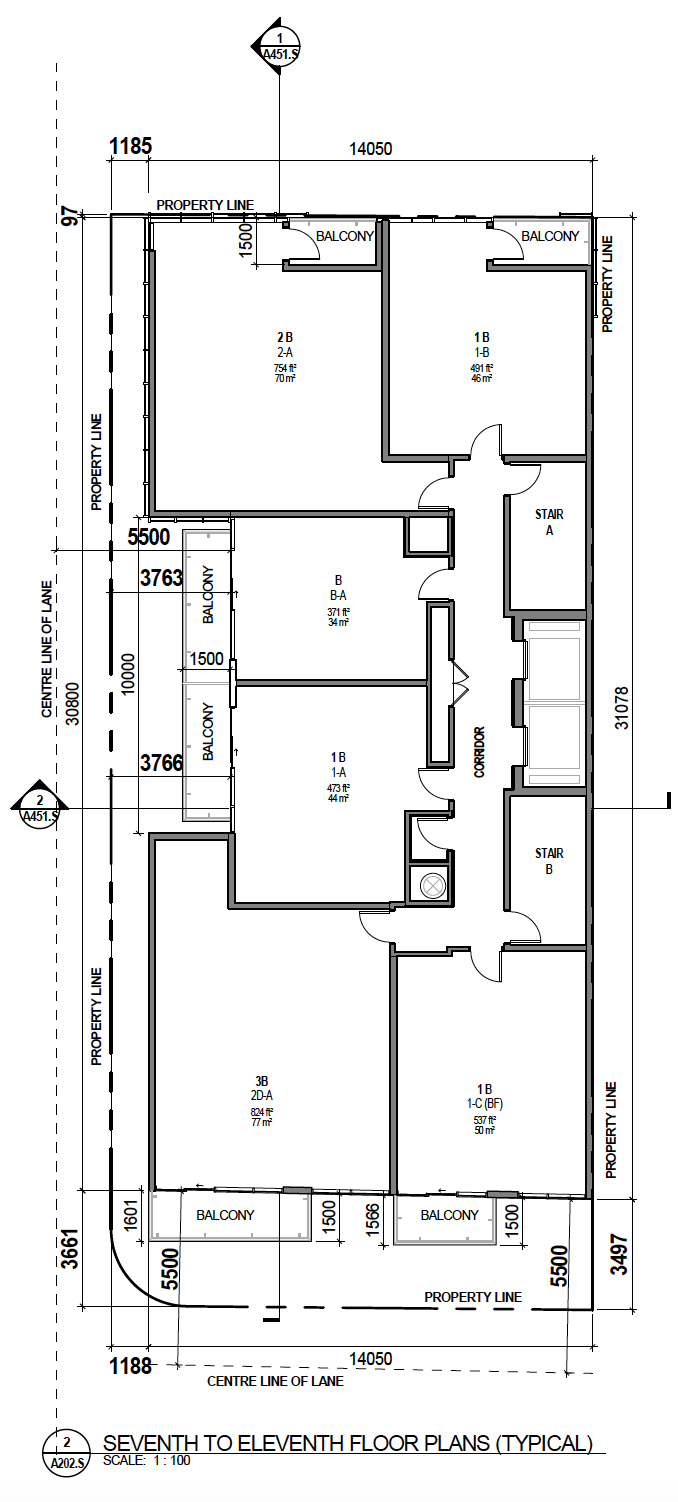 7th to 11th floor Plan (typical), image by BDP Quadrangle for Plazacorp
Given the proximity of the site to existing transit infrastructure, zero residential, visitor, or retail parking spaces are proposed. A single parking space would be provided onsite to support short-term pick-up and drop-off needs.
All vehicular access to the site, including access to loading, would take place via the north-south public laneway to the west, while access to bicycle parking is at the south end of the site. A visitor bike parking room is situated at grade and a dedicated bicycle parking elevator for residents brings access to bicycle and locker storage on B1.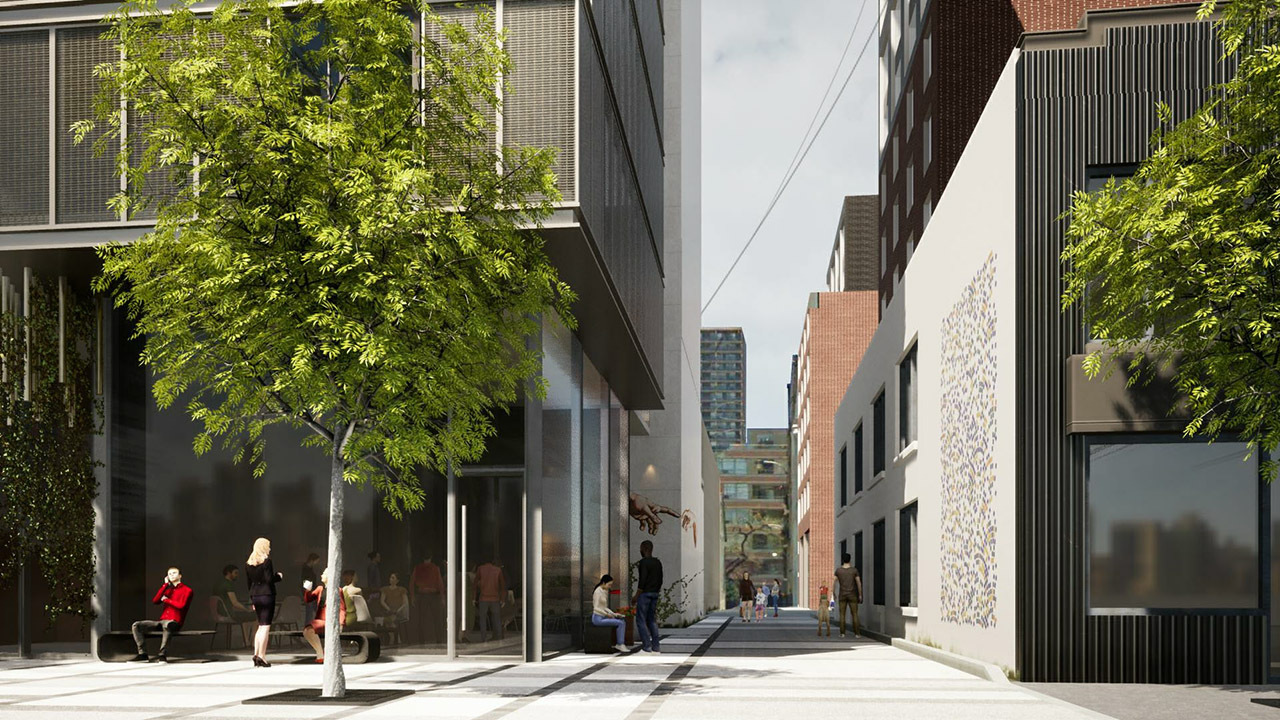 Looking south along the west side laneway, image by BDP Quadrangle for Plazacorp
You can learn more from our Database file for the project, linked below. If you'd like to, you can join in on the conversation in the associated Project Forum thread, or leave a comment in the space provided on this page.
* * *
UrbanToronto has a new way you can track projects through the planning process on a daily basis. Sign up for a free trial of our New Development Insider here.