Developers Reserve Properties and Westdale Properties are already reshaping much of Broadway Avenue west of Mount Pleasant in Midtown Toronto, as construction advances on their Line 5 Condos development on the south side of the street, and site preparation has kicked into gear on their Untitled Toronto and 100 Broadway developments to the north. Five towers are already coming to the block in this wave of projects, and now the pair of developers have teamed up again to bring yet another project to the block, immediately east of 100 Broadway at 124 Broadway.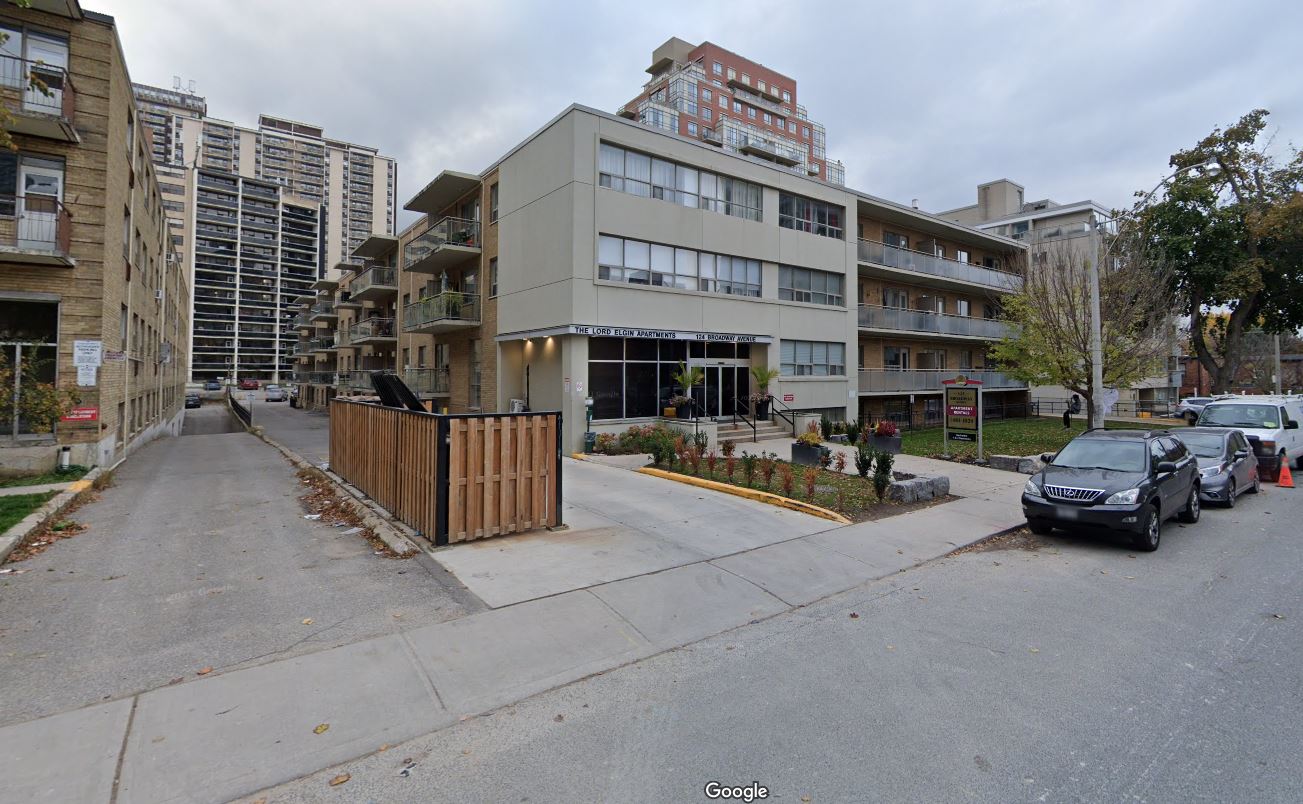 Looking northeast to existing building, image via Google Street View
An application submitted with the City of Toronto in June seeks a Zoning By-law Amendment, Site Plan Control, and Rental Housing applications to permit a 38-storey tower with a height of 125.45 metres, a total gross floor area (GFA) of 33,375 m², and 546 condo and rental replacement units.
The project features a point tower-on-podium design with a sawtooth balcony design that continues the audio waveform aesthetic established with the Untitled Toronto project, the latter's design a collaboration of Grammy-winning recording artist Pharrell Williams working with architects IBI Group. While IBI is once again leading design on the 124 Broadway project and the combination of location and aesthetic almost certainly spell out a second phase, it is not yet known if Pharrell Williams and the Untitled branding return with this latest proposal.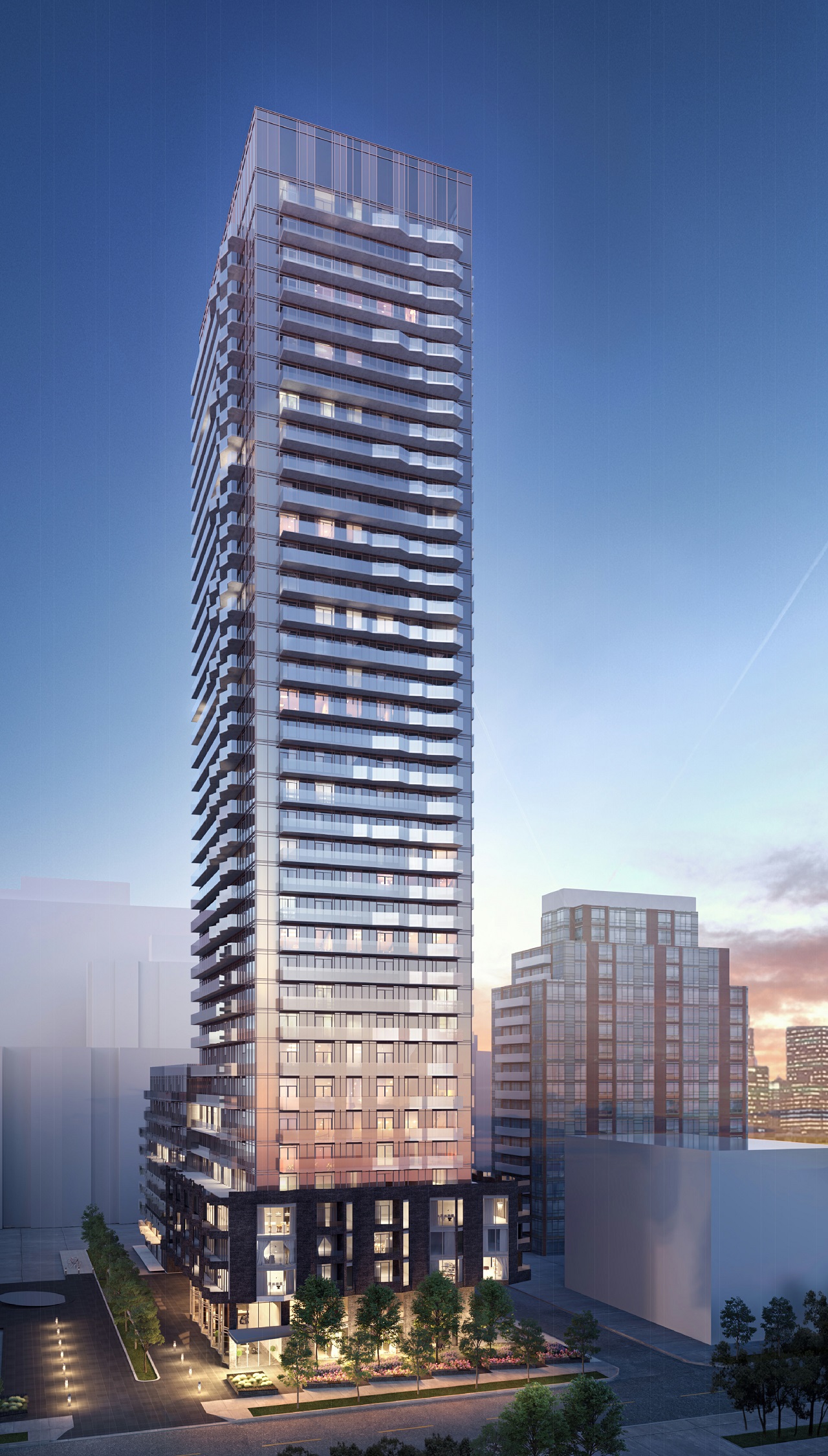 124 Broadway, image via submission to City of Toronto
The entire GFA at 124 Broadway is to be dedicated to residential space, with 460 condominium units proposed along with 86 rental units (replacing all existing rentals within the current 3.5-storey building on site, as per Toronto rental unit replacement policies). of the total 546 units, they suite breakdown is proposed in a mix of 113 studios, 271 one-bedrooms, 107 two-bedrooms, and 55 three-bedrooms.
Owing to the site's proximity to the upcoming Crosstown LRT, only 115 parking spaces are proposed within a two-level underground garage, planned in a mix of 94 resident spaces and 20 visitor spaces. In contrast, slightly over a 1:1 ratio of bicycle parking to units is proposed, with a total of 548 spaces including for 492 residents and 56 for visitors planned across the two underground parking levels.
A pair of POPS (Privately-Owned Publicly accessible Spaces), are planned along the Broadway frontages of Untitled and 100 Broadway. Their public realm would be further extended eastward with the 124 Broadway proposal, landscaping the building's nine-metre setback from the street. Though details are still at an early stage, a landscape plan by NAK Design Strategies envisions creating a transition between private and public space by integrating street trees within the public boulevard and a mix of hardscape and trees within the private property.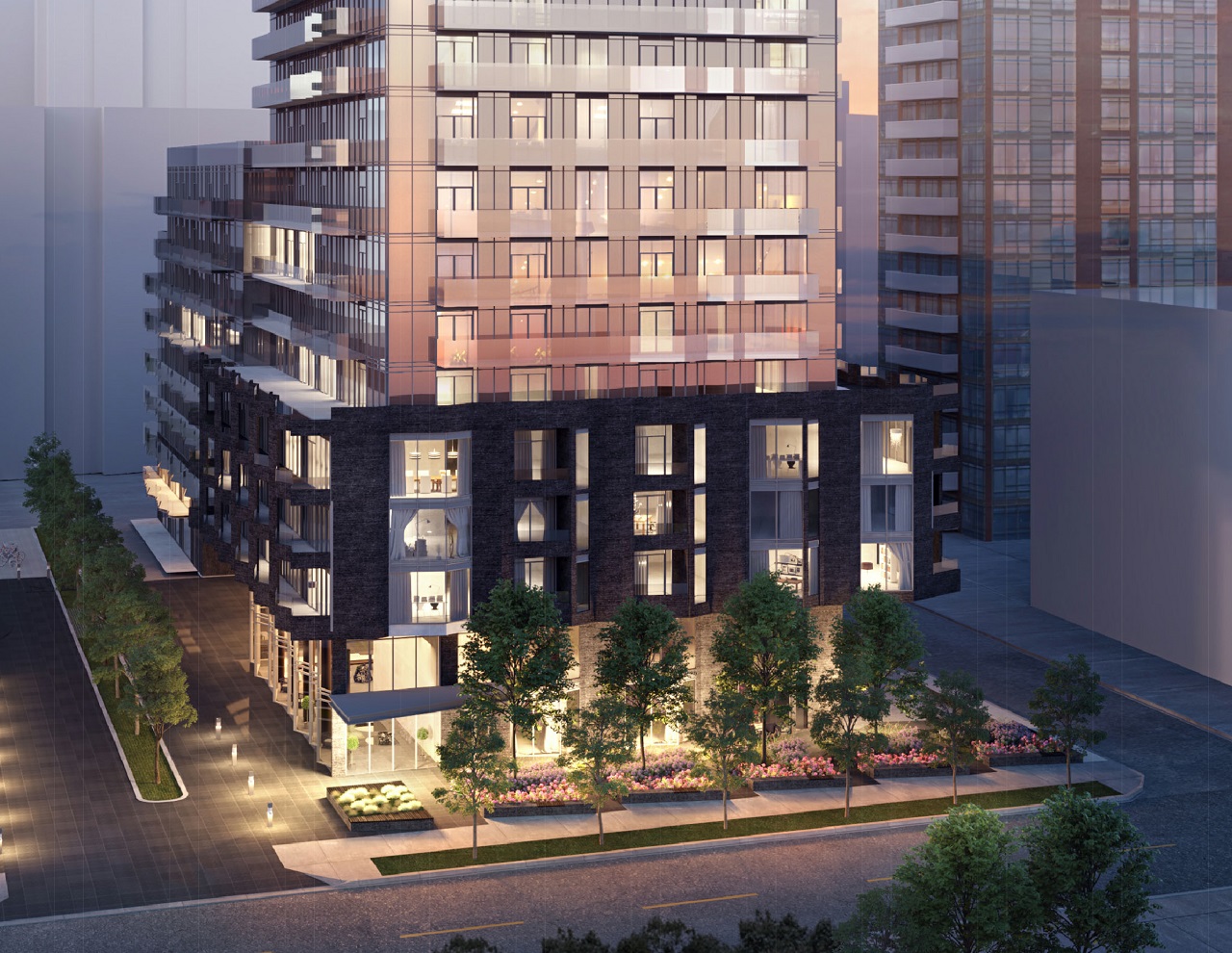 Base of 124 Broadway, image via submission to City of Toronto
You can learn more from our Database file for the project, linked below. If you'd like to, you can join in on the conversation in the associated Project Forum thread, or leave a comment in the space provided on this page.
* * *
UrbanToronto has a new way you can track projects through the planning process on a daily basis. Sign up for a free trial of our New Development Insider here.