When a new 41-storey TCHC rental tower was completed in 2013 at 150 Dan Leckie Way in Toronto's CityPlace neighbourhood, it was envisioned at the time that a mid-rise TCHC building would follow immediately to the west across Queens Wharf Road… but without funding, it didn't come right away. 2016 saw the mid-rise proposal advance under Mayor Tory's Open Door policy: a report from City staff recommended that Dominus Capital Corporation—a sister company of property developer Cityzen—had been recommended to develop a nine-storey building, designed by Zeidler Partnership Architects, with 80 affordable rental homes that would be developed and managed in partnership with Toronto Community Housing (TCHC) and maintained for 50 years. In the years since, a worsening affordability crisis, fuelled by wage inequity and the continued commoditization of housing, has put more pressure on the City to act. Now, new plans for 150 Queens Wharf call for greater density and more affordable units to meet the increased need.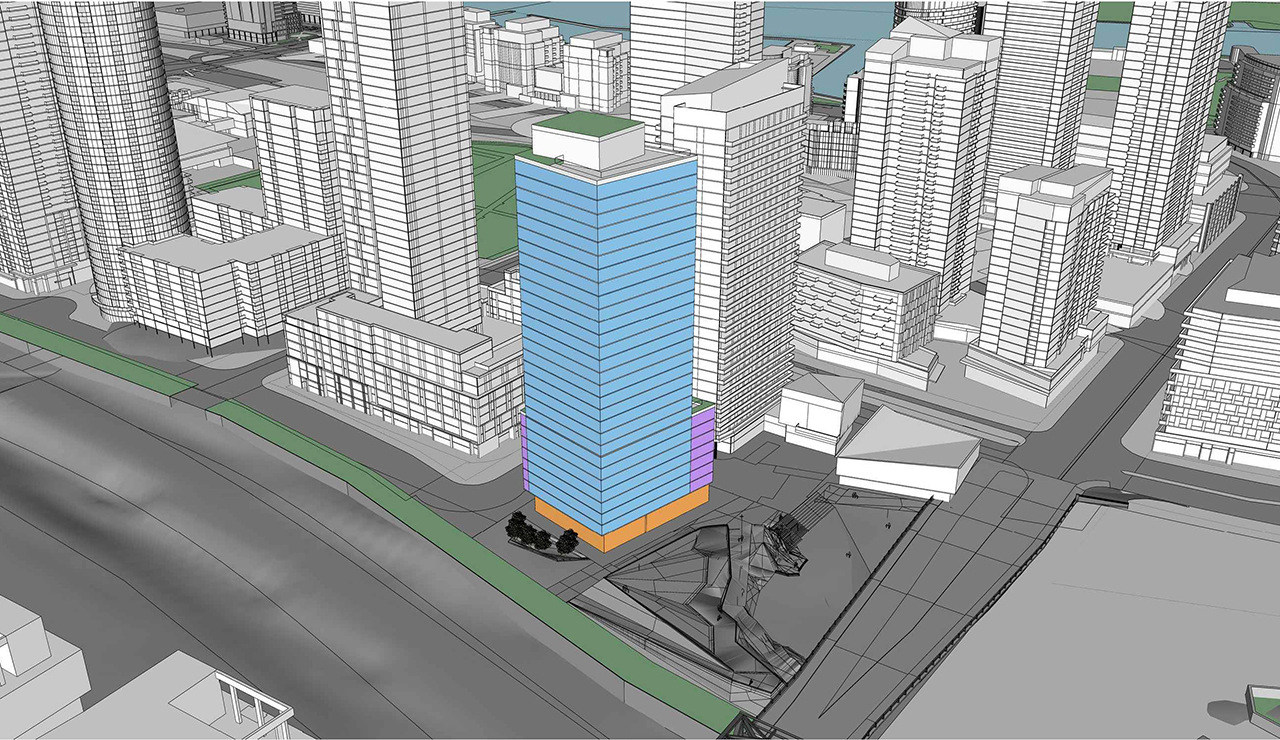 Looking southeast to 150 Queens Wharf, image via submission to City of Toronto
Being led by the City's real estate arm CreateTO, the updated proposal seeks rezoning from the City for more than double the height and over 3.5 times the desperately-needed units, compared to what was approved years earlier. Now, a massing model by DTAH Architects offers a window into the scale of the proposed 29-storey tower.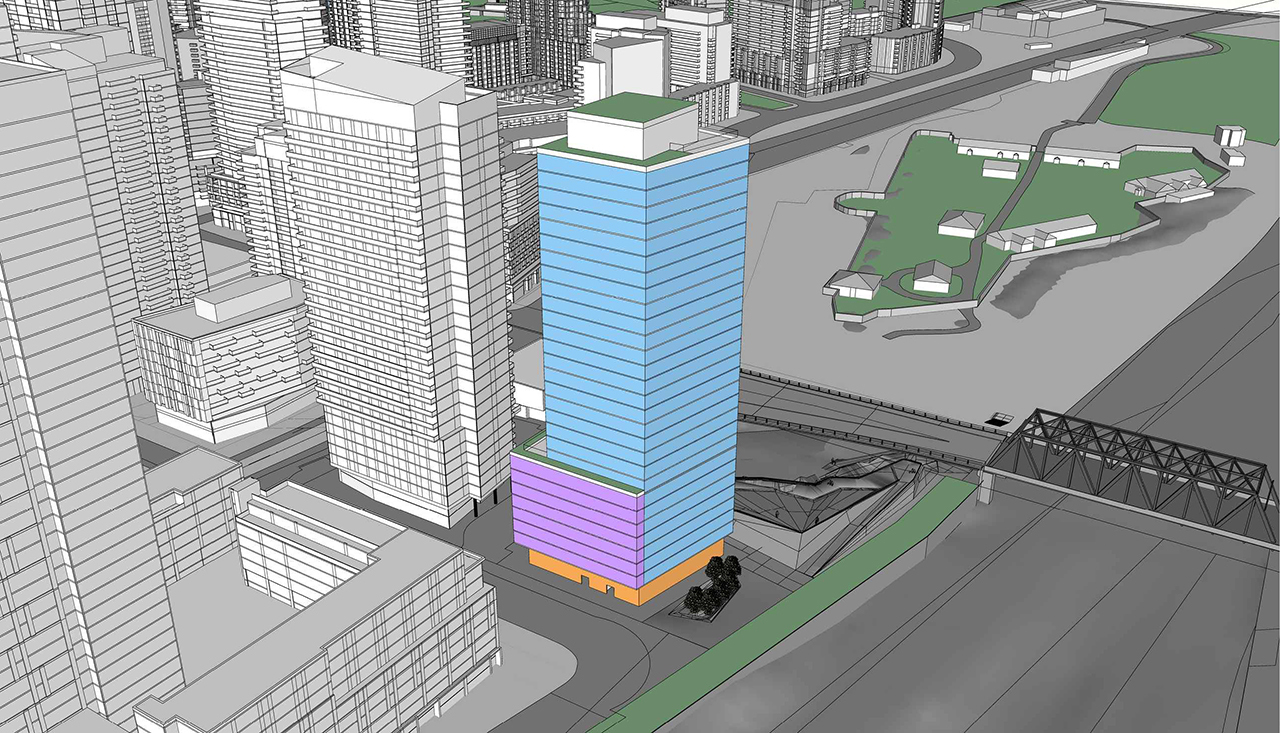 Looking southwest to 150 Queens Wharf, image via submission to City of Toronto
The 21,593 m² building would primarily be residential space, with 282 rental units and associated services plus 851 m² of amenity spaces, accounting for 98.6% of the total gross floor area. The units are proposed in a mix of 15 studios, 137 one-bedrooms, 102 two-bedrooms, and 28 three-bedroom units. The remaining 307 m² would be dedicated to a community space wrapping around the north end of the ground floor, positioned to provide views of the Downtown skyline to the east, and future park spaces to the west and to the north atop the adjacent rail corridor.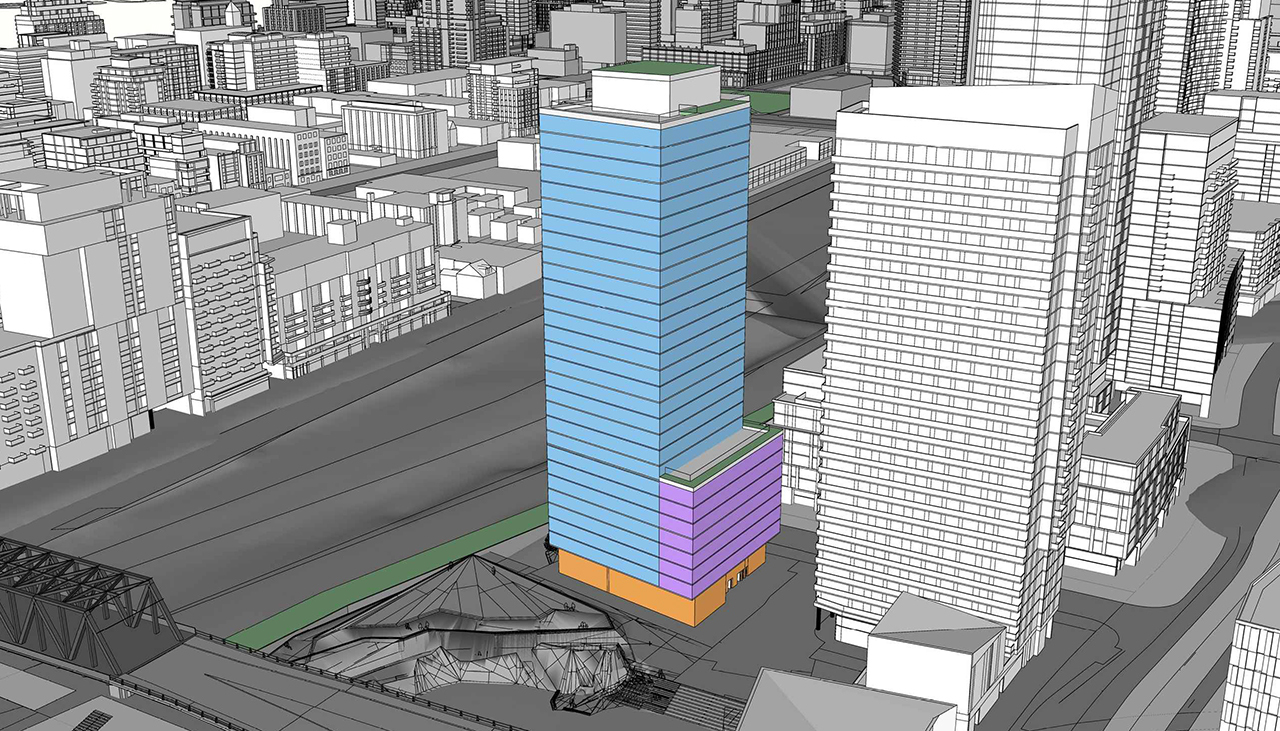 Looking northeast to 150 Queens Wharf, image via submission to City of Toronto
With Concord Adex's Concord Canada House towers now under construction, the proposal at 150 Queens Wharf represents the last development space in the wider Fort York-CityPlace neighbourhood. With a future park adjacent to the Bathurst Bridge, a potential mixed-use development and/or park over the rail corridor, and the far-off potential of bringing a new streetcar or LRT to the reserved median in Fort York Boulevard, there are few remaining pieces to fill out this new Downtown neighbourhood that's been a couple decades in the making.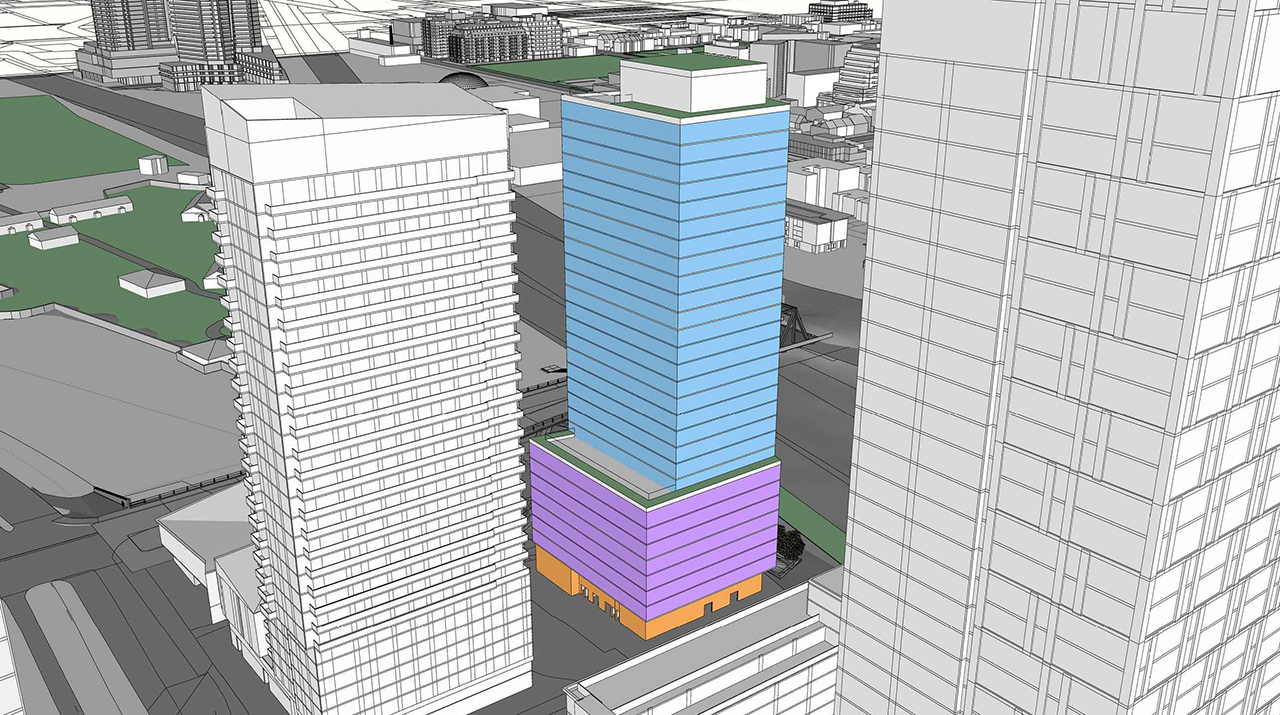 Looking northwest to 150 Queens Wharf, image via submission to City of Toronto
You can learn more from our Database file for the project, linked below. If you'd like to, you can join in on the conversation in the associated Project Forum thread, or leave a comment in the space provided on this page.
* * *
UrbanToronto has a new way you can track projects through the planning process on a daily basis. Sign up for a free trial of our New Development Insider here.