Revisions have been made to a 2019 proposed redevelopment of 385 The West Mall, located just west of Highway 427 and south of the Etobicoke Civic Centre, near the west city limits of Toronto. Developer TAS is seeking rezoning to allow the proposed SvN-designed mixed-use development of 14 and 28 storey towers connected by a 6-storey podium, consisting of retail and office use near ground level and residences above.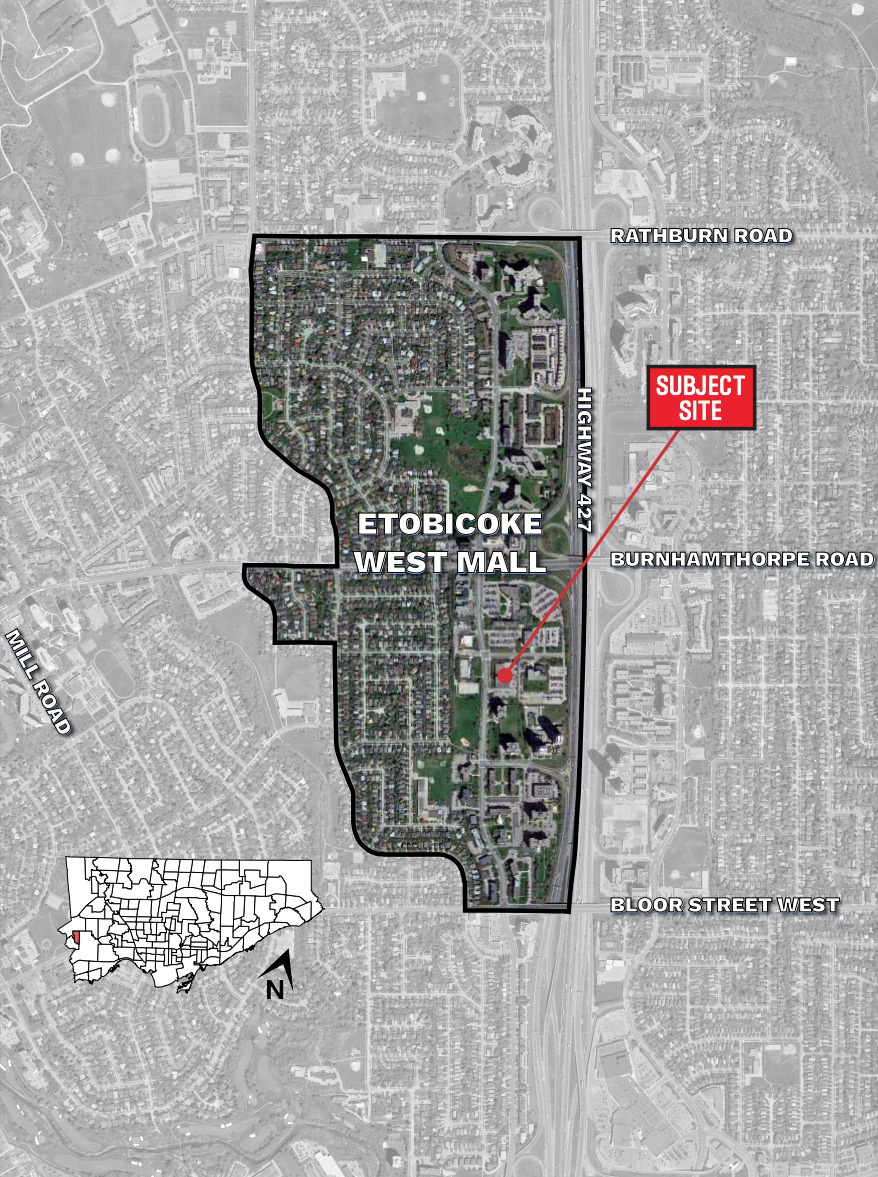 Location of the proposed development, 385 The West Mall, image by Bousfields for TAS
To replace a 6-storey office and retail complex bult between 1961 and 1964, the development was first submitted to the City in November, 2019 with 14 and 30-storey towers (image below). The two buildings were proposed with a combined gross floor area (GFA) of 51,619 m², consisting of 3,131 m² of commercial space and 48,488 m² of residential, represented by 665 condominium units in a mix of 360 one-bedrooms, 194 two-bedrooms, and 111 three-bedrooms.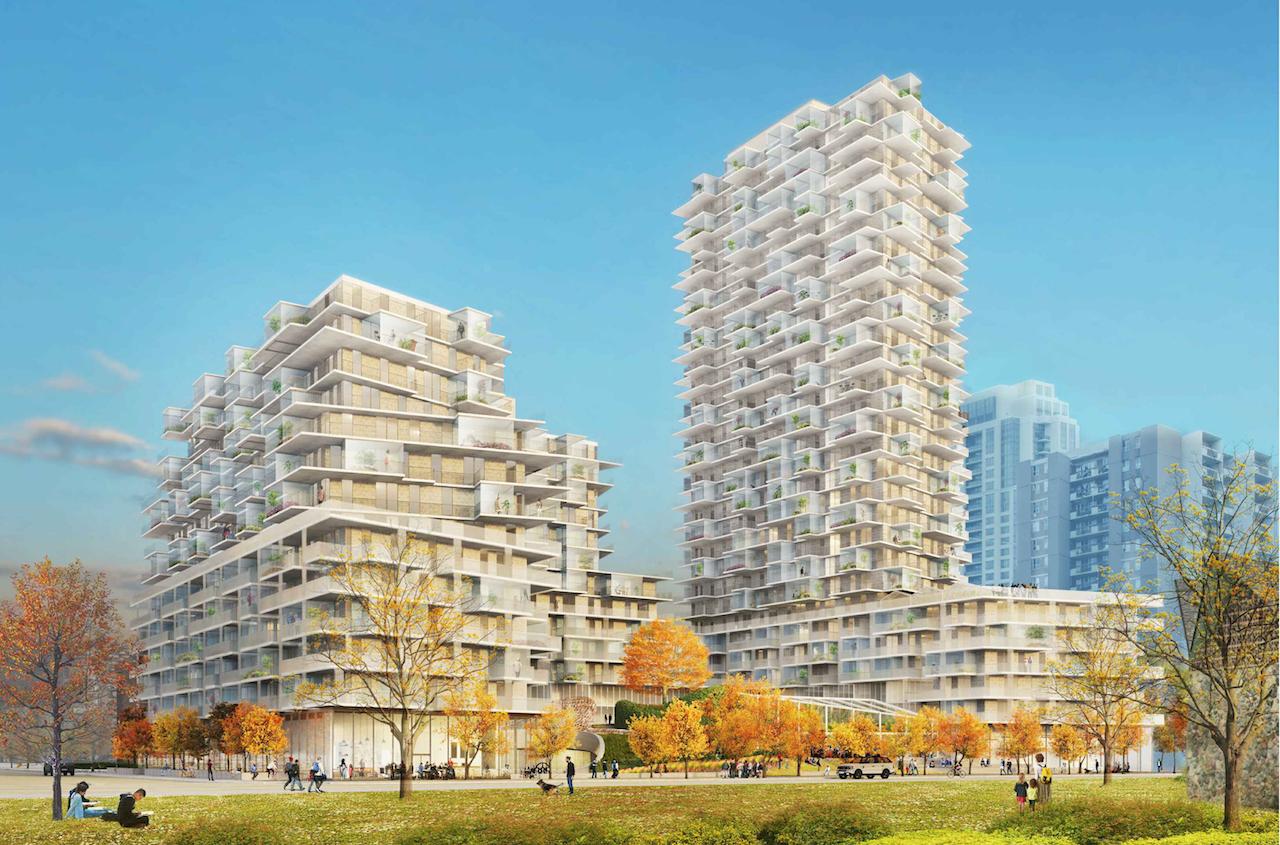 Looking southeast to 385 The West Mall, 2019 version, designed by SvN for TAS
In August, 2020, TAS submitted a revised application with the shorter tower shrunk by 2 floors to 12, and the taller tower increased by 2 to 32 (image below). There was a slight reduction in residential GFA 48,402 m², while commercial GFA rose to 4,199 m². This revision saw a drop of 12 units to 653.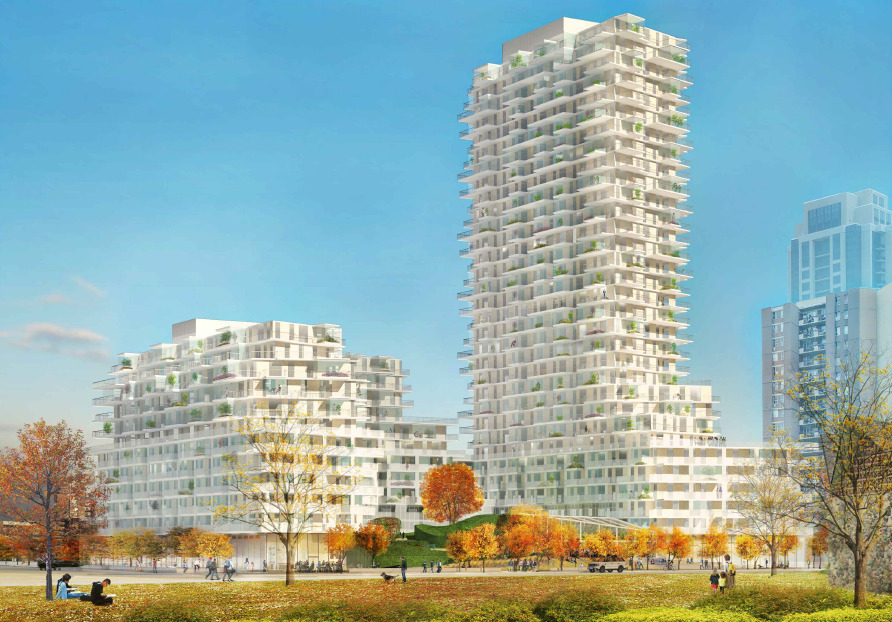 Looking southeast to 385 The West Mall, 2020 version, designed by SvN for TAS
The proposal was revised again in a February, 2021 resubmission to the City (image below). This version sees the 12-storey north building revert to 14 storeys, but with more terracing now, while the south tower drops to 28 storeys. These changes are in response to shadow concerns from the City particularly in regards to nearby Dennis Flynn Park, and the future sidewalks on the north side of the street along Civic Centre Court. With the change in height, there is a further reduction of the total GFA to 50,371 m², while residential space drops again to 46,340 m² and commercial space shifts downwards slightly to 4,030.50 m². There is also a reduction in dwelling units, from 653 to 641. The updated proposal has 385 one-bedrooms, 185 two-bedrooms, and 71 three-bedrooms.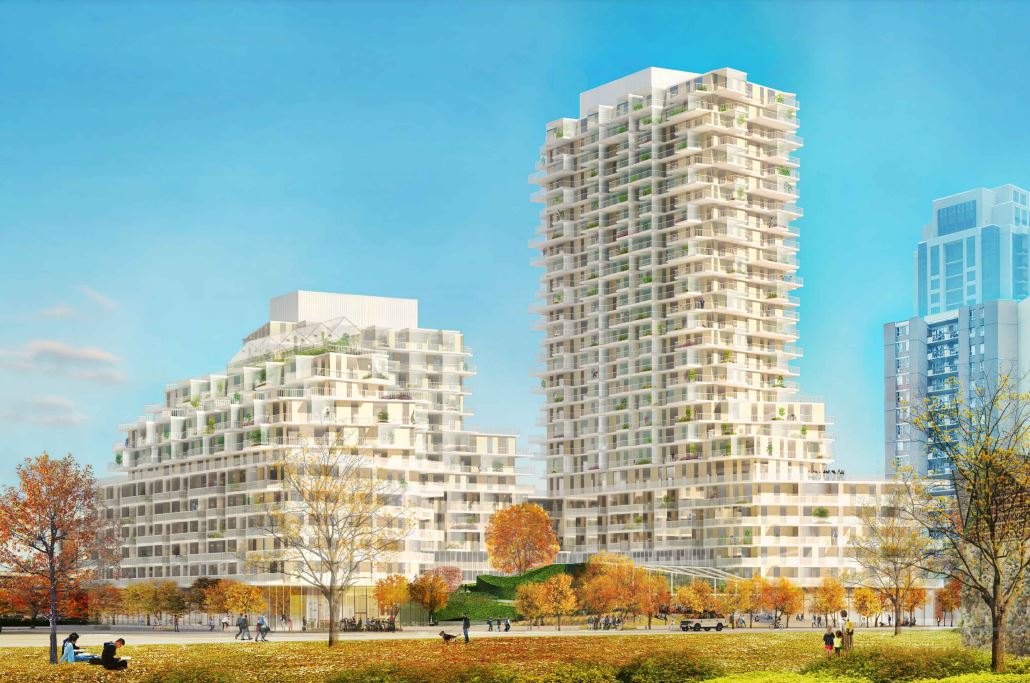 Looking southeast to 385 The West Mall, 2021 version, designed by SvN for TAS
Maintained throughout the revisions, the buildings and the mid-rise podiums form a C-shape, which would frame the terraced outdoor courtyard space with landscaping by Public Work, serving both building residents and visitors of the retail space. This courtyard and roof spaces will have space for such things as outdoor gatherings, gardening, an enclosed conservatory, and trellis structures with climbing vines, and more. Also proposed as part of the suites are glazed outdoor "winter garden" spaces as opposed to conventional balconies for each dwelling, in addition to pet relief amenities.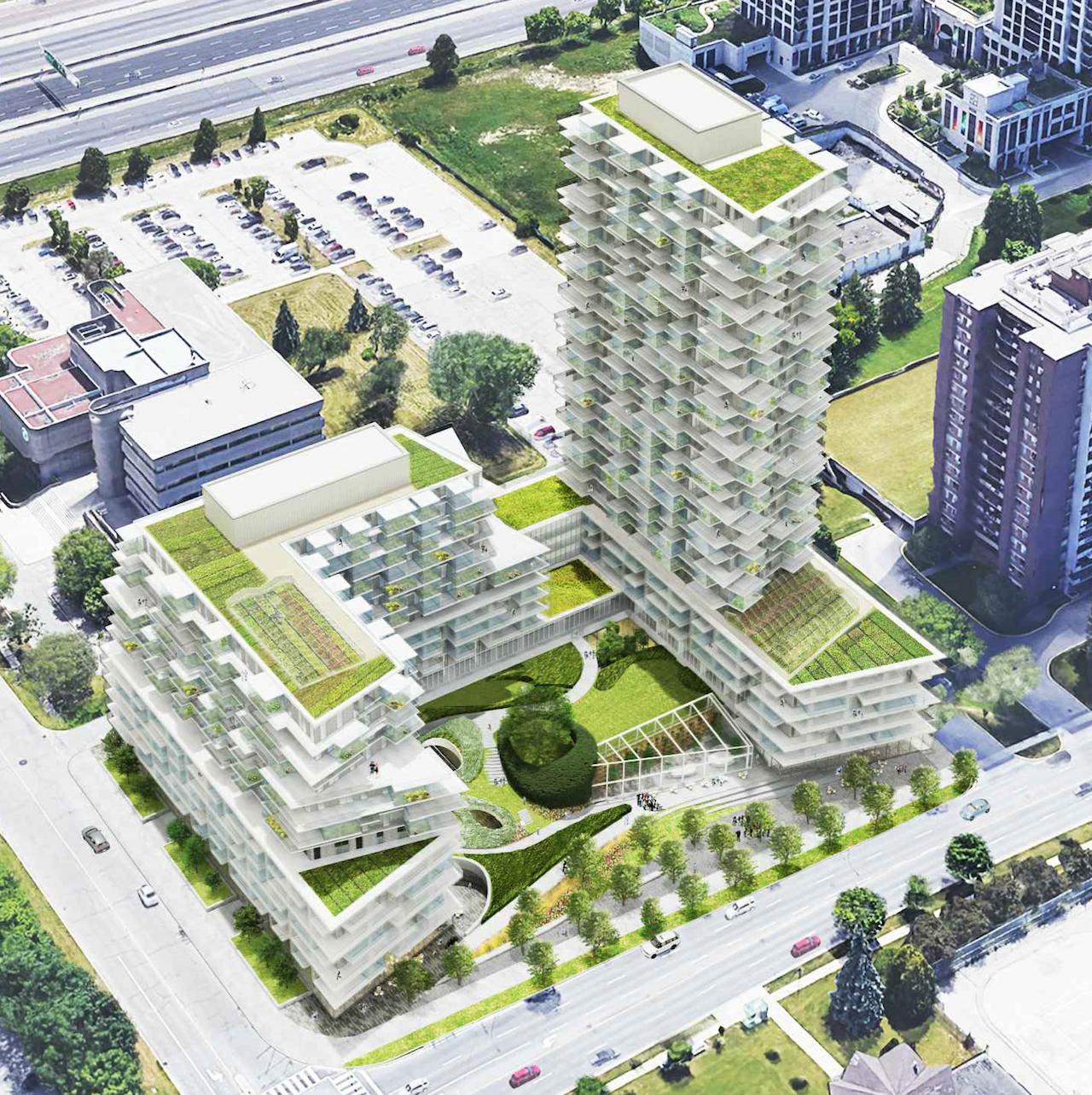 Looking southeast to 385 The West Mall, 2019 version, designed by SvN for TAS
The complex would have a 3-level underground garage with a total of 740 vehicular parking spaces, 11 of which would be at grade. Parking for 508 bicycles would be provided on the ground floor.
Additional information and images can be found in our Database file for the project, linked below. Want to get involved in the discussion? Check out the associated Forum thread or leave a comment in the space provided on this page.
* * *
UrbanToronto has a new way you can track projects through the planning process on a daily basis. Sign up for a free trial of our New Development Insider here.