At July's Toronto City Council meeting, Official Plan and Zoning By-law amendments were approved for a redevelopment of the long dormant Birch Cliff Quarry lands just to the east of Victoria Park Avenue south of the Lakeshore East rail corridor in Scarborough. Located a short bus ride or couple minutes walk south of Victoria Park subway station, the City's real estate arm, CreateTO initiated the redevelopment process here in 2017, selecting private developers Diamond Kilmer to revitalize the site as a complete community with a significant affordable housing component and new open space.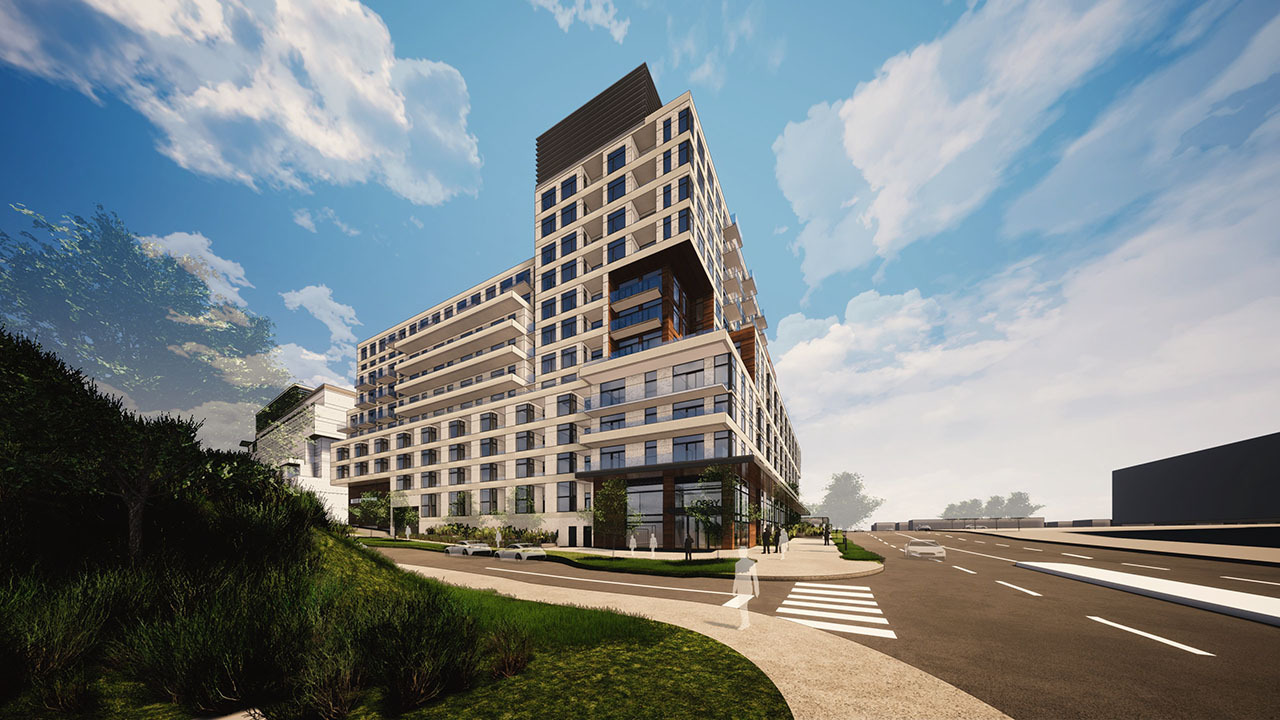 Looking south along Victoria Park Avenue to the Birch Cliff Quarry lands redevelopment, designed by TACT Architecture for Diamond Kilmer
The developers submitted their first proposal in December, 2019, seeking to create 798 units, but in August, 2020 following the identification of additional sewer capacity in a City-initiated environmental assessment, a resubmission increased the plan to 1,043 total units. The revised master plan looked to create a variety of housing and unit types, while also creating new public spaces. Designed by TACT Architecture, the community would consist of four mid-rise residential buildings ranging from 8 to 12 storeys, two blocks of stacked back-to-back townhouses, and two new public roads to service the community.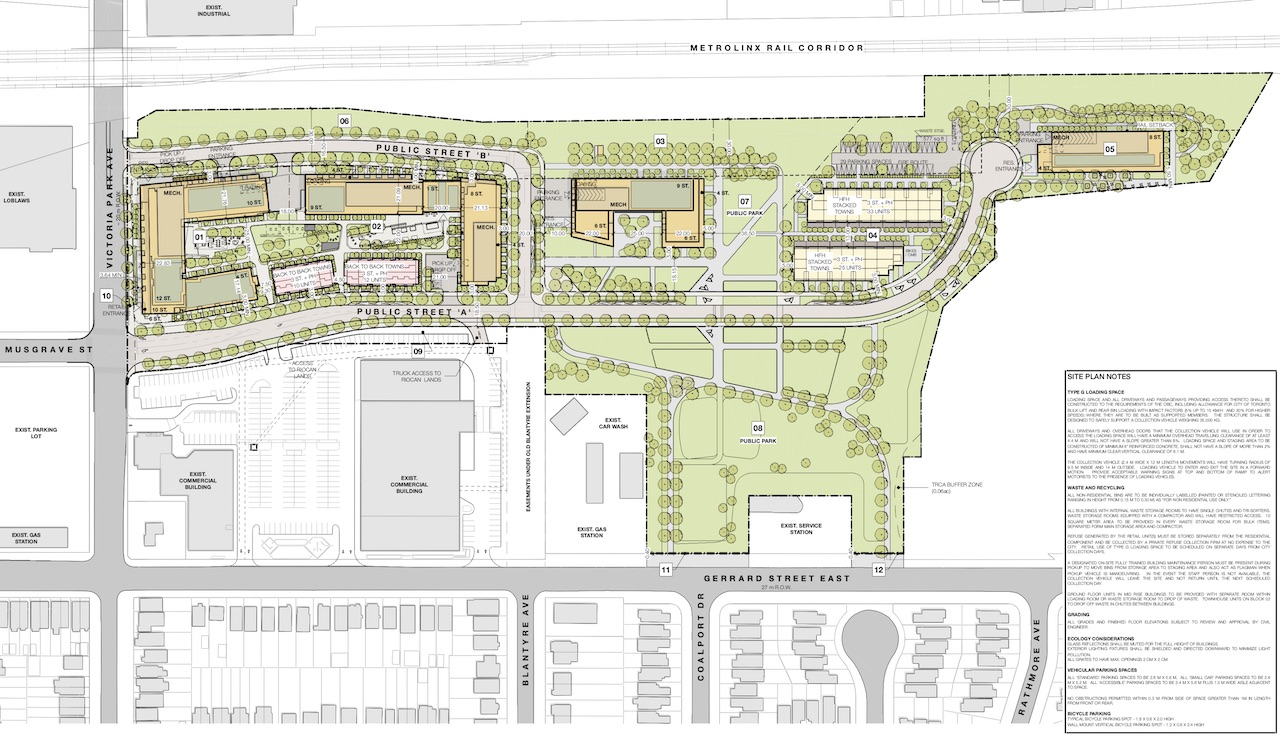 Site Plan, Birch Cliff Quarry lands, designed by TACT Architecture for Diamond Kilmer
The master plan divides the lands into 8 blocks as indicated on the plan above. Market residential mid-rise buildings and townhouses are planned in blocks 1, 2, and 3, while affordable housing units from Habitat for Humanity and CreateTO are planned in blocks 4 and 5. Blocks 7 and 8 are designated for parkland, while block 6 is for roads and railway buffer space.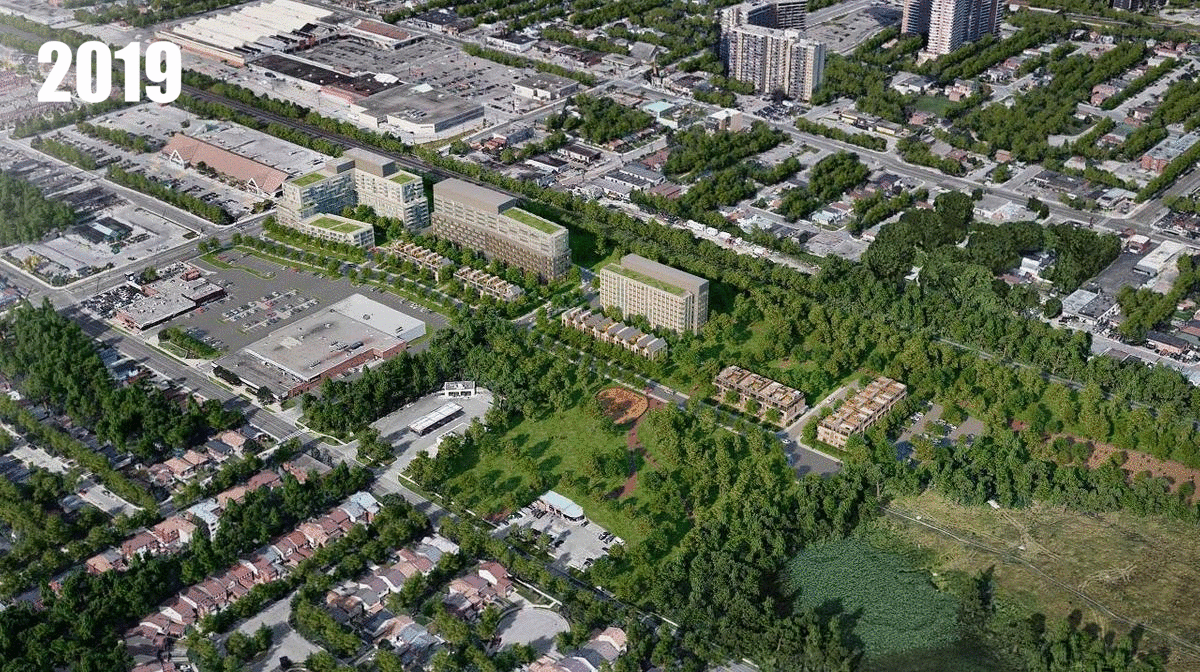 Aerial view looking northwest of the Birch Cliff Quarry lands designed by TACT Architecture for Diamond Kilmer
The plan was refined twice since the August, 2020 resubmission in the lead-up to Council approval; first in December, 2020, and again in April, 2021. This April's plan, which was approved by at City Council in July, looks virtually unchanged from the air compared to the 2020 image in the GIF above, but does have a number of minor tweaks to the numbers as seen in the table below which abstractly represent such changes as an enhanced public realm and pedestrian environment, minor site plan updates to enhance resident experience, updated lay-by parking strategy, additional detail on soil volumes, tree removal, and tree protection, and other technical adjustments.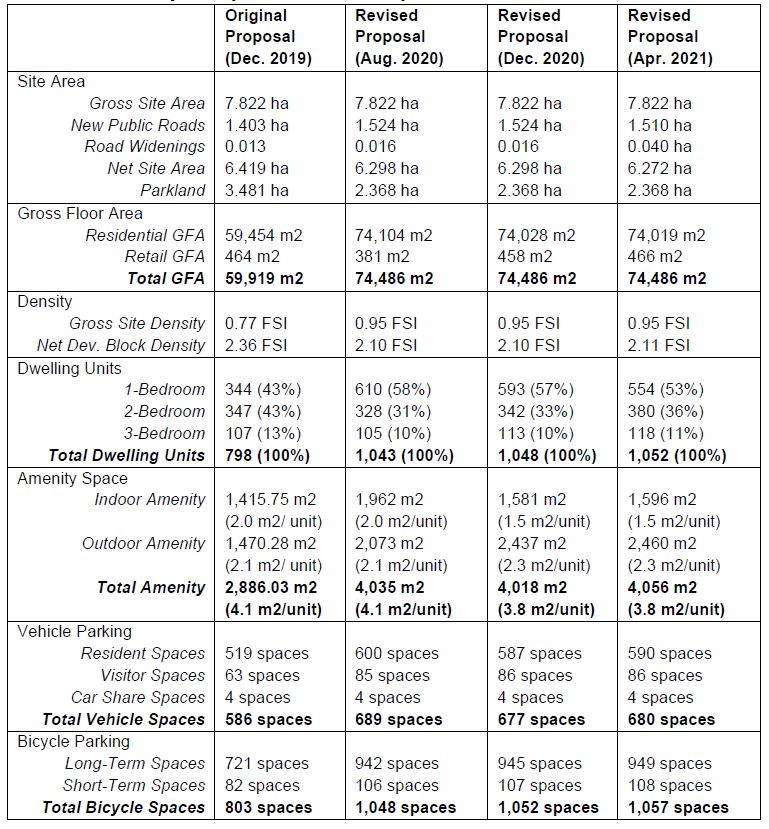 Table Comparing the submissions, Birch Cliff Quarry lands, Diamond Kilmer
Of more significance in recent changes is the potential for a new school which would replace the mid-rise planned for Block 3 and the park space planned for Block 7, although the school grounds would be available for community use after school hours in a similar manner to functioning as parkland.
While the school situation is hammered out, an Ontario Land Tribunal appeal is also pending. Brought by the owners of adjacent properties along Victoria Park and Gerrard, discussions and a study are are taking place regarding a potential extension of Blantyre Avenue north from Gerrard Street to Public Street A on the site. The parties are working towards a resolution that will be decided following an OLT hearing scheduled for March, 2022. In the meantime, we may soon be seeing Site Plan Approval applications being submitted to the City for individual blocks on the site, at which point we will delve into more detail about the various proposed buildings.
Additional information and images can be found in our Database file for the project, linked below. Want to get involved in the discussion? Check out the associated Forum thread or leave a comment in the space provided on this page.
* * *
UrbanToronto has a new way you can track projects through the planning process on a daily basis. Sign up for a free trial of our New Development Insider here.