A proposed 22-storey residential building could deliver 128 units on the east side Midtown Toronto at 537 Eglinton Avenue East, a block-and-a-half west of Bayview Avenue. In July, Eglinton Hoyle Realty Inc. filed a rezoning application to permit the redevelopment of the site, a short walk from the coming Leaside Crosstown LRT station.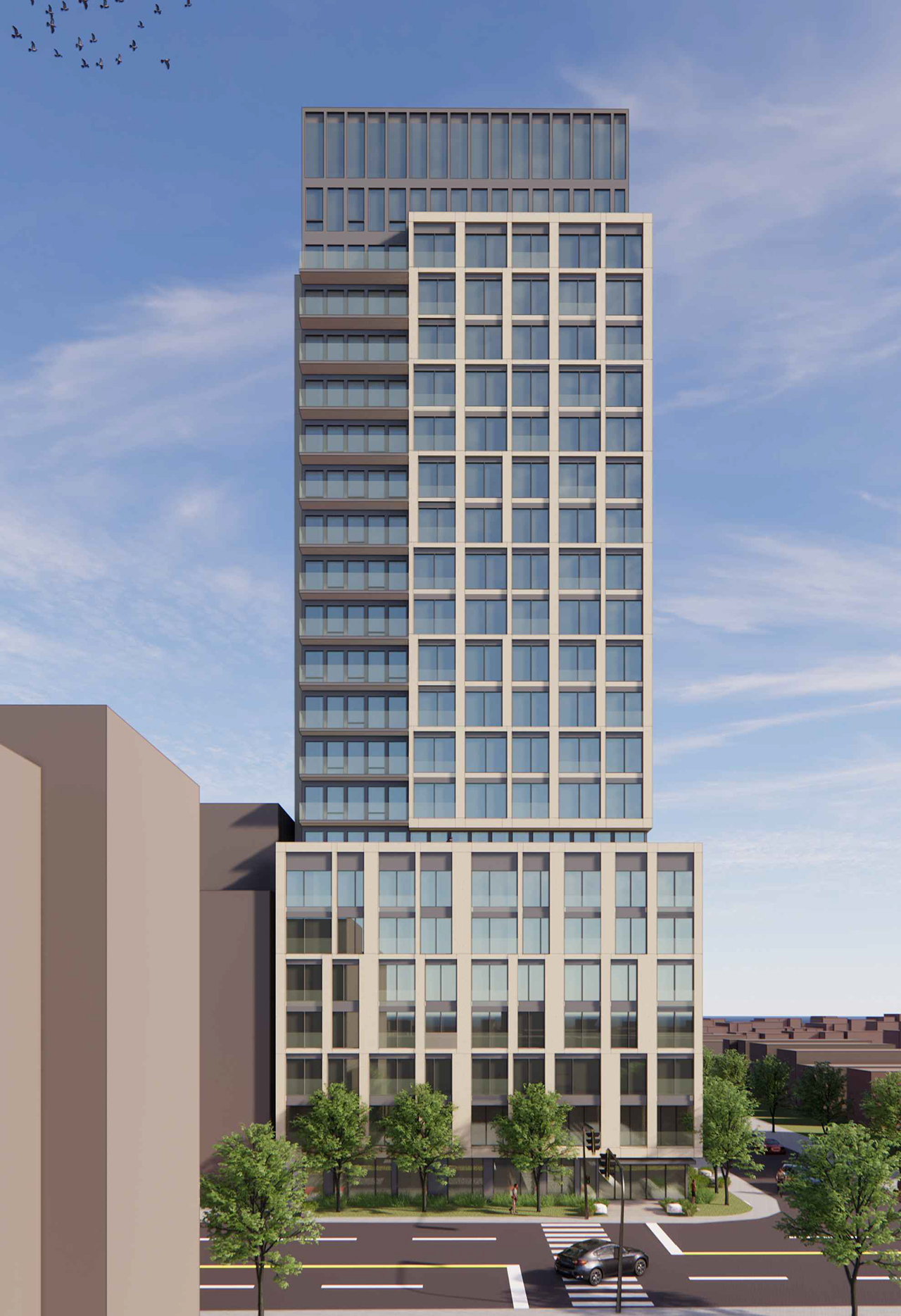 Looking south to 537 Eglinton Avenue East, image by RAW Design
It site comprises 537 through 543 Eglinton East, with a pair of semi-detached two-storey homes at 537 and 539, and former detached homes at 541 and 543 that are currently occupied by commercial and office uses. To the immediate east are two more single detached former homes occupied by small retail commercial businesses, while to the west across Hoyle Avenue is a 9-storey residential apartment building. North across Eglinton Avenue are four- and eight-storey office buildings, while to the south is a low-rise residential neighbourhood primarily dominated by single-family residences.
Currently under construction and scheduled to be in operation by 2022 is the Crosstown LRT that will introduce a transit station at the northwest and southeast corners at Bayview and Eglinton. After the completion of the LRT, the City's Eglinton Connects initiative will introduce a set of streetscape improvements including greenery, sidewalks, and bike lanes.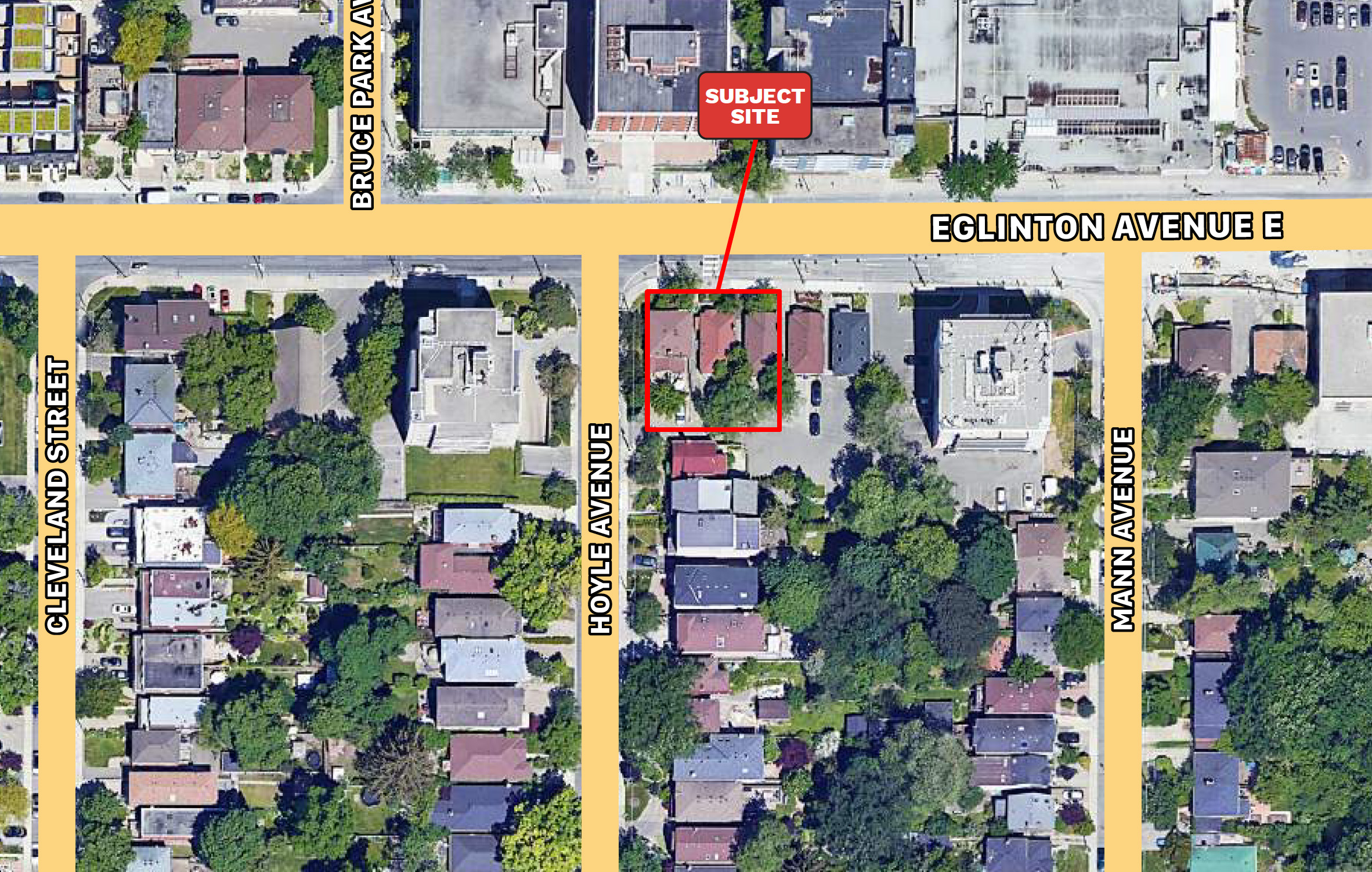 Area context for 537 Eglinton Avenue East, image by Bousfields Inc.
RAW Design has devised a 22-storey residential apartment building consisting of a 7-storey podium topped with a 14-storey residential tower plus a upper most floor shared between amenities and the mechanical penthouse. The total gross floor area is 9,073 m², resulting in a density of 15.8 FSI.
The podium forms a 7-storey street-wall which will reinforce the main street built form on this portion of Eglinton and allow for public realm improvements to the Eglinton Avenue and Hoyle Avenue boulevards. Along the building's Eglinton frontage are ground-floor design treatments that mark its primary entrance at the northwest corner. The building is generally built to the property line to the east and west. At the 8th Level, the north side is stepped back 3 metres from the front lot line.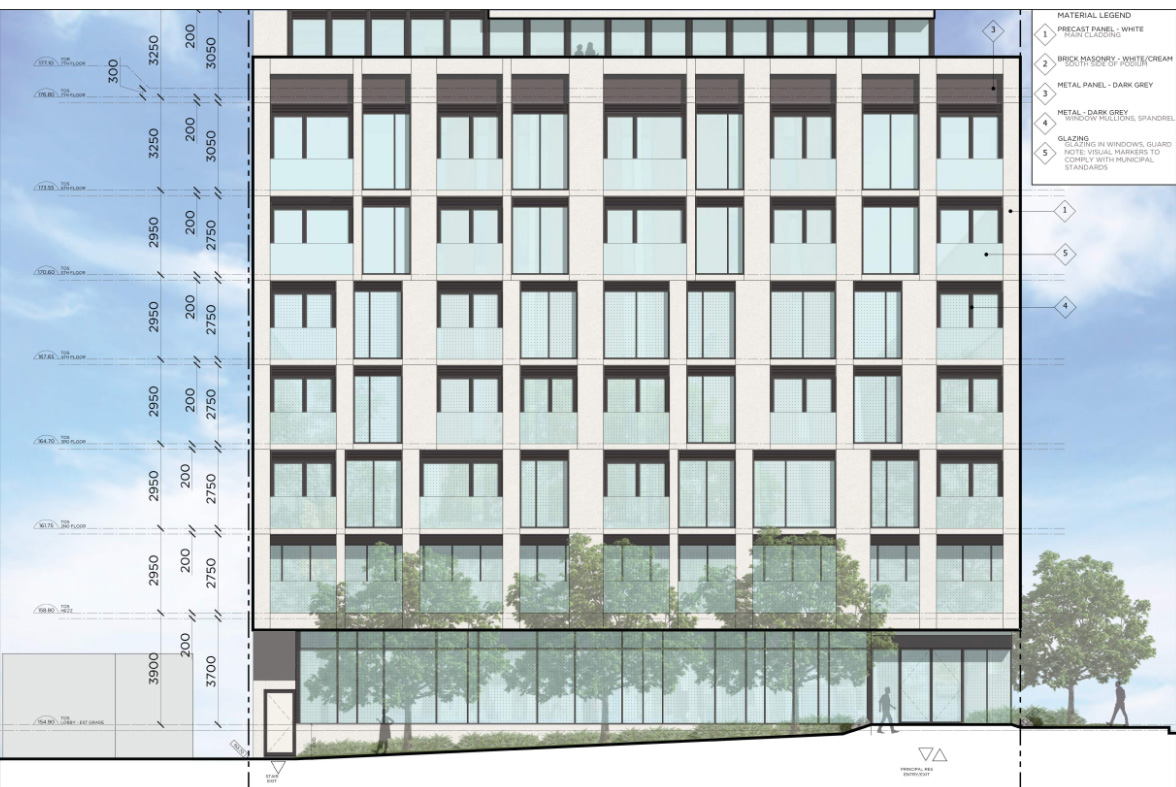 North coloured (partial) elevation, image by RAW Design
The rendered north elevation above indicates the materials palette: white precast panel for the main cladding, with dark grey metal panel, spandrel, and window mullions. Cream-coloured brick masonry is proposed for podium's south side.
The building comprises a total of 128 dwelling units in the following breakdown: 20 studios (16%), 22 one-bedrooms (17%), 73 two-bedrooms (57%) and 13 three-bedrooms (10%). The compact floor plans accommodate 8 units per floor between Level 4 to 7, and 6 units per floor from Level 7 to 21.
The proposal includes 272 m² of interior residential amenity space located on the ground and second floors and on the 22nd storey/mechanical penthouse level, adjacent to an 77m² outdoor amenity area wrapping the southwest corner.
A private laneway leads to 1 short-term surface parking spot, loading area, and an automated car elevator to the underground parking. The two underground levels include 36 vehicular and 128 long-term bicycle parking spaces.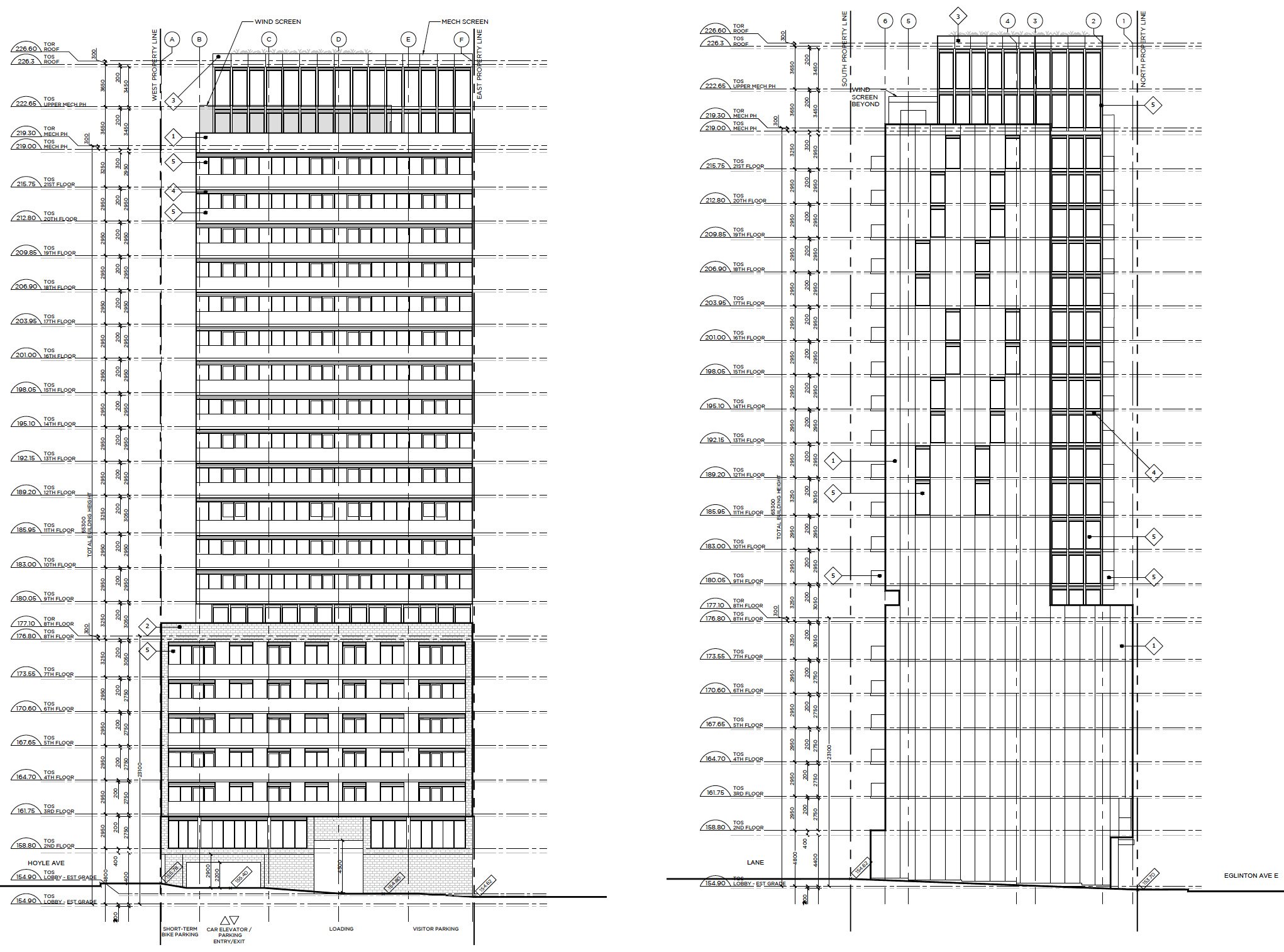 South (left) and East (right) elevations, image by RAW Design
You can learn more from our Database file for the project, linked below. If you'd like to, you can join in on the conversation in the associated Project Forum thread, or leave a comment in the space provided on this page.
* * *
UrbanToronto has a new way you can track projects through the planning process on a daily basis. Sign up for a free trial of our New Development Insider here.