The annual ULI Hines Urban Design Competition challenges graduate students from a number of disciplines to tackle complex issues facing our cities. This year, a team of five students from Canada's Ryerson University, the University of Toronto, and York University won first place, ahead of 105 entries across 61 universities.
Water Feature Plaza surrounded by the community centre, public art, and residential buildings. Image courtesy of Fusion.
This ideas competition requires graduate students to form multidisciplinary teams. They then devise a comprehensive design and development program for a large-scale site in a North American city. The 2021 brief asked students to focus on an underused area in downtown Kansas City, Missouri and to address diverse interconnected themes across housing affordability, equity, transportation, mobility, sustainability, and resilience. Given only two weeks to develop their proposals, student teams work furiously to generate cohesive narratives and insightful graphic boards, including design plans and market-oriented financial data.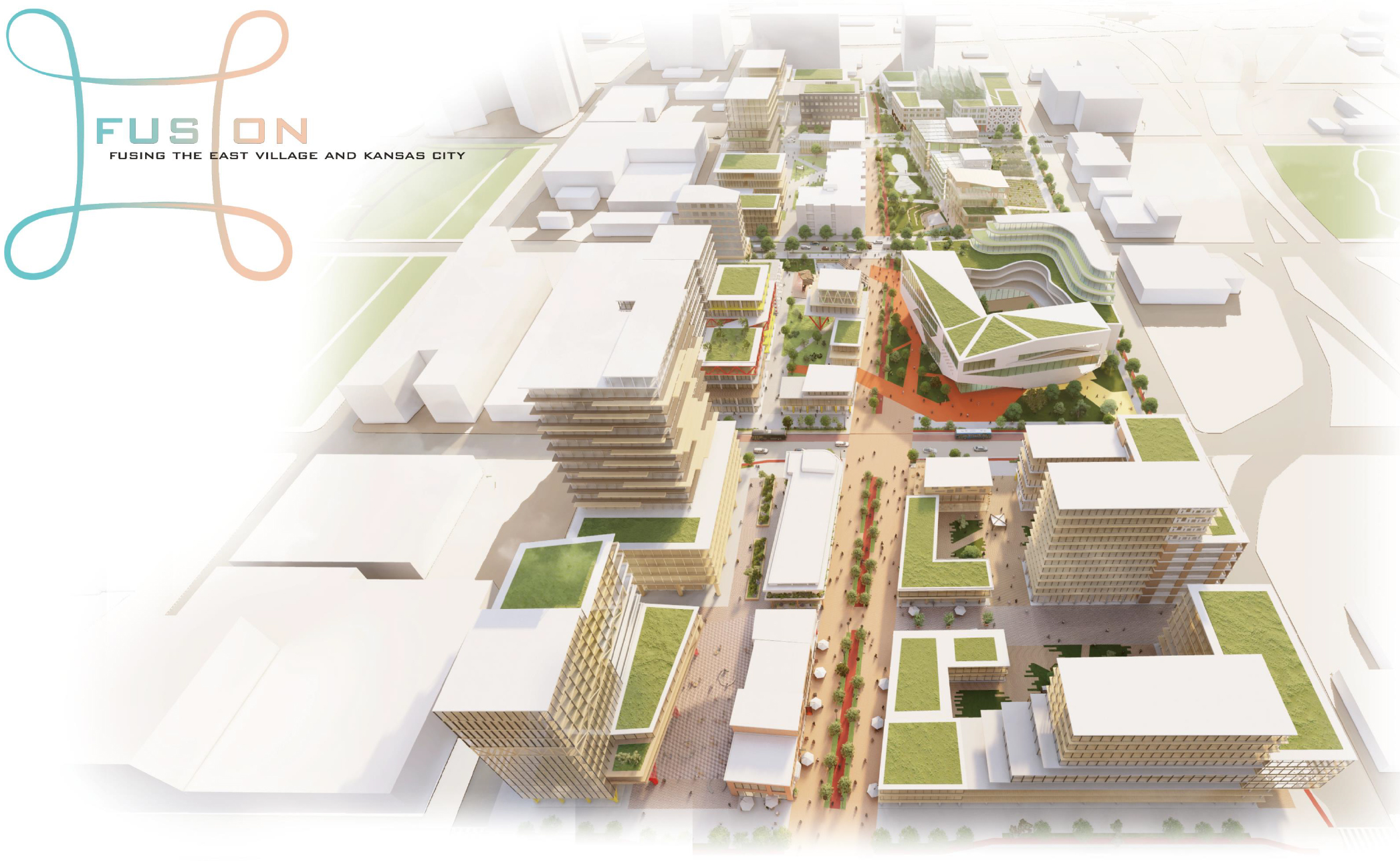 Rendered perspective of the winning proposal. Image courtesy of Fusion.
The winning team was comprised of Frances Grout-Brown and Leorah Klein, Ryerson University; Yanlin Zhou, York University; and Ruotian Tan and Chenyi Xu, University of Toronto, representing planning, real estate & infrastructure, urban design, and architecture, respectively. They were awarded a prize of $50,000 US.
From the get-go, the team worked well together—online of course, given the times. While the students could not provide a precise recipe for their winning 'secret sauce', team member Klein noted that "There was just an amazing mesh. We were all open to hearing from each other and recognizing how everybody brought different skills to the table. Talking through the strategy, iterating and refining, it sounds crazy when you frame it as only being two weeks."
Unlike proposing a university satellite campus or stadium, the team's success was rooted in addressing a pressing local social and economic need: "Ours was grounded in the pairing of neighbourhood with food innovation," said Grout-Brown, the Team Lead. "There are a lot of food deserts around the [Kansas City] Downtown Loop—few grocery stores. Our proposal seeks to build up local businesses and provide space to a network of [existing] community organizations that have created many of the urban gardening spaces."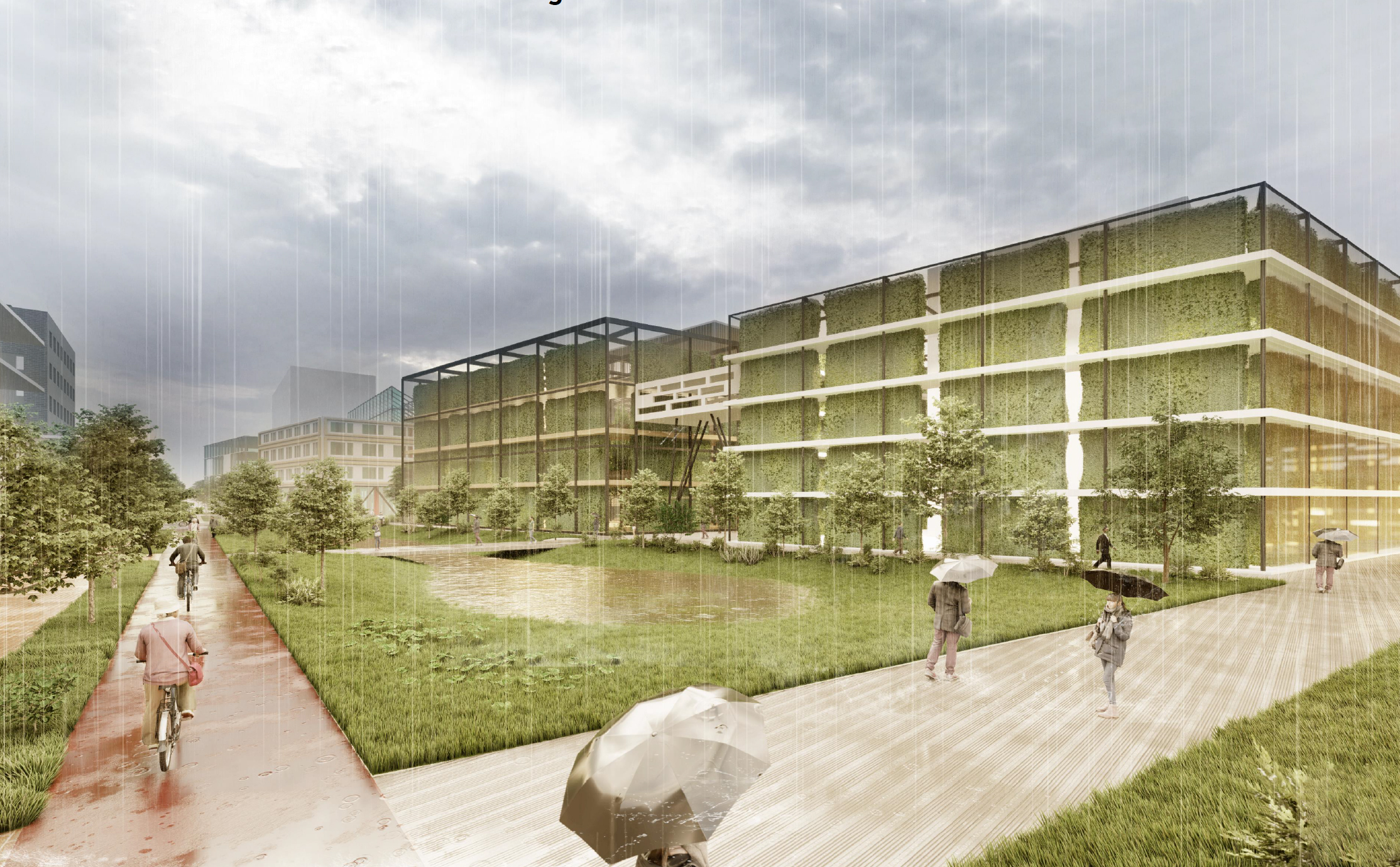 Sunken Rain Garden outside of Vertical Farming Greenhouse. Image courtesy of Fusion.
Dubbed 'Fusion', the $655 million proposal fuses Kansas City's East Village, Paseo West, and the Downtown Core, imagining:
a 165,000 ft² food incubator to foster economic growth;
a network of community gardens to address food deserts and create agriculture jobs;
rain gardens and tree canopy to mitigate floods and extreme heat;
green infrastructure, bike lanes, and multi-block pedestrian walkways to reduce greenhouse gases;
affordable housing for lower-income neighborhoods.
Grout-Brown went on to say that as Fusion's creators, they envisioned "a livable neighbourhood and destination that complements but does not take away from what's already there, [and] draws people from all over Kansas City". The team anticipates a public-private partnership with the Kansas City government. Their proposal, illustrated below, brings a strong mix of housing, office and retail, to be built in three phases over seven years. It comprises 453 affordable units, 1,035 market units, and over 150,000 ft² of shared office, incubator space, and research labs. Employment opportunities are created through retail and social infrastructure, which includes a community center and urban agriculture facilities. A central theme is to engage with the street through significant investments in the public realm: organizing low-rise buildings around a pedestrian spine (promenade), integrating retail activation, increasing connectivity and mobility.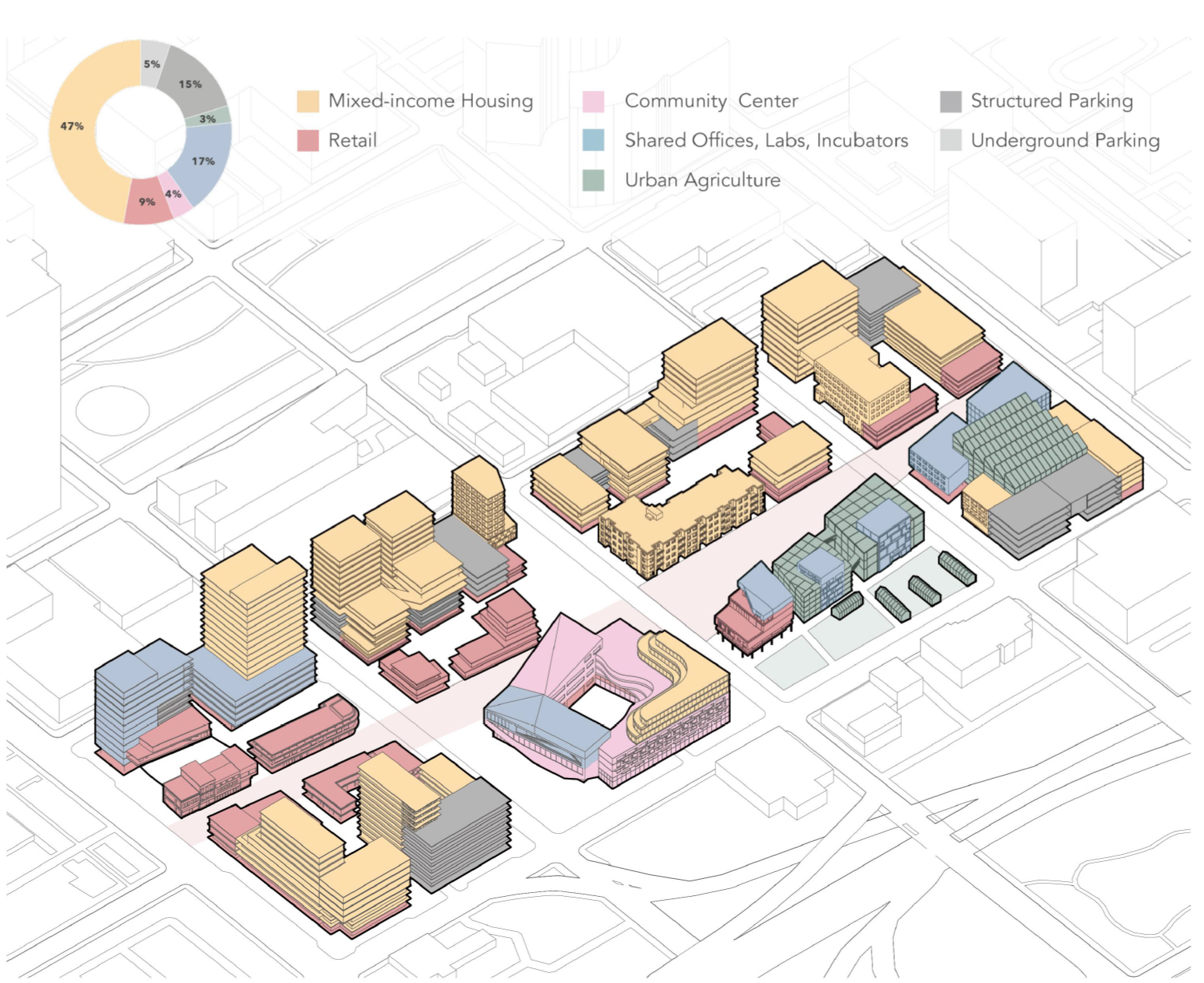 Total Use Mix. Image courtesy of Fusion.
Team Toronto joined three other finalist teams from Georgia Institute of Technology, University of Houston, Pennsylvania State University, Columbia University, and the University of California Berkeley. This year, finalist team site tours and final presentations were held virtually instead of in the host city. On March 19, students rehearsed their proposals and received feedback from six experts and ULI members from Kansas City. On April 8, they presented their plans virtually to a jury of 16 leading ULI members with backgrounds in commercial real estate, land use, and design.
"Fusion stood out as it pushed a new paradigm for an urban neighborhood based on the strong regional legacy of agriculture," said ULI Hines Jury Chair Diana Reid. "Their financing plan and design enabled economic resilience through small scale food growth and distribution, local culinary incubation, and research-driven employment opportunities." Amongst other things, the jury praised its ambitious housing affordability targets, smart community partnerships, and multi-modal transportation.
The students, having just wrapped up their Masters, are now just waiting for the opportunity to finally meet in person for a celebratory park toast to a well-deserved win.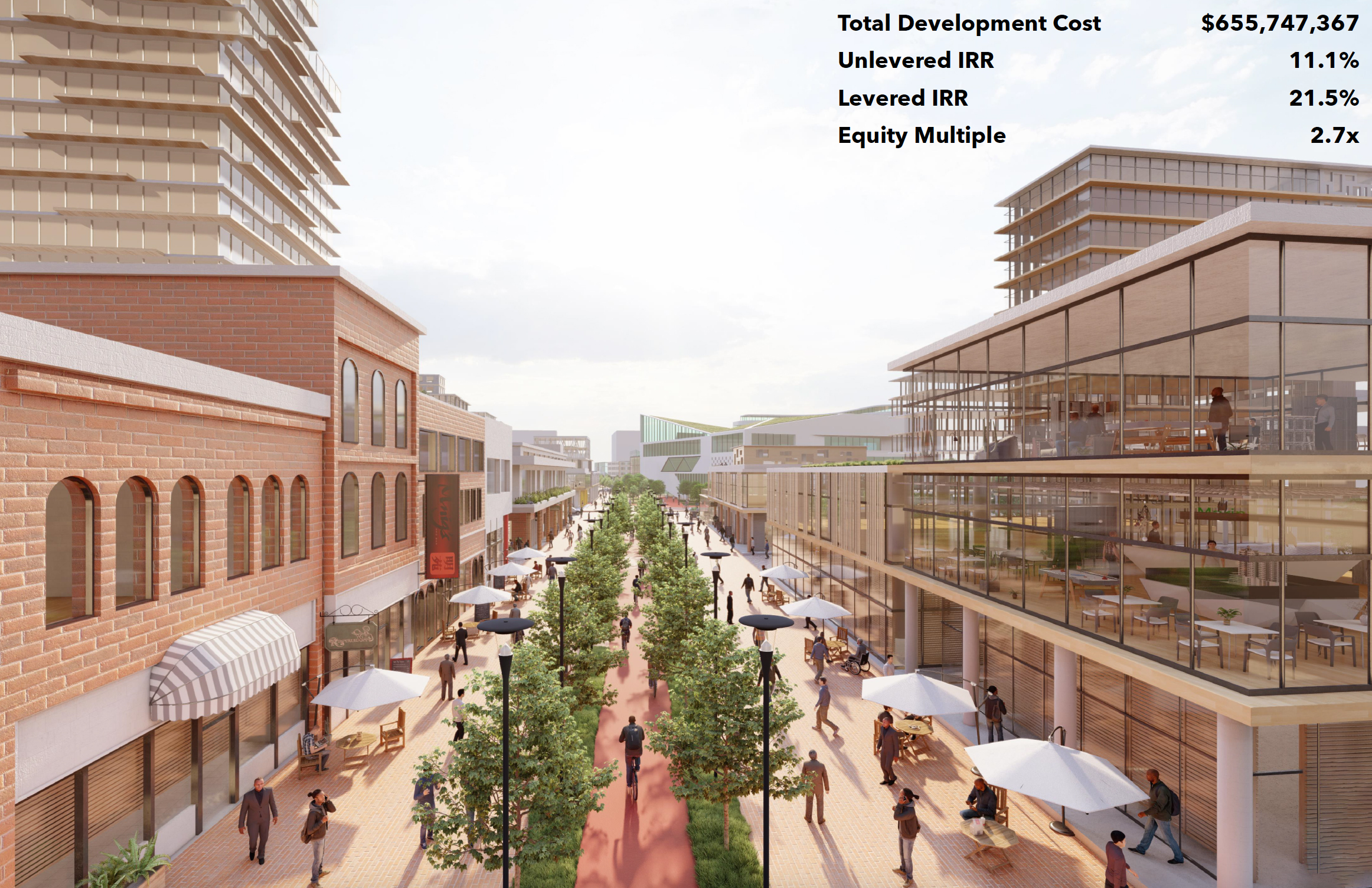 Rendering: perspective along pedestrian spine. Image courtesy of Fusion.
More information about the 2021 competition is available online. A gallery of all 2021 submissions and teams can be found at uli.org/hines2021gallery.
You can learn more from our Database file for the project, linked below. If you'd like to, you can join in on the conversation in the associated Project Forum thread, or leave a comment in the space provided on this page.
* * *
UrbanToronto has a new way you can track projects through the planning process on a daily basis. Sign up for a free trial of our New Development Insider here.