The City of Toronto is making some smart moves. The City's real estate division, CreateTO, is unlocking value from its land assets and driving for a more coherent community-driven vision with a major investment in the livability and vibrancy of our rapidly densifying city. Torontonians, commuters and tourists will see—post COVID—a sizeable half-acre new park with new housing (30% of the suites affordable), public amenities, and improved state of good repair. Doing this within our strained City budget is no small matter.

Proposed park notional concept, image from CreateTO
During a virtual press conference last Friday, Mayor John Tory and local Councillor Joe Cressy announced plans for a significant redevelopment in the Entertainment District, one of Toronto's densest neighbourhoods. A public-private initiative, it envisions some 200 affordable housing units, a new fire hall, a new EMS post, a community agency space, and a new public park.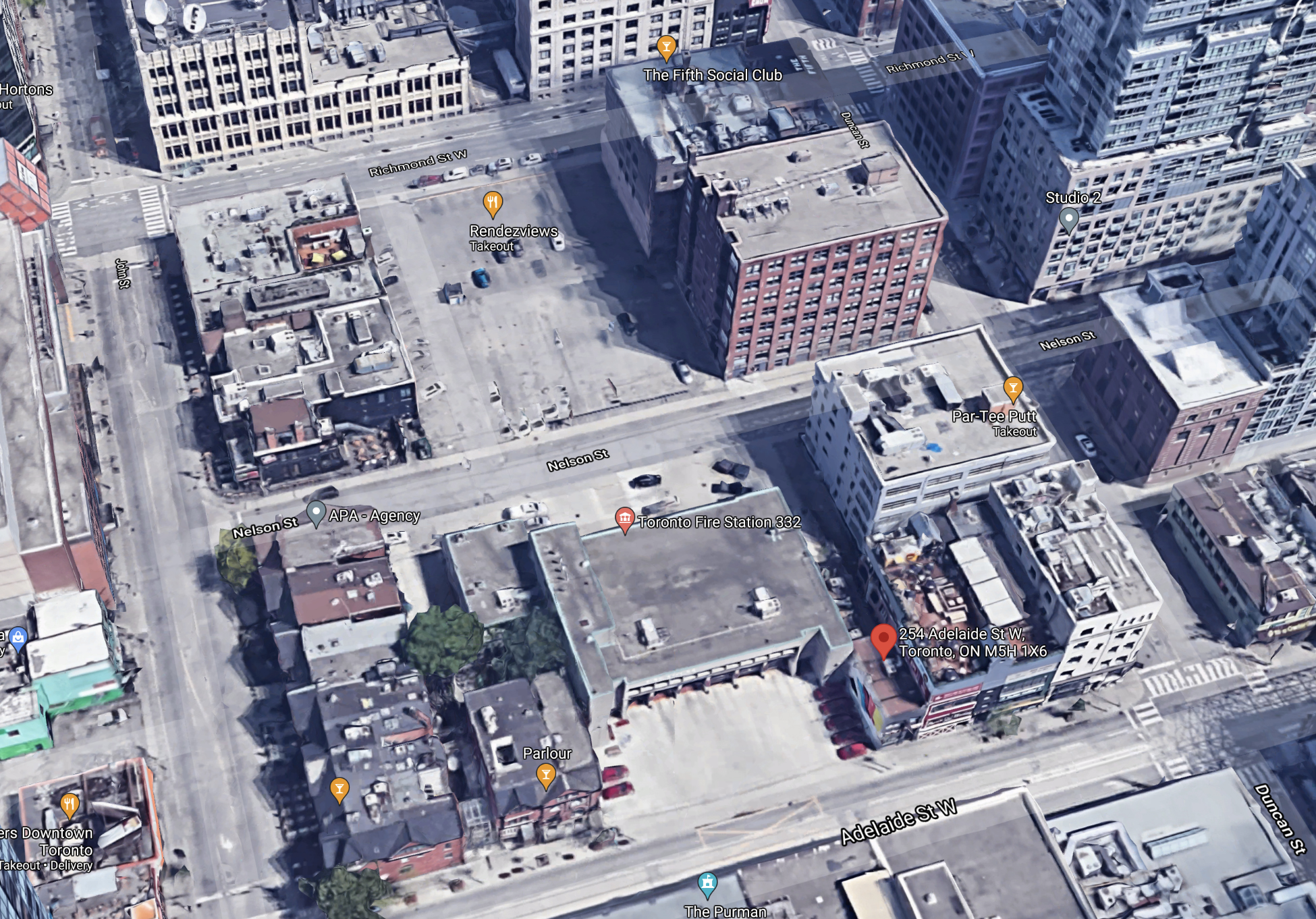 Aerial photo indicating the parking lot at 229 Richmond St W and Fire Station #332 at 260 Adelaide St W, image retrieved from Google Maps
The properties involved are: (city-owned) 260 Adelaide St. W, currently home to Toronto Fire Station 332, and (privately-owned) 229 Richmond St. W, now a surface parking lot behind 'The Ballroom' on John Street. (UrbanToronto readers may recall the parking lot was turned into a massive patio filled with picnic tables and umbrellas during COVID last summer).
In October, 2019 City Council approved a staff recommendation to move forward with the disposition of the Adelaide Street site, relocating its 50-year-old fire station two blocks south to Metro Hall (as shown below). At that same meeting, Council also approved the acquisition of the Richmond Street West parking lot site.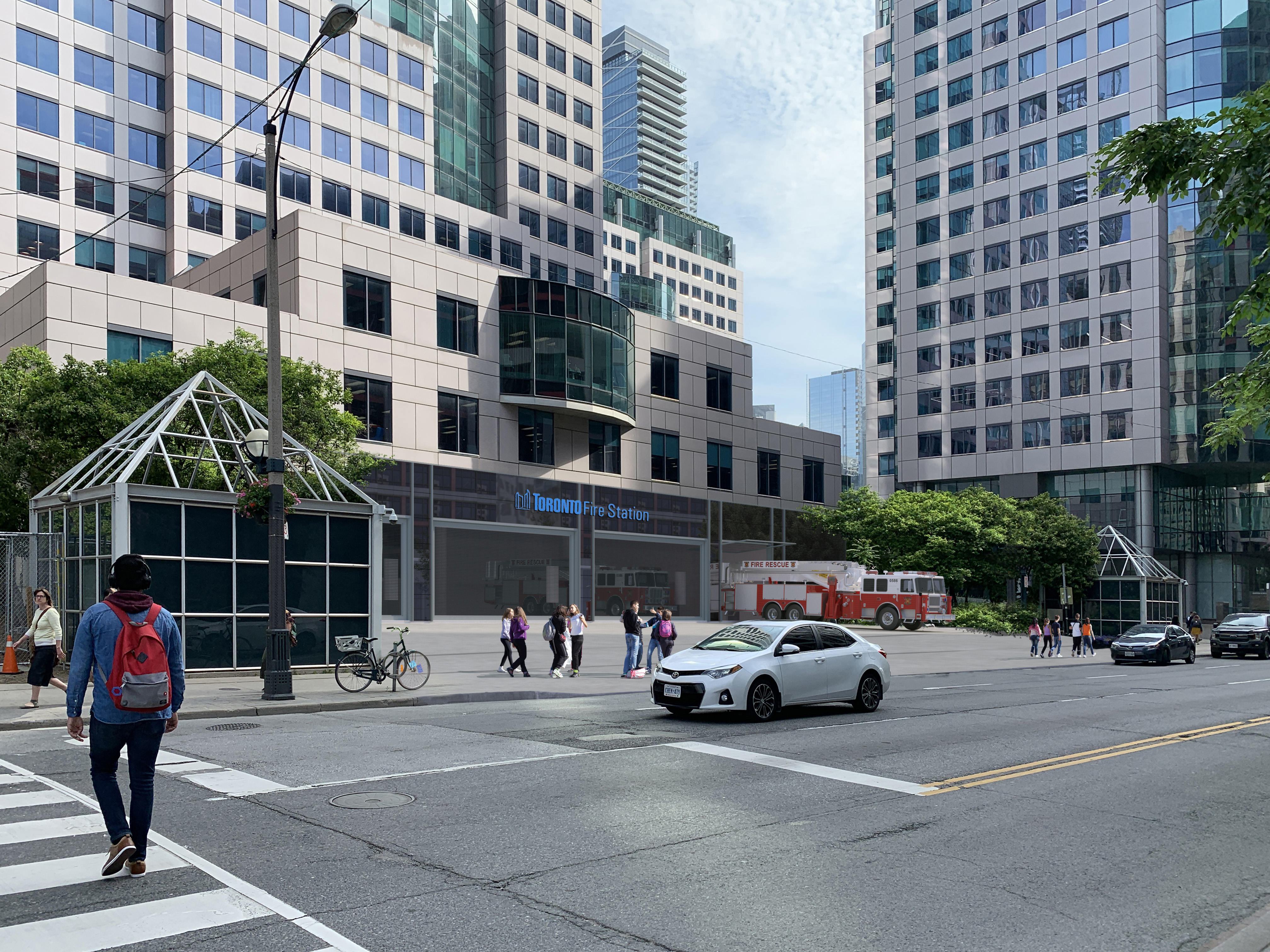 Richmond-Adelaide Announcement. Relocation of Fire Station 332 to Metro Hall at 55 John Street, image via CreateTO
In selling the land to a developer, the City will pull roughly $100-million of land value out of the site in order to fund much of the works. The Adelaide site will be redeveloped as a high-rise residential tower.
The CreateTO Board of Directors has adopted the proposed Master Plan for these properties, including how these sites can be activated with an array of new and renovated public uses.
As Globe and Mail architecture critic Alex Bozikovic states, "Here, the city—led by development agency CreateTO—has done something that public agencies rarely do: treat public land as a valuable asset, and make the most of it."
The Board also approved a joint venture with developer CentreCourt, which owns the adjacent property at 254 Adelaide St. W. By jointly developing 260 with 254 Adelaide Street West, a larger podium and tower floor-plate can be accommodated on the site, enabling the construction of a greater number of residential units—652 in total, 30% of them affordable housing.
"This is an exciting project on many fronts and an extremely complex transaction involving multiple partners," said Mayor John Tory. "It will address program needs for numerous City divisions and it will create a range of city-building opportunities."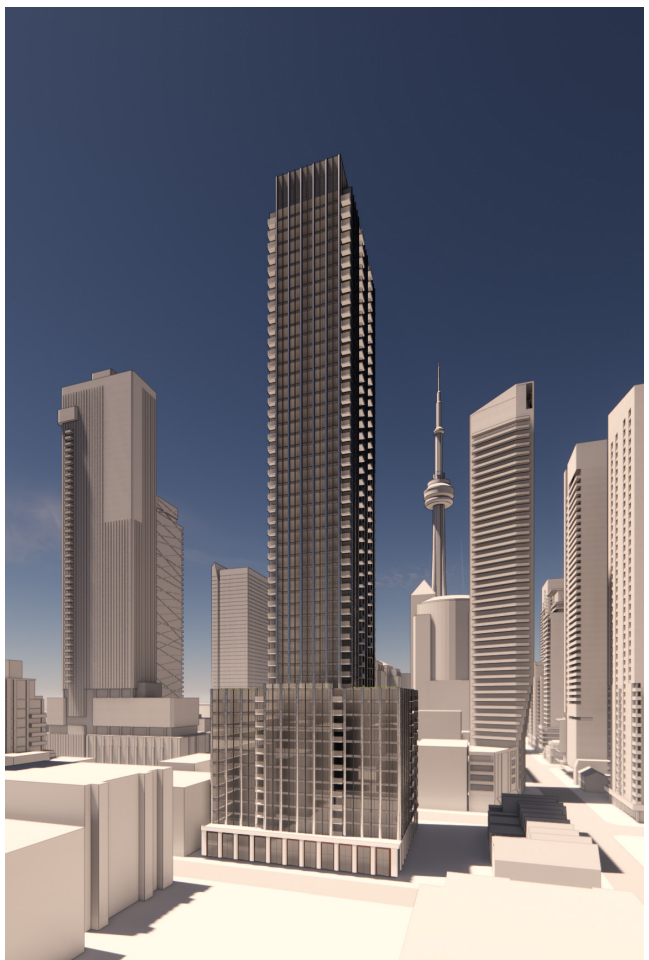 Tower massing concept: not the architectural design, image courtesy of CreateTO
In relocating the fire station to the south-facing podium of Metro Hall, fronting onto Wellington, City will create a modernized facility—at no cost to Toronto Fire Services.
The move then frees up the Adelaide site for redevelopment, enabling the City to create a significant number of affordable housing units within a future residential development on the property. The developer has agreed to include a new EMS post in the podium, as well as 10,000 ft² of community space.
"In the old days we would have spent millions of dollars to simply tear down and rebuild the Adelaide Fire Hall—the busiest fire hall in the country. Instead, we challenged ourselves to think differently about the value—and the opportunity—of our land. This is creative city-building at its best," said Cressy.

Existing parking at 229 Richmond St. W, with the firehall in the background, image via CreateTO
The highlight of the scheme is the City's transformation of the parking lot (shown above) into a 2,245 m² new public park, a most welcome move in this parkland-deficient neighbourhood, quoted by some as the fastest growing in all of North America. The current plans include a new three-level, 144-space underground garage beneath the park that will be operated by the Toronto Parking Authority. This move will be challenged by Cressy, who said he is committed to moving the parking below the new high-rise.
The announcement comes just days after the city's plan to build a 21-acre public park ("Rail Deck Park" – touted as Toronto's Central Park) above a section of the Union Station rail corridor was quashed. Instead, the province's Local Planning Appeal Tribunal favoured plans from a developer for a 16-acre mixed-use community of condos, office tower, and green space.
For more information, see the press release from CreateTO.
You can learn more from our thread for the project, linked here. If you'd like to, you can join in on the conversation in the associated Project Forum thread, or leave a comment in the space provided on this page.
* * *
UrbanToronto has a new way you can track projects through the planning process on a daily basis. Sign up for a free trial of our New Development Insider here.