A redevelopment proposal for 1540 Bloor West in Toronto's High Park North neighbourhood by the Trinity Development Group and Timbercreek Communities (since renamed Hazelview Investments) has been revised again. Located on the northwest corner of Bloor Street West and Dundas Street West, this site is adjacent to the Dundas West subway station, and across from The Crossways, a 29-storey twin-tower, mixed-use residential and retail complex. Along with its immediate adjacency to the subway station, the site is also a short walk from Bloor GO.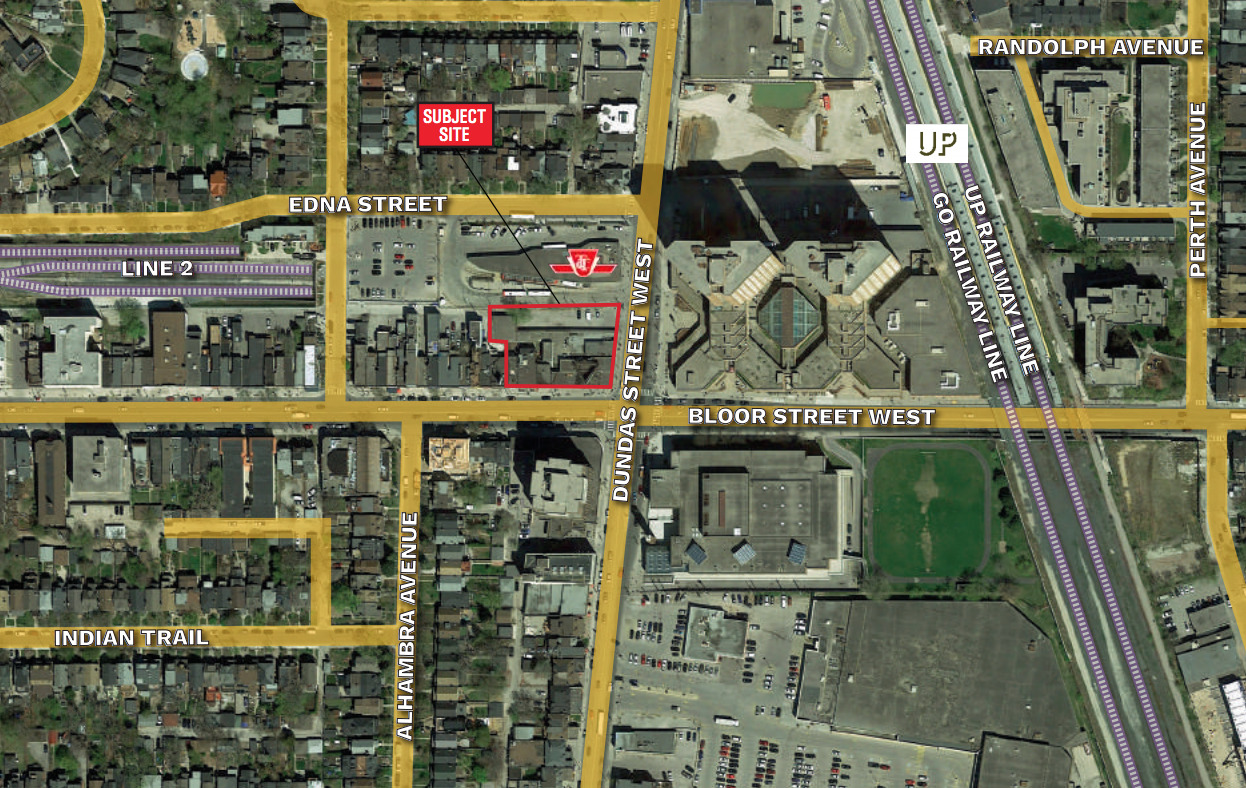 Location of proposed development on the northwest corner of Bloor and Dundas streets
On the site currently is a vacant and boarded-up, 2-storey mixed-use building at the corner, while the north part of the site is a surface parking lot consisting of about 15 spaces, 4 of which are car share spaces. Recent plans for redeveloping the site have been in the offing since 2007, when a 29-storey proposal dubbed Giraffe Condos was submitted by TAS but ultimately refused by both the City and the Ontario Municipal Board, characterized as overdevelopment of the lot.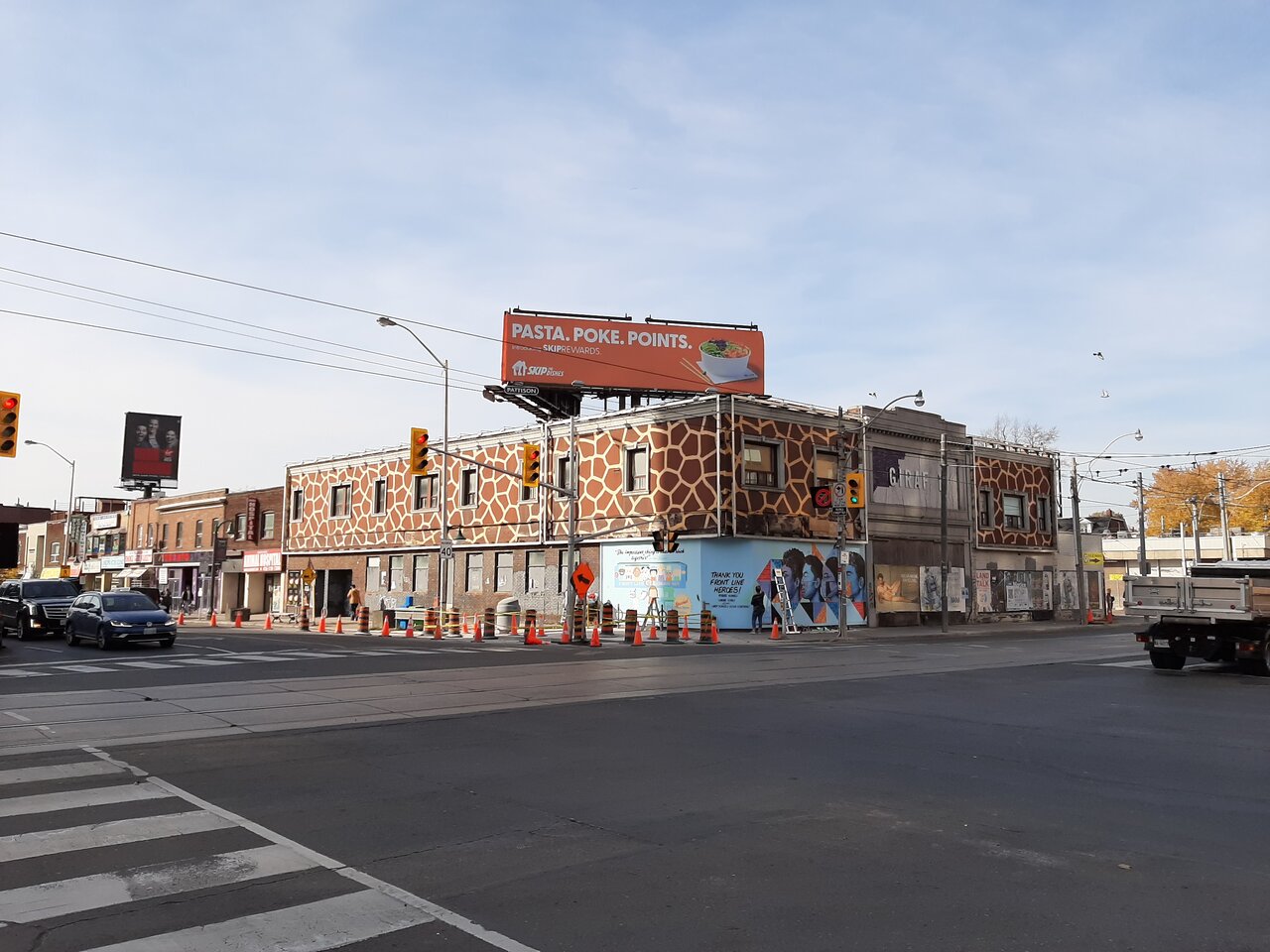 November, 2020 view of the site by UT Forum contributor AlbertC
The initial TAS Giraffe proposal had a unique balcony design that could have been seen as an abstraction of giraffe markings; in practical terms it was to be 60% glass and 40% solid materials. The 275 suite-building was proposed with ground-floor retail, but too narrow sidewalk space in front of it was among the other concerns about building this large on what was then a smaller site.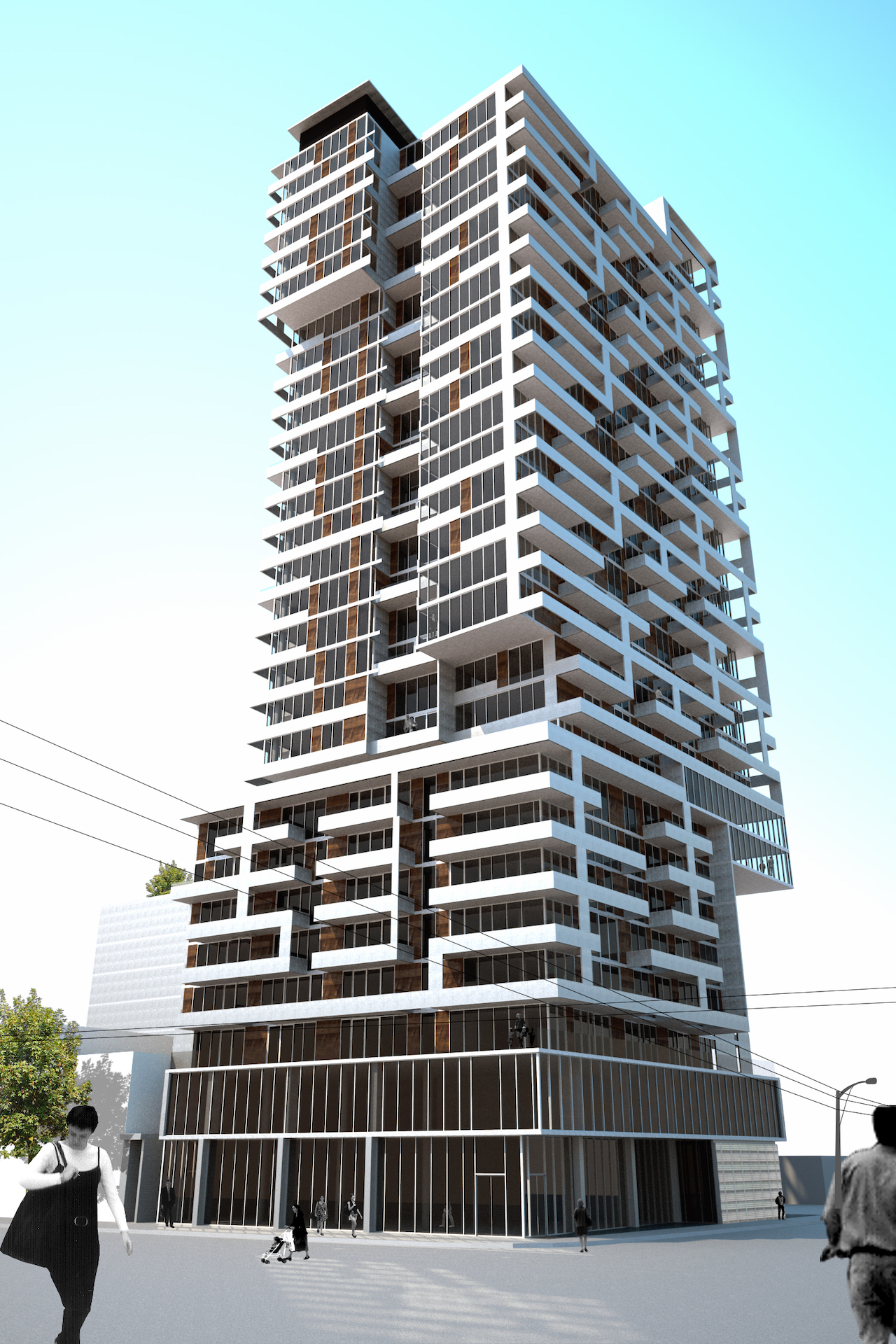 Looking northwest to Giraffe Condos, designed by Teeple Architects for TAS Design Build
Since the initial rejection, the Union Pearson Express now stops at Bloor GO station, while there are higher frequencies for the GO trains that stop there. With the subway accessing the east and west, and with direct trains to downtown and the airport, interest in redevelopment here has been high. Planning rules in Toronto have also changed over the years since Giraffe Condos was rejected, with the provincial government since having made it easier to build larger near rapid transit stations. Choice Properties REIT's proposed master-planned development on the southeast corner at the same intersection is another example of a major increase in density being sought here.
With continued interest in this site, new site owners Trinity developers proposed a revised 29-storey building on an expanded assembly of properties in 2018, proposing 236 residential units, and 29,250 ft² of retail on the first two levels of the building.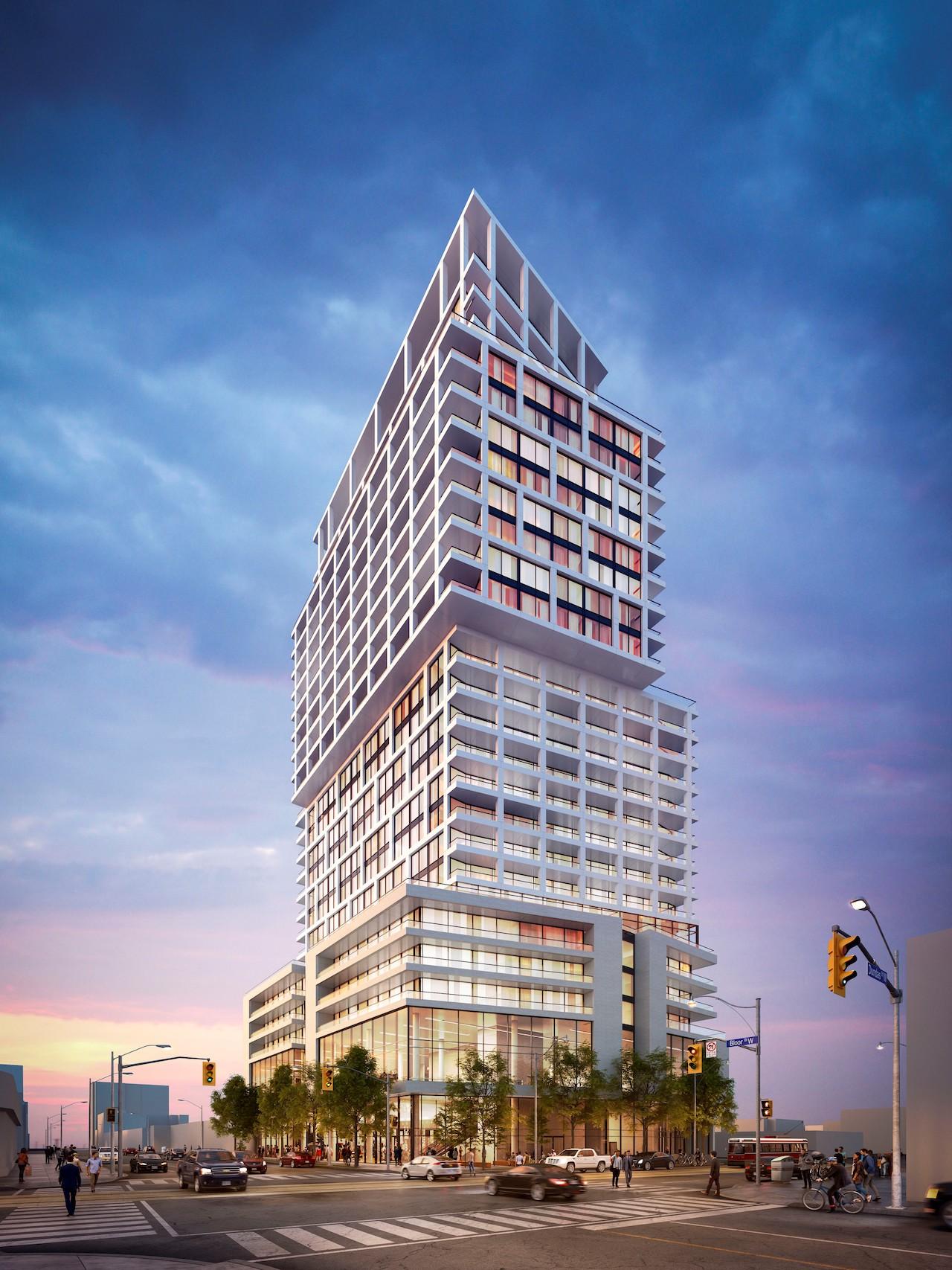 Looking northwest to the 2018 Proposal, 1540 Bloor West, designed by Core Architects for Trinity and Hazelview
In 2019 the proposal was revised, proposing a 25-storey Core Architects-designed development. The design was to be similar with stacked and offset volumes from the 2018 proposal, but shorter and with several other exterior changes while still achieving the same goal of articulating the massing into multiple distinct volumes.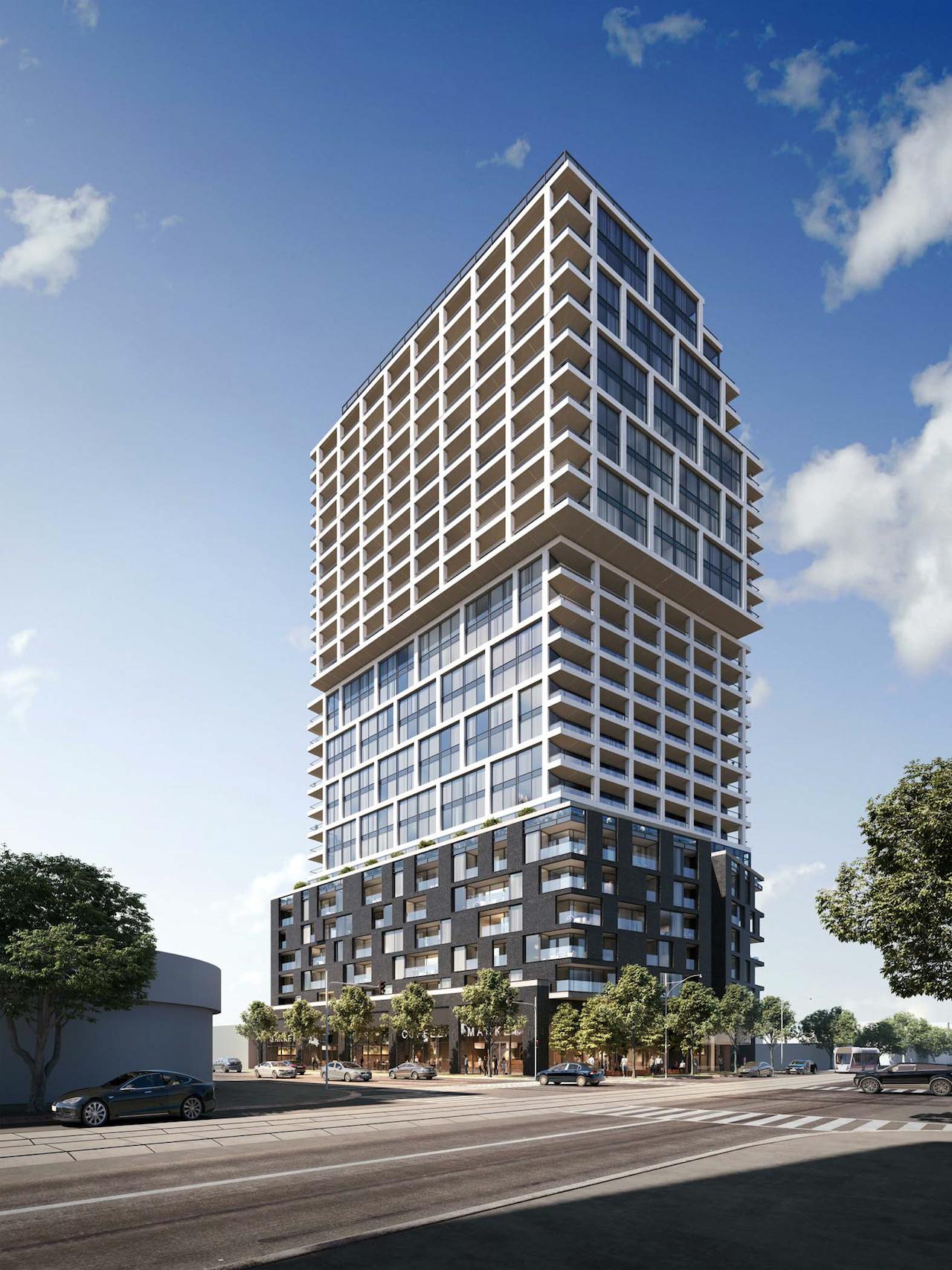 Looking northwest to the 2019 Proposal, 1540 Bloor West, designed by Core Architects for Trinity and Hazelview
The 2021 revision comes with scaled back density, but two more storeys. Now designed by IBI Group, the building's height increases to 27-storeys in a more traditional massing that steps back twice as the tower rises, complying with City's Tall Buildings Guidelines of having slender tower floor-plates. Meanwhile, the building's 7-storey podium, provides an urban street-wall, with its ground level to be activated by retail.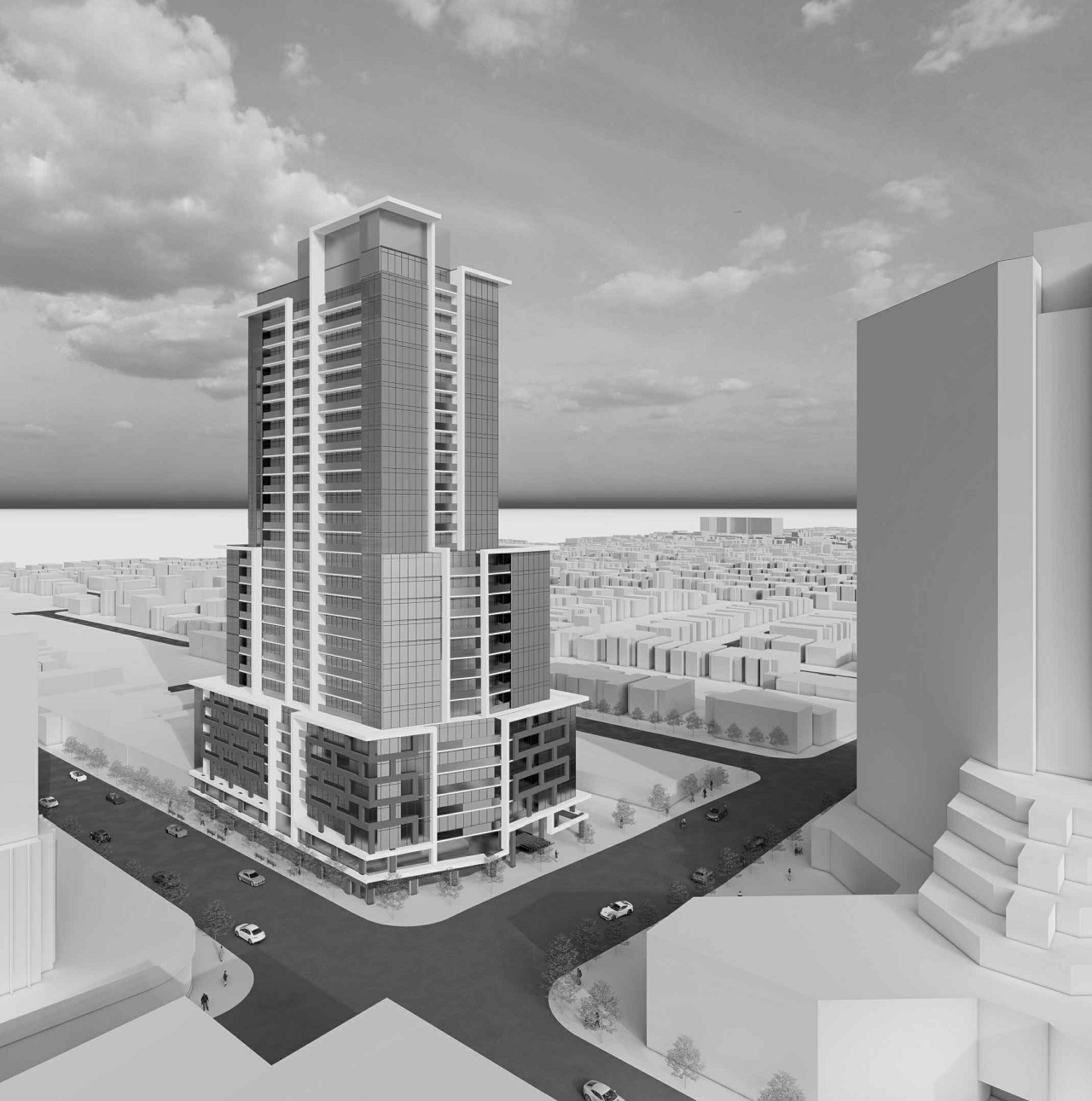 Looking northwest to the 2021 proposal for 1540 Bloor West, designed by IBI Group for Trinity and Hazelview
The proposal has a proposed total gross floor area of 25,491 m², the upper storeys made up of 374 residential units. Parking is proposed to be provided in a two-level underground garage with 97 parking spaces; 75 for residents, and 22 for visitors.
Additional information and images can be found in our Database file for the project, linked below. Want to get involved in the discussion? Check out the associated Forum thread or leave a comment in the space provided on this page.
* * *
UrbanToronto has a new way you can track projects through the planning process on a daily basis. Sign up for a free trial of our New Development Insider here.