CreateTO is working with its municipal partners on the City's Housing Now initiative to develop the program's seventeenth city-wide site. CreateTO, the agency that manages the City of Toronto's real estate portfolio, has filed Official Plan and Zoning By-Law Amendment applications to permit a mixed-income residential development prominently located southwest of the Scarborough Civic Centre (SCC). If approved, the site will see a project with two residential towers—with a full 50% of units dedicated to affordable housing—complete the eastern edge of the SCC precinct, respecting the scale of the growing neighbourhood, while bringing public realm improvements and protecting views of Albert Campbell Square.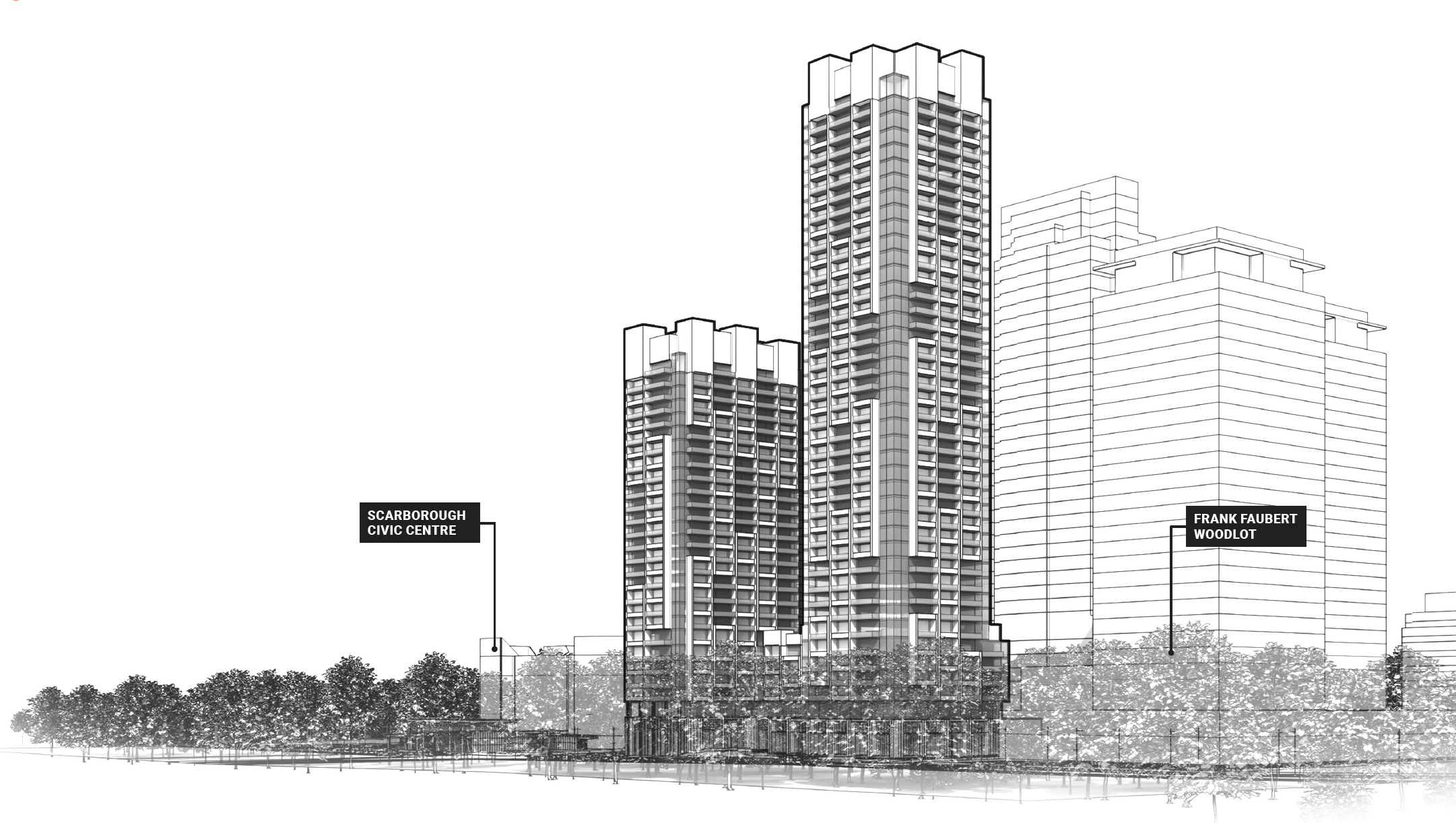 Looking northwest. SCC is a designated heritage property, therefore, views must be considered and protected. Image by Diamond Schmitt Architects.
The property, addressed municipally as 158 Borough Drive, is currently being used as a staff parking lot for the City of Toronto. This 1.48-acre site abuts the Scarborough City Centre Library to the west, condo towers and Scarborough Town Centre to the north, a Scarborough RT line stop, and another residential tower to the east. Just south is the heavily forested Frank Faubert Wood Lot. The TTC's line 2 will be extended here, running beneath McCowan Road, replacing the Scarborough RT.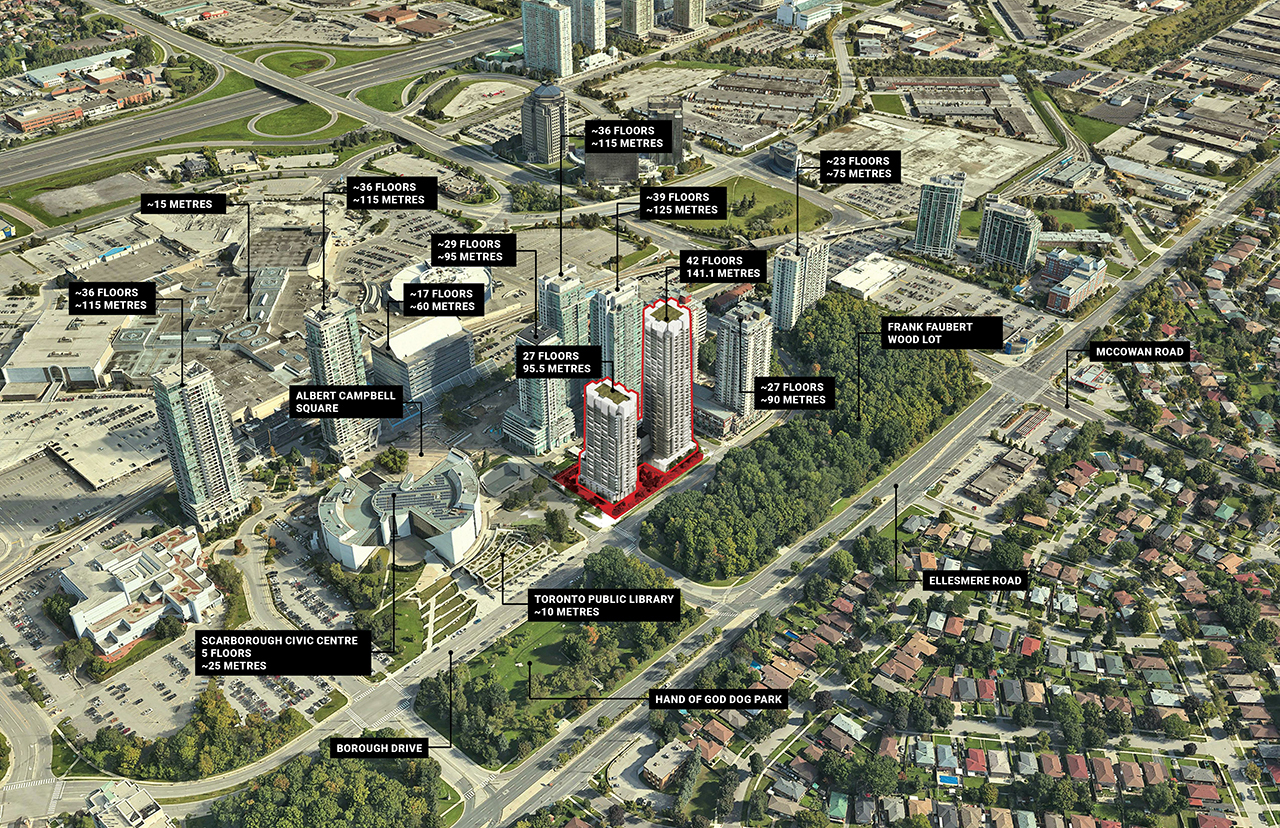 Context Height Diagram / Block Context Plan. Image by Diamond Schmitt Architects.
Designed by Diamond Schmitt Architects, the scheme envisions two residential towers—of 27 and 42 storeys—above a common shared podium.The proposal will yield 51,401 m² of residential Gross Floor Area (GFA) and 961 m² of non-residential GFA, for a density of 8.36 FSI. Considering its proximity to the shopping mall, no retail is planned, but a daycare will occupy 790 m² of the ground floor, with an outdoor play area nestled in the south-facing courtyard.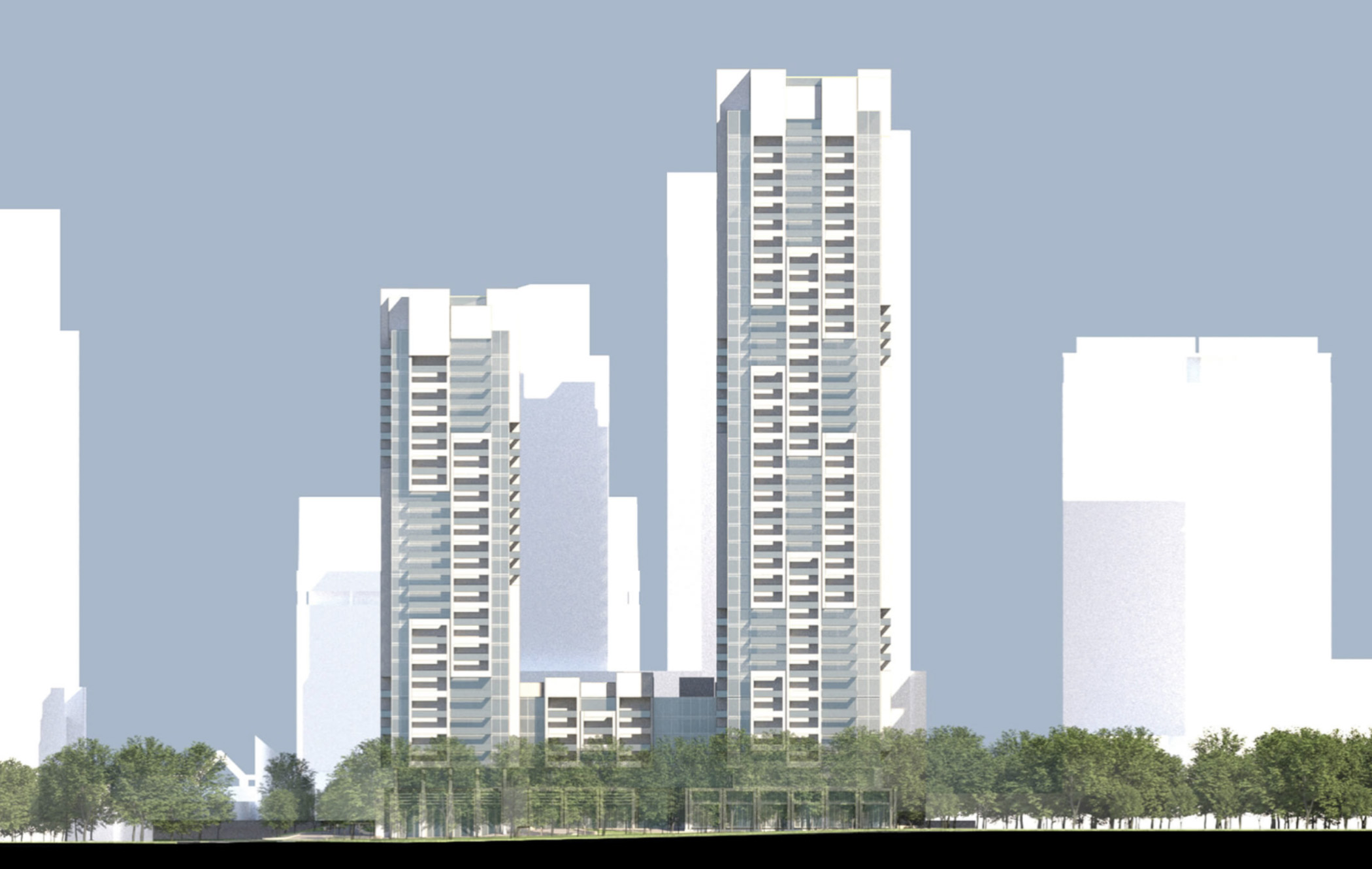 South Elevation. After meetings with City colleagues, design revisions include increases to building height and unit counts. Image by Diamond Schmitt Architects.
A total of 645 dwelling units are proposed, of which 50% would be dedicated to affordable housing units. The unit mix includes: 363 one-bedrooms (56%), 216 two-bedrooms (34%), and 66 three-bedrooms (10%).
Indoor and outdoor amenity space—2,580 m² in total—is situated on the first level, the 2nd level (with a partial wrap-around terrace), and on the 7th level, where the east-west oriented podium roof between both towers is given over to outdoor amenity area. A two-level underground garage provides spaces for 266 vehicles and 485 bicycles.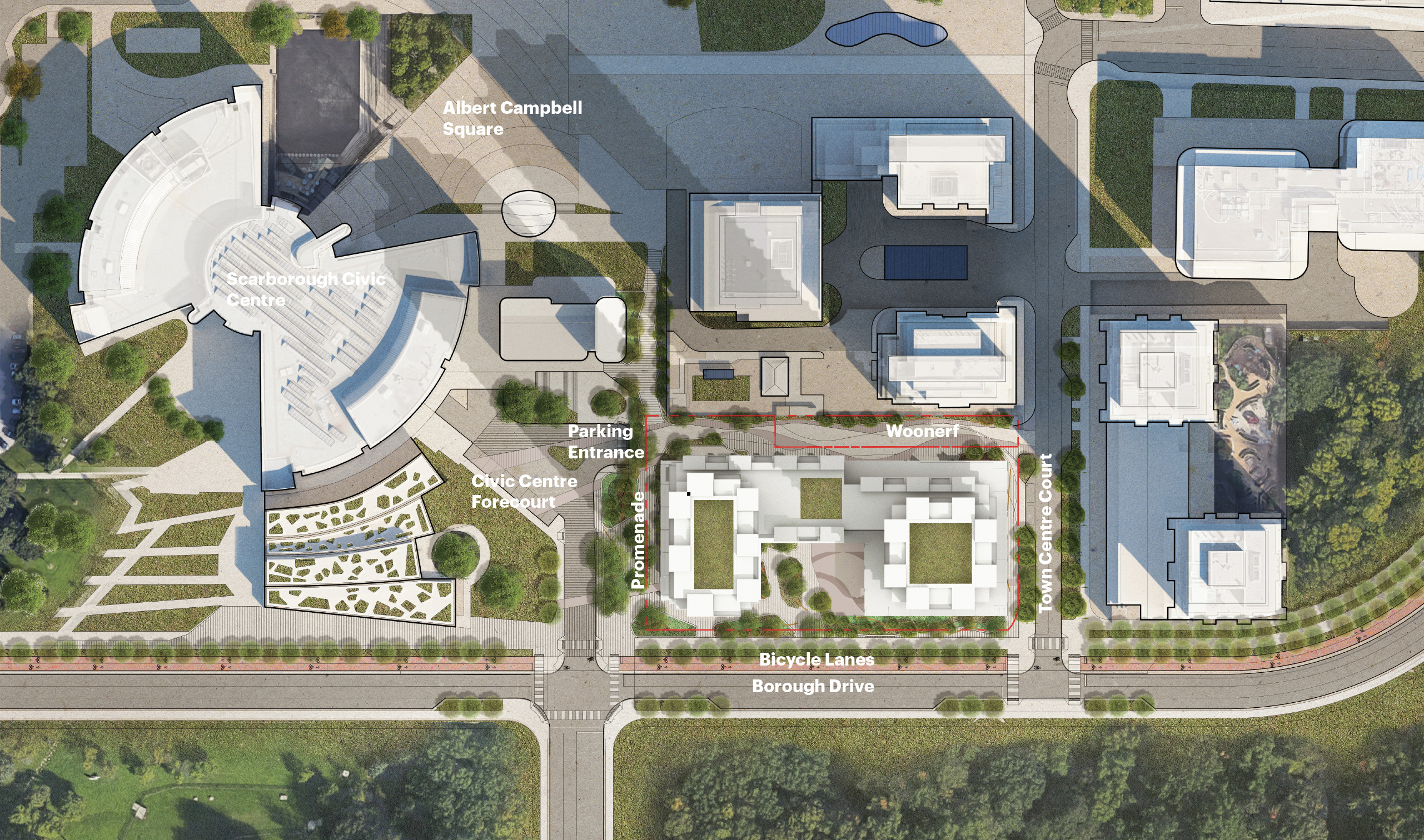 Roof / Site plan. Image by Diamond Schmitt Architects.
The design meets a minimum of Toronto Green Standard V3 – Tier 2 with energy-efficiency measures including high performance enclosures, innovative balcony strategies, and a 40:60 window-to-wall ratio. The balconies, for example, have minimal impact on thermal ratings because they are attached to a vertical truss which is clamped onto the building via thermally broken connections (instead of their slabs being connected directly to the façade).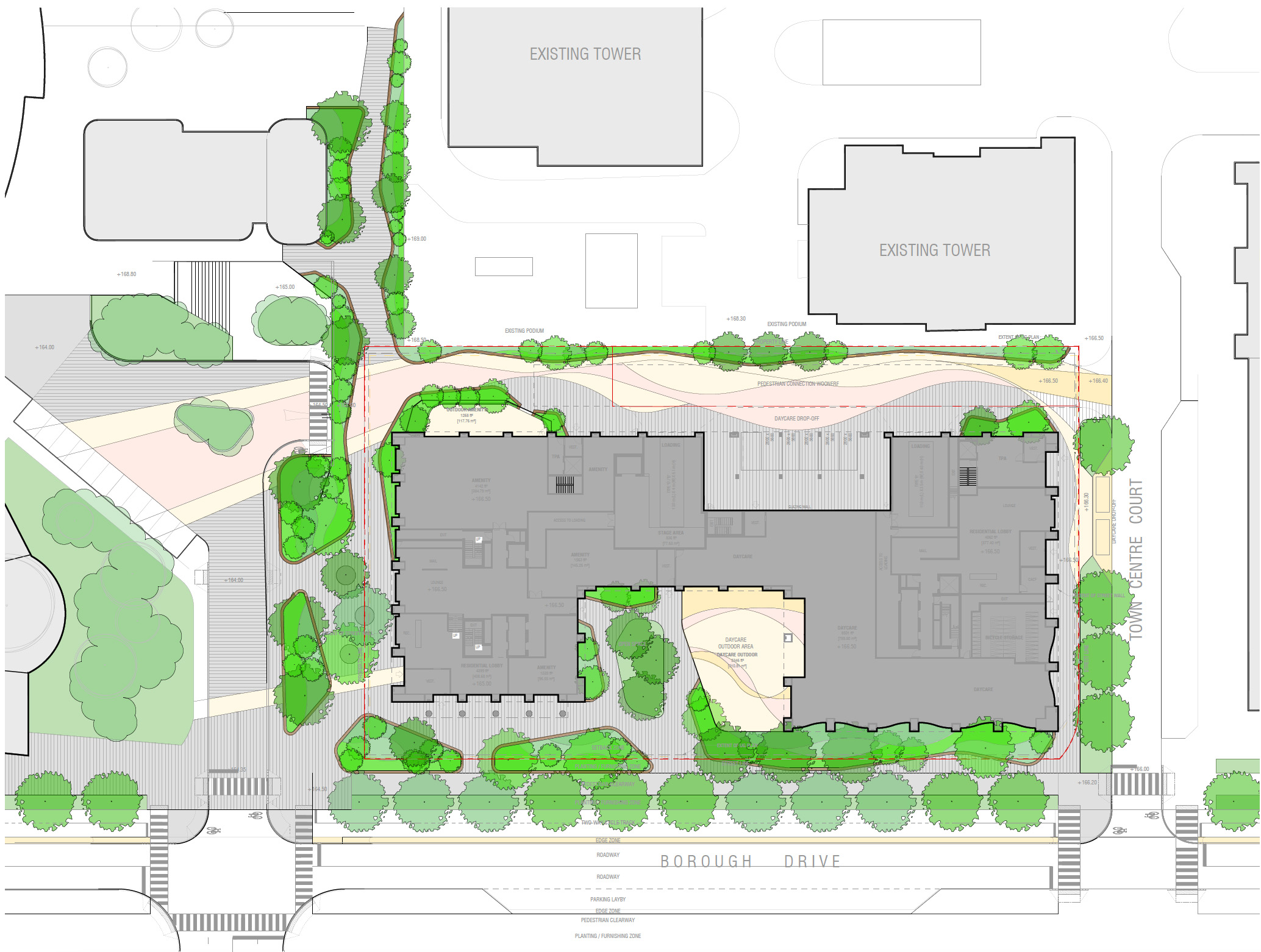 Concept landscape plan includes: diverse tree species, playful planter walls that provide seating, and a palette of paving materials, textures and patterns that create a cohesive public realm. Image by The Planning Partnership.
The landscape design by The Planning Partnership extends the streetscape environments and pedestrian connections that are critical to the connectivity of the Centre and responds to the character of the places and features of the surrounding context. The public realm consists of landscape elements including Borough Drive, woodland court, the woonerf, the promenade, and civic centre forecourt.
They also include broader civic enhancements to be delivered by the City of Toronto. For example, the Borough Drive streetscape is a significant re-planning of the right of way to accommodate more generous sidewalks, better trees, and a bicycle path—which in intended to make for a streetscape appropriate to the Civic Centre precinct.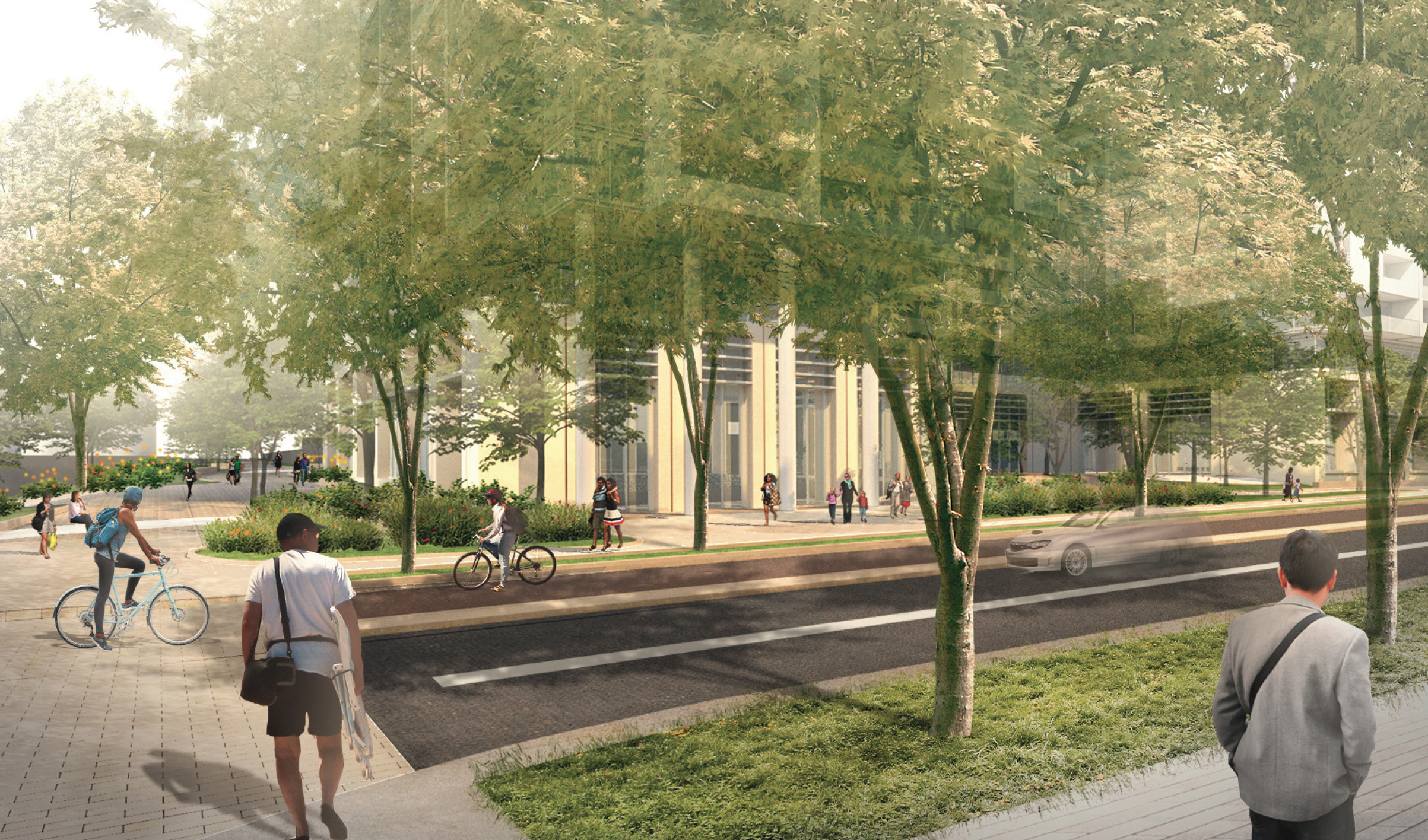 Borough Drive streetscape and promenade. Image by Diamond Schmitt Architects.
You can learn more from our Database file for the project, linked below. If you'd like to, you can join in on the conversation in the associated Project Forum thread, or leave a comment in the space provided on this page.
* * *
UrbanToronto has a new way you can track projects through the planning process on a daily basis. Sign up for a free trial of our New Development Insider here.