There are several major streets in Toronto that are currently undergoing a transformation as development sweeps across the city, but one such road is notable for how drastic of a renaissance it is experiencing. Dupont Street, always a gritty thoroughfare running parallel to the CP rail corridor, is now seeing itself slowly morph into an urban avenue lined with dense mixed-use developments looking to capitalize on its proximity to the urban core and its abundance of under-utilized brownfield sites. Several mid-rise developments along with the massive redevelopment of the Galleria Mall have already begun this transformation.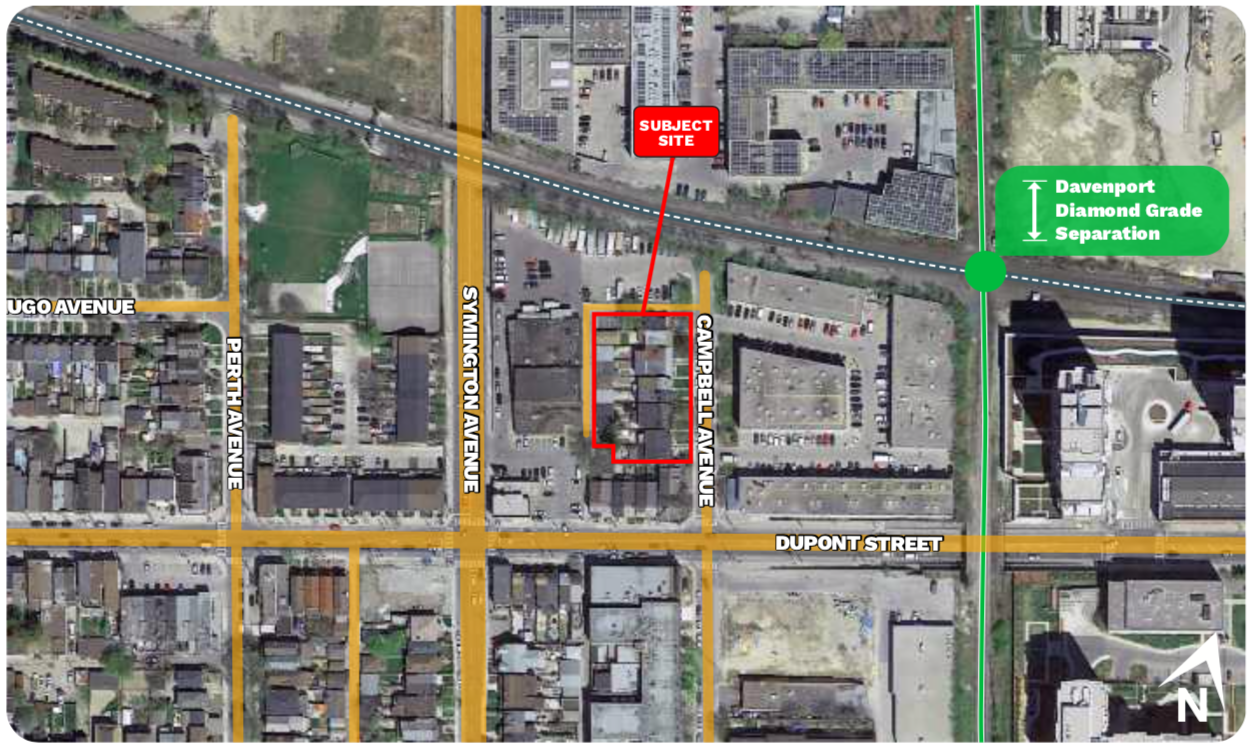 Diagram showing location of site, image via submission to the City of Toronto.
Now, a new proposal from Trolleybus Urban Development and Marlin Spring Developments is seeking to add further density to the Junction Triangle neighbourhood. Located at 316 Campbell Avenue, just east of the intersection of Dupont and Symington, the proposal would see a row of semi-detached houses on the assemblage replaced with a 28-storey tower designed by Giannone Petricone Associates. The building contains 310 residential units, including 7 live-work units on the ground floor, and was submitted for a rezoning application in April, 2021.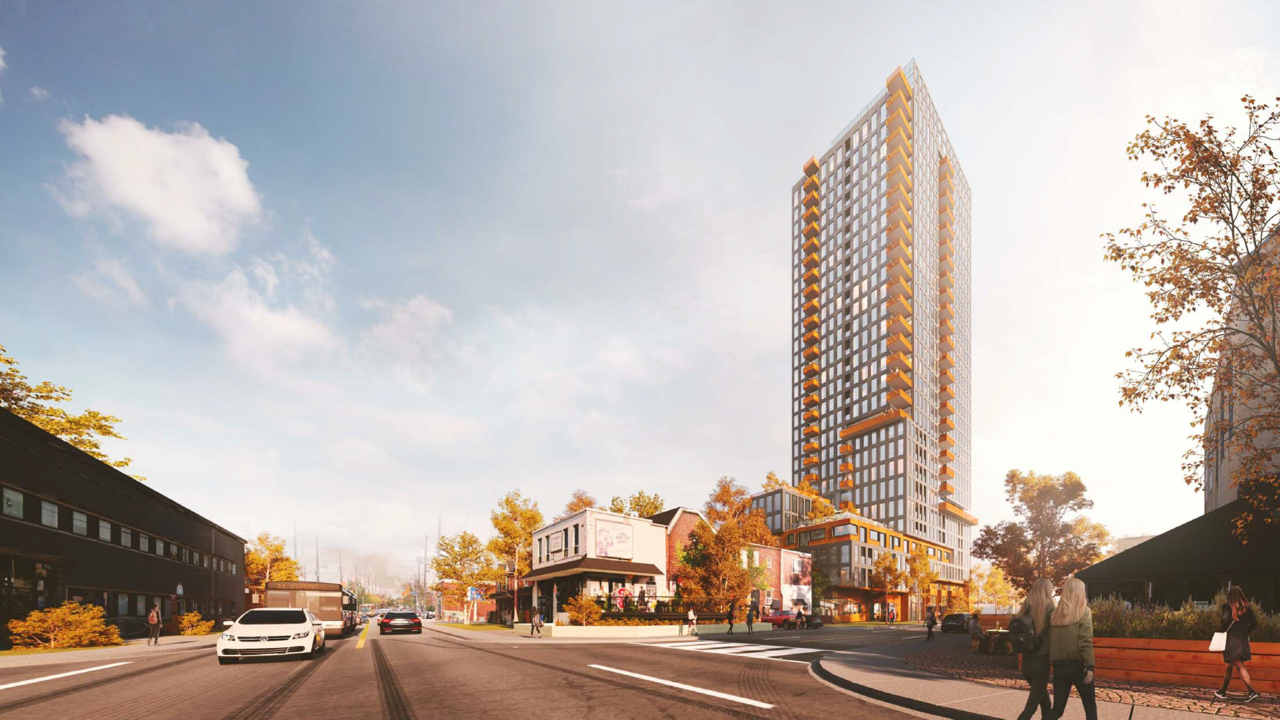 Rendering of 316 Campbell, image via submission to the City of Toronto.
The tower sits atop a 6-storey podium, with no retail or commercial units provided. However, a large space on the ground floor is reserved for indoor amenities, and is labeled as a "library space" for communal reading and co-working.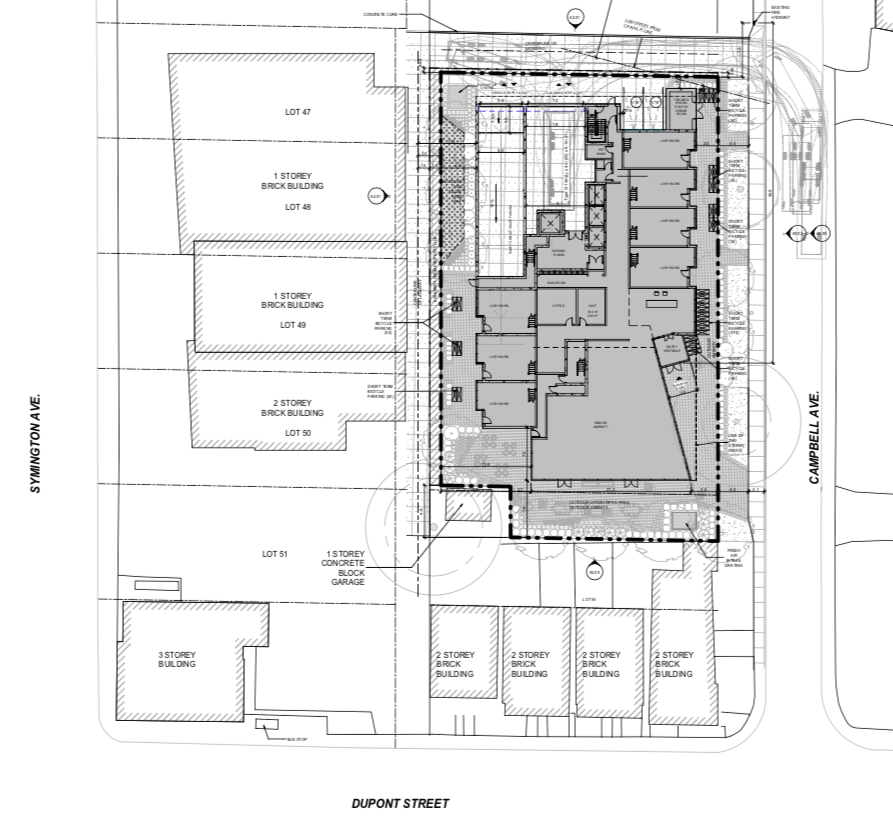 Site plan, image via submission to the City of Toronto.
Outdoor amenity spaces are provided in the form of a seventh floor roof terrace. The unit breakdown contains a mix of 23 studios (7%), 191 one-bedrooms (61%), 66 two-bedrooms (21%), and 30 three-bedrooms (10%). A total of 80 parking spaces are provided in two underground parking levels along with 312 bicycle parking spaces.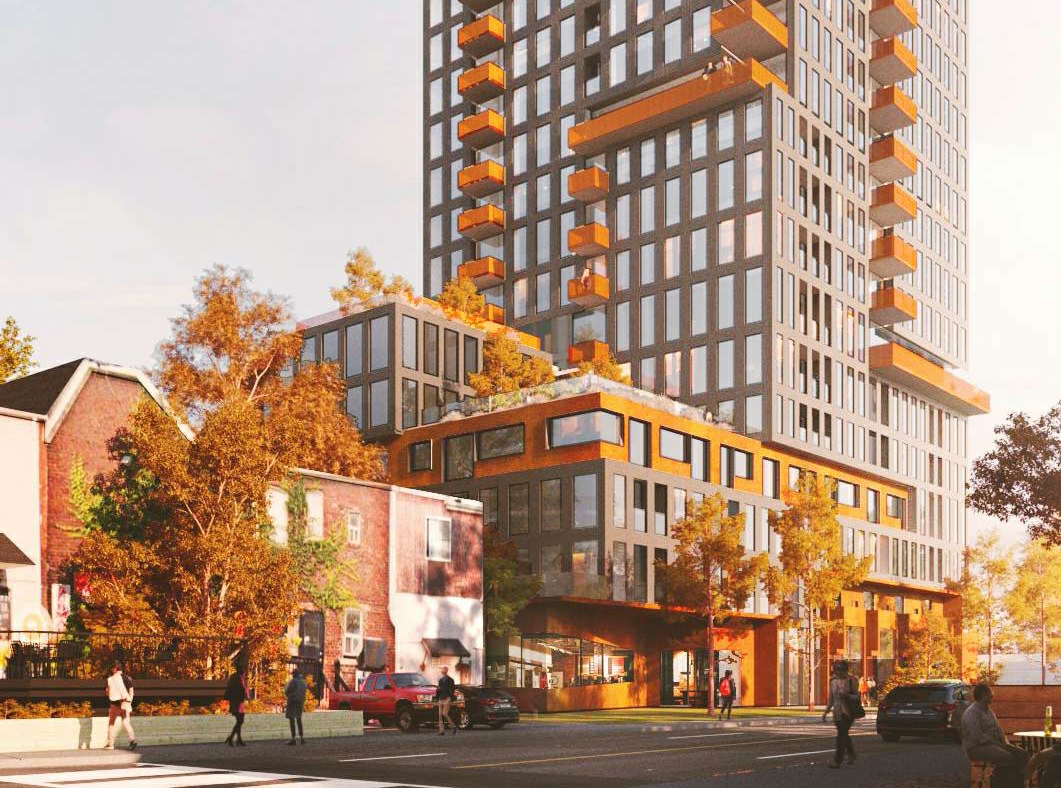 Rendering of the building's podium, image via submission to the City of Toronto.
The building itself is finished with window wall glazing but is accented by bright orange perforated metal guards and panels at its base and on the tower balconies.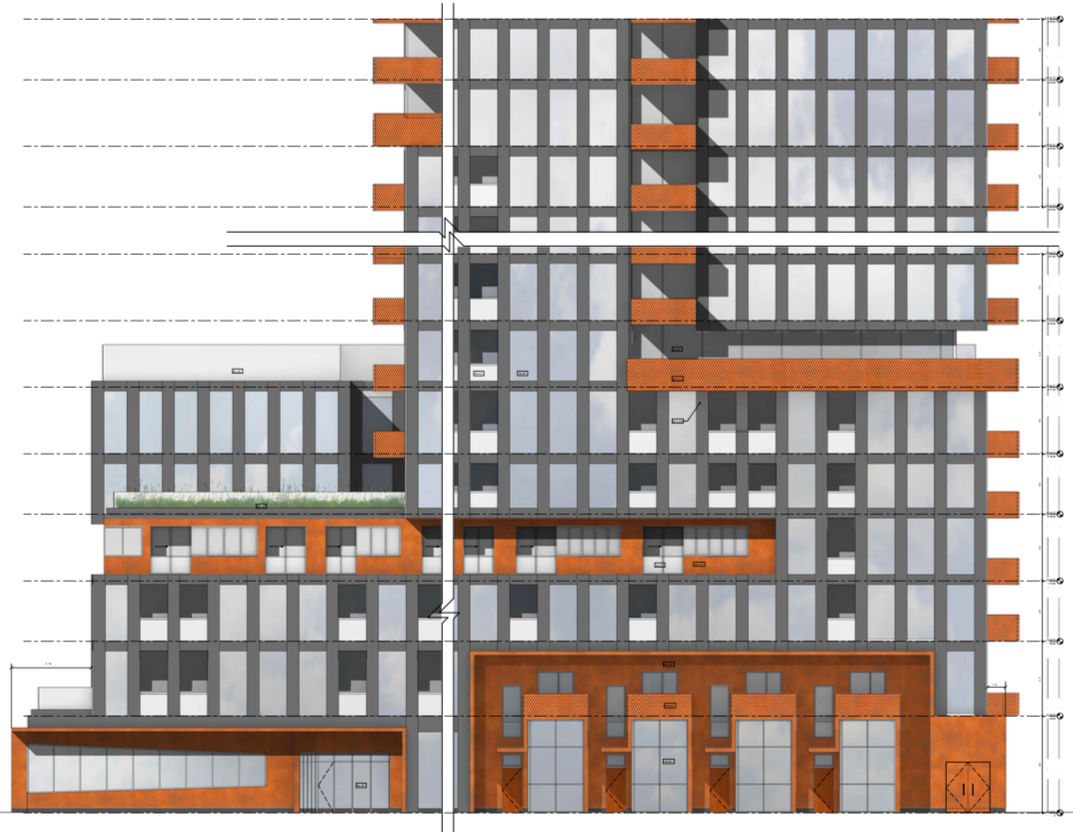 Close-up east elevation showing materials, image via submission to the City of Toronto.
Interestingly enough, a Block Context Plan was submitted with the application showing potential future development of the remainder of the block bounded by Campbell, Dupont, Symington, and the rail corridor. The lands are currently occupied by residential rowhouses along Dupont, a historic bank building at the corner of Dupont and Symington, a retail plaza along Symington, and surface parking.
Two options were presented, both replacing all existing structures on the site. The first would see a 24-storey tower replacing the retail plaza on Symington, with two 6-storey mid-rises fronting onto Dupont. The second option shows a long 14-storey mid-rise stretching the full length along Symington, with a 6-storey mid-rise at the corner of Dupont and Campbell. The two massing models are intended to show how the 316 Campbell tower might fit in with potential future development, and are not indications of any currently planned proposals.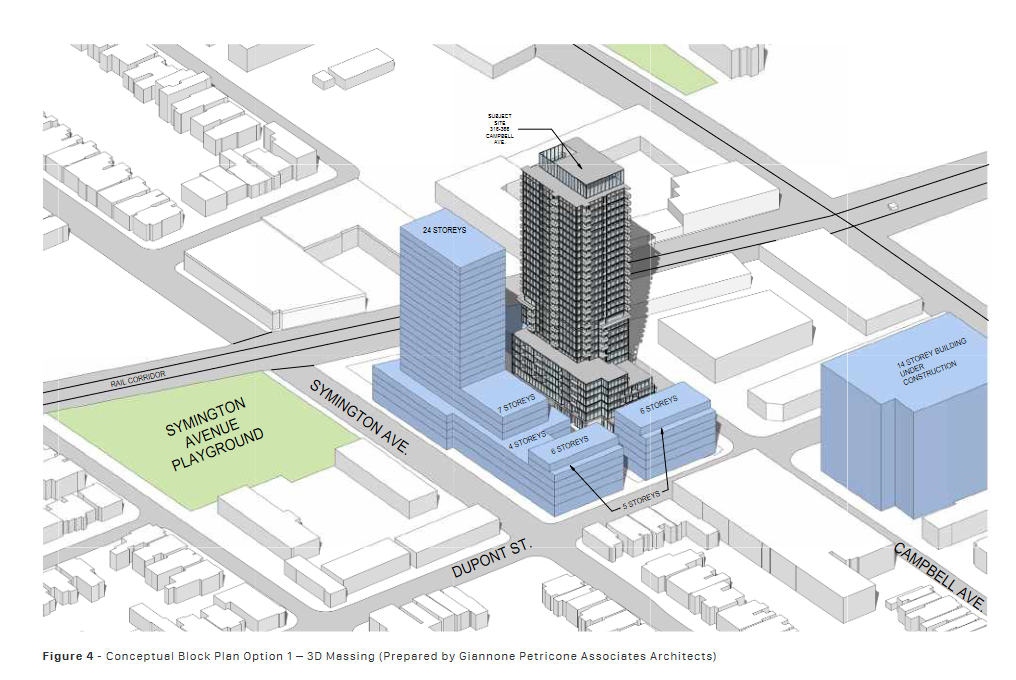 Option 1 of the Block Context Plan, image via submission to the City of Toronto.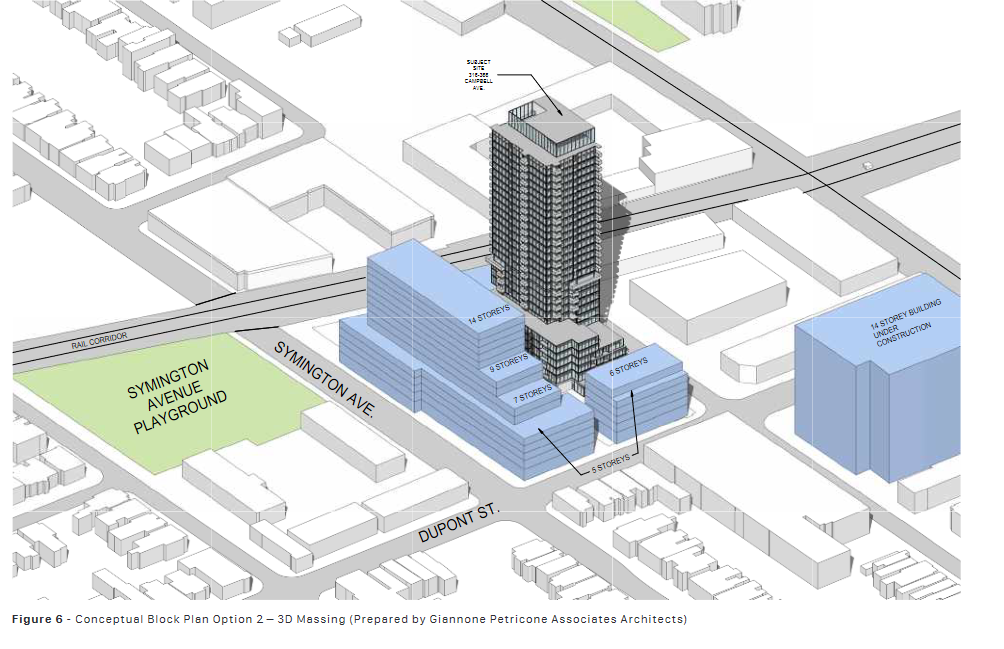 Option 2 of the Block Context Plan, image via submission to the City of Toronto.
We will keep you posted as 316 Campbell works its way through the planning process, but in the meantime, additional information and images can be found in our Database file for the project, linked below. Want to get involved in the discussion? You can post your thoughts in the associated Forum thread, or by leaving a comment in the space provided on this page.
* * *
UrbanToronto has a new way you can track projects through the planning process on a daily basis. Sign up for a free trial of our New Development Insider here.