All along the future route of Toronto's Crosstown LRT, new high-density developments are popping up near the stations. These areas that have seen little redevelopment over recent decades, have left properties that are ripe for the larger population that the LRT will be able to transport quickly. Among the office parks and big box retail centres of Eglinton Avenue East in Leaside, and between the Laird and Sunnybrook Park stations, a new three-tower condo complex from Diamond Corp and Camrost-Felcorp is underway the at southwest corner with Brentcliffe Road.
Known as Upper East Village (UEV) Condos, the IBI Group-designed complex is bringing towers of 18, 21, and 30 storeys to the area, creating the start of what will become a local skyline in the coming years with peaks that are 56.5, 75.15, and 100 metres high. The first phase of the community is currently progressing with 18 and 21-storey towers rising along the site's Eglinton Avenue East frontage, while the third tower is the subject of a recent Site Plan Approval application, currently under review by City planning staff.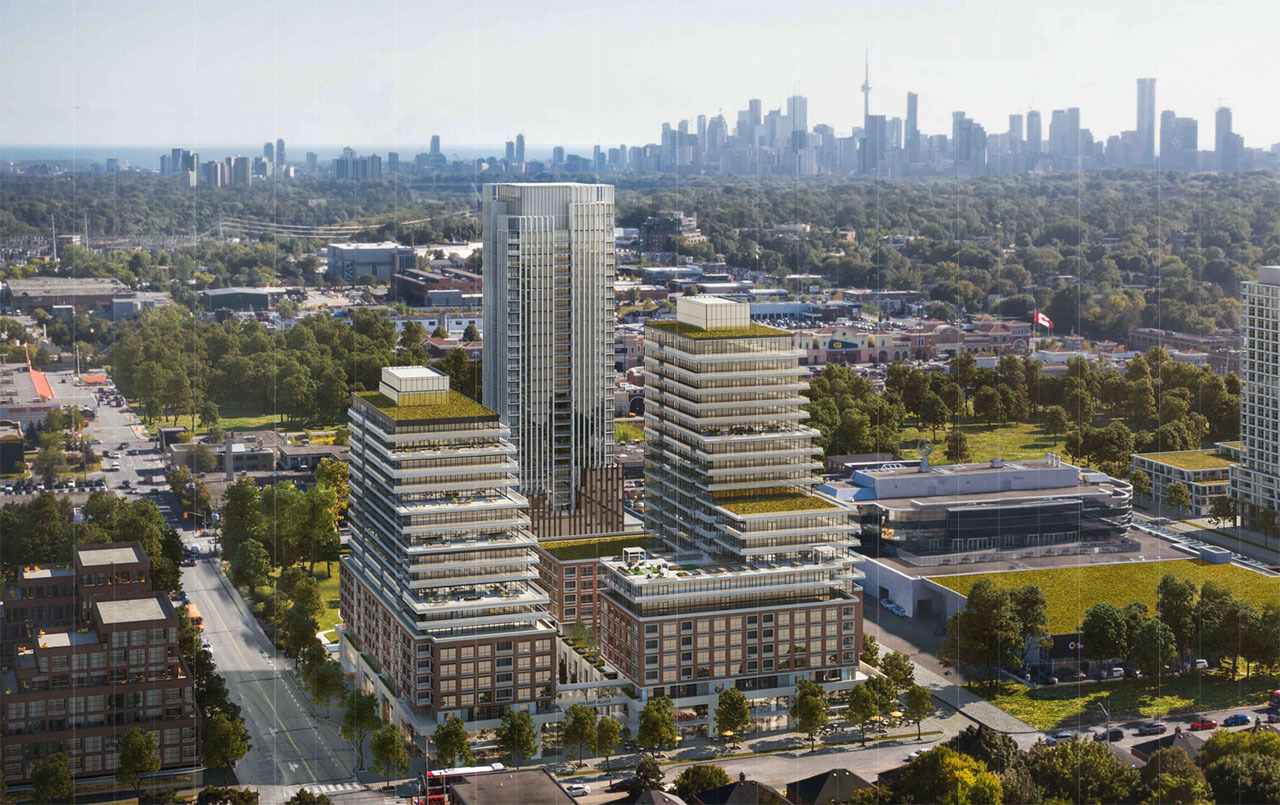 Upper East Village Condos, image via submission to City of Toronto
At the north end of the site, four cranes now tower over Eglinton as the buildings' podium levels take shape. The towers' six-storey bases have been formed, and the first progress can now be spotted for the levels above. Unlike the point towers popping up across Toronto (including the upcoming next phase of UEV) the first phase towers are being built with terraced massings that will step up towards the height of the later phase south tower.
Looking northwest across Brentcliffe to Upper East Village Condos, image by Forum contributor Undead
As forming progresses, cladding installation has commenced with the first panels of window wall appearing on the second floor. Weatherproof membranes are now being applied to concrete in advance of the brick cladding, a design feature meant to tie the building base in with the context of the brick low-rise buildings across Eglinton to the north.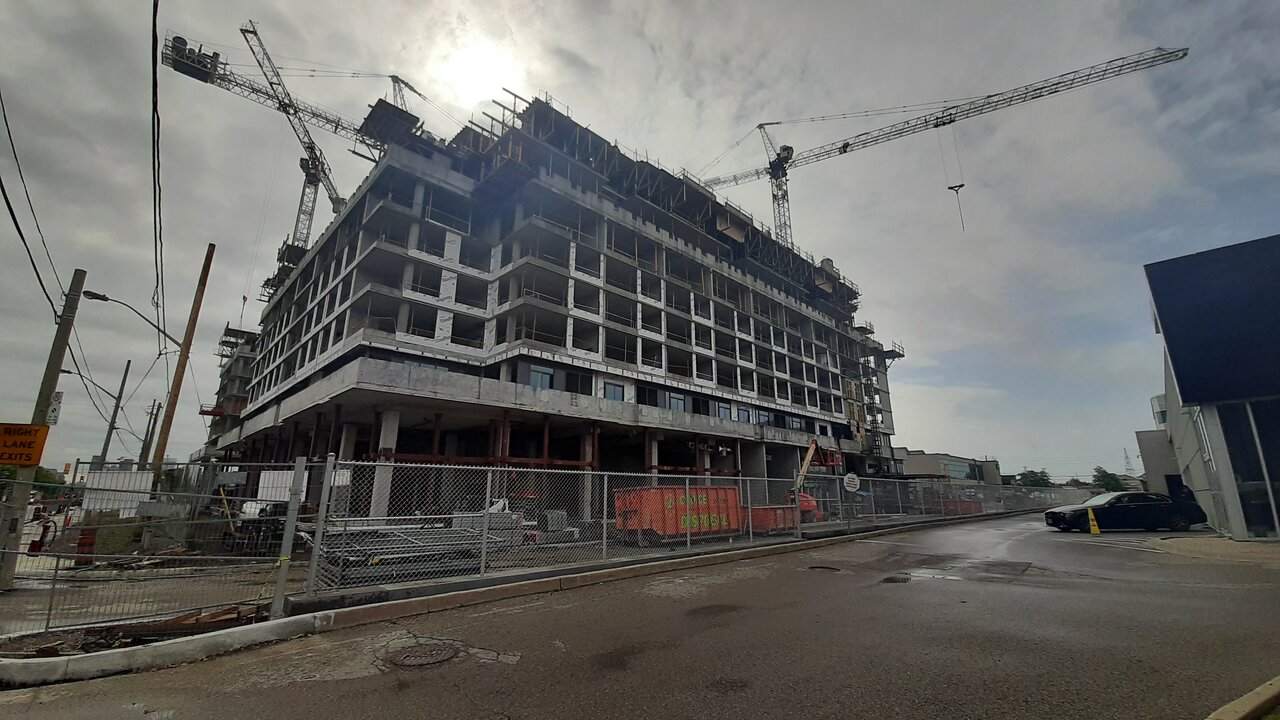 Looking southeast to Upper East Village Condos, image by Forum contributor Undead
The initial pair of towers will bring 296 and 262 units to the site. The next phase, previously proposed at 28 storeys, has been increased to 30 storeys in the latest April, 2021 planning submission, and would add another 322 units to the complex if approved at that height.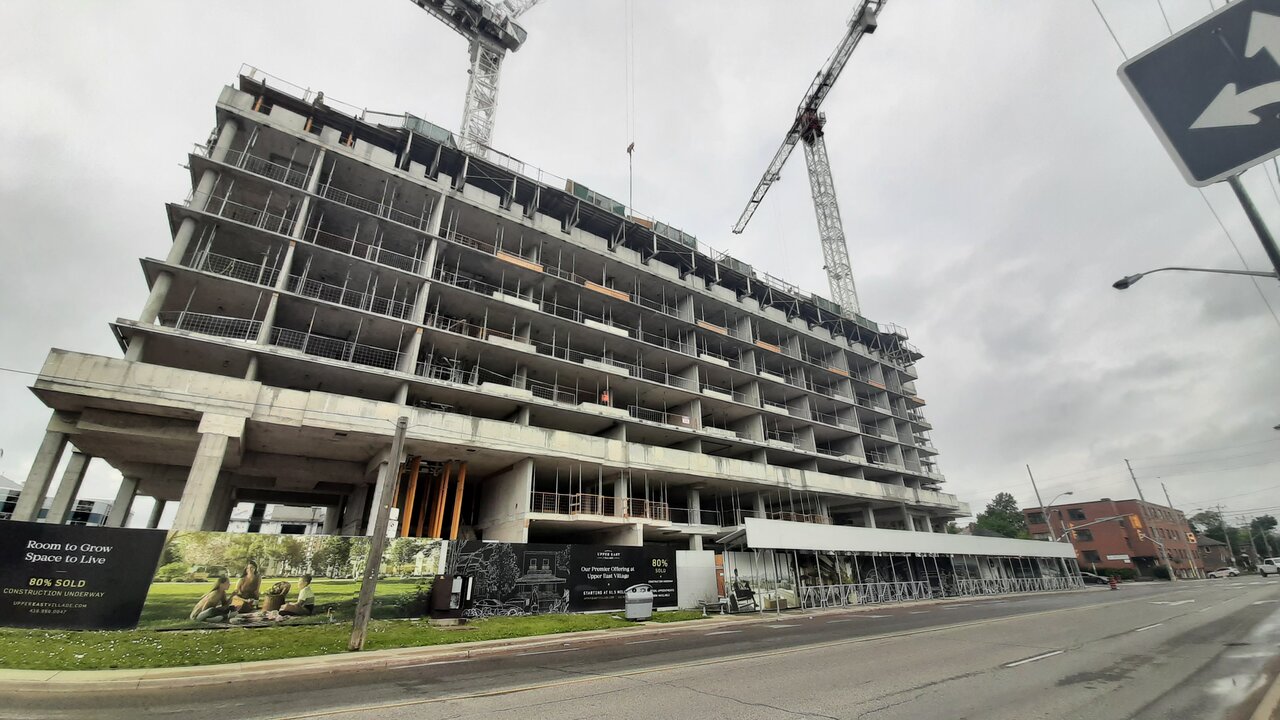 Looking west across Brentcliffe to Upper East Village Condos, image by Forum contributor Undead
You can learn more from our Database file for the project, linked below. If you'd like to, you can join in on the conversation in the associated Project Forum thread, or leave a comment in the space provided on this page.
* * *
UrbanToronto has a new way you can track projects through the planning process on a daily basis. Sign up for a free trial of our New Development Insider here.