UrbanToronto is excited to present the UTPro New Development Report for May 2021. UTPro is a premium database service that organizes, standardizes, and visualizes information from the City of Toronto's development applications. It will be launching to the public by September of this year.
The UTPro New Development Report analyzes new development proposals for large projects submitted to the City. (UrbanToronto defines a "large project" as anything larger than a typical detached home.) Before we dive into the numbers, however, some important caveats to keep in mind: these numbers are for proposals only, and they are subject to change at any time up until (and sometimes even after) completion. Also, due to the early stage of the development process, some documentation may be missing; the numbers for some components of the data might not add up in some cases.
In May of 2021, the City saw a surge in applications compared to prior years. This year, there were 14 new large projects proposed across ten Wards. This is a significant increase from new proposals in both May 2020 and May 2019, which both had eight. In fact, there were even more applications this year than May 2018, which had 12.
The applications propose a total of 20 buildings, with 2,652 dwelling units, and 1,682 parking spaces. If the new projects are built as proposed, they would constitute approximately 26.4 hectares of Gross Floor Area of development, with an average FSI of 4.9.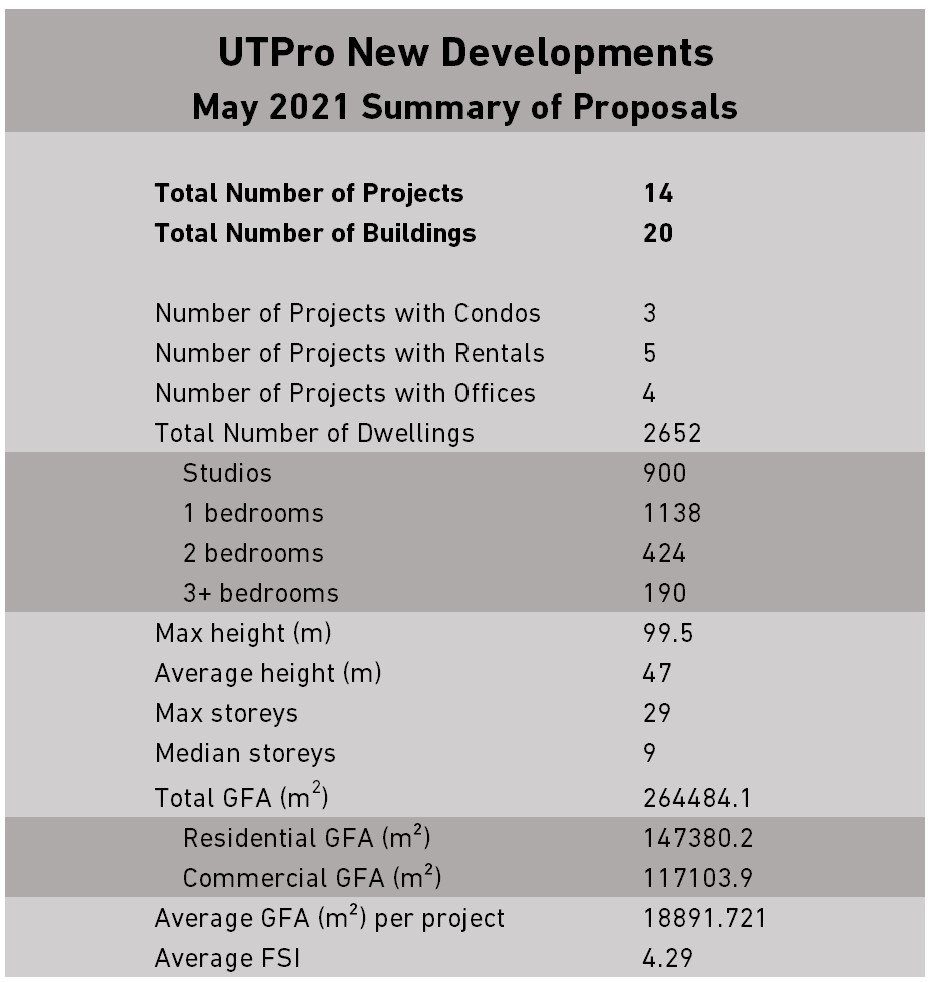 May 2021 new developments Summary Box, based on data from UTPro.
Below is a map of all the new proposals for May 2021.
​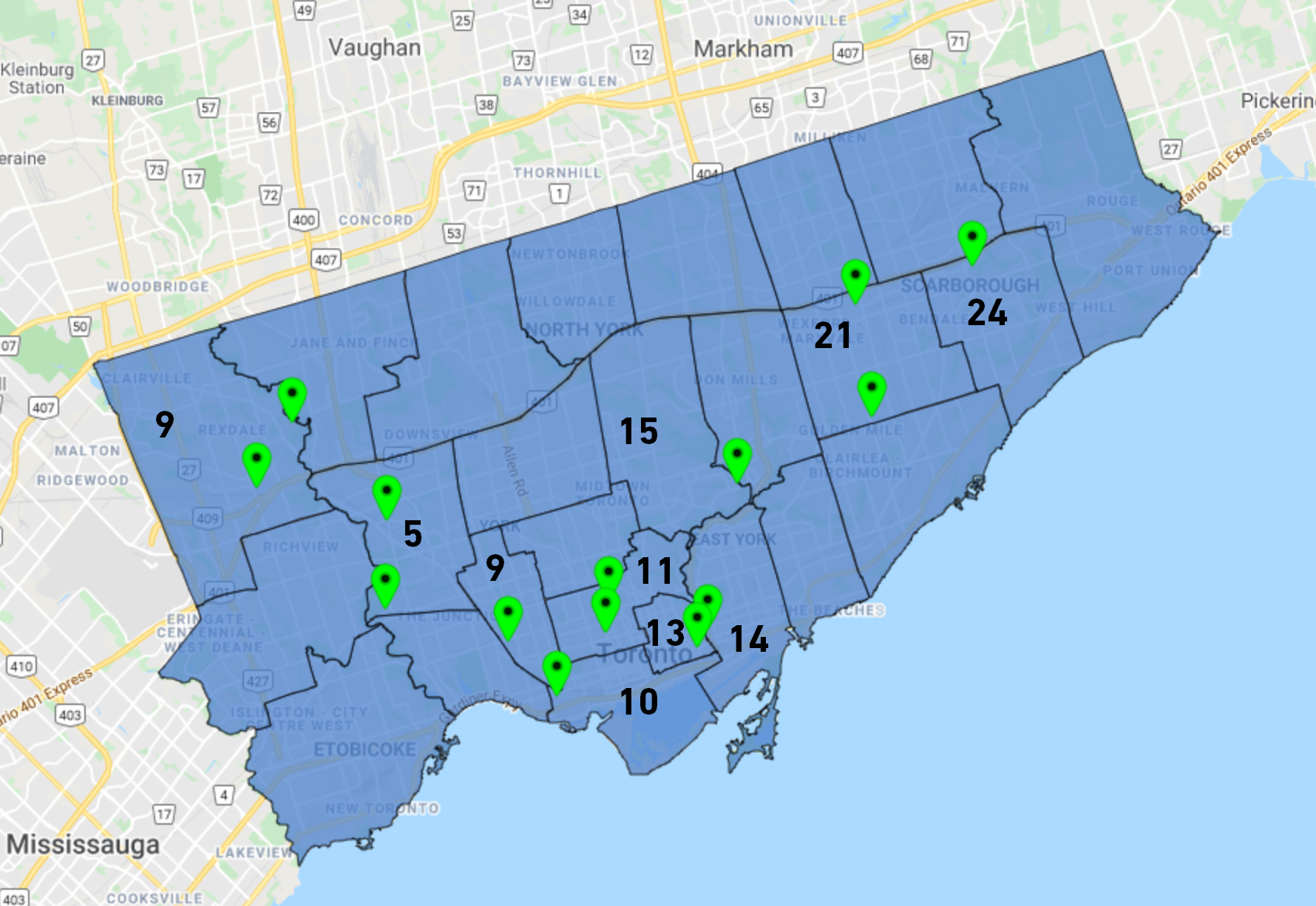 Each pin represents a different development in a particular Ward, for May 2021
To contextualize these numbers:
26.4 hectares (264,484 m²) of GFA is equivalent to the area within a ten minute walk from Bessarion Station being completely covered with the built environment.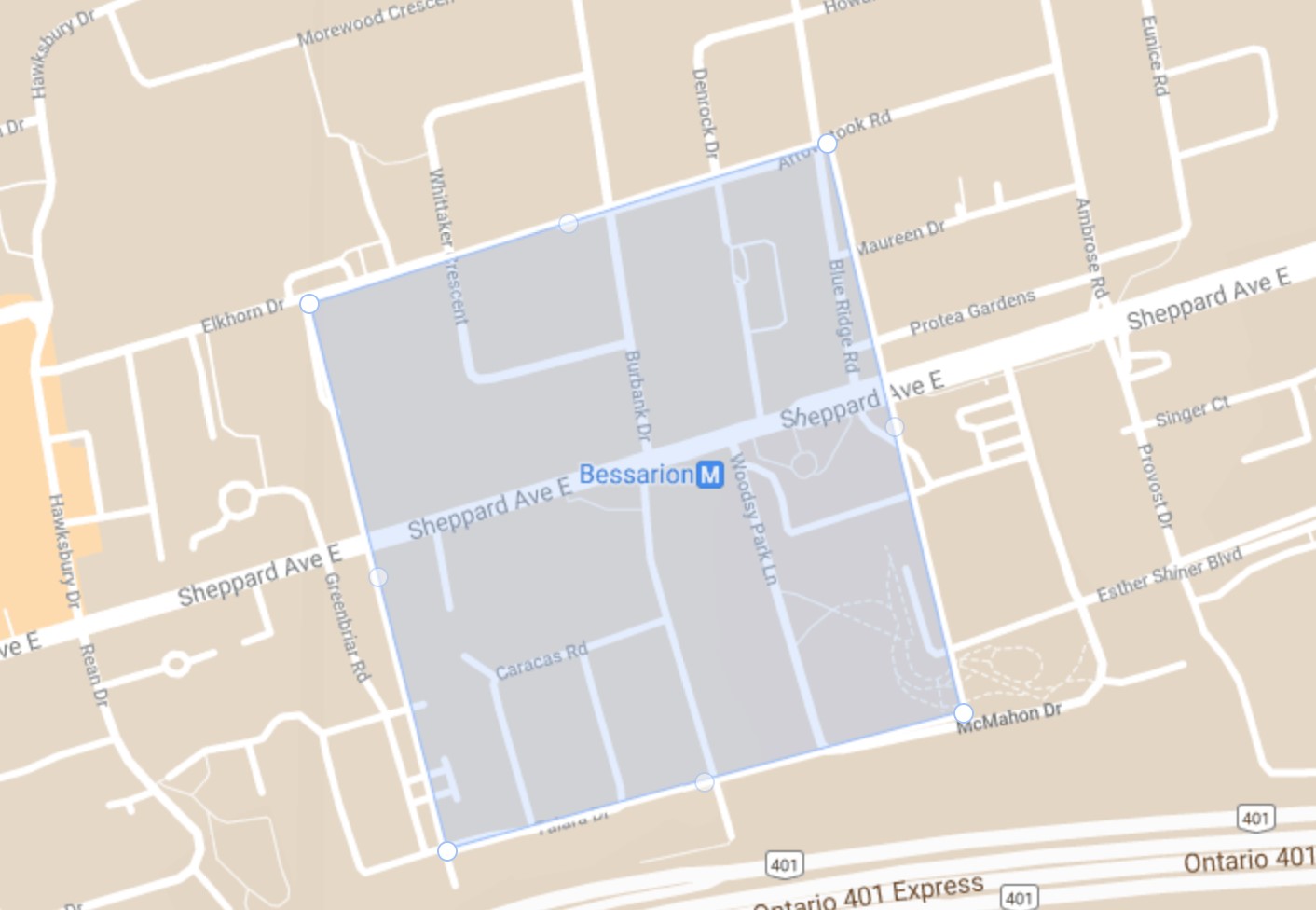 26.4 hectares (264,000 m²) around Bressarion Station.
The projects range in height from 3-storeys (175 Eileen) to 29-storeys (145 St George and 42 Tuxedo Court). With a combined site area of 117,485 m² and an FSI of 4.29, this implies that the entire GFA of the proposed projects could be rolled up an area half the size of the square around Bessarion, and in a building only barely taller than 4-storeys high.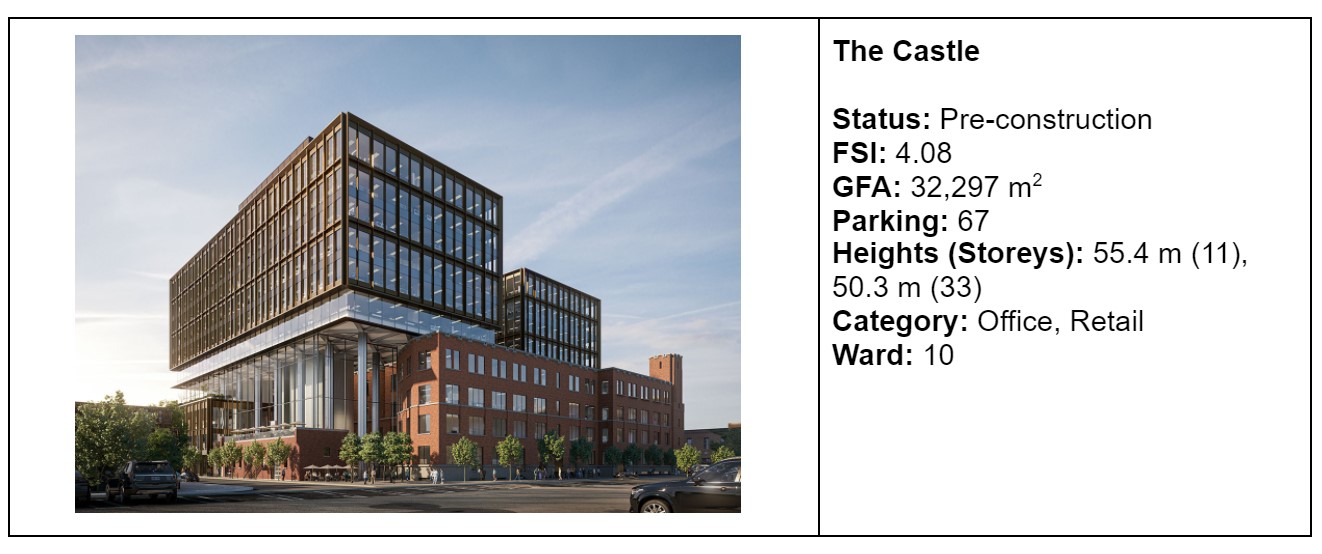 Summary information for The Castle.
Across the 18 projects, we have records on more than 130 companies that are working to bring the projects to life. For example, we have records for 14 different principals and consultants working to bring The Castle to life. The chart below displays the developers and design architects for each of the new proposals.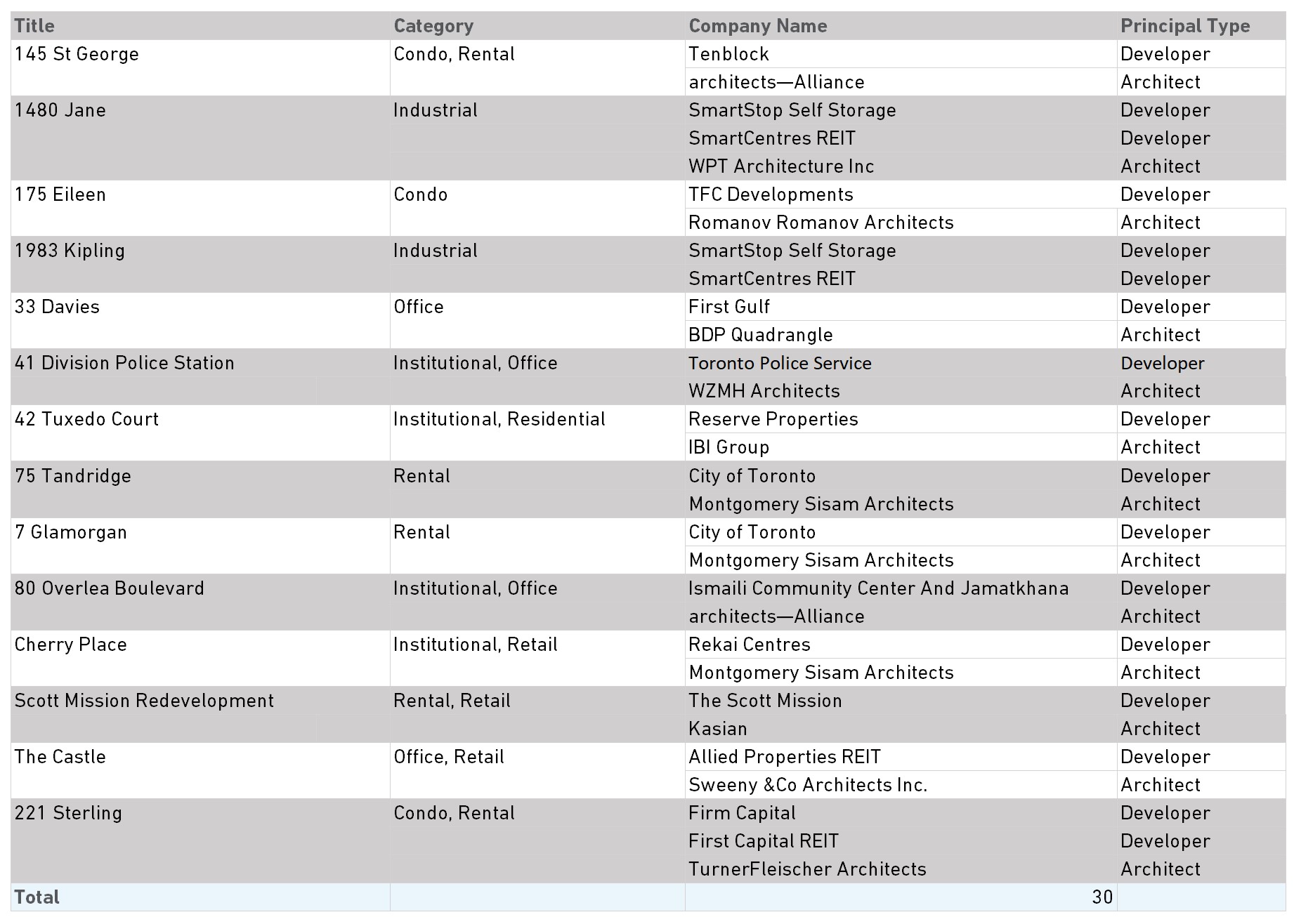 Information on developers and Architects of Record for each proposal in May 2021.
Finally, here is the distribution of the new buildings across the Wards in Toronto. As a reminder, there can be multiple buildings proposed per project. The project with the most buildings proposed is 175 Eileen, with 4.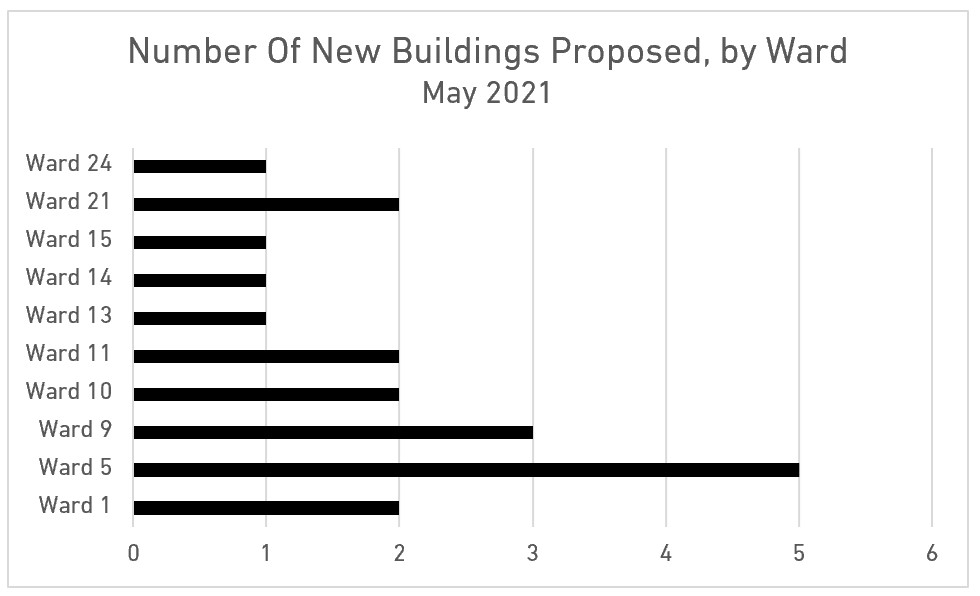 Number of new buildings proposed by Ward, for new development proposals from May 2021.
***
If you would like to keep up to date on the latest development news, sign up for a trial of the New Development Insider. And if you are interested in the data used to generate this report, keep an eye out for more news about the launch of UTPro, UrbanToronto's new subscription database service.
For more information about UTPro, contact Edward Skira.