A new cluster of high-rise density is emerging on a stretch of The Queensway in the Toronto borough of Etobicoke. At the southwest corner of Islington Avenue and The Queensway, Verge Condominiums is shaping up to be the eastern gateway to this strip of new vitality between Islington and Kipling avenues.
"With Verge, the RioCan Living team continues to deliver on the principles that inform each of our residential developments, including contextual design in connected locations, best in class communal amenities that cater to future residents, and easy access to major commuter routes," reads a statement issued by Kalliopi Karkas, Assistant Vice President, RioCan Living. "Verge is nearly equal distance to downtown Toronto and downtown Mississauga, offering incredible access to two of Canada's largest cities. It's also a 15-minute drive to Pearson Airport and offers a range of amenity spaces that were informed by our extensive market research."
Verge Condominiums, image courtesy of RioCan Living
The community from RioCan Living—RioCan REIT's 2018-launched residential sub-brand with a portfolio that has grown to over 2,000 units across seven completed buildings—will eventually be built out with Turner Fleischer Architects-designed buildings of 9, 10, 11, and 17, with heights ranging from 38.15 to 62.7 metres, the tallest two planned as the first phase.
"Verge Condos aims to transform The Queensway-Islington corner through strong design principles," stated Raza Mehdi, Associate at Turner Fleischer. "While two separate buildings, our goal was to establish a rhythm and create a dialogue between the developments to add a striking visual dimension for residents and users to enjoy. With a new park separating the two buildings and retail uses at grade, the focus was to inject an animated streetscape along this segment of The Queensway."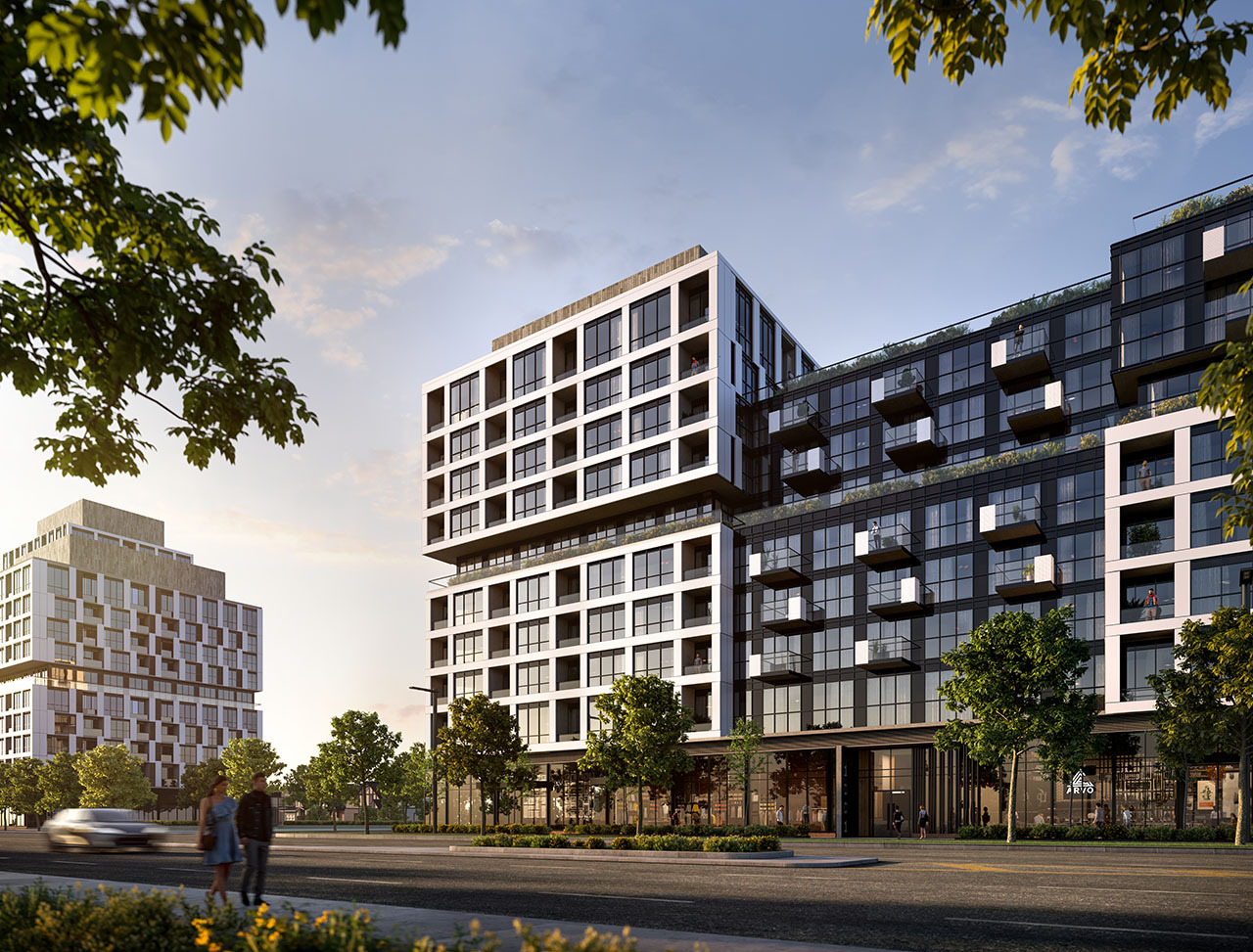 Verge Condominiums, image courtesy of RioCan Living
The initial phase will bring 545 new residences to the site, ranging in area from 430 ft² to 1,060 ft², with residents set to enjoy a selection of amenities appointed by interior designers Design Agency. Amenities at Verge have been designed with an aim for optimization for residents, and reflect changing work-from-home needs and trends. These include creative work from home spaces like home offices, meeting rooms, soundproof phone booths, a video-ready content studio with pull-down backdrops and green screens, along with an audio-recording studio for podcasts and other presentations. Additional amenities include a fitness centre, yoga/meditation studio, pet spa, party room, cocktail lounge, and an outdoor terrace with grilling areas, chess and shuffleboard, and an outdoor lounge. We'll take a closer look at the amenities in a future article.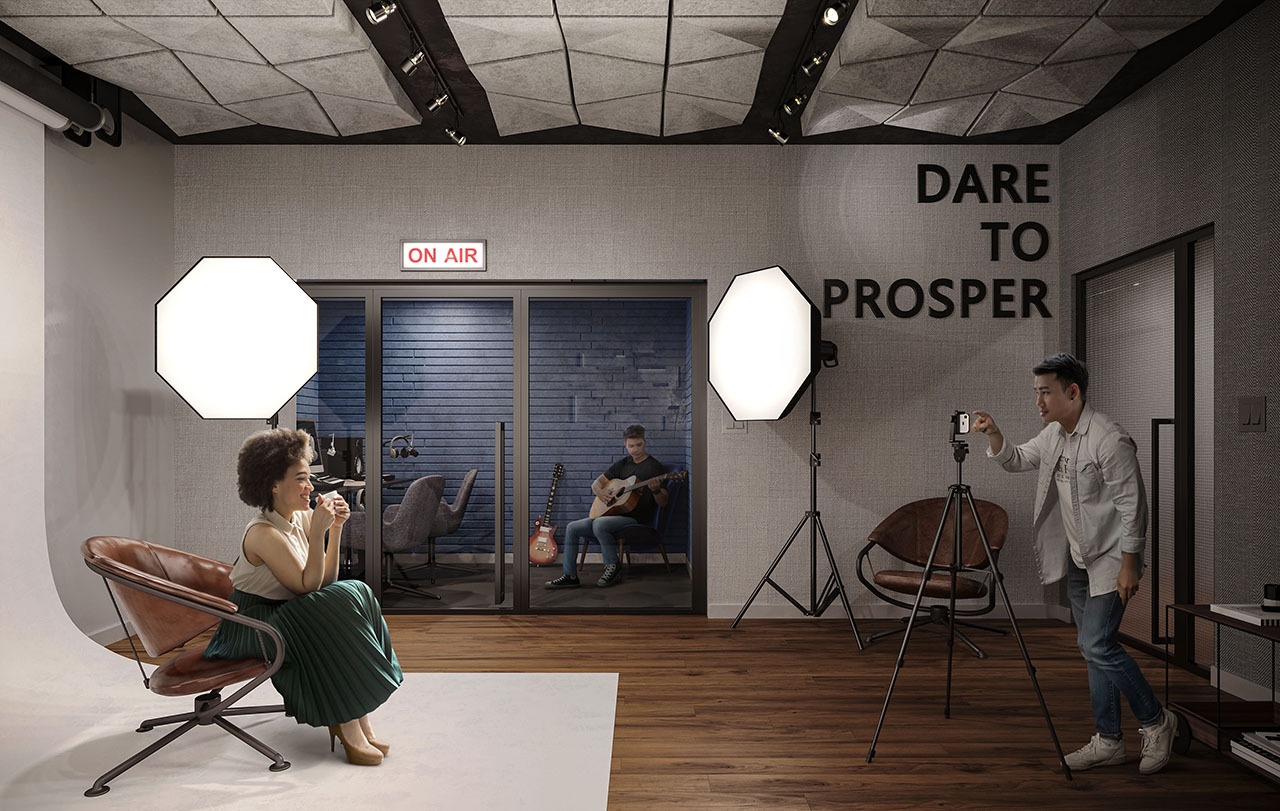 Content studio at Verge Condominiums, image courtesy of RioCan Living
"As creators and designers, our surroundings are a key source of inspiration. We wanted to acknowledge how important our homes have become over the last year by bringing unique moments and distinct character to each area of Verge," stated Anwar Mekhayech, founding partner, DesignAgency. "Wellness remains incredibly important in providing moments of respite, but we also need to support and design to how our work-life habits are evolving. The co-working space and content studio at Verge are a practical response to the increased importance of capturing video and audio and a reflection of new, hybrid work models. And they can easily double as a space for creating fun, social content or having fun with friends. It's about flexibility and inspiration."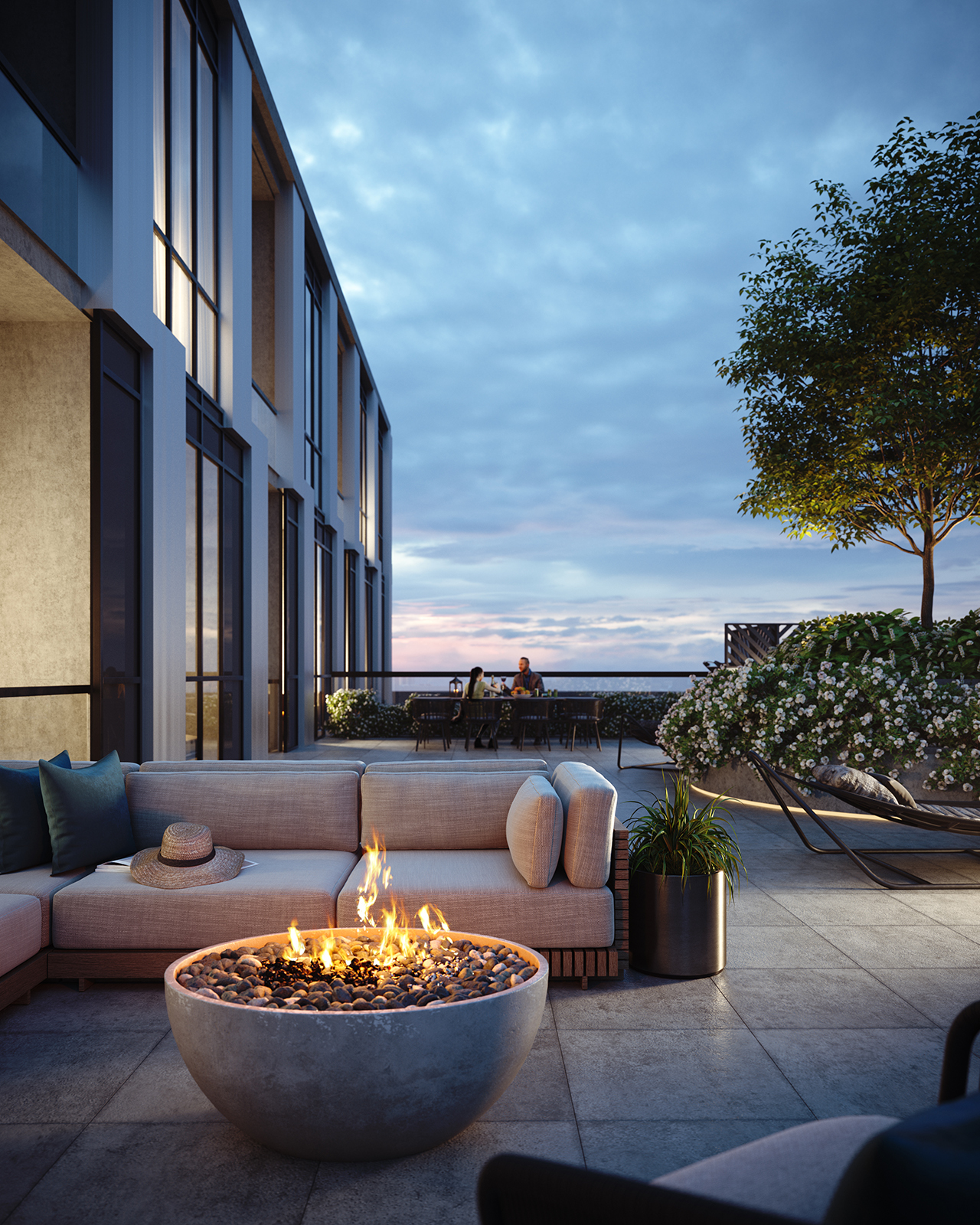 Outdoor terrace at Verge Condominiums, image courtesy of RioCan Living
You can learn more from our Database file for the project, linked below. If you'd like to, you can join in on the conversation in the associated Project Forum thread, or leave a comment in the space provided on this page.
* * *
UrbanToronto has a new way you can track projects through the planning process on a daily basis. Sign up for a free trial of our New Development Insider here.