From cable TV to WiFi to recycling, residential developers have always embraced advancements in technologies and social movements. The latest is Electric Vehicles (EVs), which have exploded onto the public consciousness and the resulting infrastructure will need to be accommodated by developers of existing and planned condominiums.
Many organizations are proactively engaged in the reality of EVs, such as Plug'n Drive, a non-profit organization committed to accelerating the adoption of EVs in order to maximize their environmental and economic benefits. They are partnering with EVdirect of Toronto, who are bringing a cost-effective solution to developers and owners of condominiums regarding the new reality of Electric Vehicle Charging Stations (EVCS) with an innovative product called "EVOLUTE", to be showcased during an upcoming webinar in May.
Electric car charging plug-in, image via plugndrive.ca
The Evolute is a smart multi-user electric vehicle charging system which is a solution to the main challenges of limited capacity, remote control, billing and consumer freedom. The brain of the system is put into a dedicated EV panel in the condominium's electrical room or parking garage which can be implemented in multiple ways to make it accessible to any parking spot. Using its agnostic charging station, it gives consumers full freedom of choice while providing an interactive app to control, monitor and pay for usage. Evolute also provides a web app interface for administration and management.
"We felt we could develop a product that eliminated the current limitations of EV charging systems, and is not reliant on WiFi," said Manny Alter, Director of Business Development for EVdirect. "Property Managers want a turn-key centralized system, and all Level II charging stations are compatible with the Evolute system. Evolute is also future-proof so condo developers know the system will be relevant tomorrow as it can be easily updated or modified."
The Evolute is powered by Eaton, using its expertise in intelligent panelboards to develop this CSA certified solution with controllable circuit breakers and branch level metering of each EV charger. Eaton's panelboard design is scalable to onboard additional circuits for expansion of EV chargers in the future without impacting the wall space and existing footprint.
Toronto condominiums using Evolute include One Park Place South Tower byThe Daniels Corporation, Streetcar Developments and Dream Unlimited's The Carlaw, and The Richmond Condominium by Tridel, all of whom see the benefits for their residents, who simply pay a fee to access.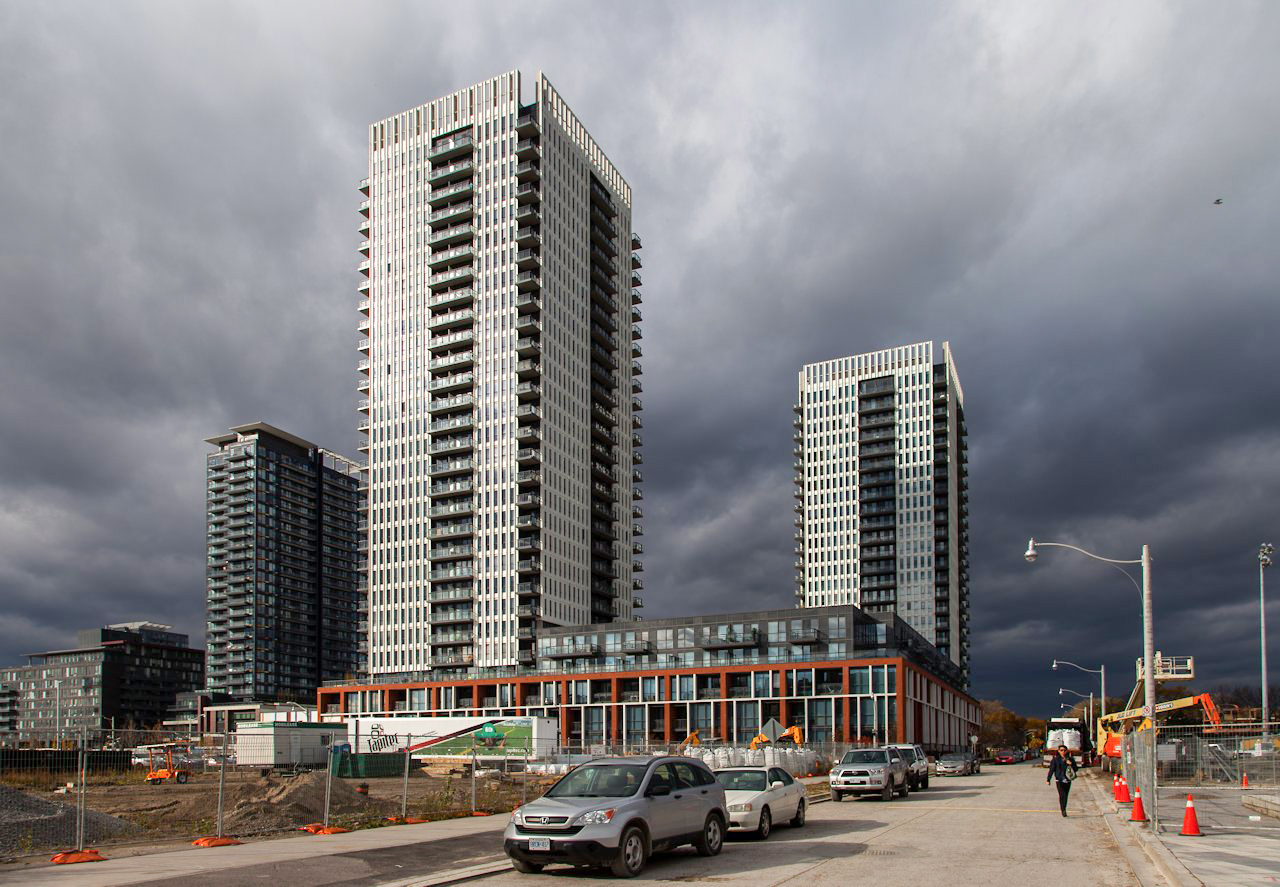 One Park Place, south tower (L), image by Jack Landau
"For residents who own EVs or are planning to purchase in the future, Evolute is the ease of implementation for getting smart power to their car with an in-house billing system," said David Ackermann, Director of Operations for EVdirect. "We've built a product for residents so that they can choose any charging station they want and they are not locked into subscription-based billing contracts."
The transition from gas to EVs, while in its early days, is accelerating. According to Statistics Canada, in the third quarter of 2020, 3.7% or 18,771 of total new vehicles registered in Canada were zero-emission vehicles, and 67% of those were battery electric vehicles.
The Plug'n Drive webinar featuring the Evolute product is being staged to inform and educate condominium owners and developers on some key considerations when approaching EV charging in their projects. The goal is to illustrate to developers and property managers that solutions exist that make economic sense.
According to Plug'n Drive President Cara Clairman, a product like Evolute can ease the transition for developers and condominium residents in high-density, urban living areas.
"A big challenge in big cities is the condo market and we need a ready solution to plug in at home and solve the multi-unit problem," said Cara Clairman, President and CEO of Plug'n Drive. "Without significant changes to the building code, condos have the ability to do this and plan for the future, and it's smart business for the condos while they're building, or at least rough-in for the ability to have it down the road."
The signs that EVs are no longer a trend but a reality come from both General Motors' recent commitment to an "all-electric" future with 30 new EV offerings by 2025, and from President Biden, who included $174 billion for EVs in his recent $2 trillion Infrastructure Plan for funding for a national network of 500,000 charging stations by 2030. For an environmental group such as Plug'n Drive, which supports electric transportation for the benefits of the associated greenhouse gas emissions reduction, this very public support is further evidence EVs are here to stay.
"It's very exciting to see the momentum building as strongly as it is," said Clairman. "It's not 'if' anymore, but 'when', and with products like Evolute, we're just trying to make that 'when' happen sooner."
We are entering a truly transformational phase as the EV has clearly left its station and will impact all of us in the coming years. Companies such as Plug'n Drive and EVdirect are driving this change with strong voices and innovative solutions to make it easier for condominium owners, developers and residents to adjust and join the movement to a cleaner and greener future.
To register for the webinar on May 26 at 3 PM, please visit: The Next EVolution of Condo Charging.
* * *
UrbanToronto has a new way you can track projects through the planning process on a daily basis. Sign up for a free trial of our New Development Insider here.